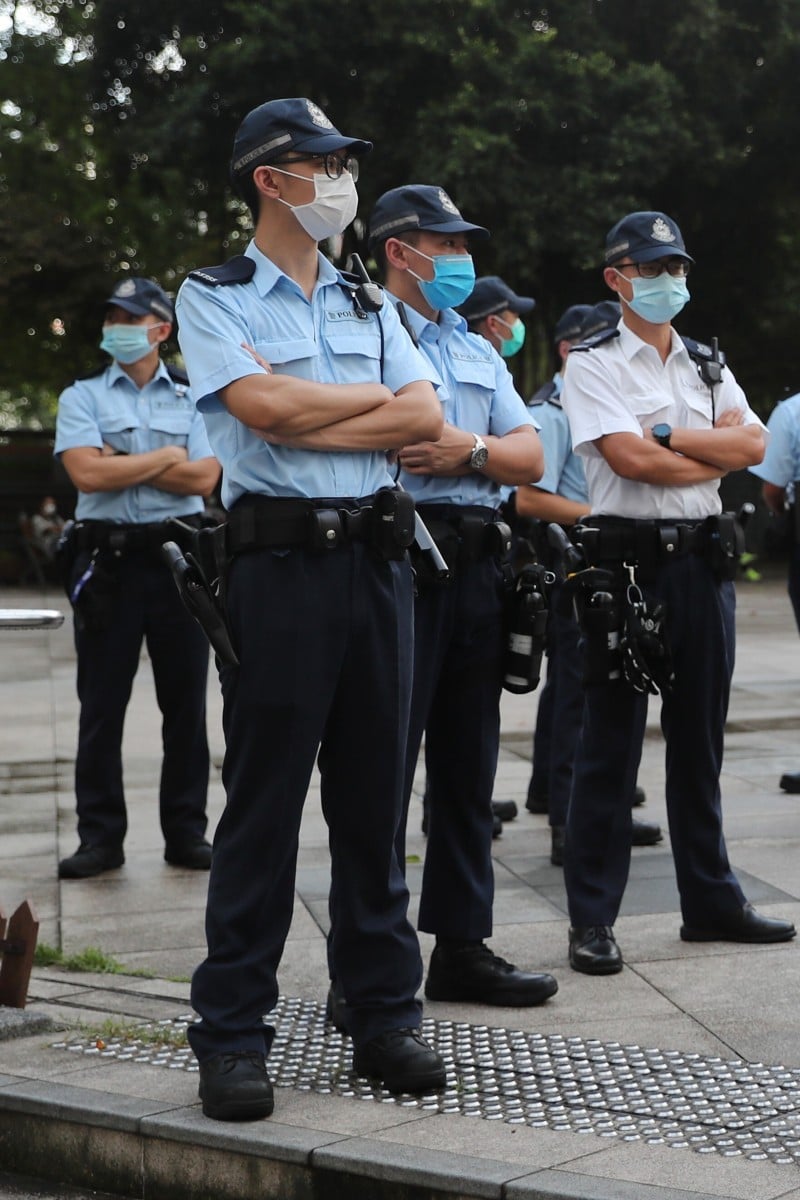 The annual June 4 vigil has been cancelled for the second year because of coronavirus, though some activists suspect the move is political

More than 7,000 police officers have been deployed around the city to stop gatherings and Victoria Park has been closed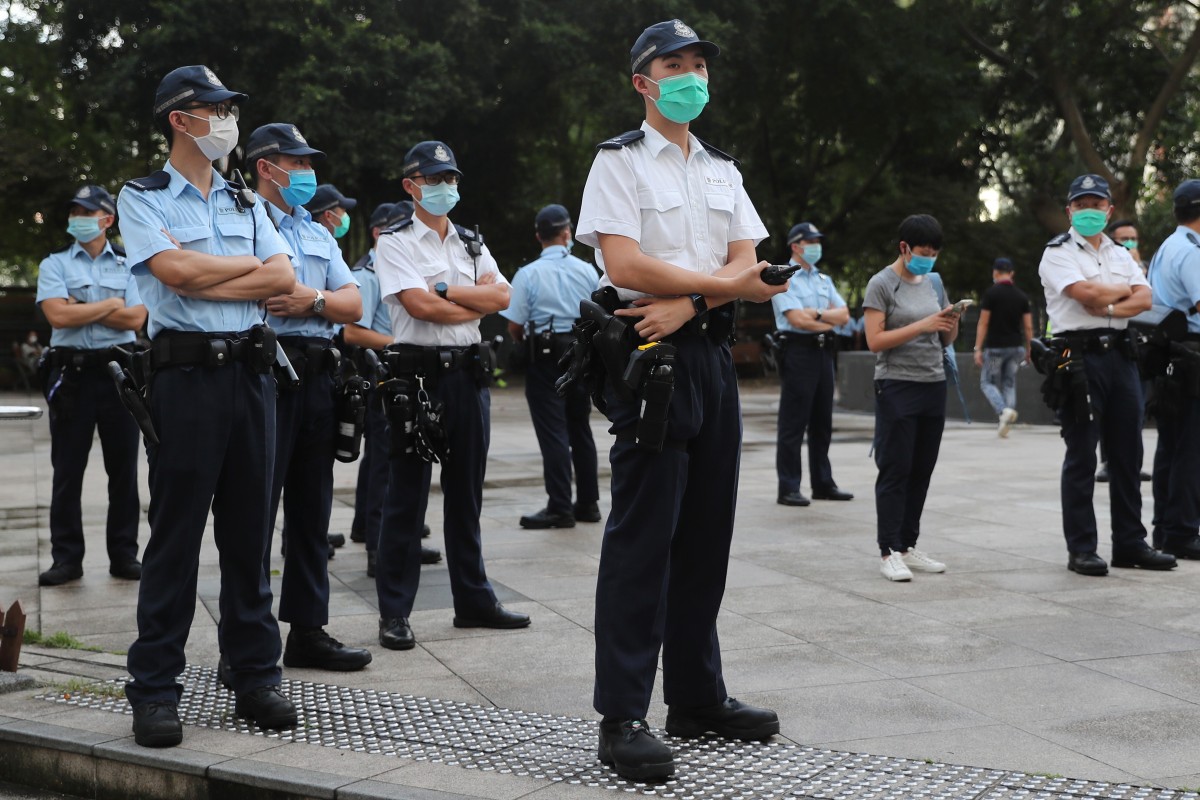 More than 7,000 police officers have been deployed across the city to prevent any unauthorised gatherings on the anniversary of the Tiananmen Square crackdown. Photo: SCMP / Sam Tsang
The resolve of pro-democracy Hongkongers faces a test on Friday, as thousands of police officers across the city enforce a ban on the June 4 Tiananmen Square anniversary vigil at Victoria Park.
Although no one is expecting candle-bearing Hongkongers to show up in their tens of thousands like in years past, supporters of the movement hope there will be at least some show of solidarity, even as organisers have urged people not to gather at the park and even called off an online memorial for fear of flouting the law.
Teachers drop lessons on Tiananmen, fearing NSL
They have advised supporters to light candles and remember the event in their own individual ways instead.
Hong Kong authorities have banned the vigil for the second year in a row, citing public health concerns due to the Covid-19 pandemic.
Last year, thousands turned up anyway and while police took a tolerant approach to the unauthorised gatherings around the park, 26 activists were later arrested for illegal assembly.
For three decades, Hongkongers had gathered at Victoria Park, held lit candles, chanted and remembered the day in 1989 when military tanks rolled into Beijing's Tiananmen Square and crushed weeks of student-led protests calling for more democracy and an end to corruption.
The annual vigil in Victoria Park usually draws thousands of people, but it has been cancelled for the last two years because of the coronavirus. Photo: SCMP /James Wendlinger
But this year's anniversary, the first since Beijing imposed the national security law, has raised new concerns for organisers, those planning to show up at the park or in other places, or even those planning to mark the day in small groups.
The vigil is becoming a test case for the limits of protest in the national security law era, in particular the fate of a slogan that organisers and participants have chanted every year, calling for an "end to one-party dictatorship" in China.
Remembering Tiananmen Square, 30 years on
While this had previously irritated the pro-Beijing camp, as it went against Article 1 of the Chinese constitution which says China is a "socialist state under the people's democratic dictatorship", Hong Kong lacked a law to make shouting the slogan a crime, legal experts said.
But this could change soon, a source familiar with government thinking on the issue said.
"The ambiguity of the past will not last much longer under the national security law," he said.
Although police had initially said they would mobilise more than 3,000 anti-riot officers, manpower was strengthened to 7,000 on Thursday, as they pledged to carry out "high-profile patrols to dissuade groups from gathering", according to an insider.
The decision to strengthen their presence and close off the park's football pitches and lawns beginning Friday evening came as calls for people to show up gained traction online.
Li Peng, the Chinese premier who backed the Tiananmen Square crackdown
While the organiser of the Victoria Park vigil, the Hong Kong Alliance in Support of Patriotic Democratic Movements of China, has cancelled all events and temporarily closed its June 4 museum in Mong Kok, members indicated they planned to light candles individually in different parts of the city.
"Of course, we feel extremely upset, and also very angry at not being able to be in the park," alliance secretary Richard Tsoi Yiu-cheong said. "The authorities are using public health as an excuse when everyone knows the decision to ban the vigil was a political one, especially since it's the centenary of the Communist Party this year and everything has become so sensitive."
He advised the public to weigh the legal risks when deciding on their actions.
Holding a candle in memoriam is probably fine under the national security law, but chanting slogans is likely off limits. Photo: AP
Liberal and conservative legal scholars who spoke to the SCMP agreed that chanting the slogan demanding the "end to one-party dictatorship" at any organised public event was likely to be regarded as an act of subversion.
Executive councillor and barrister Ronny Tong Ka-wah said it might not be illegal if a single person wore black or chanted slogans, but it could be deemed a violation of the national security law if a group made plans to do so together, as illegal assemblies would be tantamount to using "illegal means" to incite subversion, a crime as described under Article 22 of the law.
What's missing from textbooks about June 4?
"The public can mourn the June 4 incident but do not have to show up at Victoria Park together, wear black or chant slogans. People should respect the law and the constitutional order," Tong said.
Professor Simon Young Ngai-man, associate dean of the University of Hong Kong's faculty of law and a criminal law specialist, said holding a candle was evidence of commemoration, not subversion, but calling for "a fundamental change in the government of the People's Republic of China and its governance" came closer to subverting state power.
A letter from the parents who lost children in Tiananmen Square
Young was of the view that merely attending a vigil should be legal if there were no public health grounds to make it illegal or trigger the subversion offence.
"Honouring or commemorating those who have died by candlelight is not prohibited by the national security law, according to my understanding," he said.
Sign up for the YP Teachers Newsletter
Get updates for teachers sent directly to your inbox
Sign up for YP Weekly
Get updates sent directly to your inbox