Supporters lined up at newsstands in the early hours of Thursday to snag one of one million copies

Journalists and readers said they feared what the move means for press freedom in Hong Kong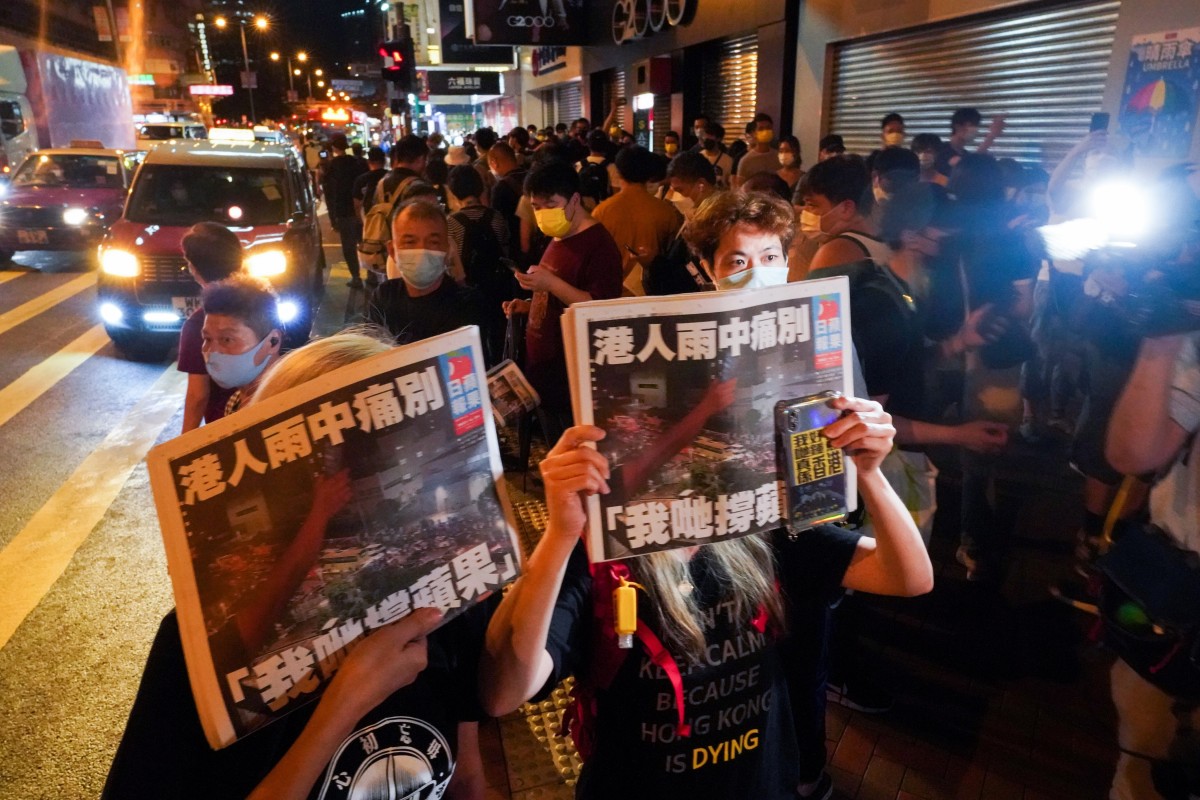 People queue up for the last edition Apple Daily in Mong Kok. Photo: SCMP/Felix Wong
Hongkongers rushed to buy one of a million copies of Apple Daily's last-ever edition, which hit the streets in the early hours of Thursday, closing the final chapter of the tabloid-style newspaper's decades in business.
As queues of customers stretched outside newsstands across Hong Kong, a round of applause erupted in the Apple Daily newsroom at 11.45pm to mark executive editor-in-chief Lam Man-chung sending the last issue of the newspaper to the printing press.
"Keep it up, Apple Daily! Keep it up, Hong Kong!" staff chanted, as supporters outside its Tseung Kwan O headquarters whistled and clapped.
Several offices in the building could be seen descending into darkness as the media operation wound down for good.
In a nod to the 2019 unrest, some supporters outside wore black and shouted "Liberate Hong Kong; revolution of our times", a slogan popular with anti-government protesters, though the chants soon fell silent.
In Mong Kok, hundreds of supporters started queuing as early as 10pm to get their hands on Apple Daily's final issue, which eventually arrived at newspaper stands at about 12.55am.
At around 11.30pm, more than 20 people stood in a queue next to a newsstand on Argyle Street in Mong Kok, hoping to snag a copy of Apple Daily. The line grew to 60 people in less than 30 min. Photo: SCMP/Danny Mok
The newspaper, known for its anti-government stance, is Hong Kong's first media outlet to cease operations since Beijing imposed the national security law in the city last June.
The shutdown came two days earlier than previously planned, as national security police, in a second round of operations in a week, detained the paper's lead editorial writer on suspicion of conspiracy to collude with foreign forces on Wednesday morning.
As the printing press fired up, journalists hugged each other, holding back tears.
RTHK free to criticise the government 'as long as it remains objective'
Associate publisher Chan Pui-man thanked her staff and the dozens of supporters who had braved the rain to gather outside.
She was among the five senior executives arrested by national security police last week, three of whom were released on bail without charge. The other two were charged with conspiring to collude with foreign forces and kept in custody.
Tammy Cheung, the paper's deputy editor-in-chief who was in charge of the China desk, said almost all of her 30 staff members had decided to stay to the end.
Journalists who have made a difference
"I decided to stay here because this is my job, and I wanted to finish my job professionally," said Cheung.
"My message to my staff is that they must equip themselves properly, and continue the spirit of Apple Daily."
Icy, a journalist who has worked at the paper for five years, recalled breaking down in tears when she was informed the paper would be no more.
Staff of Apple Daily prepare for the last issue at the newspaper's headquarters in Tseung Kwan O. Photo: SCMP/Dickson Lee
"I was writing an article to bid farewell to the readers. I couldn't stop crying when I heard about it," she said. "This is not just a place I work at. This is my home."
Another journalist, who had worked on the paper for more than a decade, also refused to leave early.
"I don't want to look back at this day and regret that I was not here until the very last day," he said, adding he loved the job so much he was not worried about not getting paid.
"Here in Hong Kong, a newspaper can disappear just like that. What about the city's core values? Will they disappear as well?" he said. "This is not just a job, it reflects the degree of freedom in the city."
The importance of an uncensored media
The front page of the paper's last edition features a photo of supporters flashing their smartphone lights at the newspaper's office. The headline reads: "Hongkongers bid painful farewell in rain", alongside the quote "We support Apple".
A special supplement within the publication carries the headline "Goodbye" and displays a montage of the paper's previous front pages, as well as a letter to Hongkongers.
Another reporter who has worked on the city news section for more than a decade said she understood why colleagues wanted the paper to cease operations as soon as possible after news of the latest arrest.
Why teens should get involved in journalism
"We can't rule out that there will be more arrests to force us to close sooner," she said, adding that the government was "not acting on common sense".
She also said it had been hard for those remaining to sustain operations in the wake of an exodus of colleagues, referring to the many who had resigned recently.
Earlier in the day, outside the Tseung Kwan O building, supporters and readers began gathering once news spread of the publication's early demise.
Supporters gather outside Apple Daily's headquarters in Tseung Kwan O. Photo: SCMP/Dickson Lee
Three friends who said they had been reading the newspaper since its first issue 26 years ago came to bid farewell, claiming they were also saying goodbye to press freedom in the city.
One of them, surnamed Hui, said: "There is not one newspaper that will dare to speak out after this. This is the end of press freedom."
Another reader, who travelled two hours with her husband to visit the site, said: "We read the newspaper every night, so it is really frustrating and upsetting, but what can we do? We are just ordinary citizens.
Sign up for the YP Teachers Newsletter
Get updates for teachers sent directly to your inbox
Sign up for YP Weekly
Get updates sent directly to your inbox