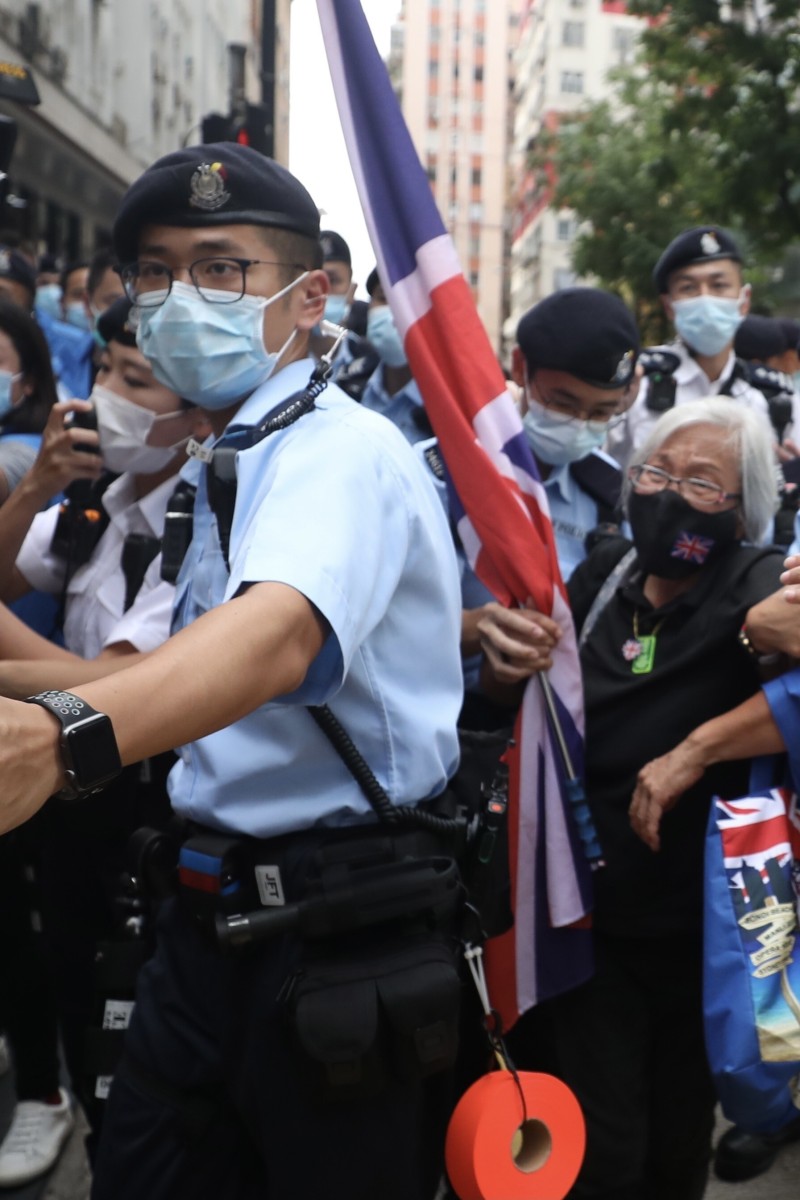 The annual demonstration on the anniversary of the city's 1997 handover to China was banned because of coronavirus restrictions

This year also marks 100 years since the founding of the CCP and one year since the national security law was implemented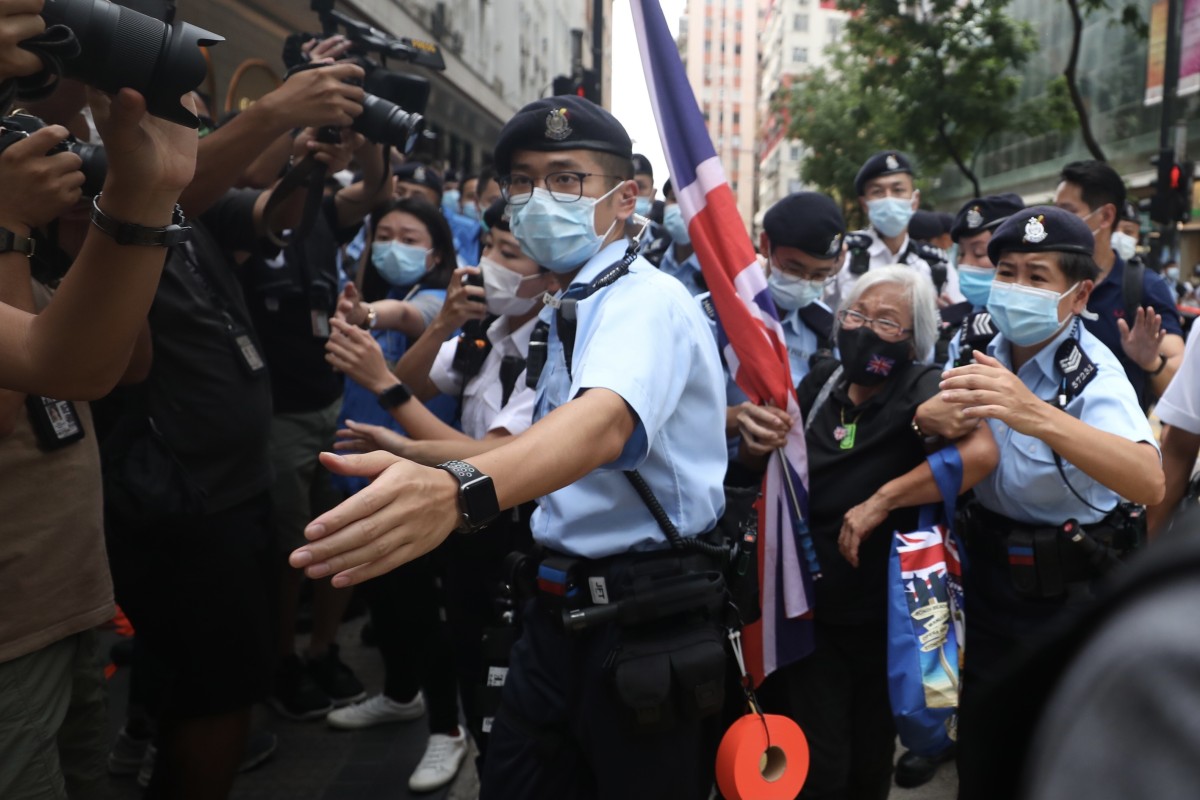 Alexandra Wong, known as "Grandma Wong", was one of few visible protestors in Causeway Bay today. Photo: SCMP/ Xiaomei Chen
Hong Kong police have imposed a lockdown on Victoria Park to prevent any possible unauthorised protests today. The public holiday marks the 24th anniversary of the city's return to Chinese sovereignty and the 100th anniversary of the founding of the Chinese Communist Party.
The force invoked the Public Order Ordinance at noon to close six football pitches, the basketball courts, central lawn and connecting pathways.
Senior Superintendent Liauw Ka-kei said the decision was made after assessing relevant risks, pointing to online appeals for residents to participate in the annual July 1 march – banned this year by police – and the Tuesday arrests of two men held for possession of explosive materials.
Hongkongers queue to buy the last issue of Apple Daily
Earlier today, cans of petrol and a fuel canister for a portable stove were thrown at a grassy area leading up to Government House on Lower Albert Road. No one was injured and arrests had been made, the Superintendent said.
"After weighing the situation, we decided it was best to close Victoria Park from noon today. Anyone who still enters or remains in the closed area is subject to maximum penalty of 12 months in jail," Liauw said.
Other areas of the city also featured a heavy police presence, with officers and fleets of vehicles stationed around the Causeway Bay shopping district, and a roadblock set up on the westbound Island Eastern Corridor near the Harbour Grand Hotel in Fortress Hill.
Shortly before 1pm, police cordoned off Great George Street, the main street near the Sogo department store, where the League of Social Democrats was expected to set up booths later in the afternoon. Officers stopped pedestrians on the street and searched them in police tents.
Throughout the afternoon, the force broadcast pre-recorded audio messages, warning people not to gather in light of coronavirus-related restrictions on public gatherings.
At about 2pm, three members of the Confederation of Trade Unions were stopped by police at Jardine's Bazaar as they were on the way to set up their own booth. The three were allowed to leave shortly thereafter but barred from setting up.
Hong Kong filmmakers fear NSL censorship laws
The group's new president, Joe Wong Nai-yuen, said officers had warned them the spot was along the planned route for the banned protest.
"They said if we didn't leave in three minutes, they might arrest us for breaching the Public Order Ordinance or refusing to cooperate with the police," he said.
"We are not obstructing traffic nor encouraging people to join any protests. This police action reflects how much freedom of speech [has diminished] in Hong Kong under the national security law."
Police officers stand guard at Victoria Park in Causeway Bay during the 24th anniversary of the establishment of the Hong Kong Special Administrative Region (HKSAR). Photo: SCMP/ Dickson Lee
Just before 2.30pm, a middle-aged man was taken to a police van after displaying a banner criticising former Chinese leader Deng Xiaoping and Hong Kong police.
Minutes later, Alexandra Wong Fung-yiu, the protester better known as "Grandma Wong", was cornered by officers after waving her British flag on Great George Street. She sat on the ground and refused to leave after police urged her to put down the flag.
Outside Sogo, meanwhile, more than 30 officers guarded the store's main entrance. A woman named Lam questioned if the heavy police presence was necessary. "They're treating Causeway Bay like a crime scene. But as you can see, many people are just regular shoppers like me," she said. ​
Most Hong Kong schools find NSL education hard to implement
With the exception of Wong, few obvious protesters were seen around Causeway Bay on Thursday. But one woman in her 70s, who gave her name as Cecilia, was spotted wearing a patch on her black T-shirt that featured the outline of a hard hat and the slogan "I am a Hongkonger".
"I'm just out for a walk today," she said, adding she had previously taken part in the annual July 1 marches.
"I have nothing much else to say about the situation except to be water," she said, referencing the Bruce Lee quotation commonly used during the 2019 protests.
Hong Kong's first Tiananmen anniversary under the national security law
Meanwhile, the League of Social Democrats, which had originally planned to set up a street booth at Great George Street, had moved under a flyover on Canal Road East.
"Today was meant to be the annual July 1 march, but it has been banned by the police, unfortunately. However, we hope to continue with our outreach and voice our message on the streets to residents," chairman Raphael Wong Ho-ming said.
"We will be water. Justice is within our hearts. They can stop us from marching, or voting, but they cannot stop us from our pursuit of democracy."
Sign up for the YP Teachers Newsletter
Get updates for teachers sent directly to your inbox
Sign up for YP Weekly
Get updates sent directly to your inbox