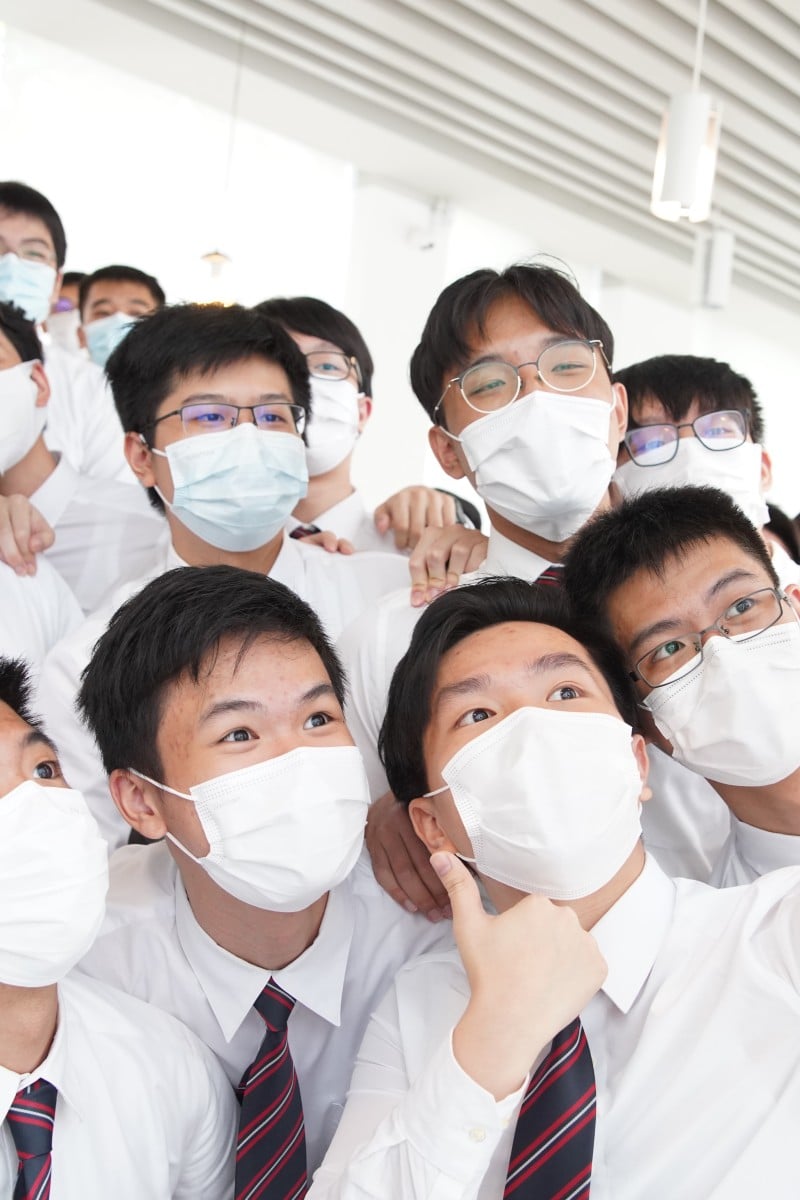 Many of the 130 Hong Kong students with perfect IB scores plan to study in the city
More than three times the amount of perfect scores were earned this year compared to last, even though there were fewer candidates taking the exams

While some students say they will attend university abroad, many say Hong Kong is their home and they want to stay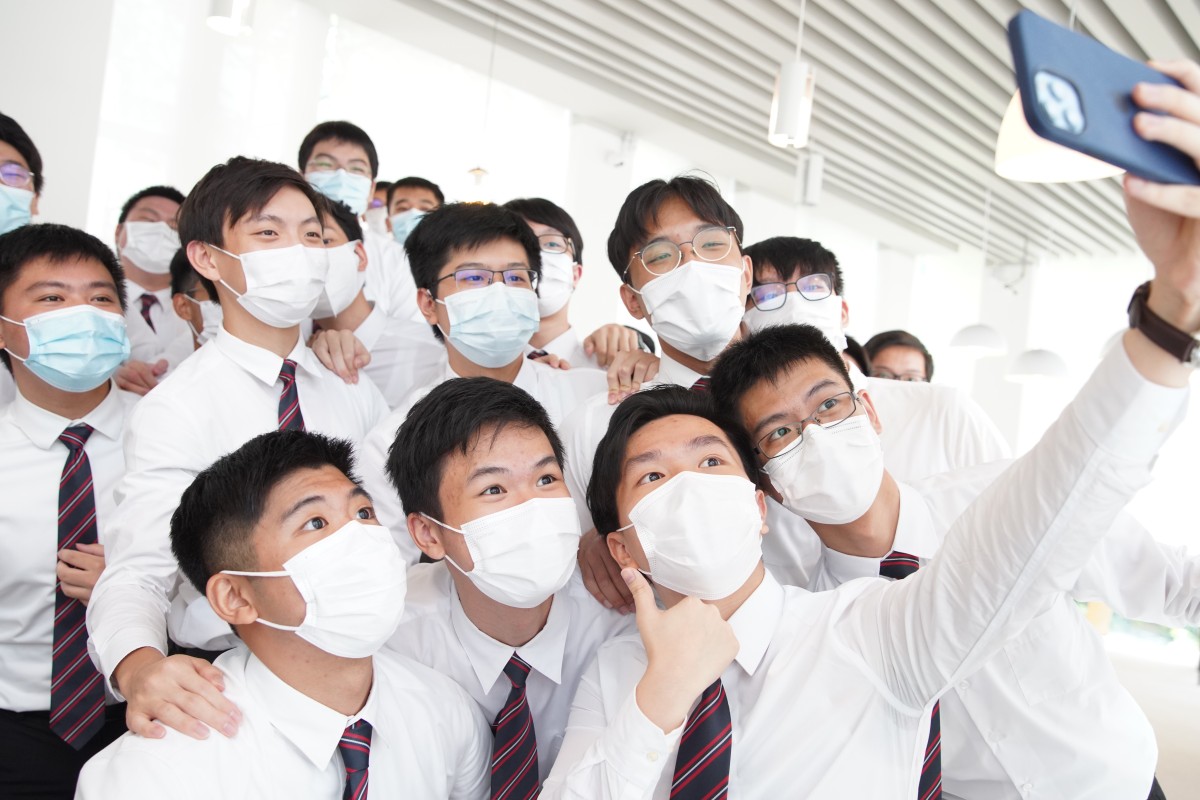 Diocesan Boys' School students who earned 45 and 44 points on the International Baccalaureate (IB) pose for a photo on campus. Photo: SCMP/Winson Wong
A total of 130 Hong Kong students attained a perfect score on the International Baccalaureate (IB) exams this year, more than three times the number last year, with many deciding to stay in the city to pursue further studies.
 "I consider Hong Kong to be my home and my family is here," said Albrina Chan Oon-ting, who scored a perfect 45 points on the exam.
The 17-year-old student from Victoria Shanghai Academy studied at a boarding school in Britain for a year before moving back to Hong Kong, saying she realised that life in Britain was not what she wanted.
Take a peek at last year's results
She was one of three top scorers from her school. Two other students scored a near-perfect 44 points.
"I find it more comfortable to stay in Hong Kong for further studies, as I was born and raised here. Staying here allows me to enjoy more family time with my parents," said Chan, who will begin studying medicine at the University of Hong Kong in September.
She said the pandemic is part of the reason why she chose to study medicine, and that she intends to further explore psychiatry as a medical specialty.
This year's top scorers from Victoria Shanghai Academy pose with their school head. From left: Allis Lai Suet-yi, Head of Academy Dr. Maggie Koong, Christie Wong Chi-ling and Albrina Chan Oon-ting. Photo: SCMP/ Kelly Fung
"I have seen many people in society suffer from different mental issues, and the pandemic has emphasised this," she said. "I'd like to learn more about how the pandemic has affected the world, including current affairs and education."
But her schoolmate and fellow top scorer, Christie Wong Chi-ling, has decided to study medicine in Australia. She said she was surprised to have obtained a top score.
Interested in chemistry, Christie confessed that when she was young, she was not into science.
Last year's results at ESF schools
"At times I resisted it, because I grew up in a family with a background in science," she said, adding that her father was a biology professor.
It was not until she got to secondary school that her apathy towards science changed, when her older sister was diagnosed with a serious illness.
"When my elder sister was ill, I started wondering a lot about why it happened. The more I asked these questions, the more interested I became in science," she said, adding that she was determined to become a doctor.
Study tips from IB top scorers
Issac Mak Yip-kan, who also studied at Victoria Shanghai Academy and earned 44 points on the IB exams, has never thought of studying overseas.
"I believe we have a great future ahead of us in Hong Kong," he said. "As someone who was born and raised in Hong Kong, I feel a deep connection to this place."
In 2020, at least 37 students from the city scored a perfect 45 points, including those who received a grade improvement after appealing to the IB organisation.
Some students say they plan to go abroad to further their studies.
This year's increase in perfect scores was achieved despite the number of local candidates dropping from 2,324 to 2,193. They were among more than 170,600 candidates worldwide who received their IB diploma and vocational programme results on Monday.
Globally, 1,155 candidates scored 45 points, up from last year's 339 and 2019's 275.
Hong Kong's average score this year was 38.93, up from last year's 36.31. It is higher than the global average of 32.99.
Among the 130 top scorers in Hong Kong, 17 were from Diocesan Boys' School in Mong Kok and six were from Po Leung Kuk (PLK) Choi Kai Yau School. 
At Diocesan Boys' School, 12 of the 17 top scorers said they planned to pursue their studies in Hong Kong, while two said they had not yet made a decision. One perfect scorer will be heading to Britain, while two others will study in the United States.
At PLK Choi Kai Yau School, about half of the 81 students who took the IB exams will be staying in Hong Kong. Six students scored 45 points, 12 took 44 points, and 12 others bagged 43 points.
Karly Tang, 17, said, "My predicted grade was 43, so I would've been happy to receive that! I didn't even consider getting 45. It's completely unexpected."
Karly has yet to decide between HKU to pursue Dentistry or UCL to study Pharmacy. Her decision relies solely on her passions - whilst she enjoyed shadowing a dentist for work experience last year, she's also inspired by her father, who is a pharmacist.
Jasmine Poon, 17, said, "It's unbelievable. [When I first started the programme] I really only thought to do my best."
Jasmine plans on attending the University of Bristol to study veterinary medicine, as she has always wanted to be a veterinarian, and feels like the UK has more opportunities for her in this field. 
Sign up for the YP Teachers Newsletter
Get updates for teachers sent directly to your inbox
Sign up for YP Weekly
Get updates sent directly to your inbox