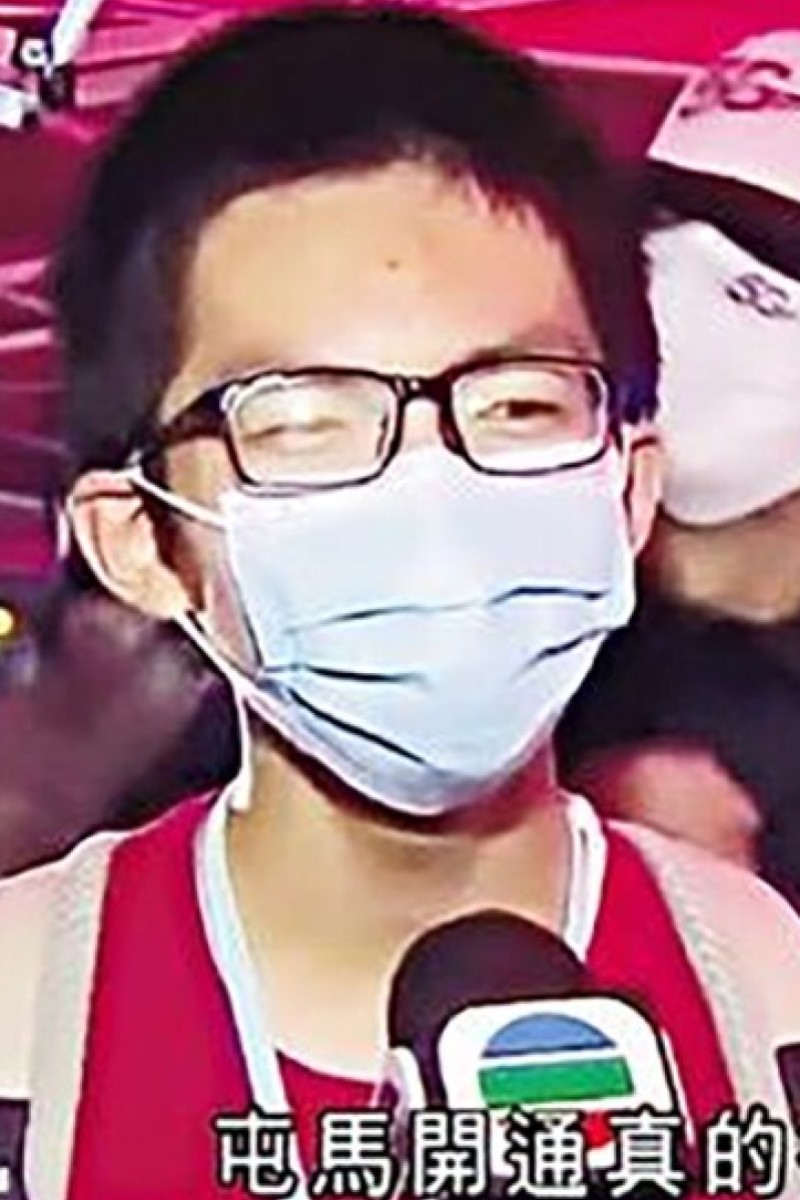 Autistic Hong Kong teen on his love for trains, becoming an internet sensation, and dangers of doxxing
The 16-year-old, who has been diagnosed with autism, says he never thought his lyrics to the 'Greensleeves' tune would become so popular

On YouTube, the boy's viral song for the MTR's new Tuen Ma Line have been covered by different musicians, including Stanley Yau Sze-chun from the Canto-pop group Mirror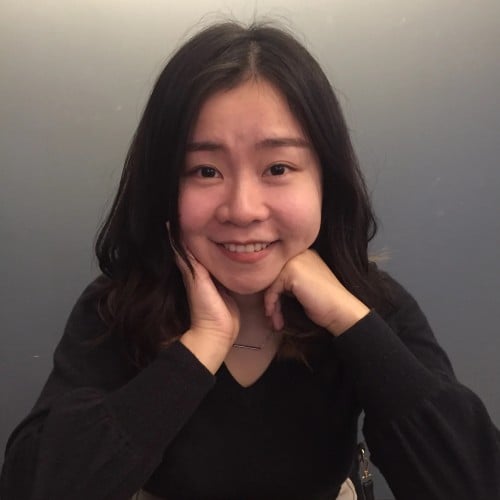 Kelly is a journalist from Hong Kong. She joined the Post in 2018, where she writes about Hong Kong's arts and culture, social welfare and the environment. She has a master's degree in Journalism from the University of Hong Kong.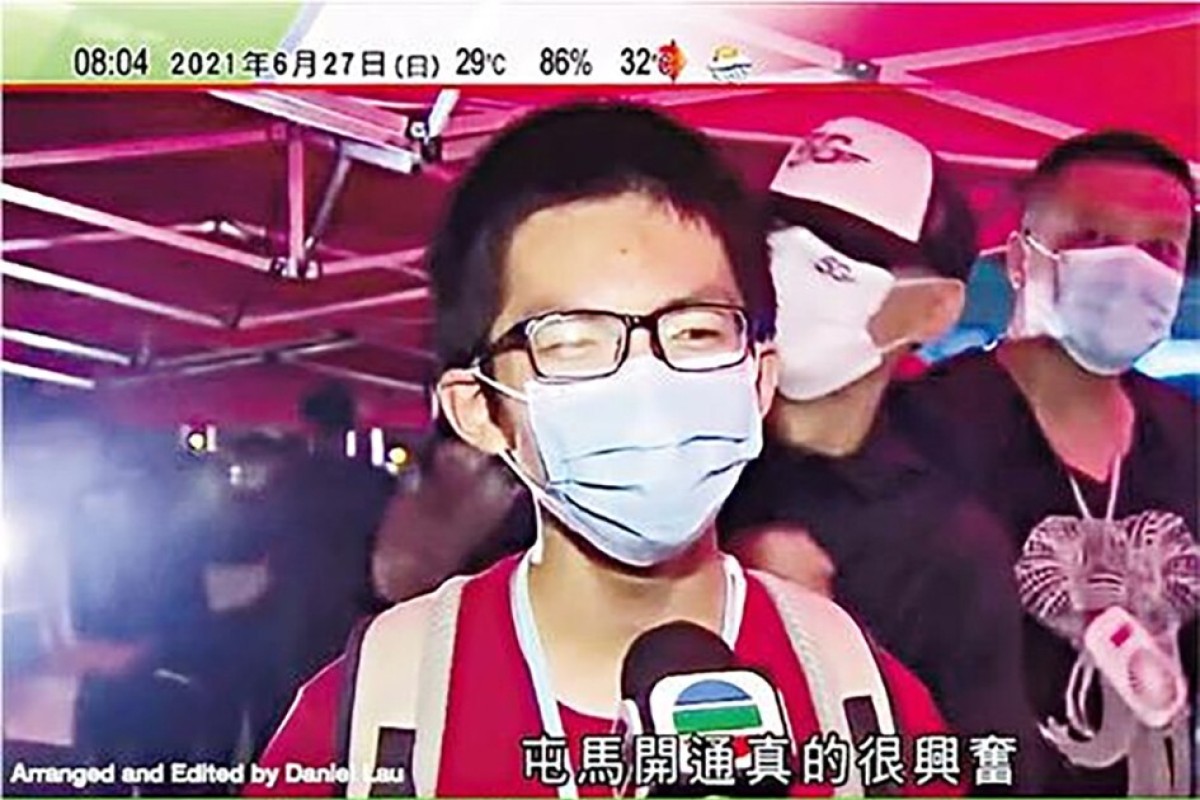 Jason Law Zit-sum loves trains, but he never thought he would become an internet sensation overnight because of it. Photo: YouTube
Train enthusiast Jason Law Zit-sum arrived at 4.15am on June 27 at the Sung Wong Toi railway station to witness its opening that had been nine years in the making.
Not long after the sun had risen, he became an unexpected internet sensation in Hong Kong, as a video of his interview with a television news crew garnered more than 850,000 hits on YouTube.
The crew had asked the bespectacled 16-year-old, who was wearing a red T-shirt and backpack, about his excitement for the new station. But instead of talking about it, he sang his response in the tune of the English folk song Greensleeves: "The Tuen Ma Line has opened. I am so excited!"
The internet exploded. Netizens turned his image into memes. Someone created a one-hour version of his song by playing the nine Chinese words he had sung in a loop.
Content creators made covers of it using different instruments and music genres. Even Stanley Yau Sze-chun from the Canto-pop group Mirror posted his own short rendition of the tune on social media.
In an interview with Young Post, Jason talked about how his love for trains is connected to his autism. For many years, he has been trying to bring joy to others by producing videos of the public transport that just fades into the background of most people's daily lives.
"It only took me a few seconds to write up that line [the day before]," he said. "I never imagined becoming so famous. "
Hong Kong YouTuber Hanna Vanharanta talks about what it's like going viral
Jason said he used to take the city's MTR every day, and loved changing stations. He said his favourite station is the one in Choi Hung. The Chinese words choi hung means rainbow, and this station is famous for its rainbow-coloured walls, which he finds pretty.
When Jason was in Primary Four, he said he had been having problems getting along with his classmates. After further evaluation, doctors diagnosed him with autism. Jason added that he knows many other train enthusiasts who also have autism.
"We all have special interests, and many of us like public transport," he said. "We like things that others think are normal, but we think they are special."
Why are Hong Kong's MTR stations different colours?
In 2016, he started a YouTube channel under his name to talk about trains, video games and even magic tricks. He has accumulated about 2,500 subscribers.
This February, he partnered with another train enthusiast to open a YouTube channel called Lo Wu Station to focus on talking about trains. The channel so far has 90 subscribers.
"I used to share my videos on Facebook to bring happiness to friends. But later, I hoped to bring happiness to more people," he explained.
Local hidden treasures to explore at the end of MTR lines
After his singing video went viral, the unexpected popularity came with a price. His phone number was shared online, and he has since received calls from strangers.
"I thank the netizens for their creativity, but I am against any forms of bullying, attacks or even doxxing," he said.
Although most comments on his video have been positive, some disapproved of his love for trains because of its association with the 2019 anti-government protests. This is because protesters have accused the MTR of colluding with city authorities to shut down stations and make it harder for protesters to leave.
Hong Kong protests: at least 36 injured at MTR station as mob dressed in white beat protestors
After this caused people to post his personal information online, he got so worried that he deactivated his Facebook account.
"I was shocked," he said, adding that he hoped they would stop spreading hatred. "Different people have different views, and we should all respect each other."
Despite some of the negativity, there were also people, especially other train buffs, who were supportive of his song, even if he does not consider himself a "star".
Hong Kong schools report 50 per cent increase in bullying, even with Covid-19 class suspensions
And the love from his parents has also helped him soldier through.
"My parents believe that we should all have our personal interests," he said. "But they also said that I needed to manage my time well."
'Greensleeves' has an interesting history for Hongkongers
While his parents may want him to focus on his academics as well as on trains, the song he used actually has a history for many Hongkongers' studies.
Starting long before Jason adopted his own lyrics for Greensleeves, the song has been used for many years as the background music for Hong Kong's public listening exams to fill the silence after a recording exercise has ended.
Three study tips from HKDSE top scorer
Exuding a soothing yet melancholic vibe, the tune encapsulates the city's collective memory. Some have even called for Jason's updated tune to be played for future exams.
His TV interview has also been popularised by a retail store in the city. Staff at Don Don Donki, a popular Japanese chain in Hong Kong, made their own version of his song with lyrics to welcome their customers.
Still, Jason said he believes the hype will be over soon. "After the Tuen-Ma line has been open for a while, I think people will stop talking about this," he said.
Sign up for the YP Teachers Newsletter
Get updates for teachers sent directly to your inbox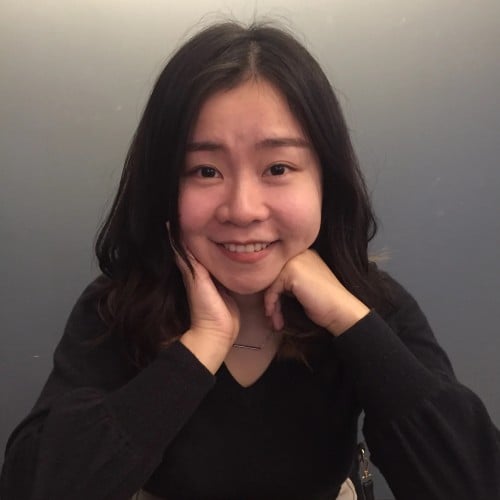 Kelly is a journalist from Hong Kong. She joined the Post in 2018, where she writes about Hong Kong's arts and culture, social welfare and the environment. She has a master's degree in Journalism from the University of Hong Kong.
Sign up for YP Weekly
Get updates sent directly to your inbox