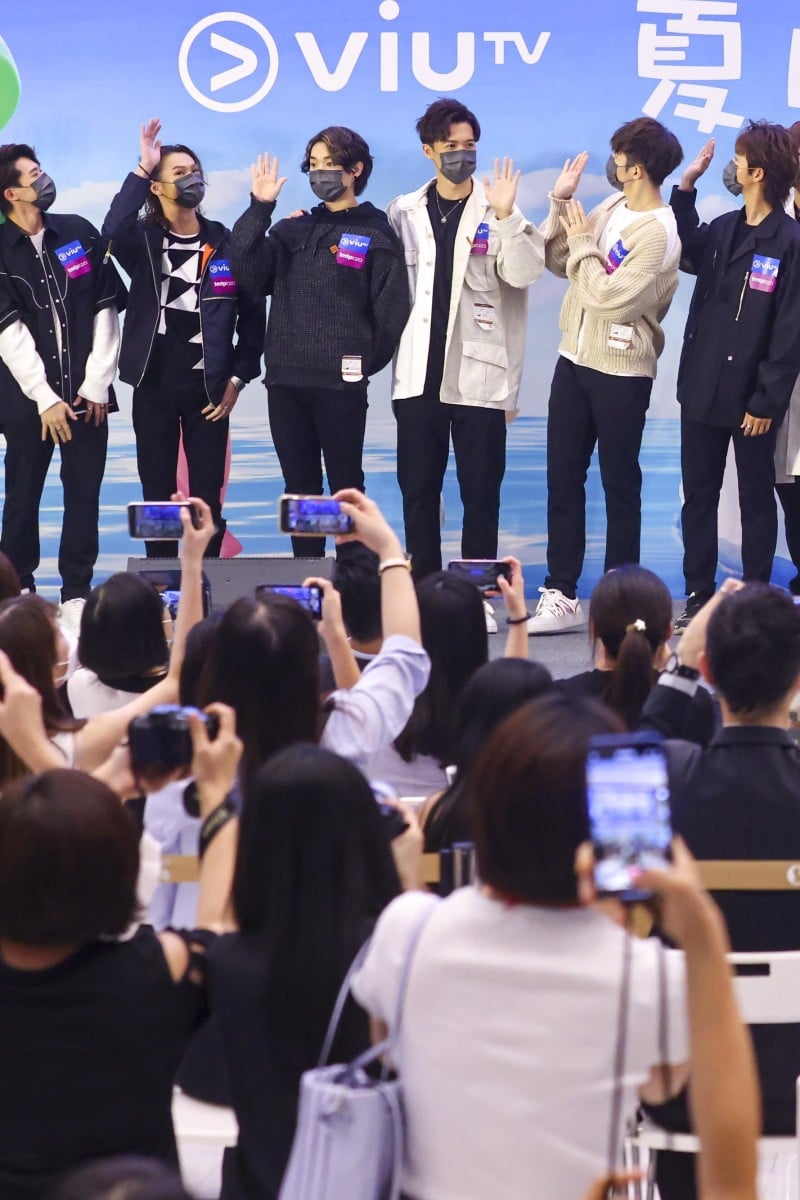 Fake name cards and overnight camping: how far would you go to see Hong Kong boy bands Mirror and Error?
Newspaper says someone impersonated a reporter to get front row seats to event featuring city's hottest stars of the moment

More than 1,000 fans thronged Tuen Mun mall on Friday, with some waiting nearly 24 hours at venue to secure prime spots
Hong Kong boy bands Mirror and Error took Tuen Mun Plaza by storm. Photo: Dickson Lee
Just how far would fans of Canto-pop bands Mirror and Error go for a front-row seat to see them?
Some are willing to create fake business cards to pose as journalists, or camp at a mall 24 hours before their idols show up.
On Friday, more than 1,000 Mirror fans swarmed three floors of Tuen Mun Town Plaza to catch a glimpse of the stars who were there for a promotional event centred on the Olympics and Hong Kong television programmes.
Mirror and Error are two popular bands that have captivated a new generation of Hong Kong fans. Photo: Dickson Lee
Local newspaper am730 posted on its Facebook page that an individual had presented a bogus name card claiming to be its "editor-reporter", in an apparent bid to enter the event for a front-row seat.
"Come up to our office and we will pay you for your work! Remember to submit the article!" the newspaper joked in the Facebook post.
Canto-pop boy band Mirror kicks off concert series "One & All Live"
Carmen Leung, a pharmaceuticals worker in her 40s, pitched up at the shopping centre in the New Territories at 1pm on Thursday, just shy of 24 hours before the Canto-pop stars were set to arrive. She had to wait outside when the mall closed at 11pm until it reopened the next day.
"It wasn't a waste [to come so early] because we could scout the spots and know our positions, and tell other fans," Leung said, explaining there was a system in place so all 12 fan clubs of Mirror in the city could occupy their own zones.
Fans camp out at the mall. Photo: Facebook
Chris Lau, 28, and Stella Tang, 20, met each other in the mall at 9pm on Thursday in the hope of securing a front-row position.
When the mall closed for the evening, the pair moved outside to join about 200 other hardcore fans as they waited overnight for the arrival of the stars.
Will Hong Kong idol Keung To be able to encourage people to get the Covid-19 vaccine?
"I am really feeling how united we are," Lau said, recounting one of their number falling ill at 6am and others calling a taxi and chipping in to cover the fare.
Chris and Stella, who packed their own food, did not sleep a wink.
"We don't know when security will open the doors, so if we sleep we will miss our chance to come in," said Lau, who later rushed into the mall when it opened at 7am.
Avid fans swarmed three levels of the mall. Photo: Dickson Lee
The 12 members from the Mirror band and the four Error members were selected from ViuTV's popular talent competition series Good Night Show – King Maker.
Mirror's popularity grew after the ViuTV programme, Ossan's Love, premiered last month and ended recently. The show starred Mirror members Anson Lo Hon-ting, Edan Lui Cheuk-on and Stanley Yau Sze-chun.
The Error members rose to fame for their unorthodox TV variety show ERROR Selfish Project, which features the group's parodies of Japanese anime such as Neon Genesis Evangelion as well as the production crew's pranks on the members.
Sign up for the YP Teachers Newsletter
Get updates for teachers sent directly to your inbox
Sign up for YP Weekly
Get updates sent directly to your inbox