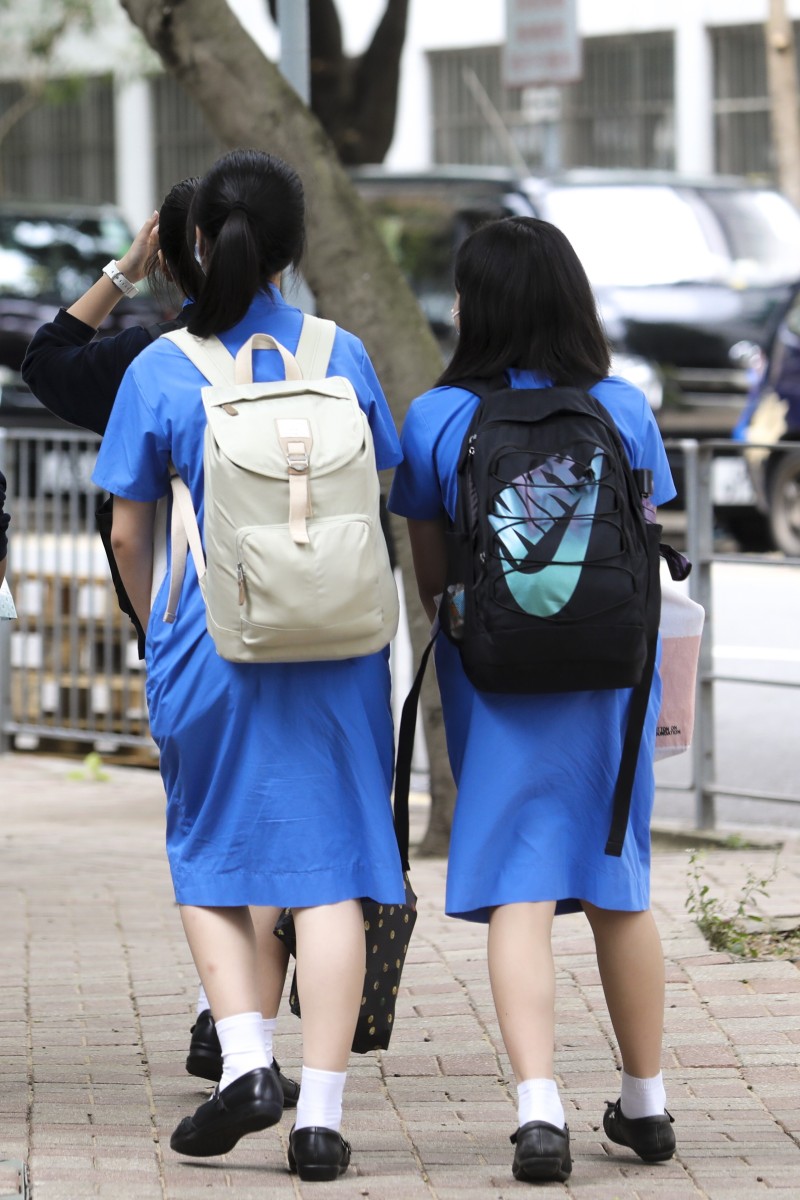 Full-day on campus lessons could resume September 1 if 70 per cent of a school's students and teachers are inoculated against Covid-19

Chief Executive Carrie Lam announced a list of new measures on Monday, including that fully jabbed residents overseas would be allowed to return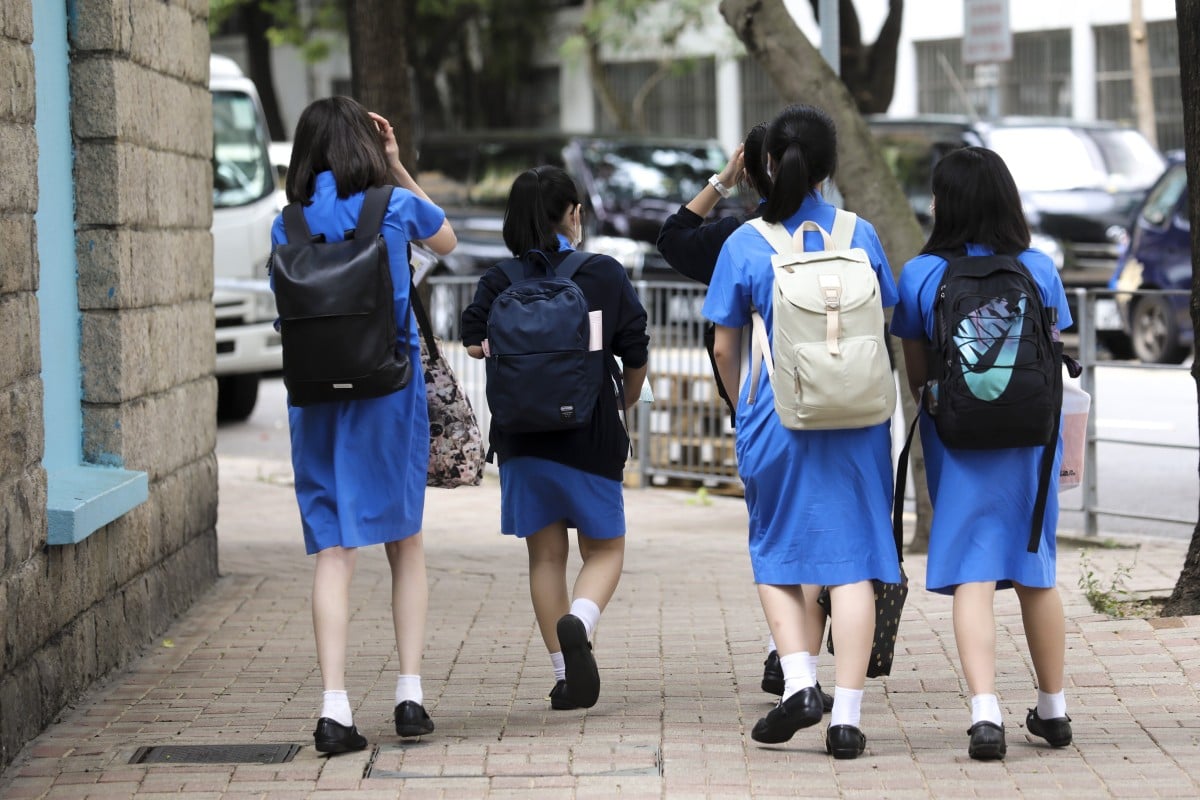 Vaccinated? You may be able to head back to school soon. Photo: SCMP/ Dickson Lee
Hong Kong students may be able to return to full-day in-person lessons in the upcoming school term under new pandemic rules introduced by the government.
Previously, kindergartens, primary and secondary schools were holding half-day lessons on campus before the end of the school year.
The city will overhaul its coronavirus rules and streamline its categorisation of countries deemed Covid-19 risks to allow more fully vaccinated residents stranded overseas to return home, along with foreign domestic helpers and businesspeople waiting to come in.
In addition, full-day classes could resume in schools as early as September 1 if at least 70 per cent of students and teachers had been vaccinated, education minister Kevin Yeung Yun-hung said on Monday.
The Delta variant can still be highly contagious, even if you're vaccinated
Fully jabbed students could also be allowed to take extracurricular lessons for the remaining half-day if their schools did not run full-day classes.
Announcing the new rules on Monday, Chief Executive Carrie Lam Cheng Yuet-ngor said strict enforcement would continue, but the adjustments would allow stranded Hong Kong residents, including students studying overseas and foreign domestic helpers, to return.
"After 56 days now without any local [Covid-19] cases, we have basically achieved the goal of zero infections in the community," she said, flanked by some of her top policy officials at a press conference. "The fourth wave has ended, but we can only relax [our policies] prudently based on vaccination."
The revamped strategy comes on the back of a sustained period of low daily infections brought in from overseas, but the city is still unable to reopen its border with mainland China, which is dealing with a surge in cases of the more transmissible Delta variant.
Shruti Kaur, 16, a Form Five student at YMCA of Hong Kong Christian College who has been vaccinated, said that while she would like life to return to normal, she was overall neutral on the issue of resuming full-day classes.
"I would feel safer if at least 70 per cent of staff and pupils are vaccinated, because it would feel as though we have a shield against Covid-19," she said. "However, recent cases have shown that even if a person is fully inoculated, there is still a chance they could catch the virus - including the Delta variant. So we will still have to take precautions like using hand sanitiser and wearing face masks."
What is a vaccine breakthrough case?
"Education is my priority, but I also think that we should remember our personal health and safety," she said. "Although it may be difficult to study in a virus-stricken atmosphere with half-day classes, these precautions are needed to protect Hong Kong from potential dangers, such as community outbreaks."
Meanwhile, Melody Ma Jing-mao, 15, a Form Three student at Carmel Pak U Secondary School, said she didn't want to resume full-day lessons. Although she has been vaccinated, she said it was still possible for fully-inoculated people to get the virus.
"It's also unfair to schools that have less than 70 per cent of their staff and students vaccinated, because they will have less time in class," she said.
The Delta variant is causing problems worldwide
Other changes to the city's Covid-19 policy include:
• The current five-tier risk system will be condensed into three risk levels – high, medium and low - beginning next Monday. Fully vaccinated residents from high-risk countries can return to the city, as well as vaccinated non-residents from medium-risk countries. All travellers must provide a negative virus test 72 hours before departure, and travellers from high-risk countries must quarantine for 21 days in designated hotels.
• For high-risk countries, the city will only recognise travellers' vaccinations if they have been jabbed in Hong Kong or mainland China, or got a shot from an institution recognised by the World Health Organization (only Britain and Ireland fit the criteria). Vaccination certificates issued by local health authorities will be accepted for medium- and low-risk countries. Antibody tests will be optional for people arriving from medium-risk countries who want to halve their hotel quarantine and isolate for the remaining seven days at home.
• Domestic helpers from Indonesia and the Philippines, previously barred from entering the city because both countries are listed in the highest-risk category, will be able to return if they have been vaccinated in Hong Kong. Those already in the city and between contracts will be able to travel home and return as long as they are first inoculated in Hong Kong, but all of them must be quarantined for 21 days upon entry in one or two specified hotels. Talks are underway with authorities in both countries on how to validate their vaccination certificates.
We might eventually need booster shots of the Covid vaccine
• Airport staff, coach drivers to quarantine hotels and staff of such properties must get vaccinated or they will lose their jobs. Civil servants, care home workers, public hospital employees and staff at schools also need to get vaccinated or pay for Covid-19 tests out of their own pocket. The government will no longer provide free virus testing for these groups unless they are certified unfit for jabs by a doctor.
• Community vaccination centres will continue to operate until October
With Hong Kong being a well-connected international city, Lam said there was "simply no room for complacency" and not subjecting travellers to quarantine or restrictions would defeat the "efforts of many people over many months".
Sign up for the YP Teachers Newsletter
Get updates for teachers sent directly to your inbox
Sign up for YP Weekly
Get updates sent directly to your inbox