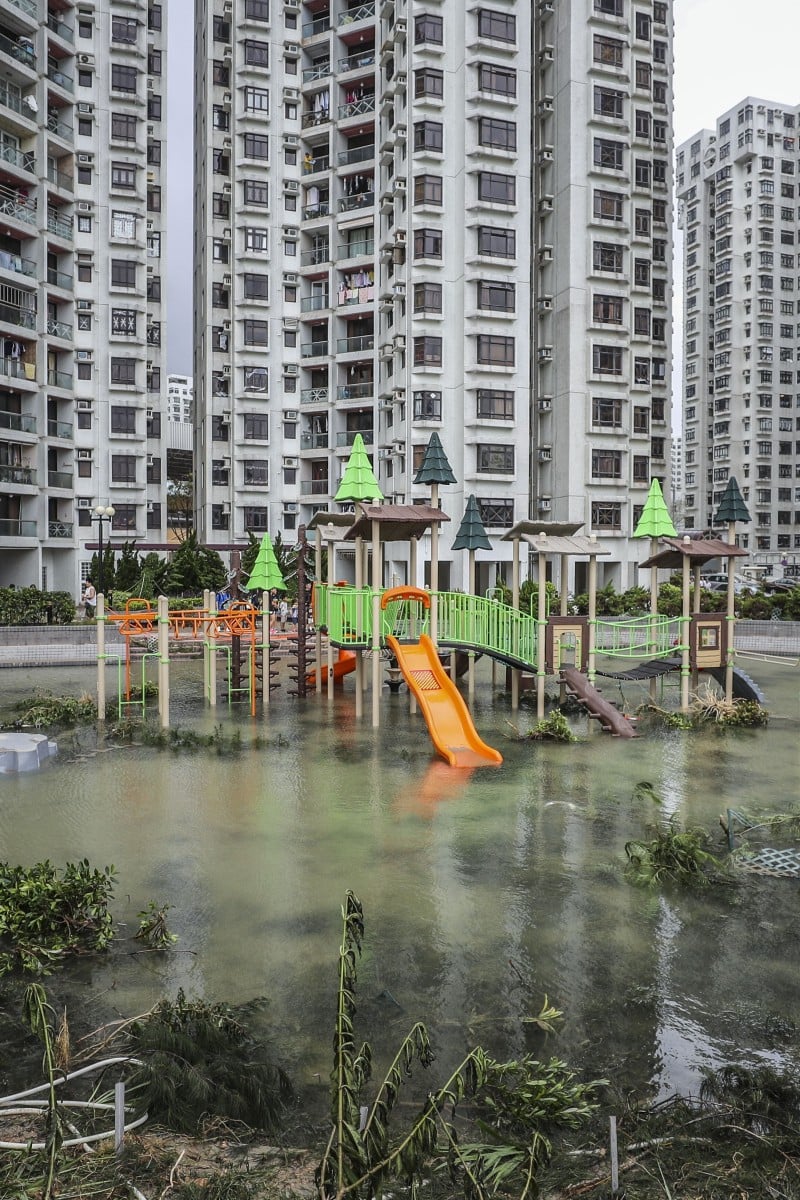 A new report from the United Nations warned the world could experience intense changes if global warming isn't properly addressed

Hong Kong could be affected by more destructive tropical cyclones, and rising sea levels could make flooding worse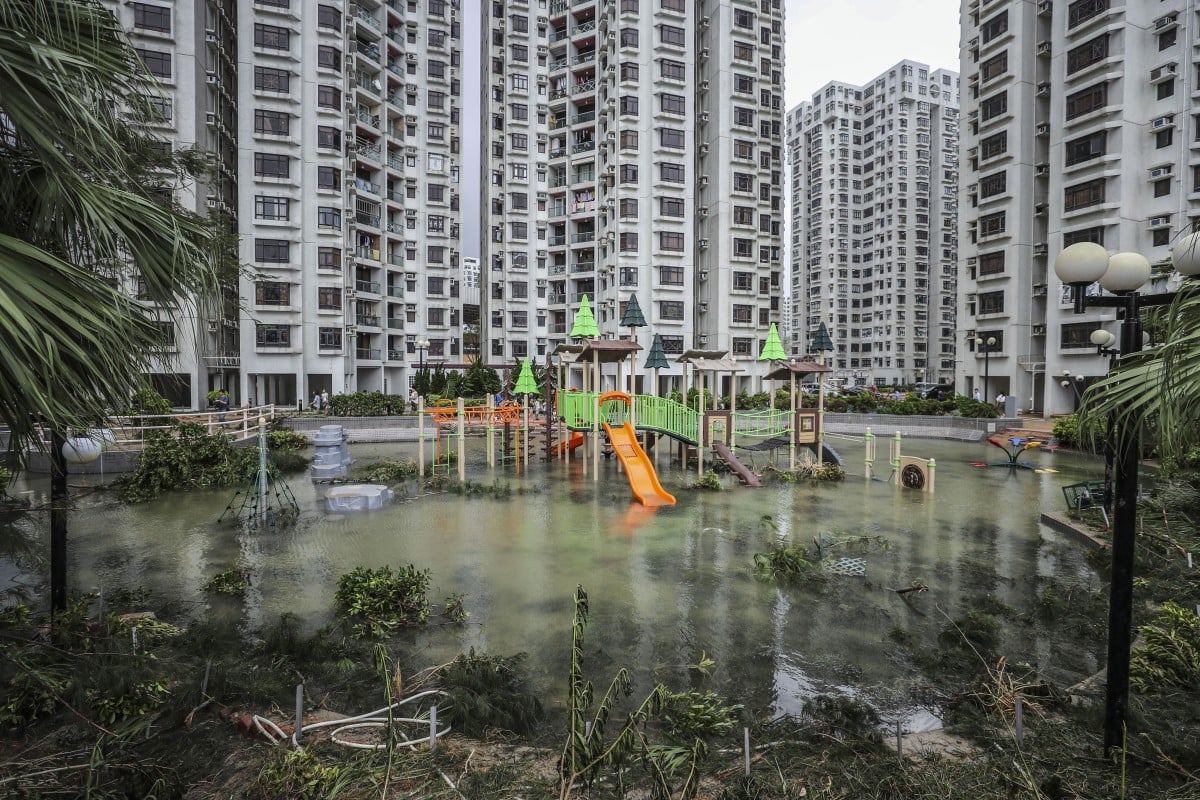 A playground at Heng Fa Chueng was left destroyed after Typhoon Mangkhut hit Hong Kong in 2018. If climate change continues at its current rate, the city can expect more typhoons like Mangkhut. Photo: SCMP/ Winson Wong
Hong Kong will suffer typhoons more destructive than Mangkhut, droughts that wreak havoc on its supply of drinking water, and intense heatwaves if global warming exceeds 2 degrees Celsius by 2050.
The warning from local scientists came in response to a "code red for humanity" issued by the United Nations (UN) on Monday in a climate report that found humans had already pushed up global temperatures by about 1.1 degrees since the 19th century through burning coal, oil and gas.
Even if nations begin drastically cutting emissions today, the world will still warm up by an average of 1.5 degrees within the next 20 years, it said.
"The situation is pretty bad," said City University Professor Johnny Chan Chung-leung, who was a review editor for the report's chapter on extreme climate events. "Firstly, if we're talking about tropical cyclones, the strongest will only become stronger. I would suggest the government look at the latest projected scenarios from the report and review whether Hong Kong's infrastructure can cope."
The Intergovernmental Panel on Climate Change's (IPCC) sixth assessment report examined the physical science of climate change. Written by hundreds of international experts and based on more than 14,000 studies, the report is the largest yet on the environmental crisis, which has only worsened since the panel's fifth assessment released in 2013.
Are these eco-friendly initiatives actually worthwhile?
That report helped prompt the governments of nearly every nation to come together and commit to limiting warming to well within 2 degrees, following the Paris Agreement that came into effect in 2016.
But the latest findings show that unless drastic and large-scale action to cut carbon dioxide and other greenhouse gas emissions is immediately taken, temperatures are expected to surpass 2 degrees - and potentially even up to 4 degrees - compared with pre-industrial levels.
Even a rise of 1.5 degrees will result in 1 billion people suffering from more frequent, life-threatening heatwaves. Every degree of increase after that will lead to more intense heat, rainfall, droughts and other extreme climate events. Mass die-off of coral reefs, which support the marine life that much of the world's population relies on for food, will happen more frequently.
When coral reefs die off, so does marine life.
Almost all of the emissions causing the crisis came from human activity, scientists concluded.
"It is indisputable that human activities are causing climate change, making extreme climate events, including heatwaves, heavy rainfall and droughts more frequent and severe," said Zhai Panmao, co-chair of the working group that wrote the report.
Unchecked global warming will be particularly felt in Hong Kong and the wider Guangdong region.
Ways to make Hong Kong more sustainable
Southern China will be hit with less frequent but vastly stronger typhoons, according to Chan. Their intensity would likely surpass even that of Super Typhoon Mangkhut, the city's most intense tropical cyclone on record, which caused HK$4.6 billion in direct economic losses in 2018. At least six people died in mainland China, while more than 130 were killed in Taiwan and the Philippines.
Stronger typhoons would bring destructive high winds and heavy rains, he warned. Rising sea levels – currently at their highest in 3,000 years – would worsen flooding by making it harder for drainage systems to funnel excess water out of the city.
Collapsed trees cover the pavement on Tin Ping Road in Sheung Shui after Typhoon Mangkhut. Photo: SCMP / Sam Tsang
Chan also warned of droughts in the city if temperatures continued to rise. "If that happens, the whole of Guangdong will suffer," he said. "Hong Kong will not be able to rely on water from the Dongjiang."
The Guangdong river supplies about 70 to 80 per cent of the city's water. Chan noted that authorities in some areas drawing from the river were forced to implement water rationing in May, which was exceptionally dry.
But the global crisis is preventable – UN scientists said that if the world reached carbon neutrality by 2050, global warming could be kept well within 2 degrees.
How climate change has changed our vocabulary
Hong Kong leader Carrie Lam Cheng Yuet-ngor has declared the city was aiming to be carbon neutral by then and environmental authorities will release a report by the third quarter of 2021 outlining how to achieve that goal.
Chinese University Professor Gabriel Lau Ngar-cheung, who was a lead author of the IPCC's fifth assessment report, said he hoped the government's blueprint contained a greater push on educating people about the issue.
"If we want people to be willing to take action, such as recycling and reducing energy use, we need to step up education efforts so they know," he said.
Hongkongers will need to make more of an effort to recycle if they want to slow down the effects of climate change. Photo: SCMP/ Nora Tam
Lau said the government would need to look at new sources of renewable energy, including importing it from the mainland, to decarbonise the city's power sector.
In addition to calling on the government to review its infrastructure plans, Chan said businesses would need to also take measures to protect their underground structures, including shopping centres, car parks and even the city's rail system to reduce the chance of any future loss of life or property.
The Hong Kong students leading a zero-waste initiative
But Edwin Lau Che-feng, executive director of local environment group The Green Earth, said he hoped the UN's report would prompt the government to take "brave action and employ innovative thinking" in tackling the crisis.
"The government needs to overhaul its policies and rethink building standards … they should listen to academics instead of business interests" he said.
He suggested the government try to make more carbon cuts by 2040, so it would be easier to achieve full carbon neutrality within the 10 years leading up to 2050.
Sign up for the YP Teachers Newsletter
Get updates for teachers sent directly to your inbox
Sign up for YP Weekly
Get updates sent directly to your inbox