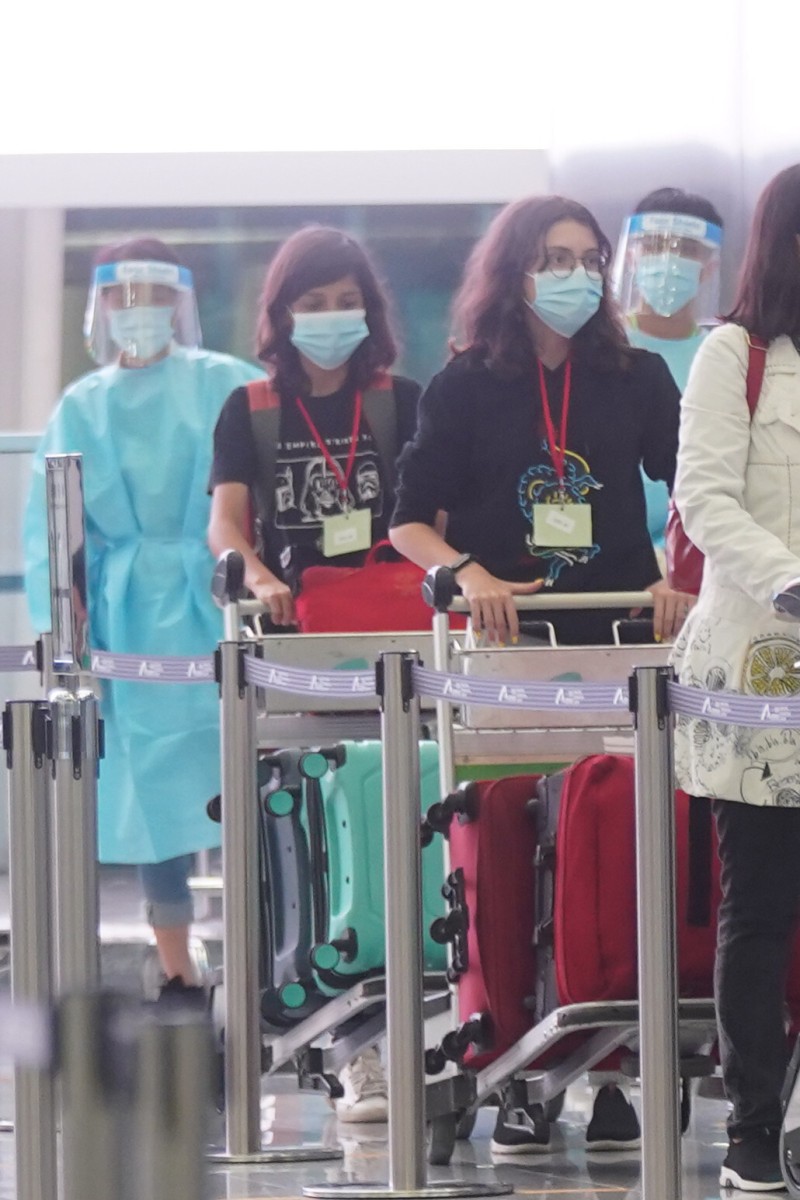 The move was announced amid a recent surge in infections due to the Delta variant

The number of new infections per day surpassed 140,000 in the US, prompting health authorities to question why it was considered 'medium-risk'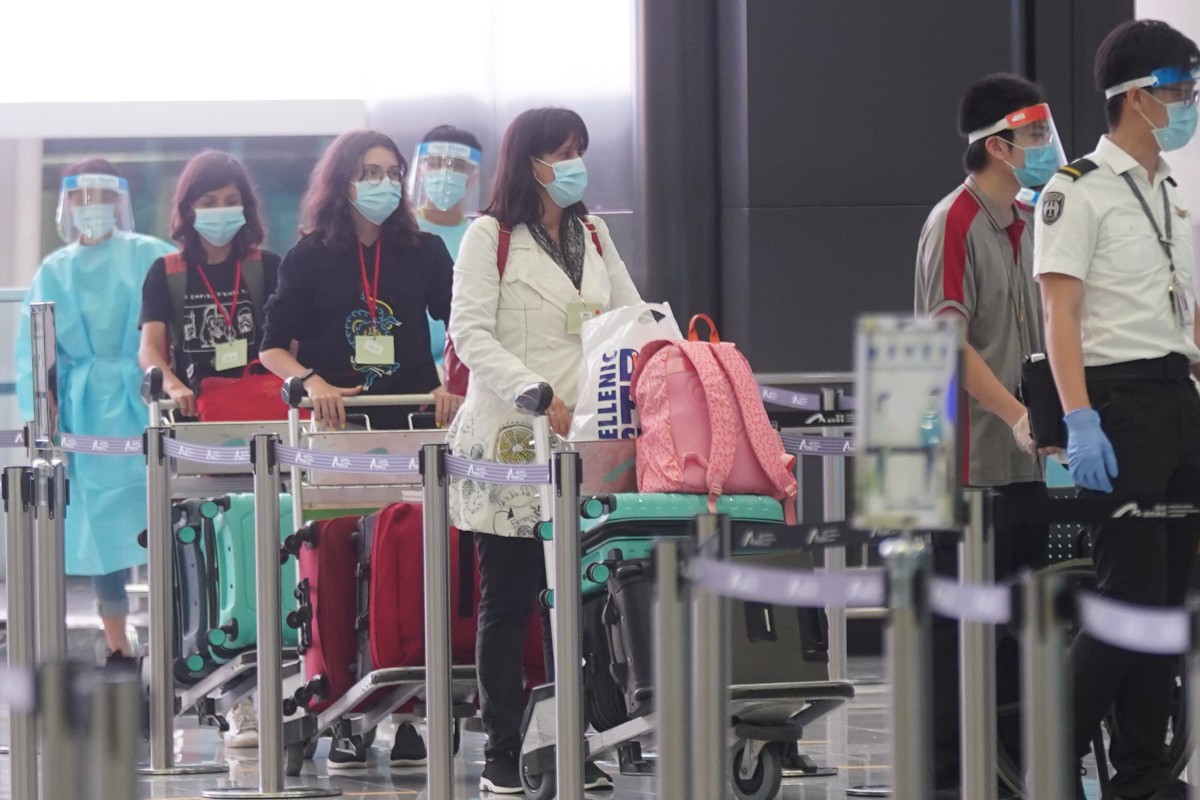 Travellers queue at the arrival hall of Hong Kong International Airport. New restrictions have changed quarantine times for people coming from places like the US and Thailand. Photo: SCMP / Sam Tsang
Hong Kong is elevating 15 countries to its "high-risk" category for coronavirus, which means tougher boarding requirements and longer quarantine periods for anyone arriving from those destinations.
The move, announced on Monday afternoon, comes amid a recent global surge in coronavirus cases sparked by the more infectious Delta variant.
The world may never reach herd immunity against Covid-19
Set to take effect on Friday, the changes follow calls by local health experts to move the United States to a higher risk category to prevent those who were fully vaccinated but still carrying Covid-19 from slipping into the community.
In all, 15 countries will see their status changed from medium to high risk: the US, France, Malaysia, Thailand, the United Arab Emirates, Bangladesh, Cambodia, Greece, Iran, the Netherlands, Spain, Sri Lanka, Switzerland, Tanzania and Turkey.
Australia, meanwhile, will be vaulted from the low-risk category to medium-risk status.
The Delta variant has changed quarantine times for many countries that were previously considered "low-risk" for the virus. Photo: SCMP / Sam Tsang
The daily number of new infections in the US topped 140,000 on Friday after averaging in the five digits over the past month.
A similar jump occurred in Thailand, which saw its daily caseload grow from a few thousand last month to more than 23,000 late last week, while French infections surged past 28,000 on Friday.
The changes mean travellers from the 15 new high-risk nations must be fully vaccinated for at least 14 days before boarding a flight to Hong Kong, then undergo 21 days of quarantine in a designated hotel upon arrival, with four tests during isolation and another one on the 26th day after landing in the city.
Unvaccinated people are twice as likely to be reinfected with Covid
Officials will only recognise vaccination records issued by Hong Kong, mainland China and countries with a regulatory authority recognised by the World Health Organisation.
Unvaccinated travellers from Australia will now need to quarantine for 21 days – up from the current 14 days – while fully jabbed arrivals will see their isolation extended from seven to 14 days, though the former figure still applies to those who also can produce a positive antibody test.
"After considering a basket of factors, the government has decided to upgrade the risk grouping of 16 overseas places to impose more stringent boarding, quarantine and testing requirements on relevant inbound travellers in order to uphold the local barrier against the importation of Covid-19," a government spokesman said.
The countries already in the high-risk category are: Brazil, India, Indonesia, Ireland, Nepal, Pakistan, the Philippines, Russia, South Africa and Britain.
The shift came as Hong Kong confirmed three new Covid-19 cases on Monday: an arrival from Switzerland, a sea crew member from Malaysia and a fully vaccinated traveller from Japan.
The three imported cases – all of whom carried the L452R mutation, which is linked to a few coronavirus variants including the Delta version – took the city's tally of confirmed infections to 12,036, with 212 related deaths. Fewer than five people tested preliminary-positive.
WHO says wealthy nations should wait on booster shots
Earlier in the day, University of Hong Kong microbiologist Dr Ho Pak-leung had said it was "completely not understandable" that the US had been classified a "medium-risk" country under the city's three-tiered entry system.
"Of course, making everyone quarantine for 21 days would be the safest measure, but the cost of that is much higher," Ho told a morning radio show. "The tiered system is good, but the key is to be very clear with the risk posed by each country."
Ho said the US had seen a rebound in new cases over the past month, with a daily infection tally that ranked among the highest in the world.
Passengers at Hong Kong International Airport wait to be transported to designated quarantine hotels. Photo: SCMP/ Felix Wong
"Listing the US as a medium-risk country is the biggest loophole in the current measures," he said.
The government only recently revamped its pandemic rules, and from last Monday began using a streamlined process for assessing the Covid-19 risk posed by various countries.
Those changes allowed more fully vaccinated residents stranded overseas to return home, and made exemptions for groups such as foreign domestic helpers and businesspeople seeking to travel to the city.
Even if you're vaccinated, the Delta variant can still be contagious
Lawmaker Michael Tien Puk-sun had also called on the government to move the US from medium risk to high risk, while removing the reduced quarantine for vaccinated travellers altogether.
"The length of quarantine stay should be purely based on risk, since even vaccinated people can still get infected," he told a morning radio show.
Sign up for the YP Teachers Newsletter
Get updates for teachers sent directly to your inbox
Sign up for YP Weekly
Get updates sent directly to your inbox