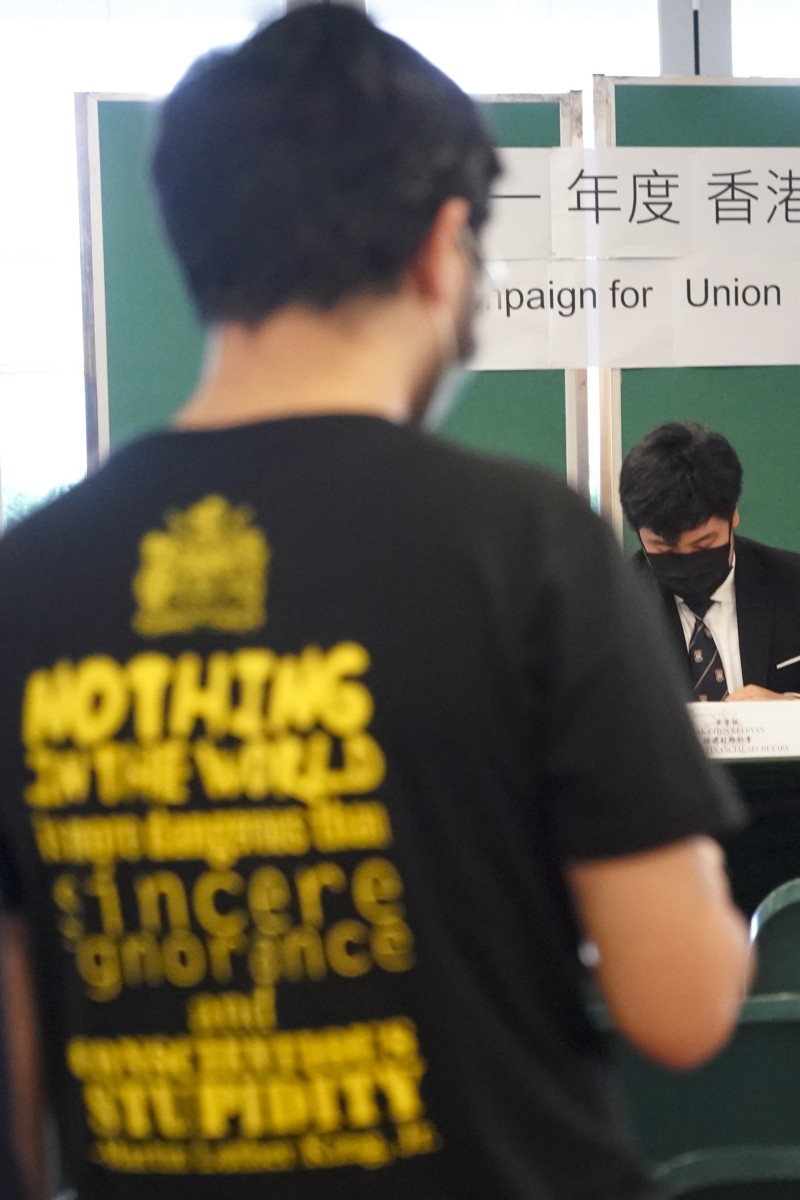 They were brought in for advocating terrorism after passing a motion 'appreciating the sacrifice' of the man who stabbed a police officer

The University of Hong Kong had previously banned the students from campus and severed ties with the union
HKU student union president Charles Kwok (speaking) is one of three students known to have been arrested on Wednesday morning. Photo: SCMP/ Felix Wong
Four University of Hong Kong students, including the president and council chairman of its student union, were arrested by national security police on Wednesday morning on suspicion of advocating terrorism.
The four were among the more than 30 students who attended a meeting last month in which a controversial motion was passed mourning and "appreciating the sacrifice" of a man who stabbed a police officer before killing himself.
According to sources, three of the arrestees are: student union president Charles Kwok Wing-ho, 20; student union council chairman Kinson Cheung King-sang, 19; and Anthony Yung Chung-hei, 19, external vice-chairman of the Arts Association, which represented arts students on the union council.
90,000 people left Hong Kong last year
The fourth student has yet to be identified.
Under Article 27 of the national security law, anyone convicted of terrorism faces a mandatory sentence of between five and 10 years.
Commenting on the arrests, Hong Kong Chief Secretary John Lee Ka-chiu said law enforcement agencies had a duty to act when the city's laws were violated.
Workers remove the sign for the student union office at HKU. Photo: SCMP/ Winson Wong
"It is important that we develop a law-abiding culture, which at some stage has been destroyed by the violence since 2019," Lee said.
"At this time, when we have to rectify the incorrectness, we must ensure that this principle of being a law-abiding citizen is the fundamental cornerstone for a city to be stable and prosper."
The student union council's controversial resolution was passed on July 7. Thirty of the 32 council members present at the meeting voted in favour of the motion, with the other two abstaining.
Hong Kong's largest teachers' union disbands
The resolution expressed "deep sadness" over the death of a man who stabbed a Hong Kong police officer in Causeway Bay on July 1, before turning the knife on himself.
Amid the furious backlash, including suggestions the motion might have broken the national security law, student union president Kwok back-pedalled the next day, saying he believed the resolution to be "extremely inappropriate".
Some of the other student leaders also apologised and stepped down from their posts.
A photo from when national security police raided the student union office at HKU on July 16, 2021. Photo: SCMP/ Felix Wong
Security officials, who had described the attack as an act of "lone-wolf" domestic terrorism, condemned the council, while Chief Executive Carrie Lam Cheng Yuet-ngor also demanded action against the student leaders.
On July 16, national security police raided the union's office amid an investigation into whether the group had advocated or incited terrorism, according to a police source.
Earlier this month, the university banned all involved from entering the campus or using any of its facilities and services. HKU had already severed all ties with the student union, even though the council had withdrawn the motion.
Sign up for the YP Teachers Newsletter
Get updates for teachers sent directly to your inbox
Sign up for YP Weekly
Get updates sent directly to your inbox