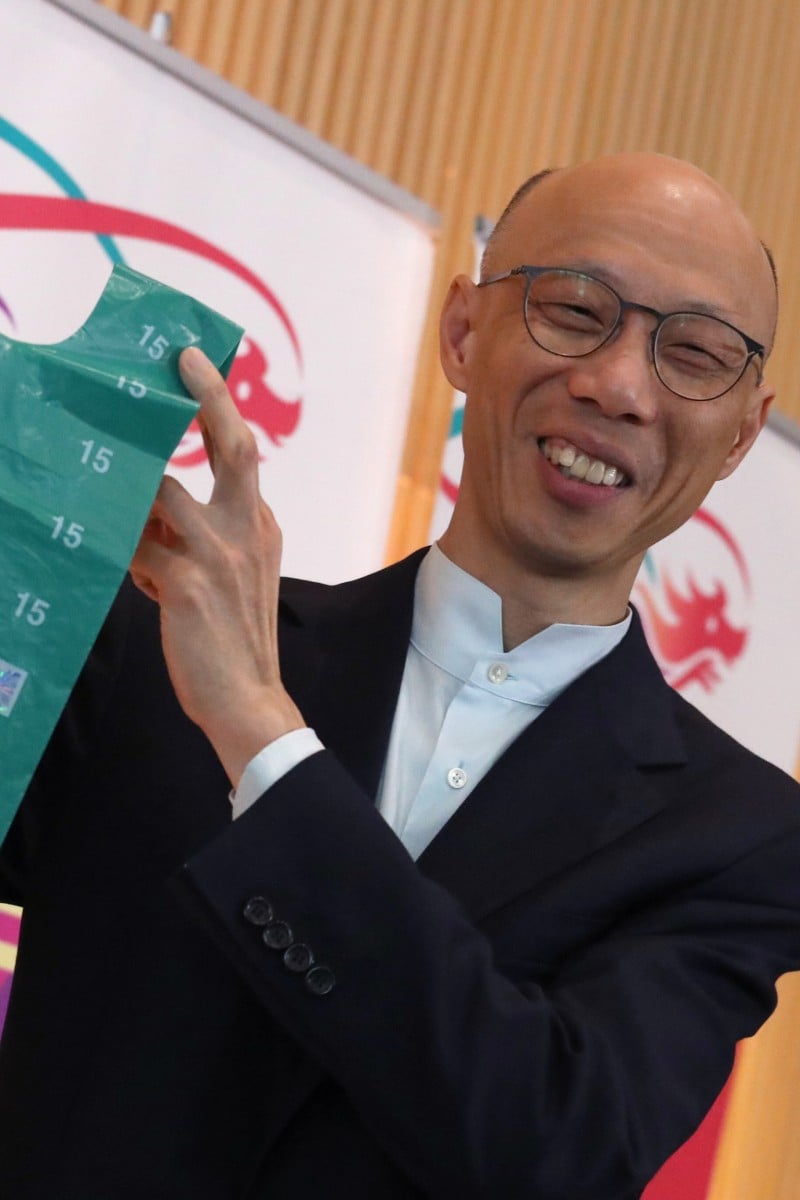 Legco passed legislation that requires households and shops to purchase specific rubbish bags, but it is unclear when the plan will begin

The move is meant to encourage people to reduce, reuse and recycle, rather than rely on the city's landfills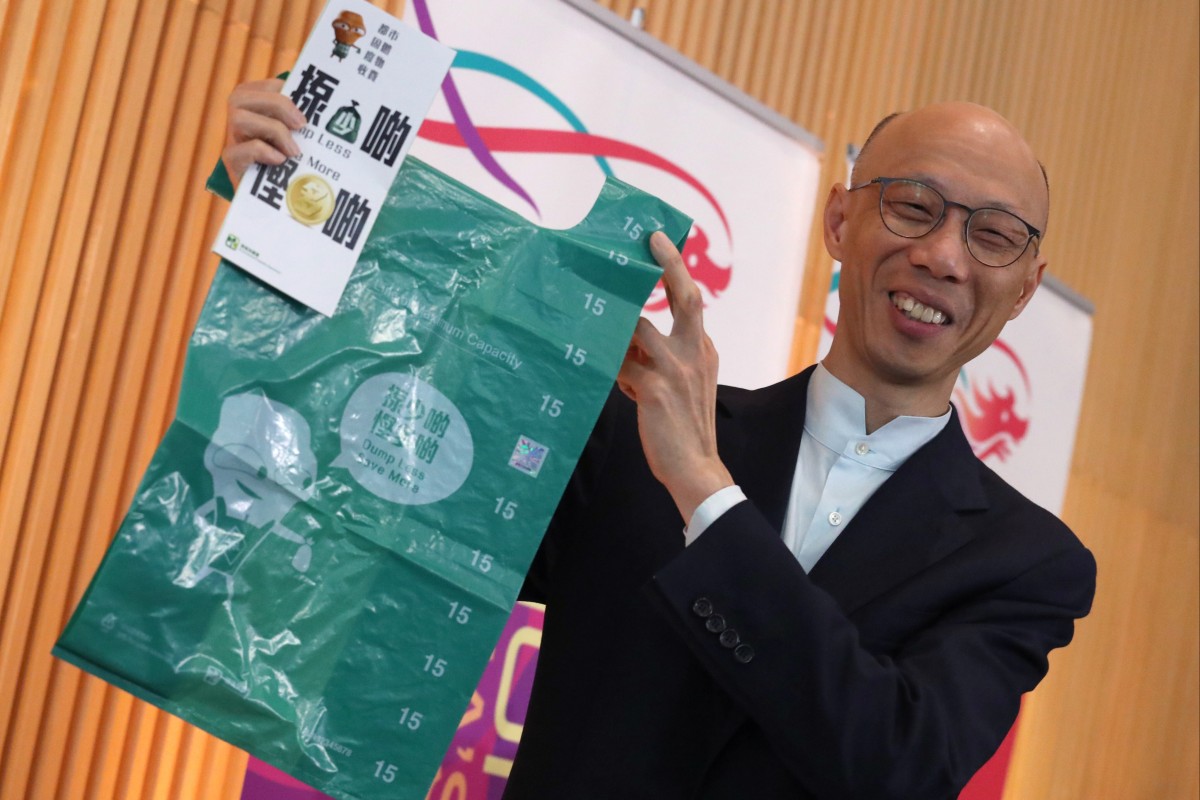 Secretary for the Environment Wong Kam-sing holds up an example of one of the rubbish bags that could be used under the waste-charging scheme. Photo: SCMP/ Nora Tam
Lawmakers in Hong Kong have passed long-delayed legislation to charge residents for their rubbish, but there is uncertainty over when the scheme will launch.
Environment minister Wong Kam-sing agreed to requests from legislators to allow at least 18 months to set up the new system, after which the Legislative Council would carry out a review before the scheme was gazetted into law. The original time frame for implementation was between a year and 18 months.
Hong Kong will see more super typhoons because of climate change
Ahead of Legco's near-unanimous approval on Thursday of the waste-charging scheme first proposed 16 years ago, lawmakers called for more investment in recycling to ensure its success.
In response, Wong said that his department would open 10 new recycling venues across the city and expand an existing pilot scheme for plastic collection.
"Implementing this waste-charging bill will be a challenge and will need the government, industries and residents to work together," Wong said.
How to make Hong Kong more sustainable
"Waste reduction will not only ease the burden on the city, but is also an important part of tackling climate change."
The Environmental Protection Department will now be given 18 months to prepare for the scheme's implementation, during which they plan to educate residents on the new process for waste disposal.
Free designated rubbish bags will be given out to residents ahead of the official launch, the date for which is still to be decided.
Lawmakers hope the move will encourage people to produce less rubbish. Photo: SCMP / Winson Wong
Under the full implementation of the scheme, the bags are expected to cost the average three-person household between HK$33 and HK$51 a month.
The rules require residents and operators of street-level shops utilising government refuse collection services to buy and use rubbish bags produced and sold by the administration.
There are 11 types of the bag in a range of sizes. A 15-litre bag of the variety typically given out in supermarkets will cost HK$1.70.
The Island School students with an eco-friendly initiative
However, legislator Tommy Cheung Yu-yan again warned the government against assuming that simply passing the waste-charging bill would solve the city's rubbish problems.
"Without the proper packaged policies including proper recycling for sorted waste and food waste, then everything ends up back in the landfill anyway," he said.
The eco-activist who does not even drink water
In 2019, each Hongkonger sent on average 1.47kg of rubbish to landfill per day, a slight decline from the previous year's 1.53kg, but local environment groups have warned the figure for 2020 would rise again due to the increased use of disposables during the Covid-19 pandemic.
Lawmakers voted 37 to 1 in favour of the bill, with Civic Passion's Cheng Chung-tai voting against.
Wong said the pilot plastic collection scheme would be rolled out in a total of nine districts, from the current three, to include Central and Sai Kung.
Sign up for the YP Teachers Newsletter
Get updates for teachers sent directly to your inbox
Sign up for YP Weekly
Get updates sent directly to your inbox