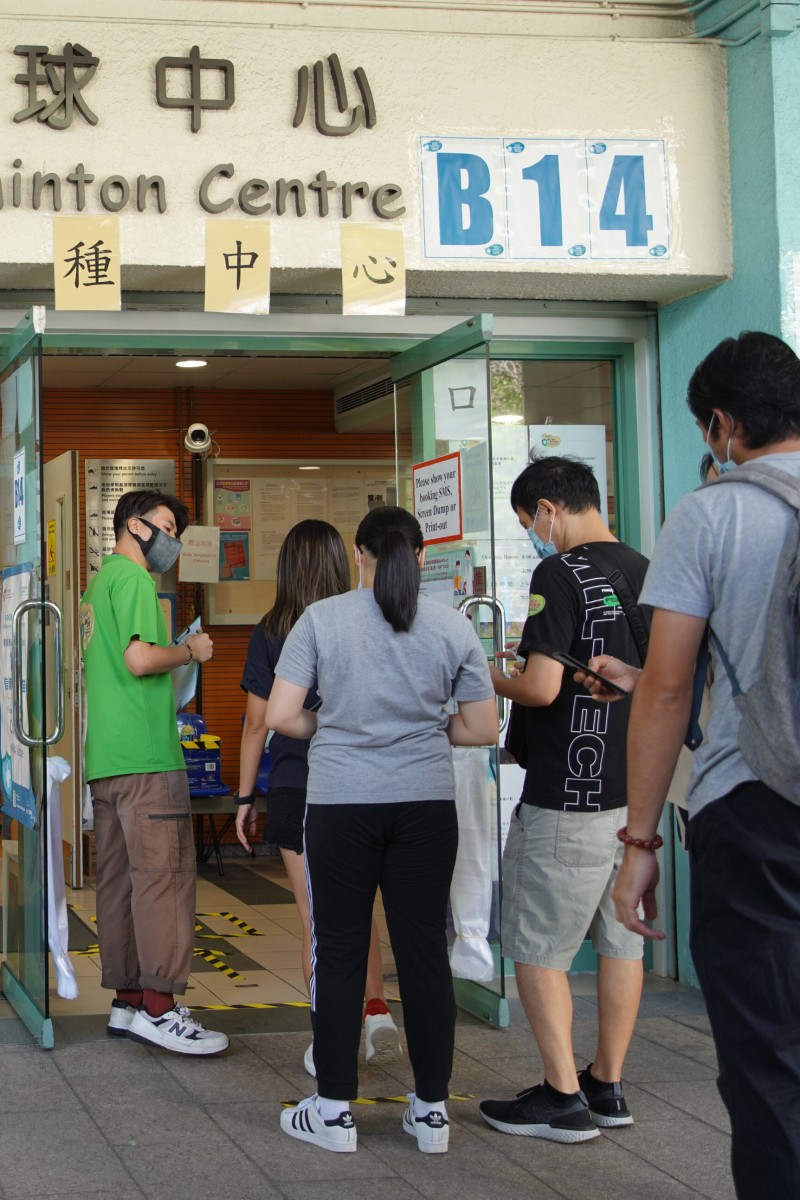 Chief Executive Carrie Lam said there are no immediate plans to change the current Covid-19 restrictions unless there is a spike in cases

The government will allow domestic helpers from the Philippines and Indonesia to quarantine at Penny's Bay for HK$500 per night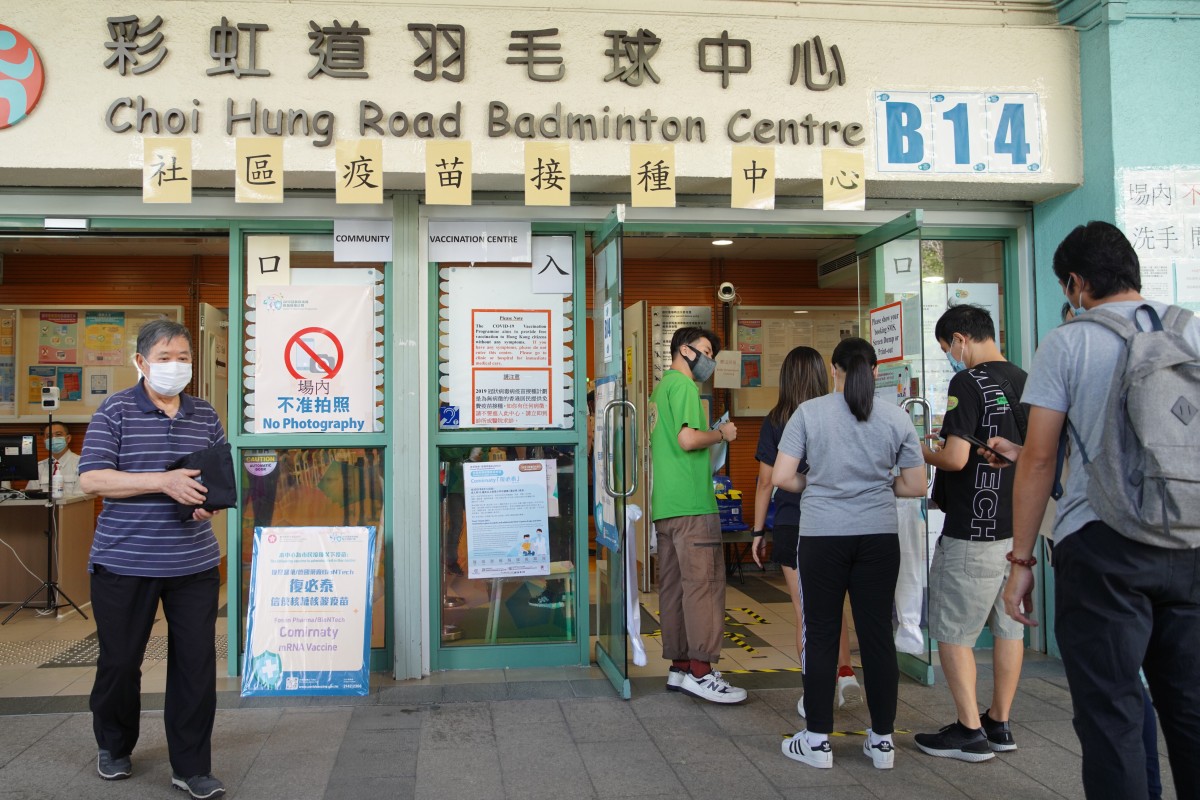 People line up for the BioNTech vaccination at Choi Hung Road Badminton Centre in San Po Kong. Photo: SCMP/ Winson Wong
Hong Kong's unvaccinated residents could have their movements limited if a fifth wave of Covid-19 strikes, Chief Executive Carrie Lam Cheng Yuet-ngor warned on Tuesday.
Despite assuring residents there were no immediate plans to restrict who could enter certain premises, the city's leader said that could change.
Lam also revealed at her weekly media briefing that the government was discussing a mutually recognised Covid-19 vaccination record system with consulates from more than 10 high-risk areas, so residents stuck abroad could return to the city as soon as possible.
Nicole Kidman gets to skip HK's three-week quarantine, why can't I?
But the strict approach to fighting the coronavirus would remain, Lam warned, adding that a new wave could signal a change in tactics.
"I would say, if there is another wave hitting the city, as I do not want to shut down a lot of premises, we may only allow vaccinated residents to enter those premises by that time," she said.
Lam also announced that by late September, up to 800 places at the Penny's Bay government-quarantine facility would be opened up to domestic helpers arriving from the Philippines and Indonesia.
Those 800 spots will be available for less than HK$500 a night, including meals, considerably cheaper than the HK$800 per night it was costing employers for workers to complete their mandatory isolation at the four-star Silka Tsuen Wan Hotel.
The facility will be run by the government with the help of the Civil Aid Service, she added.
Last week, Hong Kong lifted the ban on fully vaccinated domestic helpers returning to the city.
Hong Kong changes quarantine rules, leaving travellers in disarray
The 409-room Silka, the only hotel designated for these workers, was filled in one day, a situation labour minister Law Chi-kwong had said he hoped to relieve with the addition of new accommodation by mid-September.
But residents hoping for a further reopening of the border are likely to be disappointed. Lam said the business community had pushed for the relaxation of controls, as many international businessmen would love to travel back to the mainland via Hong Kong, but that we won't see any changes to travel just yet.
"I promised we will try to make our measures more humanistic whenever possible, but to relax altogether the restrictions on arrival is not a wise move for Hong Kong."
Unvaccinated Hongkongers may face certain restrictions as to where they can and cannot go if the city sees a fifth wave of coronavirus. Photo: SCMP/ Winson Wong
Lam also dismissed suggestions the border with the mainland would only be reopened after the Winter Olympics in February, and said any further relaxation depended on the coronavirus situation.
The chief executive said her government always planned to allow Hong Kong residents from all high-risk areas to return, and the Food and Health Bureau would discuss the issue with each of those countries separately.
"Apart from some European countries, the United States and mainland China, more than 10 high-risk areas so far do not have a centralised vaccination record system, thus we have to discuss with them one by one on how we can recognise the records," Lam said.
People in the US are using horse medicine to treat coronavirus
Excluding some European countries, other high-risk areas currently on the list included Bangladesh, Brazil, Cambodia, Greece, India, Iran, Malaysia, Nepal, Pakistan, Russia, South Africa, Sri Lanka, Tanzania, Thailand and the United Arab Emirates.
"We cannot ban our residents from high-risk areas from coming back. We must think of ways to let them return, and recognising their vaccinations is one of the ways," Lam said.
She added there had been "miscommunication" earlier between the government and the consulates from the Philippines and Indonesia, in which they thought only domestic helpers were allowed to return.
Give teachers priority access to Covid-19 vaccines, says WHO
In an updated announcement on Monday night, the government said residents stranded in both countries could return starting from Wednesday.
But the city's utmost priority was to control the Covid-19 situation and to prevent imported cases getting into the community as far as possible, she added, so the government could kick-start travel in a gradual and orderly manner.
As such, Lam said officials would further encourage the elderly, students, and others to get vaccinated, as their inoculation rates remained low.
Sign up for the YP Teachers Newsletter
Get updates for teachers sent directly to your inbox
Sign up for YP Weekly
Get updates sent directly to your inbox