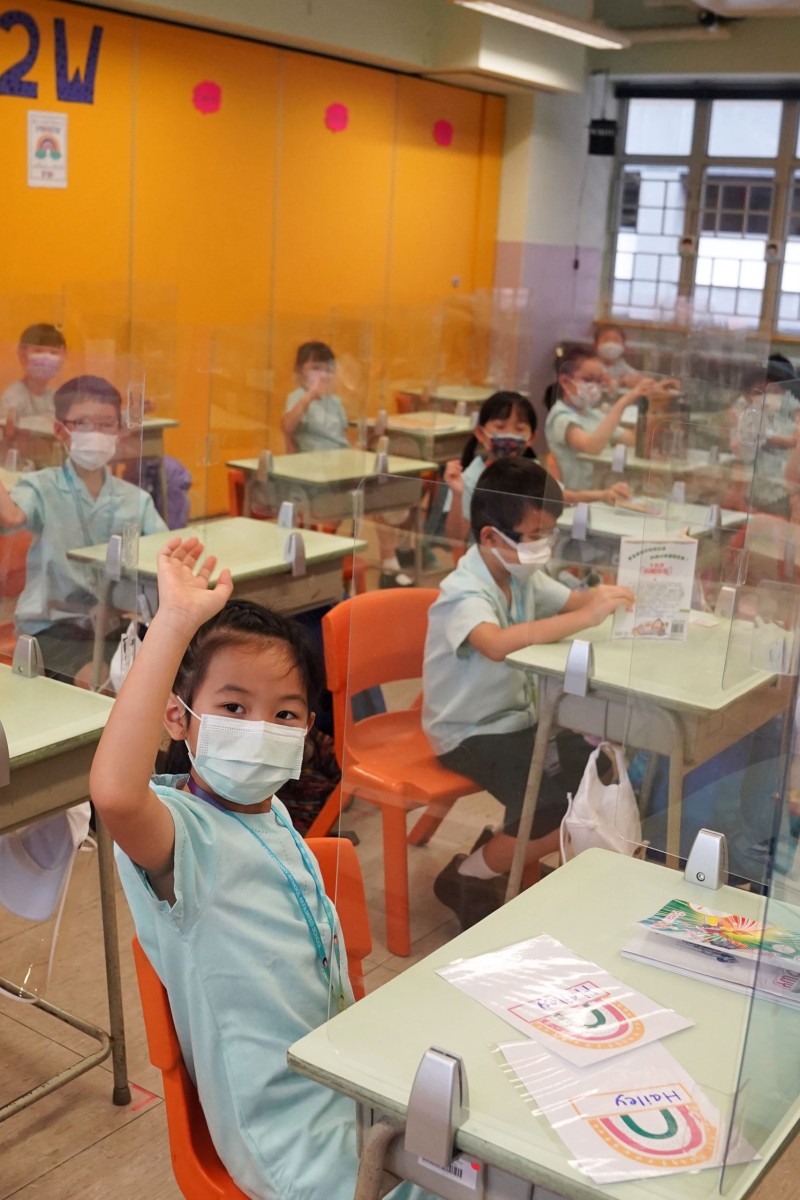 Coronavirus: Hong Kong students return to campus for half-day lessons, as parents debate needs of full-day sessions
Primary school students will spend half the day in class, and some parents want to keep it that way

Secondary pupils can have full-day sessions if 70 per cent of their school is vaccinated against Covid-19, but so far none meet the qualification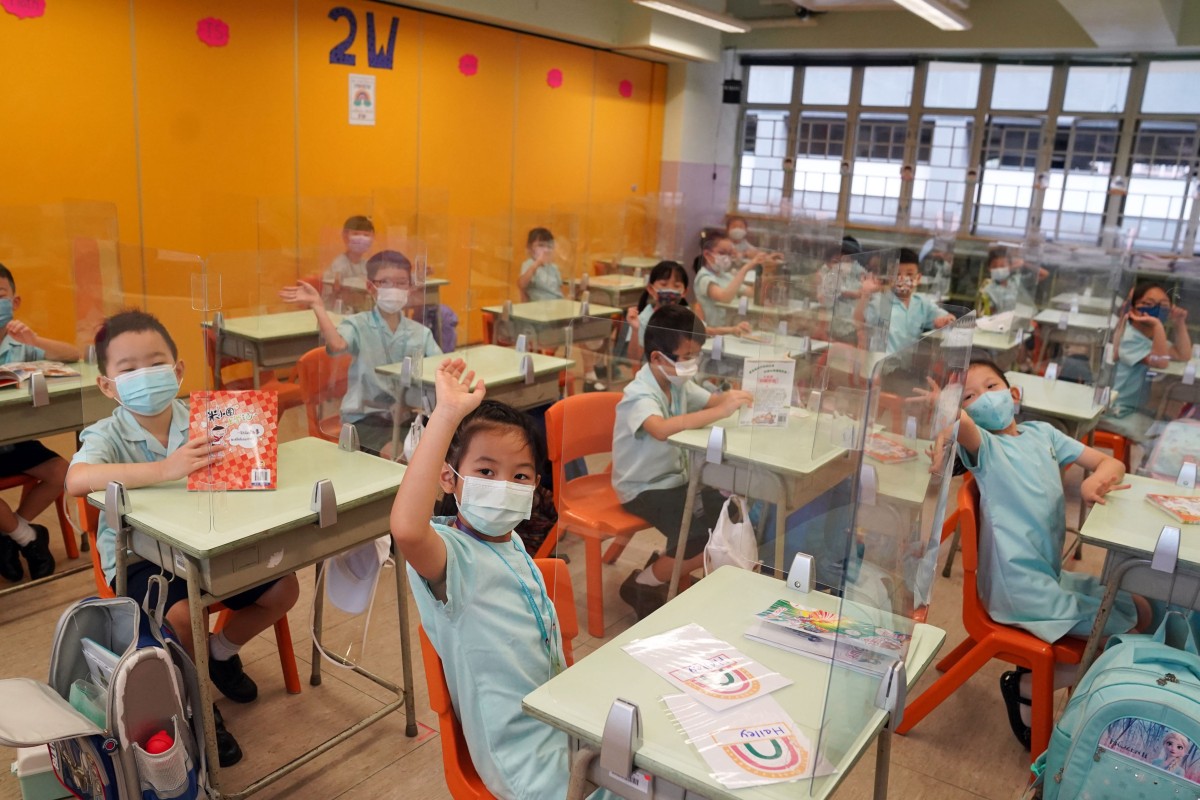 Students sit in their classroom at Fukien Secondary School Affiliated School in Yau Tong. Hong Kong pupils returned to campus for half-day lessons today, the first day of the new school year. Photo: SCMP/ Sam Tsang
Hong Kong students returned to campus on Wednesday as schools resumed half-day, in-person lessons, with primary school parents debating the needs of full-day sessions.
In early August, the government announced that schools could apply to resume full-day classes from September 1 if more than 70 per cent of their students and teachers have been fully vaccinated.
However, under the city's current inoculation rules, only those aged 12 and above can be vaccinated. That means while secondary schools can apply to resume full-day sessions, kindergartens and primary schools cannot do so just yet.
Pfizer vaccine gets full FDA approval
The Fukien Secondary School Affiliated School, a primary school in Yau Tong, has proposed a new model for full-day classes. Under this model, classes will resume for the first half of the day, while students will still stay in school for the other half to take part in extracurricular activities and to do homework.
Eva Charisa Hsu, the school's principal, came up with this proposal because she feared that continuing half-day lessons would affect children's overall growth.
A teacher takes a student's temperature at Fukien Secondary School Affiliated School in Yau Tong. Photo: SCMP/ Sam Tsang
"If primary school children are deprived of all [extra-curricular activities] except studying, it could have a bigger negative effect on them than on secondary school students," she said.
Some parents supported having full-day sessions this way.
Red Chow, a stay-at-home mother whose child attends the school, said half-day classes are typically more comfortable for the children because they can go home earlier to do their homework. But she supported the school's proposal, as it would create a favourable learning atmosphere.
"If they have done some homework at school, then they don't need to come home at 6pm," she said.
Kenny Yeung, who has two children at the school, was happy when the school announced that half-day classes will continue, as his children have already got used to half-day sessions.
Travellers in disarray after Hong Kong changes quarantine rules
"[Normally] they leave school at 3pm and get home around 6pm after their extracurricular activities. It's almost bedtime after doing homework, and it leaves us no time to interact," Yeung said.
But he was also supportive of the school's proposal, as that would give his children time to have social interactions with their schoolmates.
Some working parents, such as Billy Siu, said it was difficult for them to manage half-day lessons.
"My wife and I both work, so it's not convenient for us to pick up the kids in the middle of the day," said Siu. "But my children are very happy about half-day classes."
Meanwhile, some parents of secondary school students have urged the government to lower the 70 per cent threshold required to hold full-day in-person classes.
Education Minister Kevin Yeung Yun-hung said on Wednesday that no schools have applied to resume full-day sessions yet, as none have met the threshold.
At Scientia Secondary School in Ho Man Tin, about 68 per cent of Form Six students had already received at least one jab, just shy of the mark needed for full-day sessions, while other grades had vaccination rates ranging from 50 to 60 per cent.
We may never reach herd immunity against Covid
One mother, Mary Chan, said that her daughter in Form Two had already received one dose.
"I hope other children will attend full-day classes as early as possible. It would be great if they are vaccinated," she said.
She said it would be better to lower the threshold to 50 per cent, but remained confident other students would get their shots and reach the 70 per cent target within two to three months.
Sign up for the YP Teachers Newsletter
Get updates for teachers sent directly to your inbox
Sign up for YP Weekly
Get updates sent directly to your inbox