Nearly 100 international schools, as well as private and semi-private institutions, have been given permission to raise their fees

Fewer kindergartens have increased their rates this year, likely due to the uncertainties of the coronavirus pandemic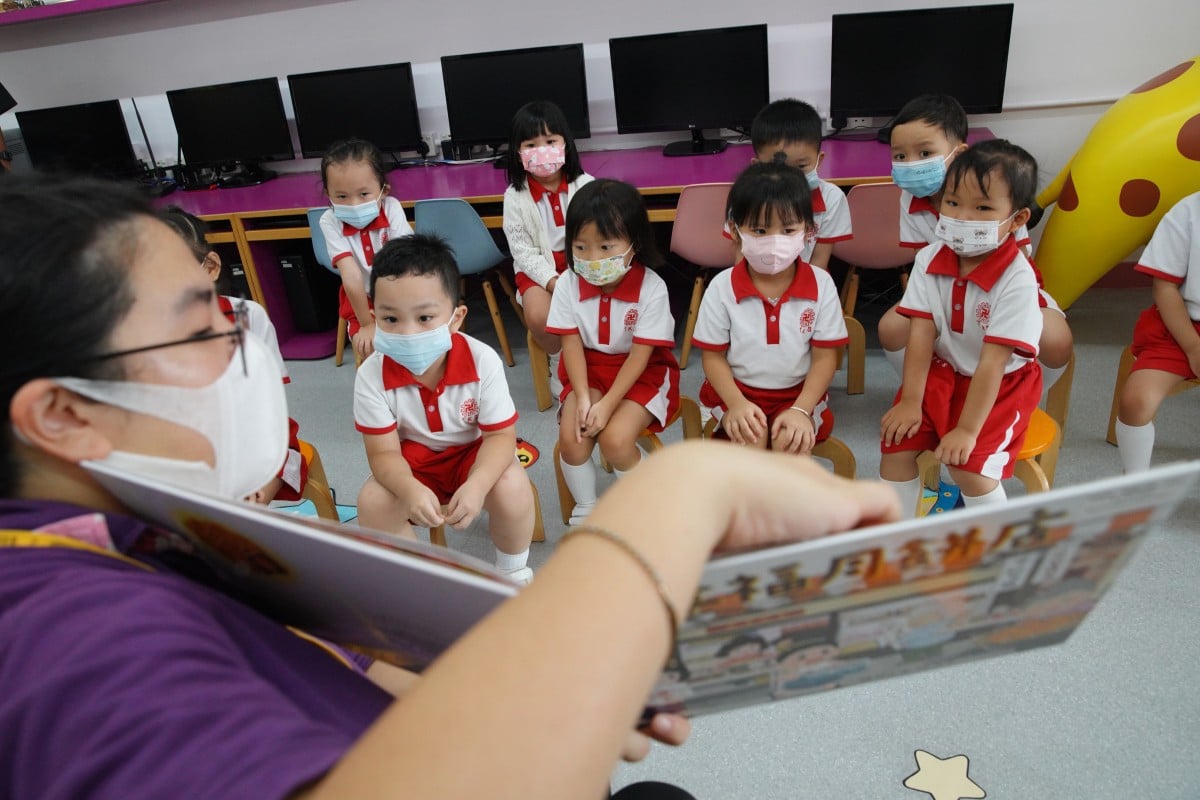 Some 88 kindergartens across the city are among the institutions that have successfully applied to increase their tuition fees. Photo: SCMP/ Winson Wong
The number of international, private and semi-private schools in Hong Kong given permission to raise tuition fees this academic year has nearly doubled, with 87 institutions increasing rates by an average of about 3 per cent.
Around 88 subsidised kindergartens also had their applications approved by the Education Bureau – a significant drop from last year's 280.
But one school has more than doubled its annual fees despite the continuing Covid-19 pandemic.
Opinion: why we need full-day classes to return
Some principals said they believed many kindergartens were cautious in raising fees given the uncertainties of the coronavirus pandemic and a falling student population, while one head predicted more primary and secondary schools could apply for an increase next year.
Statistics released by the bureau on Thursday revealed that 24 of the city's 53 international schools, 38 of its 78 private ones, as well as 25 of all 71 direct subsidy scheme schools – semi-private institutions which receive some government help – were raising fees in the 2021-22 school year.
Only 45 schools raised fees last year.
Students with disabilities doubly impacted by coronavirus
Most schools were raising fees by less than 10 per cent, with the average increase across international and private schools being 3.86 and 3.98 per cent, respectively. Only one private primary school had increased fees by more than 10 per cent.
Dion Chen, chairman of the Hong Kong Direct Subsidy Scheme Schools Council, said the average increase was similar to the past, adding some of the schools which held back from raising fees this time might do so next year.
"I think a rise in school fees in other schools next year cannot be ruled out," said Chen, whose own school, Ying Wa College, has frozen fees this year. "Some schools might want to increase their service items, which will involve some financial commitments."
Dion Chen, chairman of the Hong Kong Direct Subsidy Scheme Schools Council, said the average increase in fees was similar to past years. Photo: SCMP/ Edmond So
Semi-private Lam Tai Fai College in Sha Tin pushed for an increase of about 9 per cent, with annual fees for Form One students rising from HK$33,000 to HK$36,000.
Man Kwan Pak Kau College in Tin Shui Wai is also raising fees by 9.8 per cent, with yearly tuition rates across all grades increasing from HK$5,100 to HK$5,600.
William Wong Wing-tung, principal of the Tin Shui Wai school, said the fee adjustment meant more teachers could be hired, adding that parents had earlier agreed to the increase but it had previously been postponed because of the virus.
Homework is bad for your mental health - should we get rid of it?
"With more teachers, we can arrange to set up more classes with fewer students," Wong said. "It's easier for teachers to cater for the needs of every student."
The city's biggest international school group, the English Schools Foundation, announced in March this year it would freeze tuition levels across its 22 schools for a second consecutive year.
The latest data also showed that of the more than 600 government subsidised kindergartens that offer full-day classes, at least 88 were allowed to raise tuition fees in 2021-22, while 526 had frozen costs and four decided to cut rates.
Around 526 of the city's kindergartens froze tuition costs this year. Photo: SCMP/ Winson Wong
Still, around 90 per cent of half-day kindergarten classes remain free this year, while full-day tuition fees are generally relatively low – averaging about HK$880 monthly.
One of the highest fee increases was at Hong Kong Vernacular Normal Schools Alumni Association Kindergarten, which raised fees by more than 270 per cent, from HK$2,672 last year to HK$9,900.
Randy Chiu Ki-kwan, the kindergarten's supervisor, said the significant increase was aimed at covering the rent for its new campus.
15,000 students have left Hong Kong in the last year
"The old campus, which we had used for 33 years, was owned by the school … But since we moved to the new site [from September] last year, we need to pay for the rent now," he said.
May Nga Kindergarten in To Kwa Wan has also been allowed to raise fees by about 30 per cent, charging students HK$6,050 yearly, up from HK$4,620, while Endeavourers Chan Cheng Kit Wan Kindergarten in Chai Wan is increasing fees by around 24 per cent, from an annual HK$3,220 to HK$4,000.
Wong Yuk-hing, principal of the Chai Wan kindergarten, said the increase had allowed the school to renovate the campus and employ more native English-speaking teachers.
Sign up for the YP Teachers Newsletter
Get updates for teachers sent directly to your inbox
Sign up for YP Weekly
Get updates sent directly to your inbox