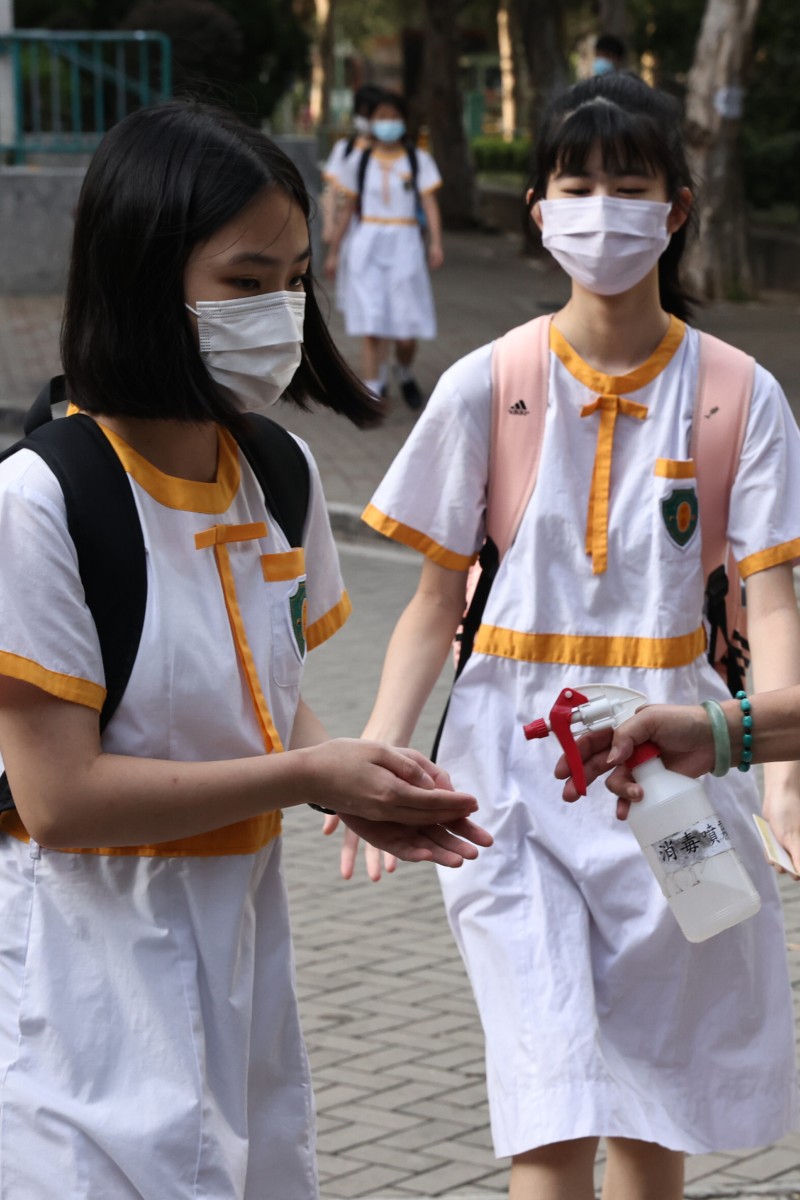 Students at Ho Ngai College in Tuen Mun returned to a normal schedule after 20 months of online and half-day classes

The school spent about HK$50,000 to add air purifiers in classrooms and install plastic dividers in the canteen and other eating areas.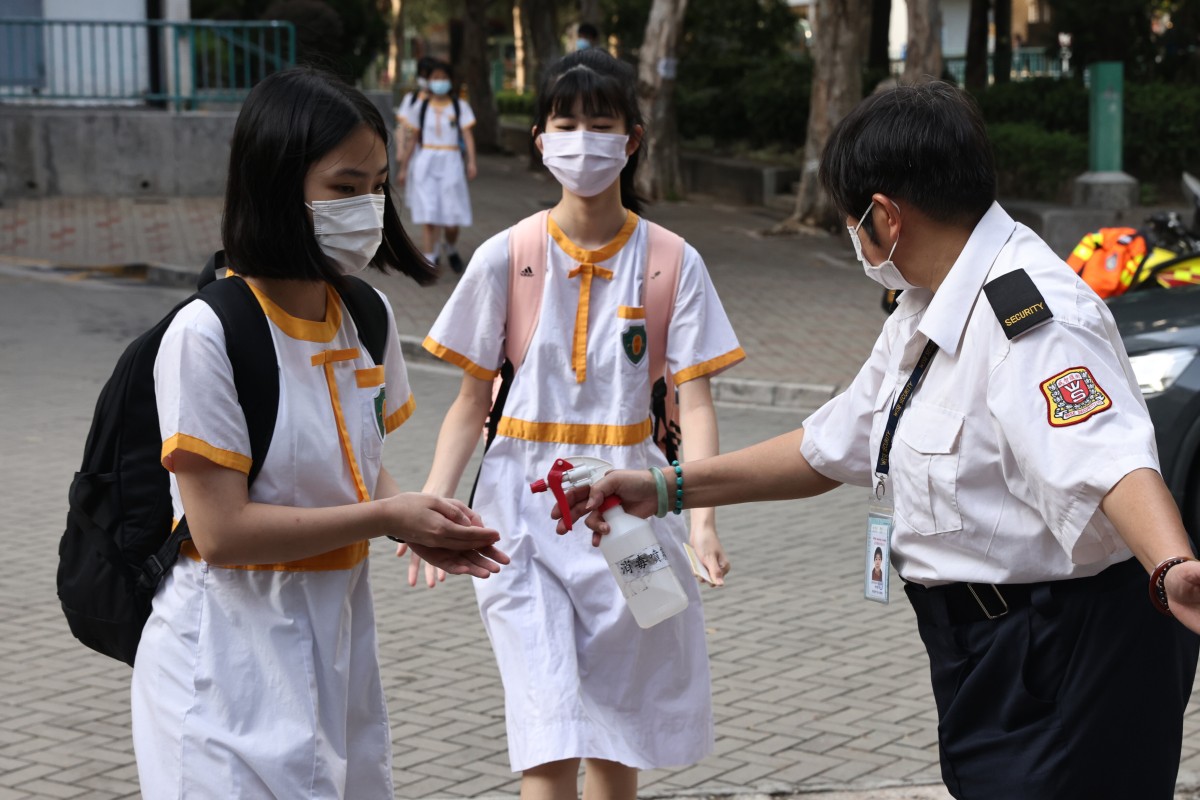 Students return to a full day of lessons at Ho Ngai College in Tuen Mun. Photo: SCMP/ K. Y. Cheng
More than 400 students in Hong Kong's Tuen Mun district experienced something they had not in more than a year and a half on Monday – a full day of face-to-face classes – after becoming the city's first school to successfully meet vaccination targets for students and teachers.
The class schedule at Ho Ngai College (Sponsored by Sik Sik Yuen) was identical to the one before the coronavirus pandemic first disrupted classes across Hong Kong – eight, 40-minute classes conducted from 8.30am until 4.10pm.
To make that a reality, more than 70 per cent of students needed to have at least one vaccine dose while the same percentage of teachers and staff were required to be fully vaccinated.
Hong Kong government says students should get one jab of vaccine
As of Monday morning, 74 per cent of the student body met that requirement, while 85 per cent of the school's faculty had received two jabs.
Students were previously allowed a half-day schedule of eight, 30-minute classes along with two 40-minute online lessons.
School principal Jackson Cheung Kin-sun said teachers and students alike had been looking forward to getting back to full days after more than 20 months of suspended classes and online learning.
Principal Jackson Cheung Kin-sun said Ho Ngai College, Tuen Mun, had done a lot of preparation in order to bring its students back to campus. Photo: SCMP/ K. Y. Cheng
"We did a lot of preparation prior to achieving this vaccination target," Cheung said. "Since June, when the government started allowing children to book their vaccination slots, we've been encouraging parents and pupils to start getting vaccinated so that we can have full-day classes."
"We will continue to encourage unvaccinated students to get the vaccine soon but we cannot force them to do so," Cheung added, saying teachers would assist parents in making online bookings and printing consent forms when needed.
The school separately spent about HK$50,000 to add air purifiers in classrooms and install plastic dividers in the canteen and other eating areas.
Aside from lessons, extracurricular activities such as basketball practice and boy scout gatherings were also allowed to take place after school, Cheung said.
Your voice: The minimum age for vaccines should be lowered
According to the most recent government guidance, Hongkongers aged 12 to 17 need only one dose of the German-made BioNTech vaccine, a decision made to help reduce the risk of myopericarditis – an inflammation in the heart.
The minimum age for the Sinovac jab remains 18.
For the first time in 20 months, students returned to full-day lessons on campus at Ho Ngai College. Photo: SCMP/ K. Y. Cheng
Cheung said younger students who had already received one vaccine dose would need a consent form from their parents before deciding whether to get the second shot.
"It's up to the parents to decide if they need a second shot," Cheung said. "It depends, because some students may need the second jab if they have plans to study abroad in the future."
Vaccinated students said they had been eager for face-to-face classes to resume.
Students with disabilities face extra challenges during Covid
Form One student Wong Zi-man, 12, said he was excited to be on campus for a full day.
"I'm happy to have full day school again. In my last year at primary school, everything was online from home. It's my first time experiencing full-day school as a secondary school student," Wong said.
"For the past year, I've spent too much time at home, and I felt very isolated from the rest of the world."
The school has spent around HK$50,000 to ensure there is space to socially distance in the canteen and other common areas. Photo: SCMP/ K. Y. Cheng
Form Three pupil Billy Tsang Chun-yin, 14, said he was looking forward to seeing his classmates again and being able to better focus on his studies.
"It's much better to have in-person classes. To be honest, it's hard to learn online, because the classes were shorter," Tsang said.
Tsang said he had been double-jabbed since late July, and booked his vaccination slots with a fellow classmate.
Covid symptoms can last for a year in some patients
"I wasn't too scared of the vaccine or any side effects. Getting sick by the coronavirus sounds worse," he said.
But Form One pupil Marco Shum Yu-him, 12, who was still unvaccinated, said he preferred online classes, which he believed were more convenient.
"It's easier to have classes online," he said. "I was surprised when the school said we'd be having full day classes, because I didn't think we'd reach the vaccination rate so fast."
Air purifiers and plastic dividers have been added to keep students safe. Photo: SCMP/ K. Y. Cheng
Shum said he was afraid of getting jabbed because of the potential side effects, a hesitancy shared by his parents as well.
"My parents told me to keep my mask on and wash my hands more often to keep me safe from contracting the virus," he said.
Cross-border students study at makeshift learning centres
While not yet old enough for the vaccine, 11-year-old Form One student Chan Hei-laam was nonetheless excited that the school had worked together to reach the inoculation target.
Chan said she had already booked a vaccine appointment on her birthday in November and was not concerned about possible side effects.
"It's much better to have classes at school, because there are too many distractions at home," she said.
Sign up for the YP Teachers Newsletter
Get updates for teachers sent directly to your inbox
Sign up for YP Weekly
Get updates sent directly to your inbox