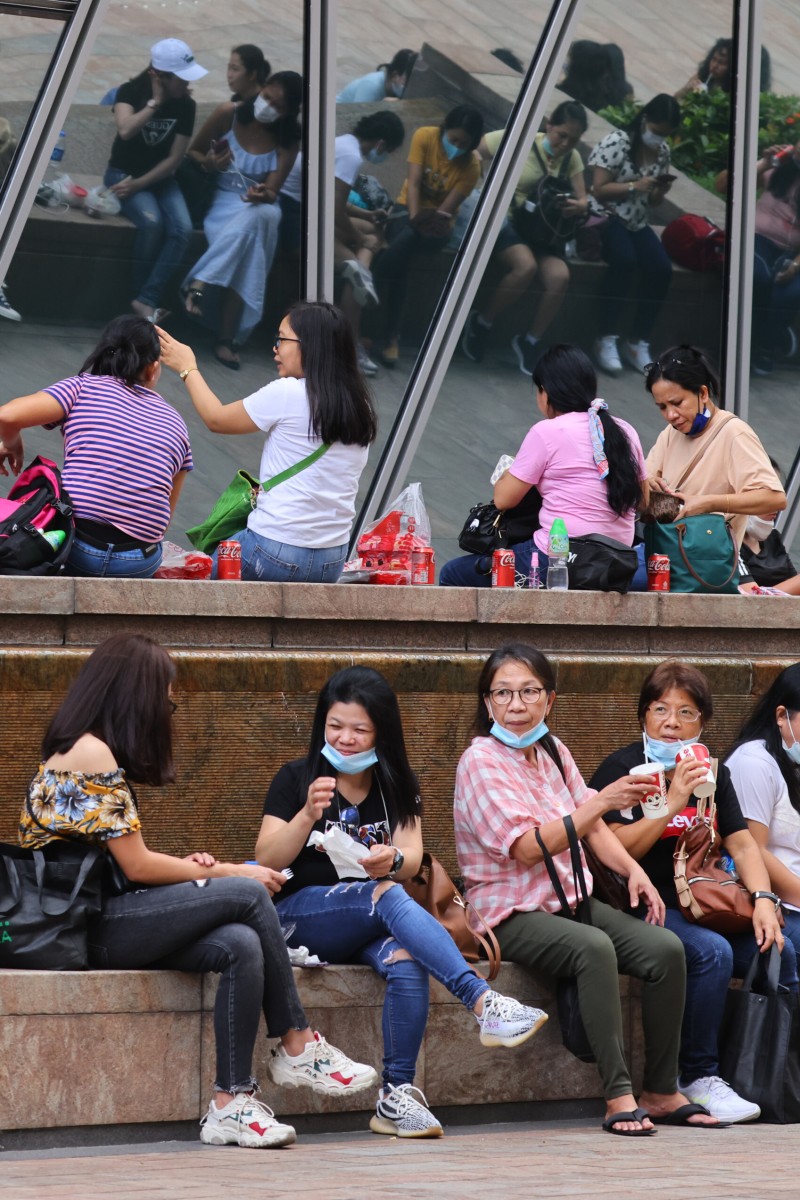 The economic slump caused by Covid-19 is credited as the main reason for the government's decision

Hong Kong is facing a shortage of domestic helpers, and it is too expensive to hire a new person from the Philippines or Indonesia due to quarantine costs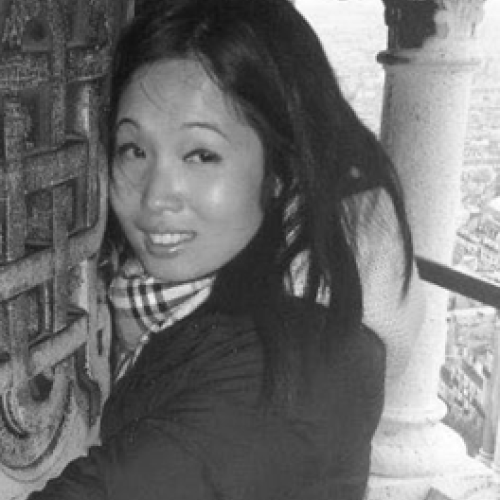 Doris worked in educational publishing, including the BBC and Cengage prior to joining the Post in 2018. She specialises in creating graphics and digital learning content, and has a particular interest in issues related to mental health and wellness.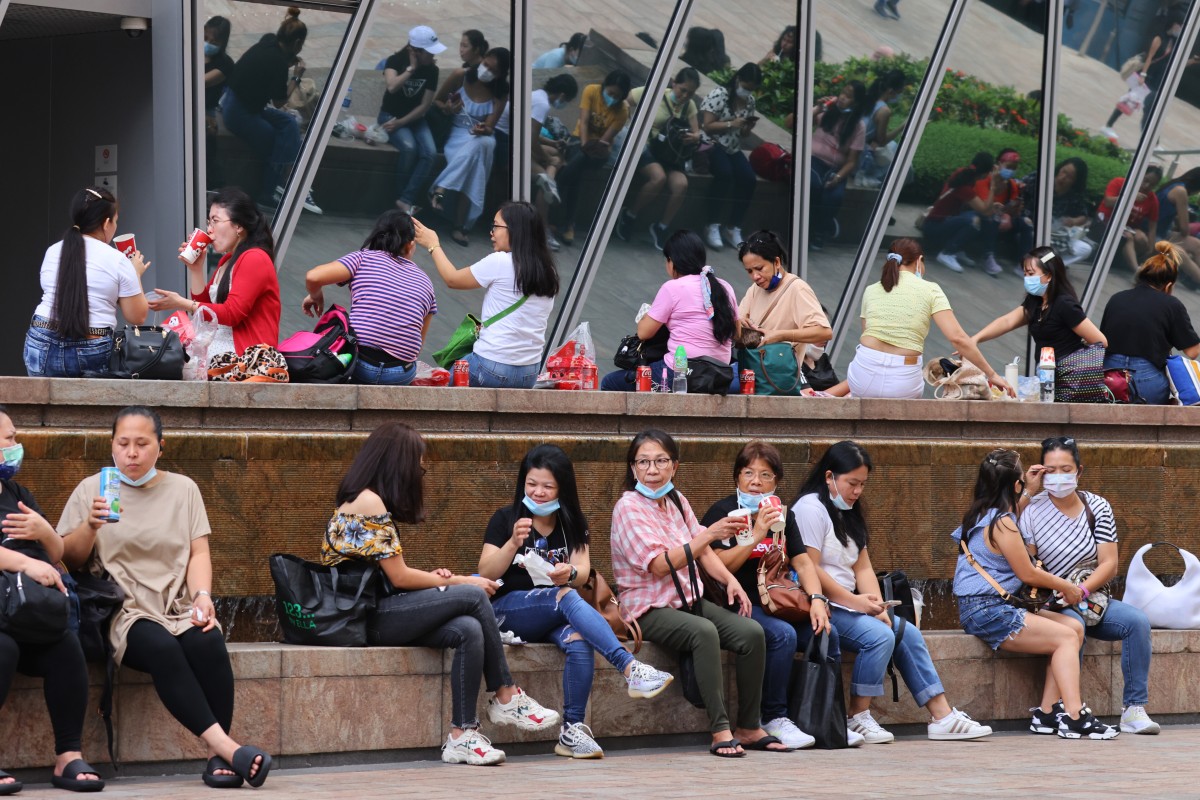 Wages for domestic helpers have been frozen for the second year in a row. Photo: SCMP/ Dickson Lee
Hot Topics takes an issue that's being discussed in the news and allows you to compare and analyse different news articles and viewpoints on the subject. Our questions encourage you to examine the topic in-depth and can be used on your own, or with a friend.
Context: Hong Kong freezes domestic helper wages for second straight year
The minimum pay for Hong Kong's 370,000 domestic workers will remain unchanged for a second straight year. The government decision is partly blamed on the economic slump caused by the Covid-19 pandemic.
Late last month, the government announced that the monthly rate would stay at HK$4,630. But an allowance for workers who do not receive food from employers would rise by HK$52 to HK$1,173. The higher allowance applies to contracts signed from October 1.
Hong Kong needs to do more to protect domestic helpers
In 1973, the government started the minimum wage scheme for foreign domestic workers and set the amount to HK$450 per month. It reviews the pay of helpers every year. Domestic helpers received a 2.4 per cent pay rise in 2019 and a 2.5 per cent increase the year before.
The last time authorities froze domestic worker salaries for two consecutive years was in 2009 and 2010 – this was during the aftermath of the global financial crisis in 2008. The biggest cut happened in 2003, during the severe acute respiratory syndrome (Sars) outbreak. At that time, officials lowered the minimum monthly wage by HK$400 to HK$3,270.
Hot topics: All about the Return2HK and Come2HK schemes
Now, the city is experiencing a shortage of domestic helpers. Authorities suspended flights coming to Hong Kong from the Philippines in April and Indonesia in June because Covid-19 infections were surging in the two countries. The bans have been lifted, but a number of entry restrictions remain.
The city's pool of domestic workers fell from 400,000 in 2019 to 370,000 last year. The shortage has led to a bidding war among employers. Many households have struggled to find workers even after offering higher wages. HelperChoice is an online platform that connects helpers to employers. It found in a recent survey that the average salary of domestic workers had reached HK$5,144 per month, mainly because of the labour shortage.
Yanni Chow and staff writer
Domestic helpers are subject to modern day segregation
Question prompts:
What is the purpose of having a minimum wage (see Glossary)? Which group mentioned in Context stands to benefit from it?

The city's current minimum wage for workers other than foreign domestic helpers is HK$37.50 per hour. How does that rate compare to the minimum monthly pay for domestic helpers? Explain your answer using your own knowledge.
Domestic workers in Wan Chai have an average salary of HK$5,533 per month. Photo: HelperChoice / SCMP
Question prompts:
Describe TWO general trends regarding minimum wage as shown in the chart.

Based on News and Issue, predict and explain which of the districts in the graph might be currently experiencing the greatest shortage in domestic helpers.
Hot topics: China cracks down on the entertainment industry
News: Pay freeze draws criticism from both employers and domestic workers
Domestic workers have expressed disappointment that their minimum wage has not risen, while employers say the government should have cut salaries instead.
Eman Villanueva, a spokesman for the Asian Migrants' Coordinating Body, said the pay freeze was "unfair" and "insulting", and argued that helpers' workloads had increased during the coronavirus pandemic.
"During the epidemic, children stay more at home; parents also work from home – that means more work for their helpers ... They also have to go to the market to buy food more, and do more cleaning."
Don't ignore Hong Kong's racism
Meanwhile, Betty Yung Ma Shan-yee, chairwoman of the Hong Kong Employers of Domestic Helpers Association, said some employers were expecting a minimum wage reduction for domestic helpers, as many households faced financial hardships amid the pandemic.
"Families with slightly lower incomes, or who rely on a single income source, are feeling the pinch and won't be able to afford hiring a helper to take care of their elderly family members or children," Yung added.
A government spokesman said the financial ability of households to afford a helper was the main reason for not changing the minimum salary.
Hot topics: Hong Kong raises retirement age for doctors
"We have carefully considered Hong Kong's general economic and labour market conditions over the past year, as well as Hong Kong's near-term economic outlook, including the impact of the Covid-19 pandemic in this year's review," the spokesman said.
Mahee Leclerc, general manager of HelperChoice – an online platform which connects domestic workers to employers – said helpers faced their own increased financial pressure because of the pandemic.
"They face greater expenses and pressure to send more remittances back to their families because the economic situation is far worse back home," Leclerc said.
Children of asylum seekers struggle during Covid
When Villanueva came to Hong Kong as a domestic worker in 1991, the minimum wage was HK$3,200 a month. Now, 30 years later, the level has only risen by HK$1,430.
"We are not asking for special treatment ... just a living wage," he said. "It is the government's fault that we are one of the lowest paid [workers] in Hong Kong."
Yanni Chow and staff writer
Question prompts:
Other than changing domestic workers' minimum pay, list TWO things the Hong Kong government could do to address the needs of employers and helpers.

Refer to Villanueva's response in the last paragraph: "We are not asking for special treatment ... just a living wage." Is he justified in saying this? Explain your answer using News, Glossary and your own knowledge.
Hot topics: Just one Covid dose for teens
Issue: Shortage of domestic helpers sparks bidding war among employers
The severe shortage of foreign domestic workers in Hong Kong has sparked a bidding war, with desperate employers offering to pay well above the minimum wage to secure a helper, recruitment agents have said.
There are six potential employers for every domestic worker in Hong Kong, and some are offering as much as HK$5,500 to HK$6,500 a month without success, according to Anliza Hung, an agent at Well Harmony Employment Services.
"There simply aren't enough domestic helpers in Hong Kong," Hung said.
Domestic helpers are Hong Kong's superheroes
"They're almost all employed already, leaving those households who want to hire a helper with no options but to offer higher wages or go through the complicated process of hiring from the Philippines and Indonesia."
She said about 30 to 40 employers came to her company each month hoping to find helpers ready to start work, but there were very few or none available now.
Only about a dozen employers each month are willing to have the agency recruit from the Philippines or Indonesia because that would mean paying more for flights and quarantine.
Hot topics: Hong Kong's waste charging scheme
When hiring domestic workers from the Philippines or Indonesia, employers need to pay at least HK$2,000 in airline tickets plus HK$10,080 for a 21-day compulsory quarantine at the government-run facility.
According to Hung, an elderly couple in urgent need of a helper has been unable to hire one for months. The agency placed them on its priority list because the man, in his 90s, has dementia and his wife, 87, has lower back pain. Both have chronic illnesses.
Recruitment agents said even when their clients were willing to pay more to bring in helpers, the process was stalled by a severe shortage of accommodation at the two designated quarantine facilities – Penny's Bay quarantine facility and Silka Tsuen Wan hotel.
Are domestic helpers treated fairly?
At Silka Tsuen Wan hotel, a room costs HK$800 per night, and all 409 rooms that opened for booking on August 28 were gone by the end of the day.
At the government-run Penny's Bay quarantine facility, 800 rooms were snapped up within minutes on September 14. When 200 extra quarantine rooms were made available last week, they were taken up within minutes of bookings reopening, leaving thousands of helpers still waiting to enter the city.
Staff writers
Question prompt:
Some have suggested that the Hong Kong government should create a maximum wage for domestic helpers before they become unaffordable, especially for those who need their services most. Using Issue and News, elaborate on ONE argument supporting this suggestion and ONE argument opposing it.
A view of Penny's Bay quarantine facility on Lantau Island. Photo: SCMP/ Dickson Lee
Domestic helper: also called a domestic worker. They work for private households. Their responsibilities may include cooking, cleaning, taking care of children, elderly or sick family members, and other tasks related to the upkeep of a household.

Entry restrictions (for domestic helpers entering Hong Kong): under the latest rules, fully-vaccinated helpers from certain countries, such as the Philippines and Indonesia, who are entering Hong Kong must undergo three weeks of quarantine at either Penny's Bay quarantine facility or Silka Tsuen Wan hotel at their employer's expense. There is also a daily limit of 50 foreign domestic workers who are allowed to enter the city.

Living wage: the minimum income necessary for a worker to meet their basic needs. According to the Global Living Wage Coalition, it refers to whether the salary for a typical work week is sufficient for a worker and their family to afford a decent standard of living. This includes having enough money for food, water, housing, education, health care, transport, clothing and other essential needs including provision for unexpected events.

Minimum wage: the lowest amount of money that a worker may be paid, as dictated by law
Sign up for the YP Teachers Newsletter
Get updates for teachers sent directly to your inbox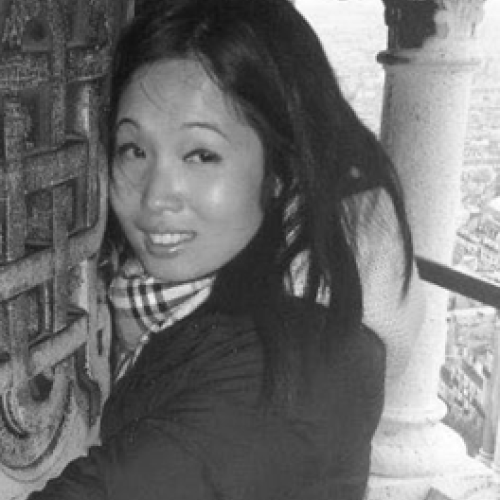 Doris worked in educational publishing, including the BBC and Cengage prior to joining the Post in 2018. She specialises in creating graphics and digital learning content, and has a particular interest in issues related to mental health and wellness.
Sign up for YP Weekly
Get updates sent directly to your inbox