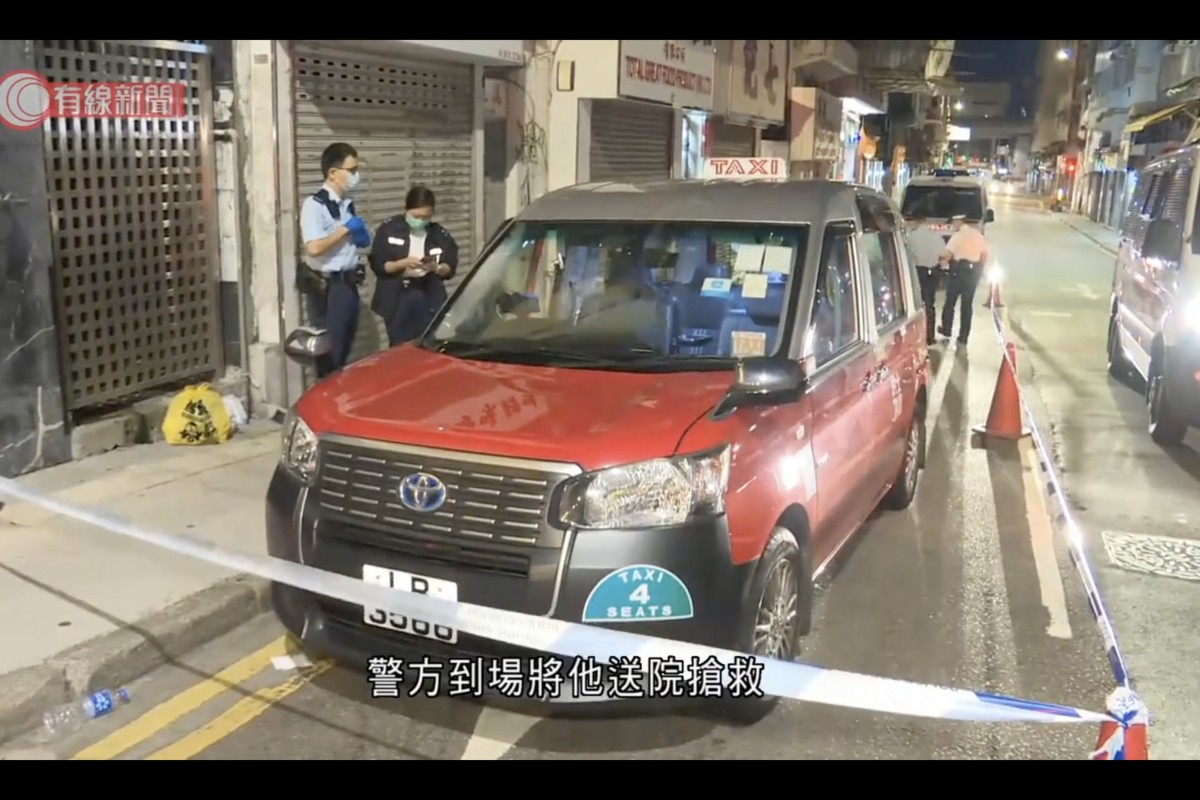 A manhunt is under way after a Hong Kong taxi driver was killed in the early morning hours of Tuesday, allegedly struck in the neck with a hard object during a dispute in Sai Wan. Photo: Screen Capture from Cable TV News
Police have arrested a man suspected of fatally slashing the throat of a Hong Kong taxi driver following a citywide manhunt.
A police source confirmed that marine officers picked up the suspect, previously identified as Matthew Choi, on Lamma Island on Wednesday evening.
"When officers were carrying out their investigations on the island, they received reports from a resident who had spotted the suspect," the source said. "More uniformed officers were immediately deployed to search the area and eventually picked up the suspect at the pier."
The US murder rate climbed nearly 30 percent in 2020
Photos from the scene showed groups of officers walking the streets of the usually tranquil island.
The force on Tuesday and Wednesday released two photos of the suspect, believed to be aged between 30 and 35, urging the public to report his whereabouts, and saying he was "extremely dangerous, and could have violent tendencies".
Residents first called police at 4.54am on Tuesday to report that they had seen a man attack a taxi driver at the junction of Eastern Street and Queen's Road West in Sai Wan, and that the victim had collapsed near his cab and fallen unconscious.
Asian students express concern about studying in the US amidst spike in hate crimes
The 48-year-old man was certified dead roughly an hour after he was rushed to Queen Mary Hospital.
Superintendent Sam Sin Kwok-ming, assistant commander for Western district, said on Tuesday that he believed the attack took place inside the taxi, and that the driver had died of excessive blood loss. A 7cm-long, 2cm-deep cut was found on the right side of his neck, near the main artery, but not severing it.
A photo of the suspect, who is believed to go by the name of Matthew Choi. Photo: handout
The victim's possessions were found on his person or inside the taxi, suggesting the attack was not a robbery.
A man with the same name as Matthew Choi appeared in court in November 2019 charged with possessing offensive weapons after two knives were allegedly found at his home.
More Hong Kong juveniles victims of sex crimes during Covid
The defendant in that case, who was 29 at the time, was said to have expressed a desire to imitate mass shootings like those seen in the United States. The prosecution noted that the defendant had at one point been remanded in a psychiatric facility, but a subsequent report said there was no evidence he was mentally ill, despite him having a "radical personality".
The Post was unable to immediately verify whether the suspect in Tuesday's killing and the defendant in the 2019 case were the same person.
Sign up for the YP Teachers Newsletter
Get updates for teachers sent directly to your inbox
Sign up for YP Weekly
Get updates sent directly to your inbox