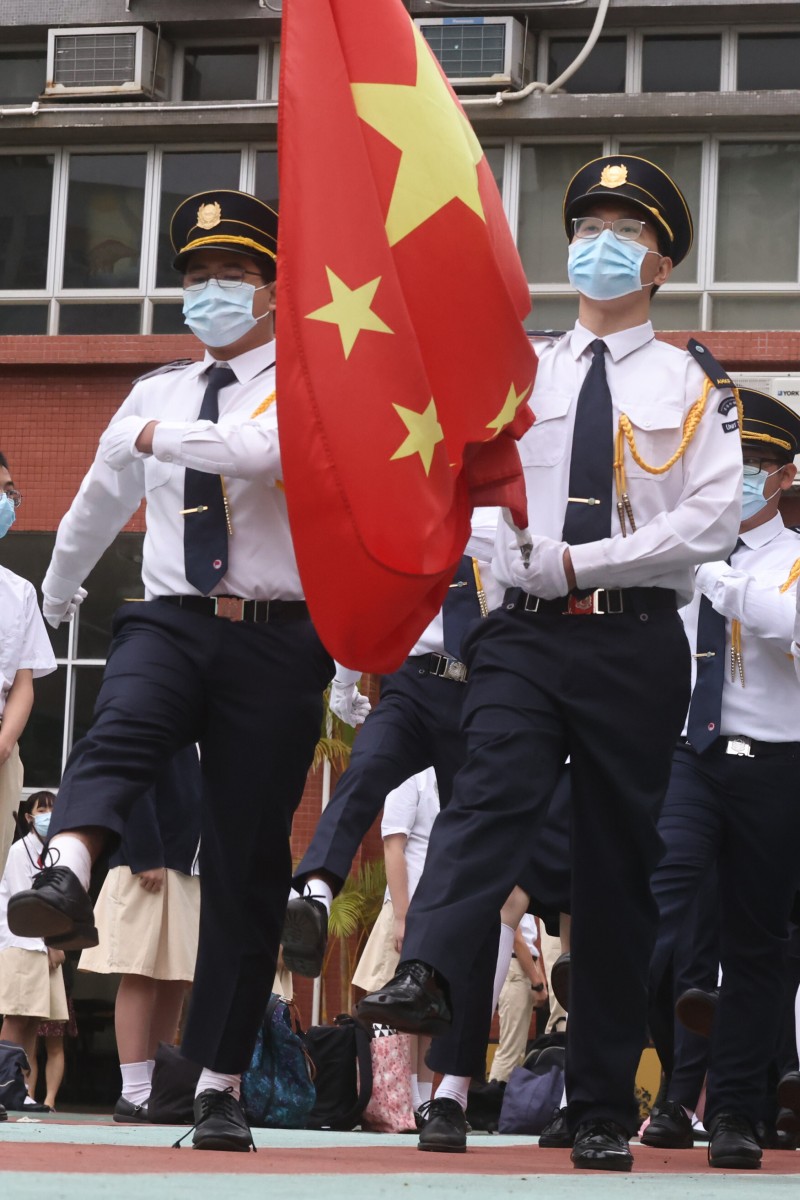 Hong Kong universities required to hold weekly flag-raising ceremonies
Tertiary institutions will have to fly national flag every day during term time and hold a ceremony at least once a week

Guidelines on the proper flag etiquette will also be released at a later date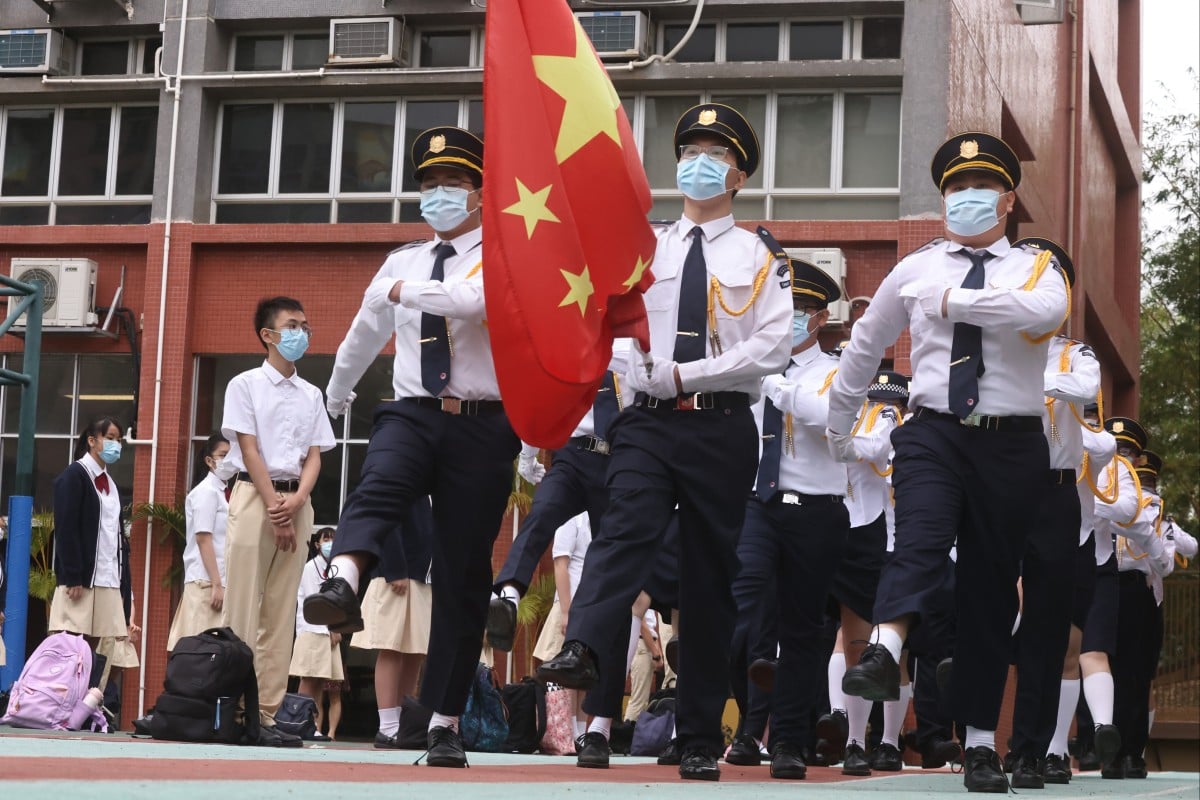 New guidelines on flag-raising in all educational institutions will take effect on January 1 next year. Photo: SCMP/K. Y. Cheng
Hong Kong's education chief has revealed that tertiary institutions will also have to hold national flag-raising ceremonies in line with new guidelines issued to primary and secondary schools.
Universities will have to fly the national flag every day during term time and hold a ceremony at least once a week under new rules announced last Monday.
Secretary for Education Kevin Yeung Yun-hung told lawmakers on Monday his bureau had already sent letters to universities informing them of the guidelines.
Hong Kong schools should do more to promote national security, says education secretary
"Under the revised National Flag and Emblem Ordinance, universities and colleges should also follow this requirement," Yeung said, responding to a question from lawmaker Junius Ho Kwan-yiu during an education panel meeting.
"They will have to make reference to the guidelines we issued and raise the flag every day and hold a ceremony each week … we will follow up on the implementation later on."
The new guidelines – which take effect on January 1 next year – were issued after the Legislative Council last month amended the ordinance to ban turning the flag upside down and its casual disposal.
The move is aimed at promoting national education and to "help students develop a sense of belonging to the country, an affection for the Chinese people and enhance their sense of national identity".
Guidelines on the proper flag etiquette will also be provided. Photo: SCMP/Sun Yeung
The guidelines issued last week did not specify whether universities would have to comply, but gave leeway to kindergartens, which should observe them "as far as conditions permit". International schools were "encouraged" to do so.
Meanwhile, Ho also asked whether the Education Bureau would consider bringing in volunteers, such as retired teachers who could be retrained, to ensure compliance with the new national flag and emblem rules.
"We have heard some primary and secondary school principals coming up with excuses such as students may not have the energy to take part in the ceremonies," he said. "These are merely trying to defy the rules, should the bureau have a monitoring system?"
Chinese University of Hong Kong's student union disbands under pressure
Yeung said an existing legal framework for inspection already existed, but he did not rule out working with different "community groups to improve how the [flag-raising] works in schools".
He added the bureau would release guidelines to teach schools the proper flag etiquette and how they should instruct students. "But students will also have to learn," Yeung said.
He also said the bureau had faced some barriers to sending teachers to mainland China for training and exchange opportunities on national security education, as the coronavirus pandemic had stopped cross-border travel.
Hong Kong's kindergarten and semi-private school teachers next in line for Basic Law tests
Yeung said he hoped to organise larger group trips in the future, but even locally there were experts who were available to provide the relevant training.
Meanwhile, lawmaker Priscilla Leung Mei-fun asked if the education authorities would take the lead on monitoring which books could be sold in local shops, after she and other politicians had criticised Taiwanese chain Eslite's Hong Kong branch for selling a title they claimed "glorified foreign invasion".
"Eight-Nation Alliance is a Righteous Army" is sold out at all Eslite stores in city after pro-Beijing media blasted it for glorifying foreign invasion of China. Photo: Handout
The book, Eight-Nation Alliance is a Righteous Army by Beijing-born Liu Qikun, claimed the invasion of Beijing in 1900 by troops from eight foreign powers, led by Japan, Britain, the United States and Russia, had helped prevent China from regressing and being split by external powers.
However, Yeung said his bureau had no authority over commercially sold titles, but would issue approved book lists after reviewing the publications and ensure none with "inappropriate content" was brought into schools.
Sign up for the YP Teachers Newsletter
Get updates for teachers sent directly to your inbox
Sign up for YP Weekly
Get updates sent directly to your inbox