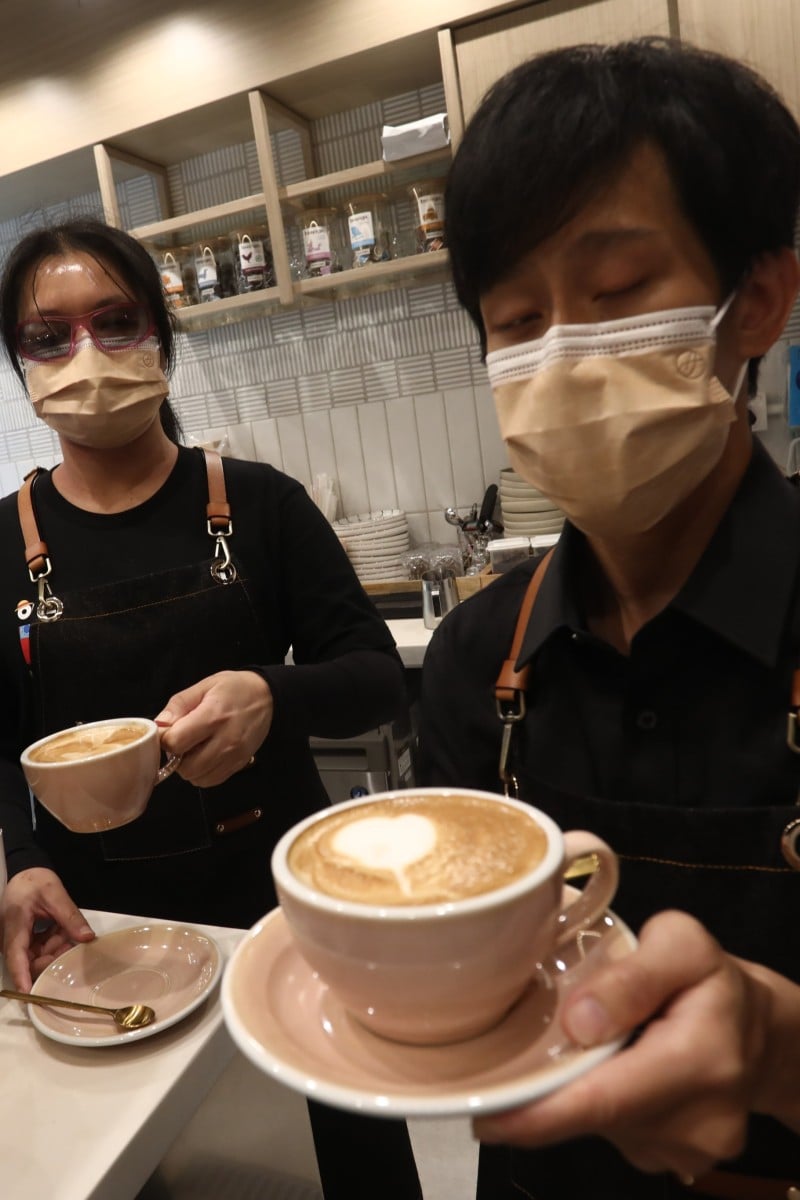 Blind and visually impaired people train to work in Yau Cafe, Hong Kong's first shop to offer coffee and massage therapy
The Hong Kong Blind Union started this cafe in Sai Ying Pun to create more job opportunities, amid challenges of finding work during the coronavirus pandemic

Every week, Talking Points gives you a worksheet to practise your reading comprehension with questions and exercises about the story we've written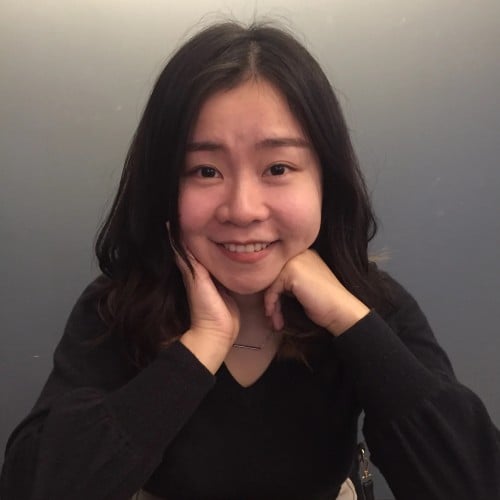 Kelly is a journalist from Hong Kong. She joined the Post in 2018, where she writes about Hong Kong's arts and culture, social welfare and the environment. She has a master's degree in Journalism from the University of Hong Kong.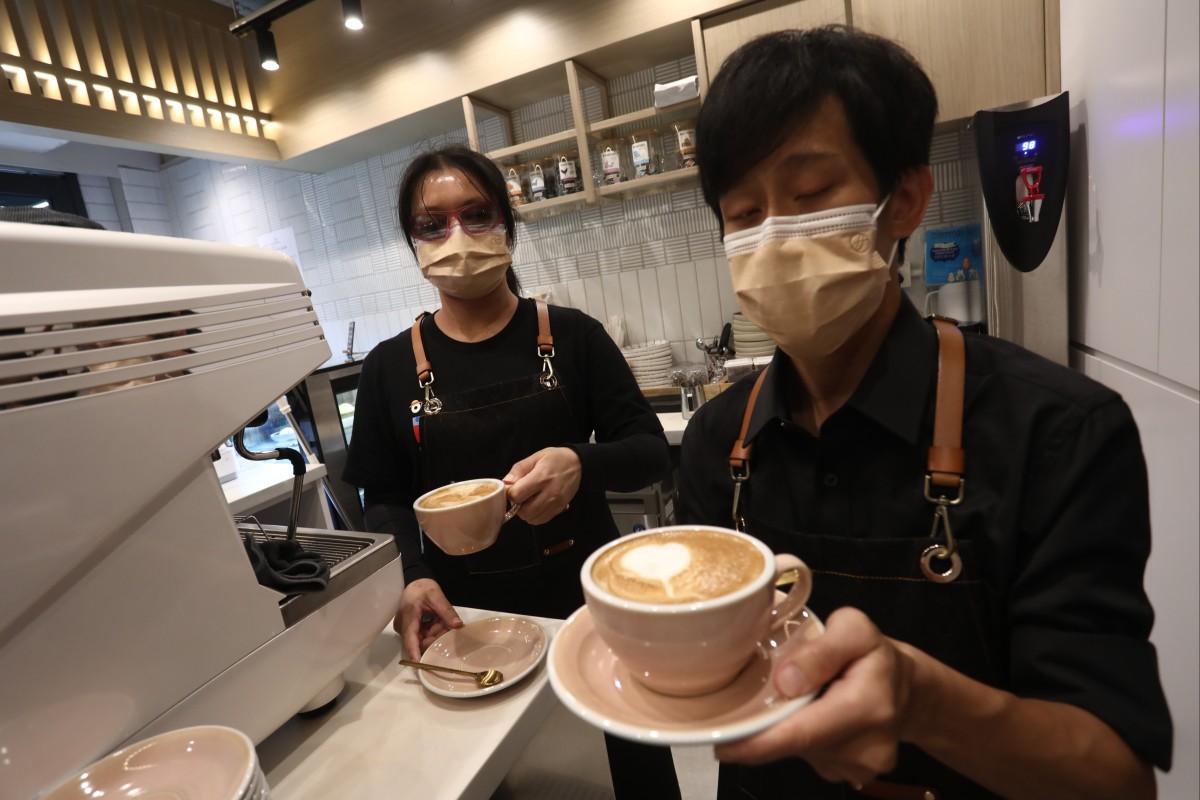 Sandy Wong (left) and Tang Tsz-long are training to work at Yau Cafe in Sai Ying Pun. Photo: Jonathan Wong
To check if she is pouring the right amount of milk for the perfect cup of coffee, Sandy Wong Sau-ping can only feel the temperature and weight of the container.
Wong, 38, cannot see how much milk is in the pitcher, as she has been blind ever since her retinas detached from her eyes six years ago. At first, it was not easy.
"It felt like I had lost everything," she recalled.
Blind Cambridge student shares why she decided to study law
In Hong Kong, many blind people have expressed how difficult it is to find full-time jobs, especially during the Covid-19 pandemic. Some manage to find work in massage parlours, where sight is not a job requirement.
But many visually impaired people, like Wong, know that even though they cannot see, they are capable of performing tasks beyond masseuse work.
So when Wong had the chance to be a barista, she was grateful – even if there was a lot she had to learn.
Yau Cafe in Sai Ying Pun operates under the guidance of the Hong Kong Blind Union. Photo: SCMP/ Jonathan Wong
She is a trainee at Yau Cafe, which hires visually impaired people and is the city's first cafe that offers both coffee and massage therapy. It opened in Sai Ying Pun in September.
The shop is an initiative launched by the Hong Kong Blind Union and is supported with government funding for start-up social enterprises.
When the Blind Union first offered training opportunities for the cafe in April, more than 70 visually impaired people applied. Ten of them, including Wong, were chosen to join a five-day intensive training in June. After the course ended, they continued practising at the cafe.
Hong Kong students with disabilities doubly impacted by half-day lessons
"I felt very grateful ... but at the same time I had mixed feelings and wondered if I'd be able to manage. There's a lot to overcome for people who can't see," Wong said.
The first challenge is adding coffee grounds into a basket, before attaching it back to the machine. She has to carefully remove the excess grounds and pack the remainder evenly in the container.
The taste of the coffee is determined by how well the coffee grounds are tamped, she explained.
"At the beginning, it was really difficult ... I failed every time when I first started," she said.
Swim school helps disabled students jump into the deep end
But Wong wasn't dejected. At first, Wong relied on special stickers to navigate the coffee machine. She kept practising and became more familiar with the process.
"We cannot see the final product or how the coffee looks, but we can tell based on ... whether we've done all the steps smoothly," the proud barista added.
Relying so heavily on her hands, however, meant there were many times her hands were burnt and blistered by the hot steam wand used to give milk a foamy texture.
Sandy Wong (L) and Tang Tsz-long during the launch day for Yau Cafe. Photo: SCMP/ Jonathan Wong
"You need to be fearless when frothing the milk. I'm already used to how hot it is," she said.
The Blind Union started offering barista training in 2015, said Billy Wong Chun-hang, the group's director.
But after realising that very few blind people found barista jobs after the training, the group decided to open a coffee shop where they could hire blind people directly.
How do people with hearing disabilities cope during Covid?
Wong admitted it was risky to start a business during the pandemic, but he was confident in the cafe's mission.
"Last year during the pandemic, many visually impaired masseurs faced financial difficulties because of the suspension of massage services," he said.
Another trainee at Yau Cafe, 28-year-old Tung Tsz-long, was born with amblyopia, resulting in a gradual decrease in his vision. He lamented that it was very difficult for people like him to find full-time, permanent jobs in the city.
How one Chinese cinema brings movies to blind audiences
"[Employers] often assume that we need help with everything we do," he said, adding that he could sense "a shift in attitude" when employers learned about his eyes.
One potential employer told him bluntly the company could not support him, and no one there could help him.
Words like these often make the visually impaired feel discouraged and doubt themselves, he said.
Visually impaired coffee barista Sandy Wong (L) and manager Damon Leung work together at Yau Cafe. Photo: SCMP/ Jonathan Wong
Before starting at Yau Cafe, Tung had part-time jobs, including working in data entry and as a caregiver at an elderly centre. He enjoys making coffee, but it is not his only passion.
When asked what he would do besides being a barista, he said, "Something related to public transport, like buses.
"We all have different interests, but it's not easy for us to do what we want."
Click here to download a printable worksheet with questions and exercises about this story. Answers are on the second page of the document.
Sign up for the YP Teachers Newsletter
Get updates for teachers sent directly to your inbox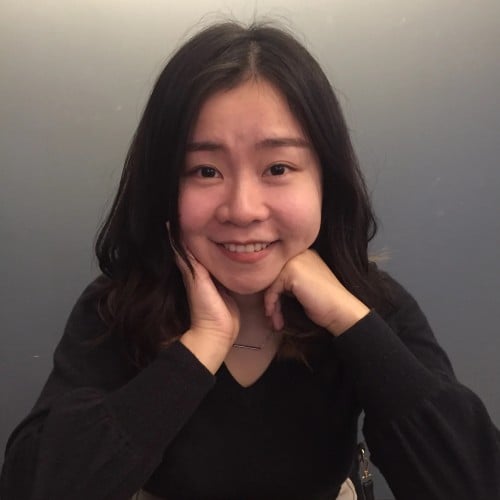 Kelly is a journalist from Hong Kong. She joined the Post in 2018, where she writes about Hong Kong's arts and culture, social welfare and the environment. She has a master's degree in Journalism from the University of Hong Kong.
Sign up for YP Weekly
Get updates sent directly to your inbox