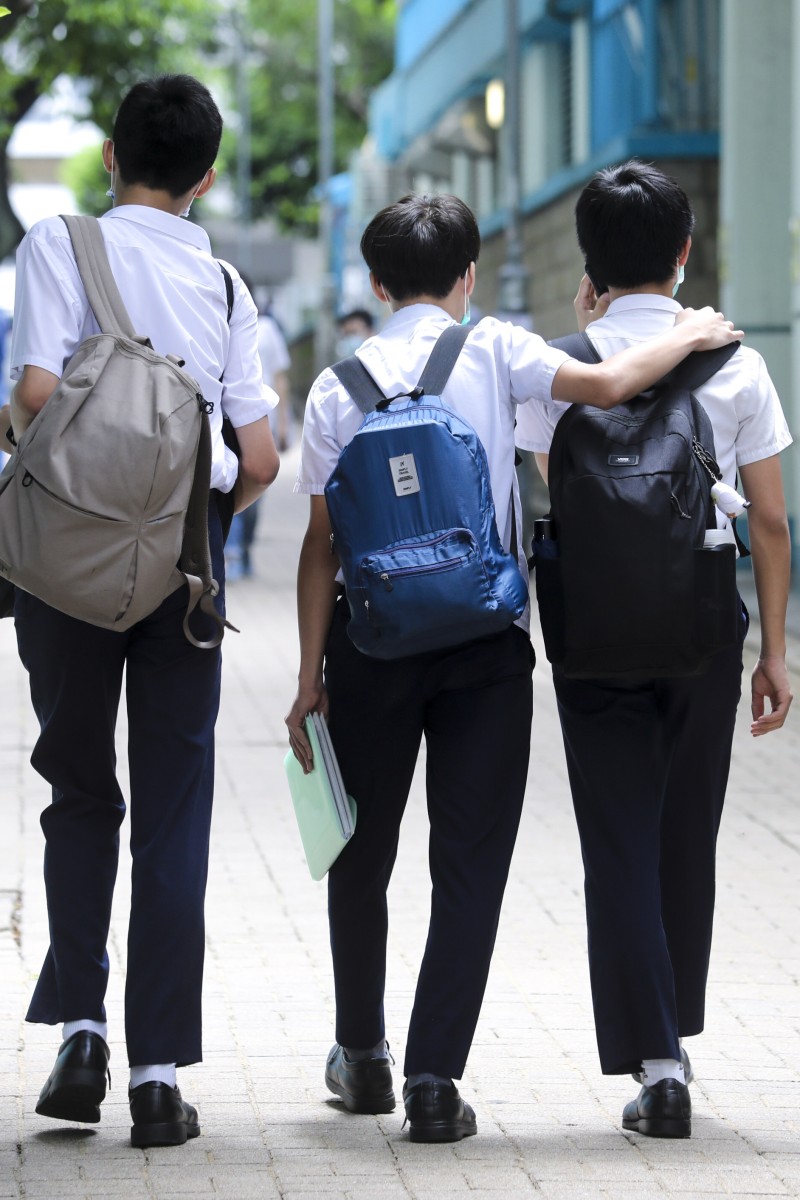 Dozens of Hong Kong schools face 'inevitable' closures as 40,000 families leave city, population shrinks
Two schools put on notice after too few children joined them in Form One this year, while primary schools with fewer than 16 pupils in Primary One risk closure

Officials to discuss with principals whether it is time to introduce smaller classes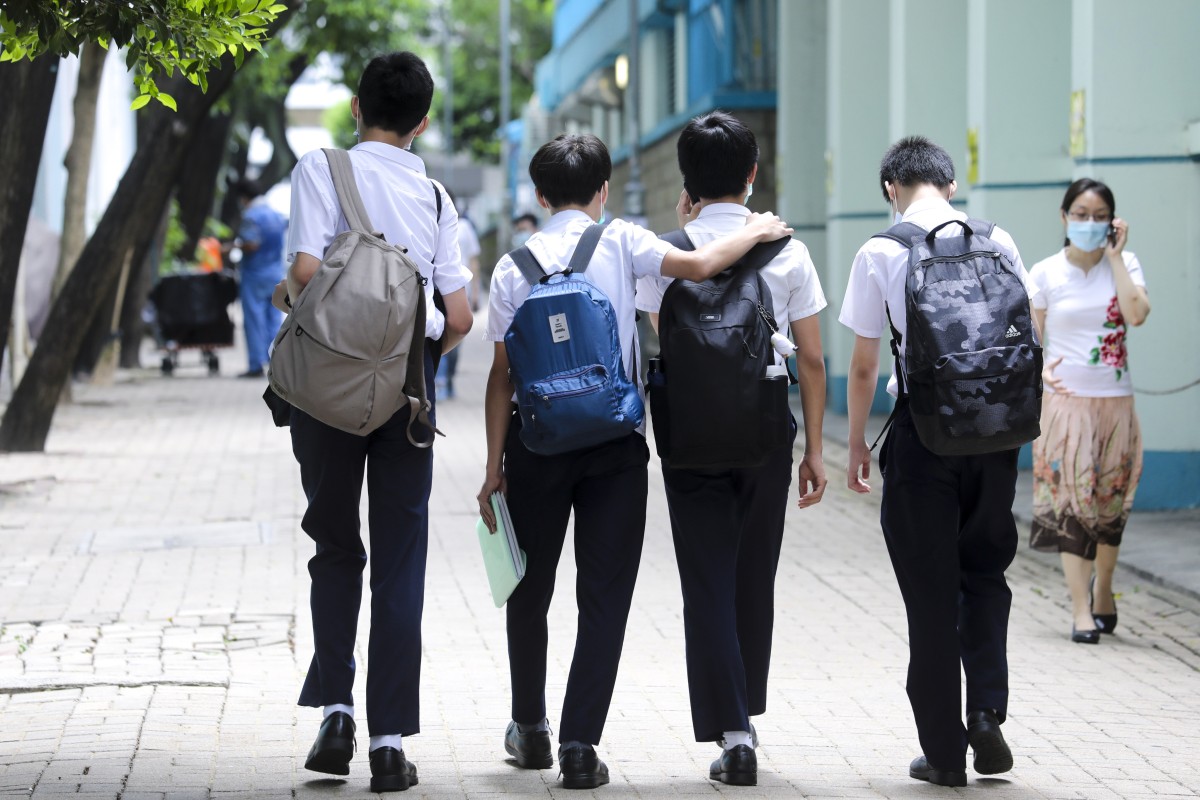 A drop in the number of pupils enrolling in Hong Kong's schools could mean closures are inevitable. Photo: SCMP / Dickson Lee
Dozens of Hong Kong primary and secondary schools are facing closure due to falling enrolment, a situation made worse by 40,000 families who emigrated over the past year, according to the head of the city's biggest pro-establishment education group.
Wong Kwan Yu, president of the 35,000-strong Hong Kong Federation of Education Workers, which represents mainly teachers, said some closures were inevitable.
Apart from the recent wave of emigration, the city's low birth rate and the loss of students who have had to remain in mainland China because of Covid-19 travel restrictions also contributed to the problem, he said.
Wong said he expected the number of closures to be in the "double digits".
British universities see increase in Hong Kong and mainland applicants
A government source told the Post secondary schools were likely to be hit harder in the years ahead. Education officials would discuss with secondary school principals the possibility of having smaller class sizes, with details to be confirmed later, the source added.
Two secondary schools, Caritas Chai Wan Marden Foundation Secondary School and Man Kiu College in Eastern district, have been told they are at risk because too few students joined them this year.
Wong said figures he obtained from schools showed that about 40,000 families left Hong Kong over the past year and the emigration trend was likely to continue.
Britain, Australia and Canada are among countries that have relaxed immigration schemes for Hongkongers in the wake of the national security law introduced in the city by Beijing in June last year.
Family, relatives and friends at Hong Kong International Airport bid farewell to loved ones leaving the city. Photo: SCMP / Nora Tam
In the first half of this year, about 64,900 Hong Kong residents applied to emigrate to Britain under the British National (Overseas) visa scheme that provides a pathway to citizenship there.
Data from the Census and Statistics Department in August showed nearly 90,000 residents left Hong Kong during the year after the legislation was imposed, resulting in a 1.2 per cent drop in the city's population.
But the net outflow over that period was 75,300, as 13,900 mainland Chinese entered Hong Kong under the one-way permit scheme.
In a paper to the Legislative Council last month, the Education Bureau noted the sharp drop in the number of children starting school at the primary and secondary levels.
Explainer: What is Britain's citizenship offer for Hong Kong residents?
It projected the number of six-year-olds to fall by 14.5 per cent, from 58,500 in 2022 to 50,000 in 2029. The number of 12-year-olds is expected to drop by roughly 5 per cent, from 63,100 to 60,100 over the same period.
Latest official figures also show that public schools cut at least 81 Primary One classes this academic year because they did not have enough pupils.
Secretary for Education Kevin Yeung Yun-hung said in September that the government was monitoring the situation and would come up with measures to address the declining trend in enrolment if necessary.
Secretary for Education Kevin Yeung. Photo: SCMP / Nora Tam
Under existing policy, primary schools with fewer than 16 pupils in Primary One risk closure, and the bureau will discuss possible options with them.
Secondary schools with fewer than 25 pupils in Form One have five choices to ensure their survival.
These include broadening their programmes to attract children with different needs, merging with other schools, going private or switching to a direct subsidy scheme, with government funding pegged to the number of pupils.
The fifth option is to submit to a review by a bureau team that will assess the school's management, teaching and student performance. The school can carry on if it clears the review.
Officials have asked the two Eastern district schools to choose from those options after both failed to recruit the minimum 25 students for Form One in the current academic year.
Hong Kong public schools lose 81 Primary One classes following wave of emigration
In a reply to the Post, the Vocational Training & Education Service of Hong Kong Caritas said the organisation's under-enrolled secondary school in Chai Wan might launch collaborative programmes with the Caritas Institute of Community Education, which provides vocational training at 16 locations around the city.
Ivy Yip Shuk-ting, school development consultant at Man Kiu College, said it drew fewer than 20 Form One students this academic year and would meet the bureau on Wednesday to discuss undergoing the special review.
"Ironically, our school just received an Outstanding Teaching Award for Moral Education from the Education Bureau," said Yip, who is principal of the affiliated Man Kiu Association Primary School. She said the secondary school served disadvantaged students.
Man Kiu College in North Point is one of those that has been put on notice. Photo: SCMP / Edmond So
Some principals have suggested introducing smaller classes as a way to deal with falling enrolment and avoid school closures.
But Wong, a former secondary school principal, did not support the idea, saying schools already had group teaching. If classes became too small, teaching would be ineffective, the federation's president said.
He suggested teachers equip themselves with new skills to teach gifted children or those with special education needs, and pursue further studies to become education psychologists or school social workers.
However, a headmistress who preferred to stay anonymous said Wong's suggestions might not be easy for many teachers, as earning a master's degree in education psychology was extremely demanding.
She felt the declining number of pupils provided a good opportunity to consider reducing class sizes.
Sign up for the YP Teachers Newsletter
Get updates for teachers sent directly to your inbox
Sign up for YP Weekly
Get updates sent directly to your inbox