The government maintains poverty rate has actually fallen slightly after intervention such as cash handouts

Advocates say that these relief measures still fell short of supporting those most in need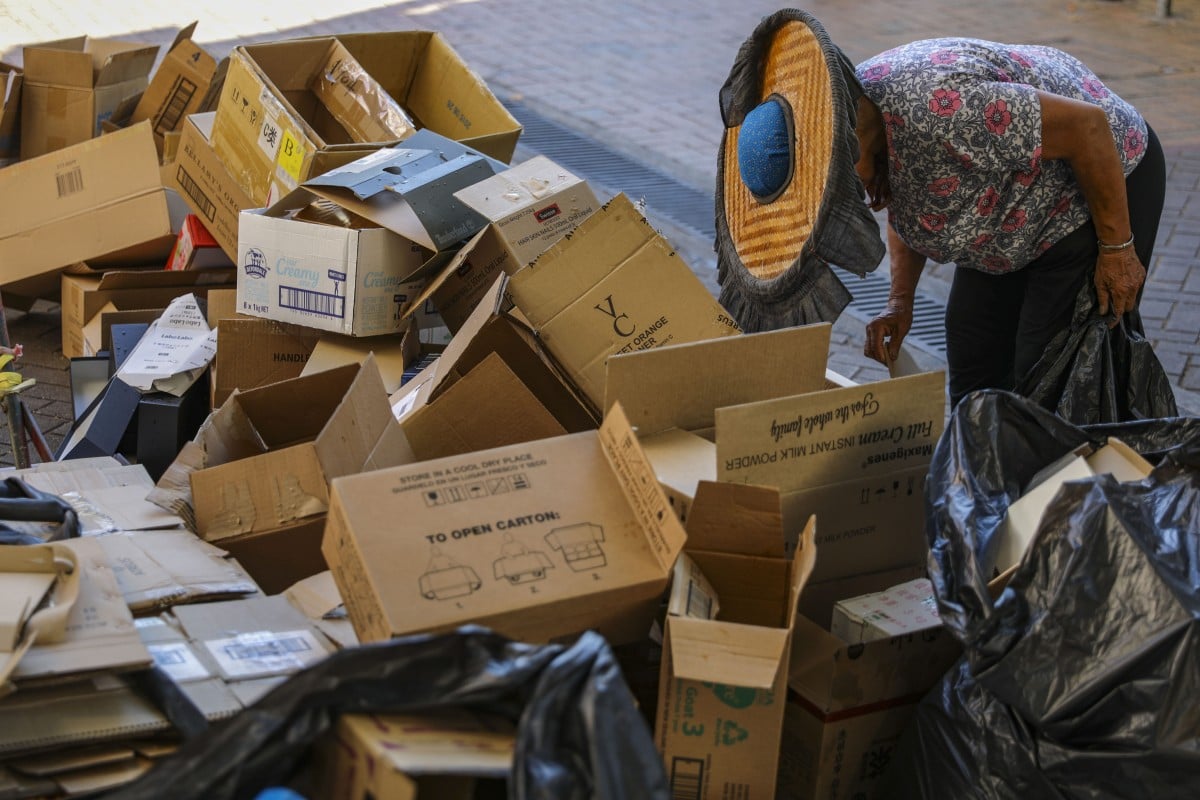 The city's unadjusted poverty rate hit a 12-year high in 2020 amid the coronavirus pandemic. Photo: SCMP / Sam Tsang
More than one in five Hongkongers, or 1.65 million people, were living in poverty in 2020. New government figures revealed this is the most since record-keeping began 12 years ago.
But officials stressed, in the annual Poverty Situation Report released on Wednesday, the focus should be on a post-intervention poverty rate which was revised down to just 7.9 per cent, or 554,000 people, a slight improvement on 2019's 9.2 per cent.
The government included its recurrent cash handouts, as well as non-cash ones such as public housing, in calculating how its policies mitigated poverty.
Children living in subdivided flats don't have enough light to study or read
But campaigners and experts have said even those figures are still too high, with the revised number potentially masking the reality of intergenerational poverty created by the Covid-19 pandemic.
"Poor people have been hit the hardest during the year of the pandemic, from job losses to underemployment and homelessness. The government must not turn a blind eye to the serious findings in its own report," said Sze Lai-shan, of the Society for Community Organisation (SoCO).
Wealth inequality and poverty, along with the dearth of affordable housing in the city, have shot to the top of the city's political agenda after Xia Baolong, director of the State Council's Hong Kong and Macau Affairs Office, singled them out as deep-rooted issues for the city's next leader to tackle.
A homeless person sleeps with their head on a chair on the streets in Mong Kok. Photo: SCMP / Xiaomei Chen
In 2020, the government gave out HK$316.4 billion (US$40.6 billion) in four rounds of subsidies from its anti-epidemic fund to support businesses reeling from the imposition of strict social-distancing rules, which saw many shut down for months on end.
But unemployment still soared to a 16-year high of 6.6 per cent in the final quarter of the year, with some 245,800 people out of work as the city battled a resurgent fourth wave of the coronavirus.
In Wednesday's report, the pre-intervention poverty rate climbed to 23.6 per cent from 21.4 per cent the year before. The number of people living below the poverty line increased from 1.49 million to 1.65 million.
Five people, 280 sq ft, one tin shack: the plight of Hong Kong families awaiting public housing
The government said in a statement that its interventions "created an alleviating effect for the underprivileged, and effectively suppressed the would-be sharp rise in poverty rate in a deteriorating economy".
But SoCO organiser Sze said last year's mass unemployment was a direct result of the government's tough policy on social distancing, adding that its relief measures fell short of supporting those most in need.
She also said the post-intervention figure did not tell the full story, as the poverty line was drawn too low. By the government's metrics, only a person earning HK$4,400 or less would be considered poor, while a three-person family would have to take home a combined HK$16,000 or less to fall below the poverty line.
In subdivided flat, HK$4,100 for one month's utilities – Hong Kong's landlords find new ways to exploit tenants
Eunice Yung Hoi-yan, a New People's Party lawmaker who sits on the poverty commission, said she was worried about the enduring effects of 2020 on the city's poor, especially the young, who missed out on educational opportunities due to school closures.
"Looking ahead, the government must use its funds, including those from the semi-official Community Care Fund, to help plug the gap in learning, as well as offer other assistance to the underprivileged to help lift them out of poverty," she said.
Sign up for the YP Teachers Newsletter
Get updates for teachers sent directly to your inbox
Sign up for YP Weekly
Get updates sent directly to your inbox