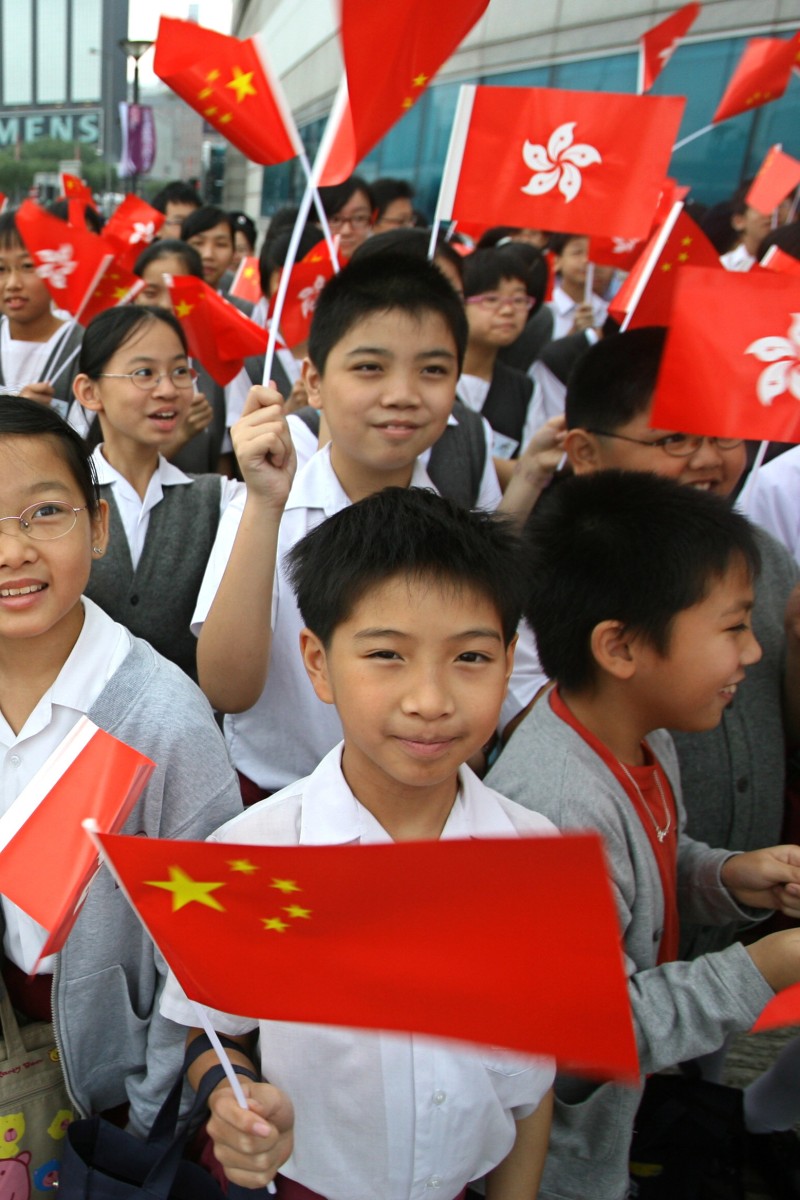 The revised guidelines add three new values: law-abidingness, empathy and diligence, to the existing seven that schools were already required to teach

The new framework also seeks to address undesirable characteristics such as laziness and a 'fluke mindset' that left life up to chance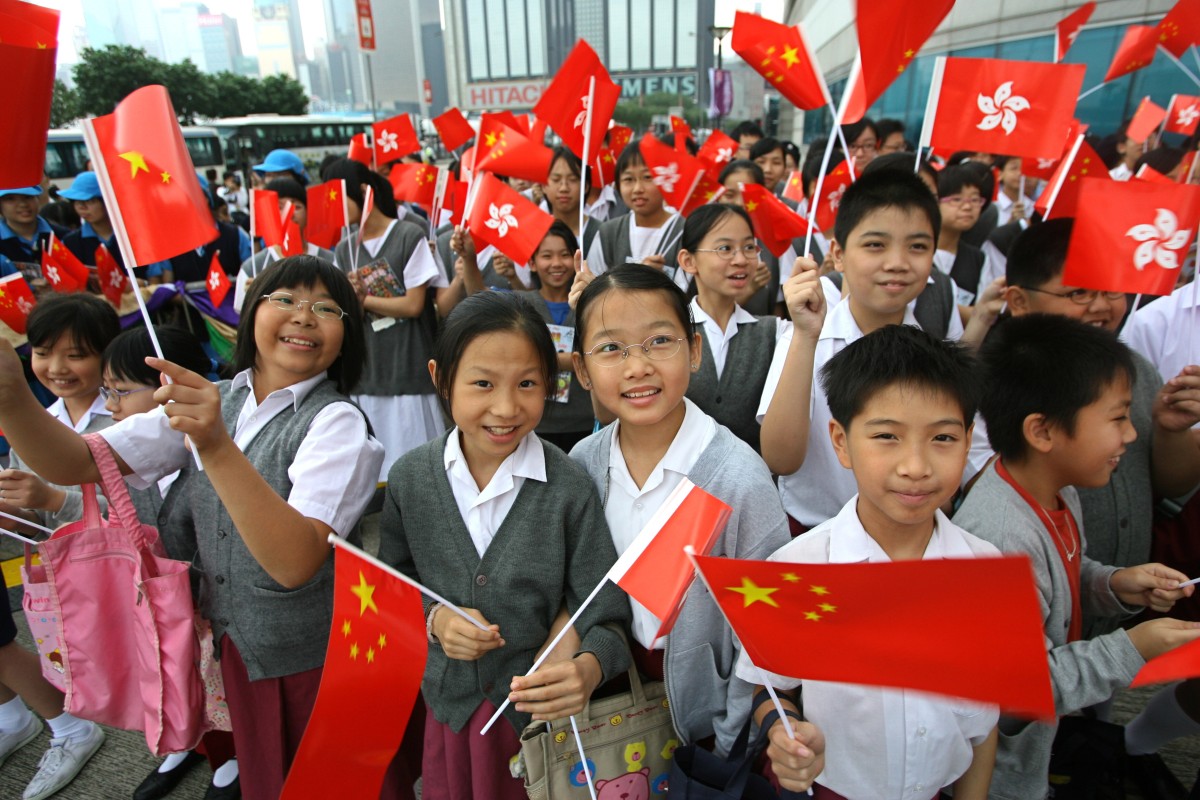 A new civic values framework issued to local schools aims to bolster students' sense of national identity. Photo: SCMP / Robert Ng
Hong Kong primary pupils as young as six should understand the spirit of the Chinese constitution, while older pupils must learn to safeguard national security and "love the motherland" under a revised framework on civic values issued to all schools on Tuesday.
Laid out across 89 pages – and replacing the eight-page "Moral and Civic Education Curriculum Framework" of 2008 – the revised guidelines add three new values, namely law-abidingness, empathy and diligence, to the seven that schools were already required to instil.
The "Values Education Curriculum Framework", as the new guidelines are known, also lacks its predecessor's expectation that students recognise the importance of human rights. The other values schools are expected to promote are perseverance, respect for others, responsibility, national identity, commitment, integrity and care for others.
Hong Kong leader points to teachers for youth 'failing to grasp' mini-constitution
The standing committee on values education under the Curriculum Development Council announced on Tuesday that a pilot version of the new framework will be implemented in all schools starting from the next school year, while some would be invited to join a trial run right away.
In a recent blog post, Secretary for Education Kevin Yeung Yun-hung accused the city's youth of rejecting hard work and adopting an indifferent attitude towards life, a mentality he characterised as "passive and self-indulgent".
The new framework released on Tuesday echoed that language, suggesting young people today were afflicted with laziness, expectations of "reaping without sowing", and a "fluke mindset" that left life up to chance. It also expressed hope that students would instead work hard and eventually contribute to their families, society and country.
National identity and Chinese culture will form the basis of values education at school. Photo: SCMP/ Nora Tam
In a bid to bolster students' national identity, the new framework said Chinese culture should be the backbone of values education, and that young people should come to appreciate the country's history, respect its national symbols, and understand its constitution and Hong Kong's Basic Law.
The framework said schools should infuse civic values into all subjects and extracurricular activities, and assess students through worksheets, questionnaires, observations and interviews.
A spokesman for the Education Bureau said it would organise briefing sessions for schools on the contents of the framework.
Under the new guidelines, pupils in Primary One through Three – normally aged from six to eight – should understand the spirit of the Basic Law, the city's mini-constitution, as well as the "one country, two systems" governing principle. Older students in Primary Four through Six must learn about the responsibility to protect national security.
Hong Kong's subsidised schools eligible for up to HK$300,000 in national education funding
In secondary schools, lower-form students will also be taught to care for national security, and to acknowledge their identity as a Chinese citizen and maintain a sense of belonging and responsibility. Upper-form students will be expected to "love the motherland and love Hong Kong", a benchmark that was absent in the old framework.
The framework also lists over 20 examples for teachers to follow, including one suggesting teachers play the song The East Is Red when teaching primary students about the achievements of Chinese aeronautical science.
The revolutionary ballad, which was popular during the Cultural Revolution of the 1960s and praises Mao Zedong as "people's great saviour", was the first song that China's earliest satellite beamed back to earth after it was launched in 1970.
Students attend their first day of the new academic year at Scientia Secondary School in Ho Man Tin in September. Photo: SCMP/ Winson Wong
Another example suggests using the Manchurian Incident – a railway bombing used as a pretext by Japan for a large-scale invasion of Chinese territory in 1931 – to cultivate their recognition of the state.
"In order to defend the motherland, thousands of people with lofty ideals threw their heads, shed their blood and risked their lives to resist the aggression. They finally won," the example reads, saying the historic episode could teach students the values of perseverance and responsibility.
Polly Chan Shuk-yee, principal of the Yaumati Catholic Primary School (Hoi Wang Road), said it was not easy to teach such complex concepts to young children. "We can only teach the meanings or the concepts of the law and why we should obey the law to the students through activities, as they are too young to learn the wording," Chan said.
Hong Kong teachers avoiding 'sensitive topics' in revamped liberal studies
Ng Wing-hung, principal of Buddhist Lim Kim Tian Memorial Primary School, seconded that assessment. While some institutions already taught the Basic Law and one country, two systems to older primary students, he said, if such lessons started any earlier it "may be quite difficult for the kids to learn".
"We cannot just read aloud the law or the teaching materials. Instead we need to teach them through some interesting activities that are related to their daily lives," Ng said.
Sign up for the YP Teachers Newsletter
Get updates for teachers sent directly to your inbox
Sign up for YP Weekly
Get updates sent directly to your inbox