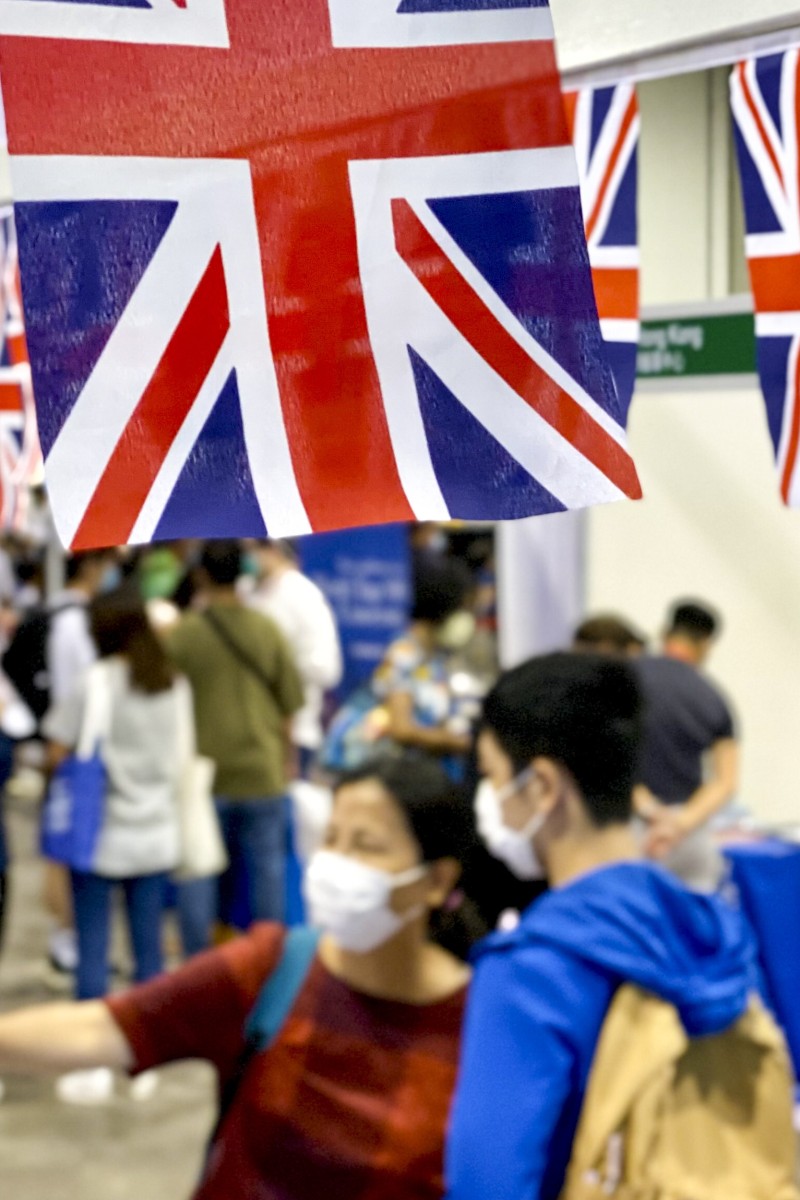 'Too many Hong Kong applicants,' say some British schools that prefer a mix of foreign students

Direct subsidy schools in city hurt financially as better-off families send children to study overseas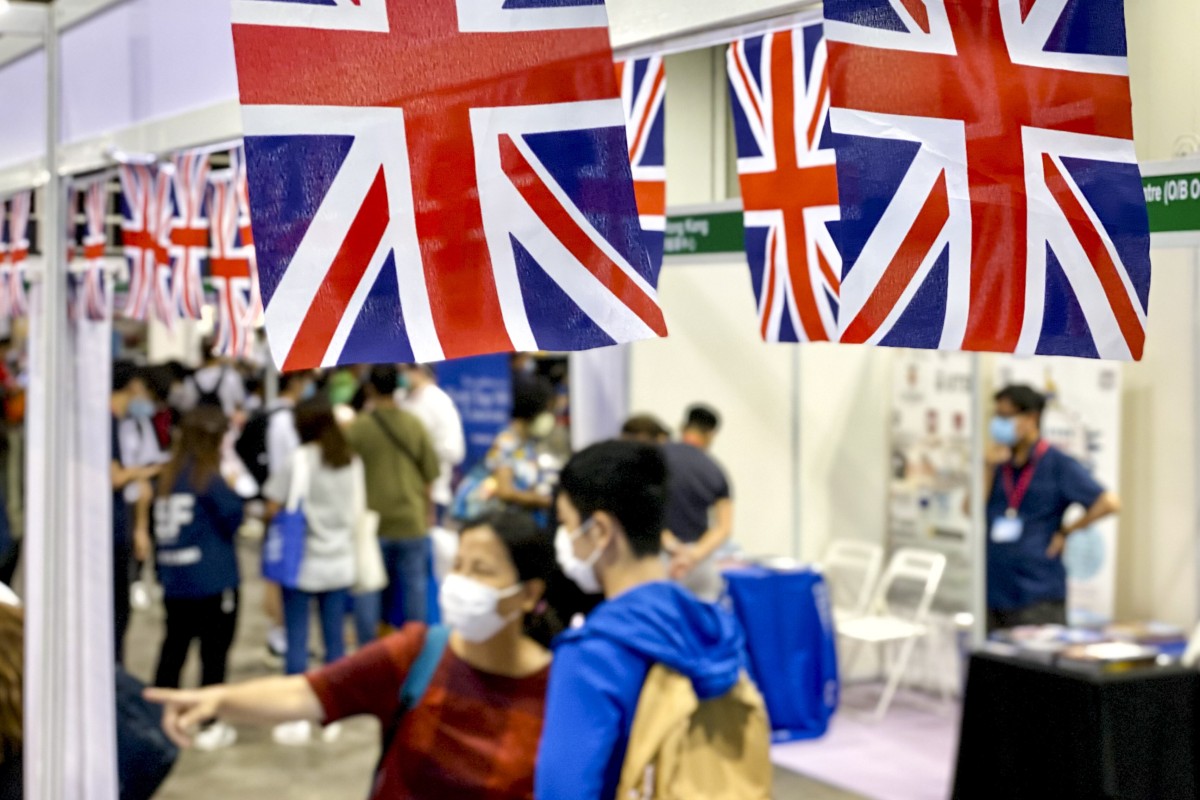 Hongkongers attend the city's international education expo this year with parents increasingly looking at sending their children abroad to study. Photo: SCMP/ Chan Ho-him
The number of Hong Kong children enrolling in British schools has hit at least an 11-year high. Some are even being turned away for the first time, according to education consultants.
Elite schools in Hong Kong, meanwhile, are feeling the loss of several thousand students who left to study mainly in Britain.
Education Bureau data showed that the number of vacancies in primary and secondary schools rose to nearly 5,200 between July and October, meaning more students withdrew after the summer.
Hong Kong's secondary schools lose 4,500 students and 1,000 teachers in single year
According to the latest British government data, 2,679 child student visas were issued to Hongkongers from January to September, a record since at least 2010, the earliest year when full records were available.
The child student visas are for those aged four to 17 who enrol in private schools, including boarding schools, with hefty annual tuition fees around HK$350,000 to HK$500,000 (US$44,800 to US$64,100).
Britain issued about 2,100 child student visas for the first three quarters of several years leading up to and including 2019, when anti-government protests erupted in Hong Kong. After that, the number rose sharply by about 26 per cent to 2,673 last year and 2,679 this year.
Most Hong Kong schoolchildren leave after completing Form Three or Form Five to start Year 10 or Year 12 respectively in Britain.
Some of Hong Kong's schools are feeling the squeeze of losing students to overseas. Photo: SCMP/ K.Y. Cheng
But Iris Yip Yuen-ting, student recruitment manager at Aston Education, which specialises in British independent schools, said the rise in applicants led some popular schools to stop accepting Hong Kong students at Year 10 and 12.
These well-known schools were in Surrey, Kent, Cambridge and London, she said, and were keen to have a mix of international students rather than too many from one place.
"This year, some institutions even refunded the application fees for enrolled Hong Kong students as they received too many applications from Hong Kong," she added.
Two Hong Kong public schools to merge amid decline in student population
For the first time, she said, the schools even began admitting Hong Kong students two years in advance, for the 2023-2024 academic year.
She said most of the parents sending their children to British private schools would remain in Hong Kong to work, and were not applying yet to migrate under the new pathways to citizenship offered by the United Kingdom government.
"Most of these students come from direct subsidy scheme schools," she said, referring to schools which attract mainly children from better-off families and receive government funding pegged to the number of pupils.
More Hongkongers are choosing to emigrate to countries such as the UK. Photo: SCMP /Dickson Lee
There are 58 such schools, which are mainly elite institutions charging average annual fees of around HK$48,000 and have more freedom to design their programmes.
Dion Chen, chairman of the Hong Kong Direct Subsidy Scheme Schools Council said the loss of students was hitting some of the schools financially. He said that one secondary school had lost nearly 200 students over a year.
Chen, who is principal of Ying Wa College, an elite boys' school with competitive enrolment, said he lost about 60 students from different grades this year.
Aside from taking younger schoolchildren, Britain also issued 5,831 student visas from January to September, mainly for those pursuing higher education. This was up from 4,687 over the same period last year, but lower than about 6,200 in 2010.
Hong Kong experiences an alarming drop in population as 90,000 leave in one year
Canada and Australia have also been attracting Hong Kong students among those taking advantage of new pathways to citizenship.
Official figures from Canada showed that 4,915 Hongkongers obtained study permits from ­January to September for higher education, up sharply from 1,975 in the first three quarters of last year.
The number of student visas granted by Australia has remained at about 5,400 each year, but fell to around 3,800 last year because of the Covid-19 pandemic.
Canada's new migration pathway for Hong Kong residents is already open, while Australia's will kick off next March.
According to a poll conducted by Hong Kong Association of the Heads of Secondary Schools, 60 per cent of students dropping out left for overseas countries, mainland China or Macau. Photo: SCMP / Dickson Lee
Meanwhile, interest in studying in the United States has continued to decline.
Latest figures by the Open Doors Report on International Educational Exchange sponsored by Washington, an information resource on international students in the US, showed that the number of Hong Kong students in higher education institutions hit a new low after eight consecutive years of falling.
Around 5,878 Hong Kong students were enrolled in 2020-21, a 13.3 per cent drop from the previous year, the biggest decline ever. The peak was in 2008-09, when more than 8,300 Hong Kong students went there.
Applications open for Hong Kong graduates in Canada to apply for new work visa
Kitty Wu, director of Litz USA Student Service, a Hong Kong-based education consultancy, said the Canadian and Australian migration offers were appealing to Hongkongers.
The US had not offered Hongkongers any new migration pathways, and those who wished to remain after completing their studies would have to find jobs or marry an American citizen, she added.
"If Hong Kong students want to settle down elsewhere after graduation, they now may not choose the US," she said.
She added, however, that many top students still preferred US universities, which led international schools rankings.
Sign up for the YP Teachers Newsletter
Get updates for teachers sent directly to your inbox
Sign up for YP Weekly
Get updates sent directly to your inbox