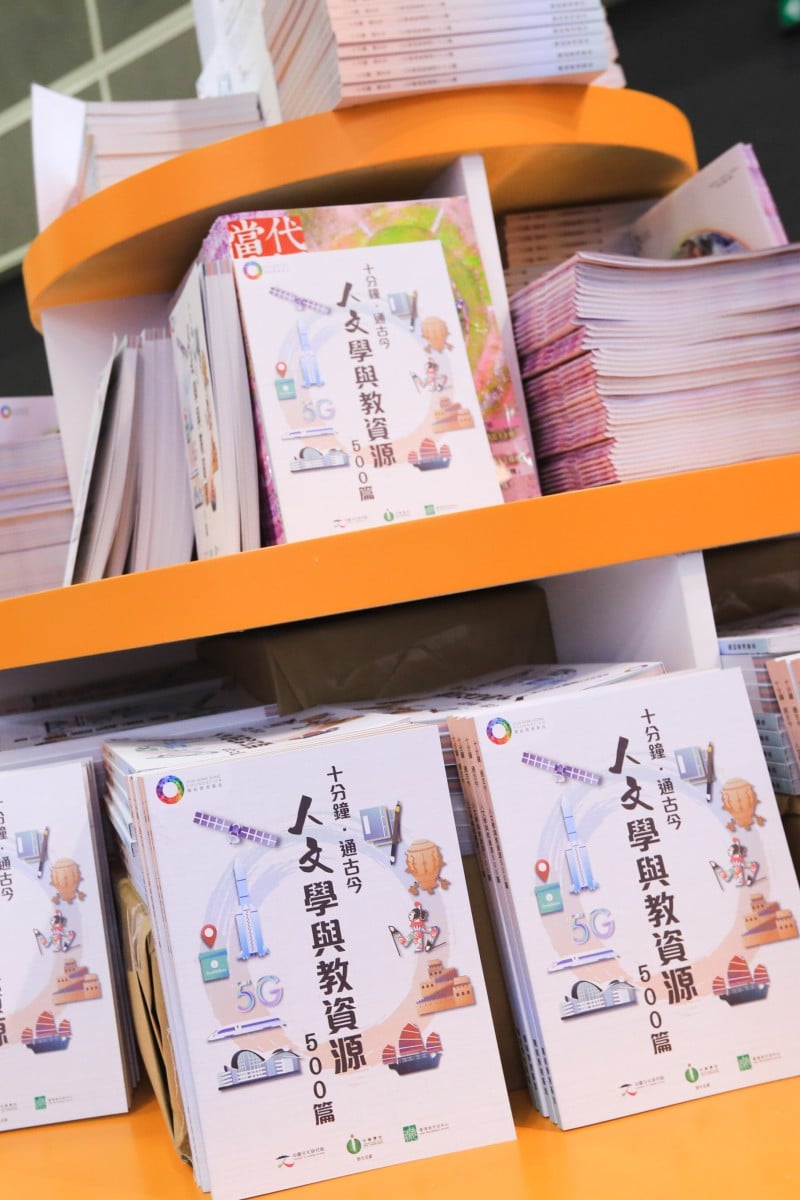 The separate materials are being distributed to schools, to boost students' sense of national identity

Events such as the 1989 Tiananmen Square crackdown and the 2019 social unrest in the city have been left out 'based on official curriculum'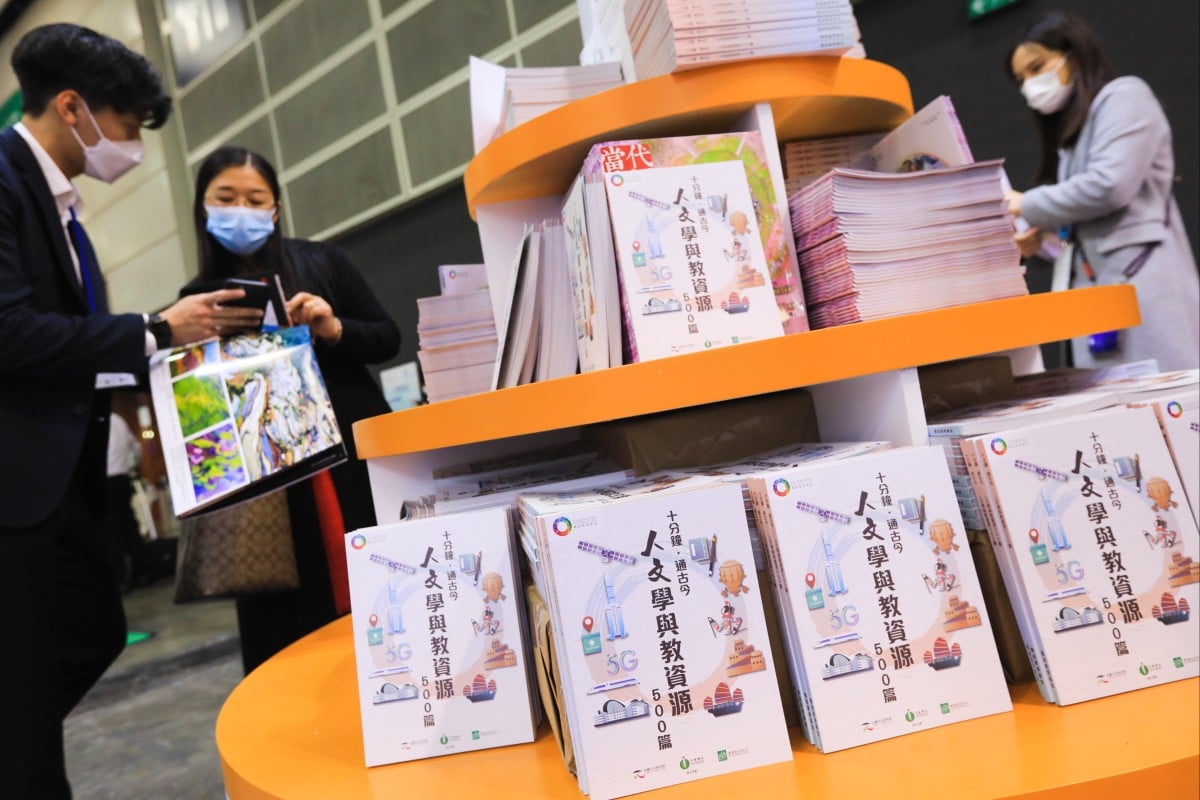 Textbooks launched by think tank Our Hong Kong Foundation. Photo: SCMP / Felix Wong
Hong Kong police and a prominent think tank have separately put out teaching materials on Chinese culture and history for kindergarten to secondary levels to boost students' sense of national identity, with publishers saying some controversial events were left out "based on official curriculum".
Tens of thousands of copies of the teaching kits produced by police and Our Hong Kong Foundation were distributed to hundreds of schools for free. But events such as the 1989 Tiananmen Square crackdown and the 2019 social unrest in Hong Kong were not mentioned in the materials.
A booklet titled Understanding the past and now in 10 minutes: 500 entries on the learning and teaching resources on humanities, published by the foundation set up by former city leader Tung Chee-hwa was unveiled on Wednesday.
Hong Kong students must 'love motherland' under new values curriculum
The foundation said the booklet aimed to support the teaching and learning of humanities in secondary and primary schools, such as social studies, Chinese history, as well as citizenship and social development.
Some 7,000 copies will be distributed to teachers, with the electronic version to be available for download.
The 500 topics are grouped into three main themes: ancient and modern history of Hong Kong; ancient China; and modern China. Each topic features a 100-word introduction and a QR code linking to relevant articles and videos produced mainly by the foundation's subsidiaries.
Student protesters in Tiananmen Square, Beijing in 1989. Events such as the 1989 Tiananmen Square crackdown were dropped in the teaching kits. Photo: AFP
Topics on Hong Kong included not only historical milestones before the British colonial era, but also on local culture, village customs, architecture and famous figures such as martial arts legend Bruce Lee.
Some controversial events such as the 1989 Tiananmen Square crackdown in Beijing, the 1967 riots in Hong Kong, a July 1 protest march in 2003 in the city, the 2014 Occupy movement and the anti-government protests of 2019 have been left out.
The Academy of Chinese Studies, China Institute for Knowledge and Hong Kong Chronicles Institute under the foundation were responsible for the seven-month project.
Responding to media queries, Yau Yat, executive director of the Academy of Chinese Studies, said they followed official guides on different subjects, and no self-censorship was exercised.
Hong Kong's education authorities say students should learn history with a focus on national security
"Our booklet is based on the curriculum laid down by the Education Bureau and we tried to cover as many topics as we could, so some are left out. We may put it back in the edited version but we need to see feedback from the education sector first," Yau said, adding contentious topics that the bureau had not required schools to teach would not be covered.
After the social unrest of 2019 – which was marked by violent clashes between protesters and police – education on national identity and national security was launched in local schools.
The controversial liberal studies subject for senior secondary students was also replaced with the "citizenship and social development" module, a revamped version focused on national security, identity, lawfulness and patriotism.
New liberal studies teaching materials (under the renamed subject of citizenship and social development) made by Ling Kee Publishing. Photo: Handout
Stella Lau Kun Lai-kuen, headmistress of Diocesan Girls' School and one of the guests at the launch ceremony, said the foundation's booklet was useful for introducing some fundamental concepts across different topics.
"This book is for general knowledge. Students will find other information that the book has not covered themselves, " Lau said.
A teacher specialising in liberal studies as well as citizenship and social development for over 10 years disagreed, saying the new material would not help in the revamped subject, which will not have any officially approved textbooks until the next academic year.
"What we are asking for is a formal textbook, which has worksheets, a bank of sample exam questions, and the publisher should publish a book from the angle of the teachers, not the state," said the educator who asked to remain anonymous.
Hong Kong leader points to teachers for youth 'failing to grasp' mini-constitution
Meanwhile, free teaching kits on various festivals, designed by Kwai Tsing police district and Junior Police Call, the force's official youth group, were distributed to about 400 kindergartens across the city.
In a sharing session with some 200 kindergarten principals and teachers on Wednesday, Secretary for Security Chris Tang Ping-keung said nurturing the younger generation's love for their country and Hong Kong was a responsibility of society.
"Through scenes of major festivals, such as the July 1 celebration of Hong Kong's handover and National Day, we impart the idea of respecting the national flag and anthem to our students," he said.
"So our next generation can stand in Hong Kong, with the motherland in their heart, while facing the world."
National security education and related activities such as flag raising ceremonies are now a required part of the syllabus at most Hong Kong schools. Photo: SCMP / K.Y. Cheng
The teaching packs consist of a picture book Little Elite – Festive Love, worksheets and cards. The picture book features colourful illustrations and short passages about Hong Kong's celebrations and festivals, such as the flag-raising ceremony on National Day, Mid-Autumn Festival and the Cheung Chau Bun Festival.
Kwai Tsing District Commander John Tse Chun-chung said he witnessed many young people breaking the law during the 2019 anti-government protests, prompting him to design the teaching materials.
"It showed that they lacked awareness of abiding by the law," he added.
"Many children do not have a great understanding of our country, or they may even have some misconceptions about it, so I think we have the responsibility to allow them to learn about our country at a young age, and experience it as they grow older."
Hong Kong's subsidised schools eligible for up to HK$300,000 in national education funding
Tse said the force also planned to publish a book on the Greater Bay Area for kindergartens.
Meanwhile, Secretary for Education Kevin Yeung Yun-hung said on RTHK television programme Overview Policy on Wednesday that more than 13,000 teachers had so far signed up for training to enhance their knowledge of national security and the Basic Law, the city's mini-constitution.
He also assured teachers that there was no need for them to fear "crossing the red line" so long as they handled national security education in a "positive" manner. Yeung added it was educators' responsibility to safeguard national security and encourage students to understand it.
In the interview, Yeung also said 90 per cent of local schools had set up a working group or assigned a designated staff member to oversee the promotion of national security education on campus. The Education Bureau would monitor and give feedback if needed so that schools could make improvements.
Sign up for the YP Teachers Newsletter
Get updates for teachers sent directly to your inbox
Sign up for YP Weekly
Get updates sent directly to your inbox