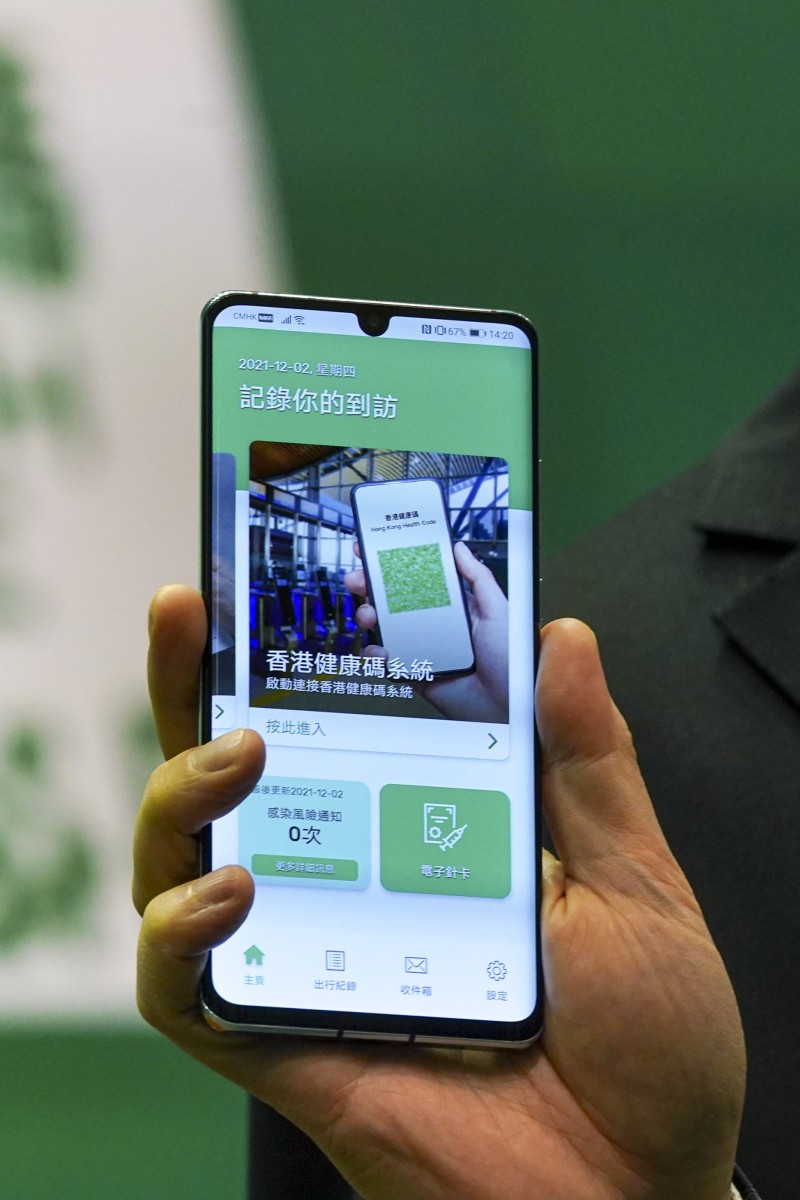 The 'Hong Kong Health Code' is mandatory for those in Hong Kong travelling to the mainland later this month

Users who signed up for the health code encountered activation issues relating to providing proof of address, which needs to be verified by officials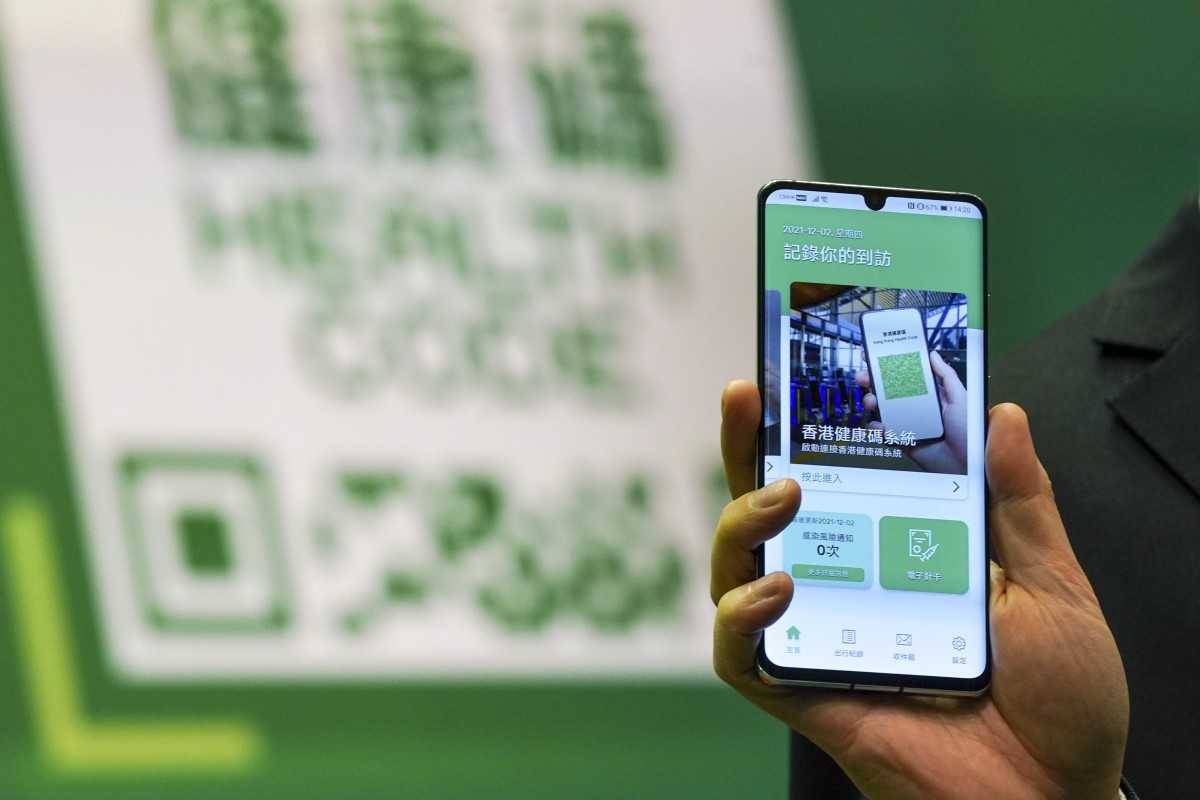 Hong Kong residents could start registering for the health at 9am on Friday. Photo: SCMP / Sam Tsang
More than 23,000 Hongkongers signed up on Friday in the first hour of registration for the city's new Covid-19 health code, which is required for quarantine-free travel to mainland China under a long-awaited reopening of the border.
Innovation and Technology Bureau chief Alfred Sit Wing-hang revealed the number of health code registrations as of 10am for version 3.0 of the "Leave Home Safe" contact-tracing app, but a spokeswoman later said that only a few hundred people had so far been able to activate their accounts.
Sit said that users must provide proof of address which needed to be verified before an individual's health code could be activated. He added those unable to do so would be posted a personal identification number, hopefully next week, so their registrations could be completed.
Coronavirus: Hong Kong launches quarantine-free travel to the mainland in December
It would be quicker to verify the addresses of people living on public housing estates because the government held the relevant records, Sit said. "We hope to complete all the preparations to facilitate the border reopening," he said.
The health code is linked to the new version of the official risk-exposure app. Using a QR code, it essentially serves as an entry ticket for the mainland, with border officials only accepting green codes indicating the lowest level of risk. Joining the scheme is voluntary for those not wanting to visit the mainland.
Quarantine-free travel to the mainland is expected to launch soon after the December 19 Legislative Council election, according to insiders.
Hong Kong's cross-border businesspeople were among those joining the registration scramble on Friday morning.
Danny Lau Tat-pong, honorary chairman of the Hong Kong Small and Medium Enterprises Association, logged on to the website when the process opened at 9am to find 15,985 people were queuing.
"But just after two minutes I could start setting up my account by inputting my personal details and uploading my address proof. The process was quite smooth," he said.
"But after this, I have kept waiting for the system to activate my account before I can proceed to the next step. It's been two hours now but I am still waiting."
Coronavirus: Cross-border students will miss out when Hong Kong-mainland travel resumes
His son King Lau Pak-ho, executive director of curtain wall manufacturer Kam Pin Industrial (HK) Ltd, said his application was still being processed two hours after filling out the form, adding he had no idea when his account would be activated.
"I need to travel frequently to the mainland to visit our factory in Dongguan. I went through quarantine on the mainland four times so I badly need to register for the health code," he said.
Lau Pak-ho (left) and his father Danny Lau Tat-pong logged on at 9am to try and complete registration. Photo: SCMP / May Tse
Peggy Ko Pik-kei, executive director of the Hong Kong Blind Union, said the visually impaired and the elderly, who needed to visit the mainland but did not have a smartphone, would have no clue how to use the health code.
"We are still waiting for the government to make the relevant arrangement for these groups of people," she said.
Although the government might yet hand out mobile phones via NGOs to those in need to enable health code access, Ko said such groups would have to be taught how to use the technology.
"The NGO [non-governmental organisation] staff also need training for teaching these people how to use the code. They need more support from the government," she said.
Face off: Should Hong Kong reopen the border with mainland China?
Use of the updated health code is one of the prerequisites for Hongkongers to head to the mainland without undergoing quarantine. It is available for download and registration at www.healthcode.gov.hk.
Beijing recently gave its final approval for the initial phase of reopening the border, but officials have not yet said how many people will be allowed to cross the border each day. Priority is expected to be given to businesspeople and families deserving compassionate assistance.
The updated app will allow users to link their Hong Kong travel history over the past to the new health code.
Minister Alfred Sit at a press conference last week launching the health code. Photo: SCMP / Sam Tsang
Users must also provide personal information including their real name, HKID number, date of birth, proof of address and a valid Hong Kong phone number for registration, a feature that has triggered privacy concerns among some residents. Utility bills and bank statements, for example, can serve as proof of address.
Non-Hong Kong residents may register with their hotel accommodation in the city.
Once all the information has been uploaded to the webpage, a colour-coded QR code will be generated and the data sent to relevant government departments.
One student shares the difficulty of cross-border learning
Only the green-coloured QR code will be accepted for travel to the mainland. Those with yellow or red codes will be denied entry. Authorities are still working on the parameters of its colour-coded system.
People who intend to travel to provinces other than Guangdong should also have a valid mainland phone number and a WeChat account, as the mainland's health code system is synchronised with the Tencent-backed digital wallet.
Currently, the duration of quarantine on arrival to the mainland depends on the city and province, but many places require at least a 21-day isolation period. Hongkongers entering Shenzhen, for example, have to quarantine at a hotel for 14 days, and self-monitor at home for another seven.
Sign up for the YP Teachers Newsletter
Get updates for teachers sent directly to your inbox
Sign up for YP Weekly
Get updates sent directly to your inbox