Many at polling stations were elderly or middle-aged, saying the 2019 social unrest pushed them to vote, while younger residents skipped what some deemed a meaningless election

More than 1.3 million registered electors in geographical constituencies cast ballots, for turnout rate of 30.2 per cent, lowest since 1997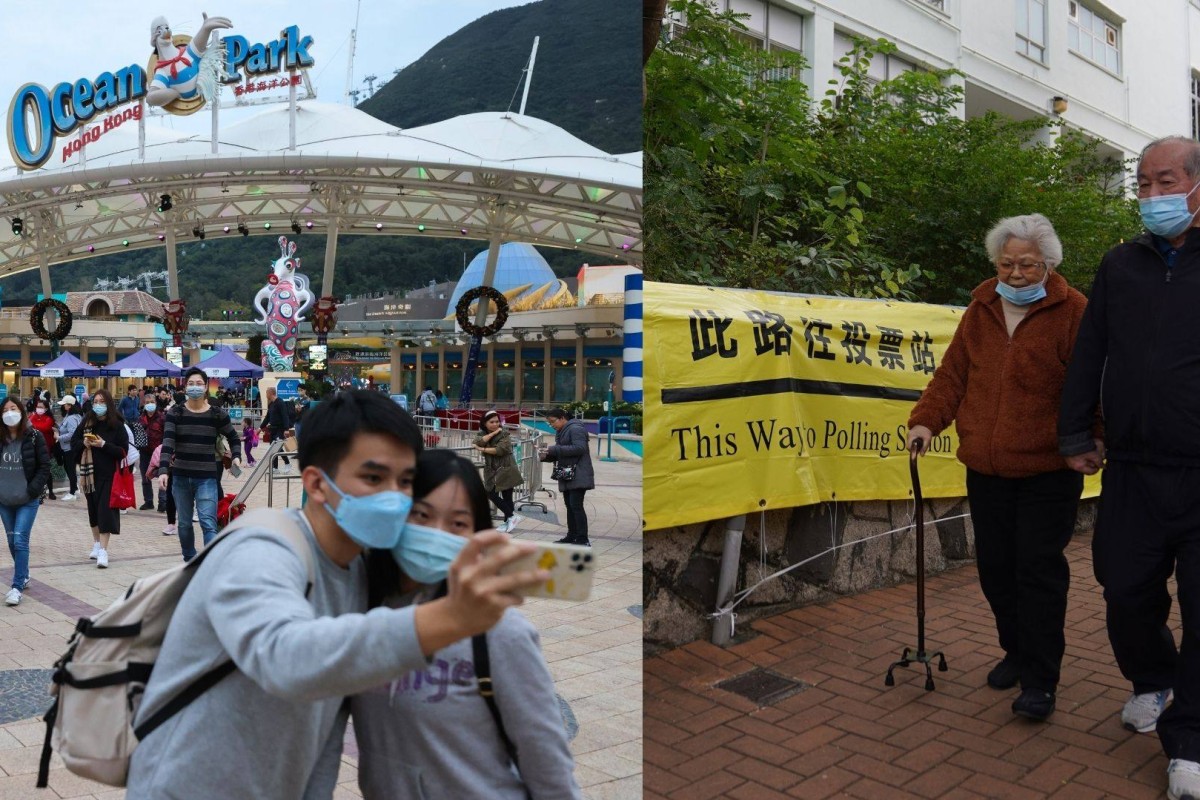 On Sunday, some residents were enjoying the free public transport by heading to places like Ocean Park, while others headed to the polls. Photos: Nora Tam, Sam Tsang
Pro-establishment candidates have won every Legislative Council seat except one in Hong Kong's first large-scale poll under Beijing's "patriots-only" electoral overhaul.
Of the 90 lawmakers taking their seats in the revamped legislature, the only non-establishment figure is Tik Chi-yuen. The former Democrat, who ran as a middle-of-the-road candidate, triumphed in the social welfare functional constituency.
More than 1.3 million registered electors in the geographical constituencies cast ballots on Sunday, for a turnout rate of 30.2 per cent, the lowest since the city's return to Chinese rule in 1997. The figure was far below the record high of 58.3 per cent in the last Legco election in 2016, though the voting period was an hour longer that time around.
School faces backlash after showing graphic footage of Nanking massacre
Hong Kong appeared to split into two "parallel universes" during the Legislative Council election on Sunday. In one universe were candidates and voters, mostly elderly, heading out early to drum up support or cast their ballots. In another, many younger people, seemingly indifferent to the political event, seized the chance to ride public transport for free and have fun elsewhere.
City leader Carrie Lam Cheng Yuet-ngor and her senior allies urged residents throughout the day to vote in the first major election since Beijing overhauled the electoral system to ensure only "patriots" held power. As part of authorities' push to boost voter turnout, residents were for the first time allowed to use buses, mass transit rail, trams and ferries without charge.
Post reporters toured various polling stations in Sham Shui Po, Tai Kok Tsui, Kennedy Town, Yau Ma Tei and other districts throughout the day and noticed that voters were mostly elderly or middle-aged, with very few young people spotted casting their ballots.
A polling station in Shau Kei Wan. Photo: Xiaomei Chen
At Ying Wa College, a polling station in Kowloon West, dozens of mostly middle-aged or elderly residents cast their votes. Colby Lui, 31, who works in the catering sector, hailed the smooth process.
"There are not many people inside the polling station so I did not need to queue up," she said, adding she was answering calls from officials to head to polling stations.
May Fung Lai-Lin, a 50-year-old businesswoman, said she voted for the first time in more than 30 years. The anti-government protests of 2019 were a turning point, she said, that inspired her to rejoin the political process.
"I vote for Hong Kong's future. I think that Hongkongers should fulfil their responsibility to choose the candidates who help society," Fung said.
Hong Kong police, think tank publish teaching guides to boost national identity
Simon Wong, 61, said he was driven to take part by a desire to ensure order was restored following the months of protests that rocked the city.
"I have not voted often, but this year I have a strong will to vote," Wong said outside the polling station at Baptist Lui Ming Choi Primary School in Sha Tin, where only a trickle of older voters could be seen in contrast to the huge lines during the last Legco election in 2016.
The school supervisor added: "I'm so tired of the chaos and violence over the past two years, that's why I want to vote. I hope the elected candidates can bring Hong Kong back to order."
But many younger people appeared more interested in making use of the free travel on the MTR, buses and trams than in voting.
On Sunday, public transport was free of charge across Hong Kong. Photo: Felix Wong
At a packed coffee shop in Kennedy Town, where Esme Chan, 28, said she and her three friends were having a "picnic day" as they travelled around the city on the MTR.
Referring to new rules allowing only candidates deemed "patriots" by a vetting committee, the opposition supporter said: "They don't allow the people who they don't like to enter. So how do we vote for the people we want to choose?"
Daniel and his friend John, who preferred to be identified only by their first names, said they had been all over Hong Kong, from Lantau Island to Kennedy Town, taking advantage of the free travel.
Neither had plans to vote, saying the new system only allowed "one voice".
Hong Kong students must 'love motherland' under new values curriculum
Looking up at the cloudy sky, Daniel, a 26-year-old social worker, said the weather was an apt reflection of his mood. "There is no hope," he said.
John, 23, who works in the innovation and technology sector, echoed Daniel's views and said he was thinking about emigrating to Canada.
The Ocean Park tourist attraction also drew a steady stream of visitors. One 30-year-old woman who gave only her last name, Sham, said she had no plan to vote, although she had taken part in every other election since turning 18.
"I wanted to ride the MTR for free and find a place to go and breathe some fresh air," the accounting clerk said.
Families visit Ocean Park in Aberdeen using the city's free public transport for the day. Photo: Nora Tam
"I think if all the parties in the election have the same stance, I don't see the need to vote. The government has picked all the political parties for us. We can't even choose, so why do I need to choose?"
Toby Cheung, 27, said she had voted in the Good Night Show, a talent show organised by ViuTV, as well as the Ultimate Song Chart Awards Presentation held by Commercial Radio, but she was not interested in choosing a lawmaker.
"I think many of us follow the show and music awards closely in our daily life. That's why we throw ourselves into it," she said. "But there are not many choices among the Legislative Council candidates."
Sign up for the YP Teachers Newsletter
Get updates for teachers sent directly to your inbox
Sign up for YP Weekly
Get updates sent directly to your inbox