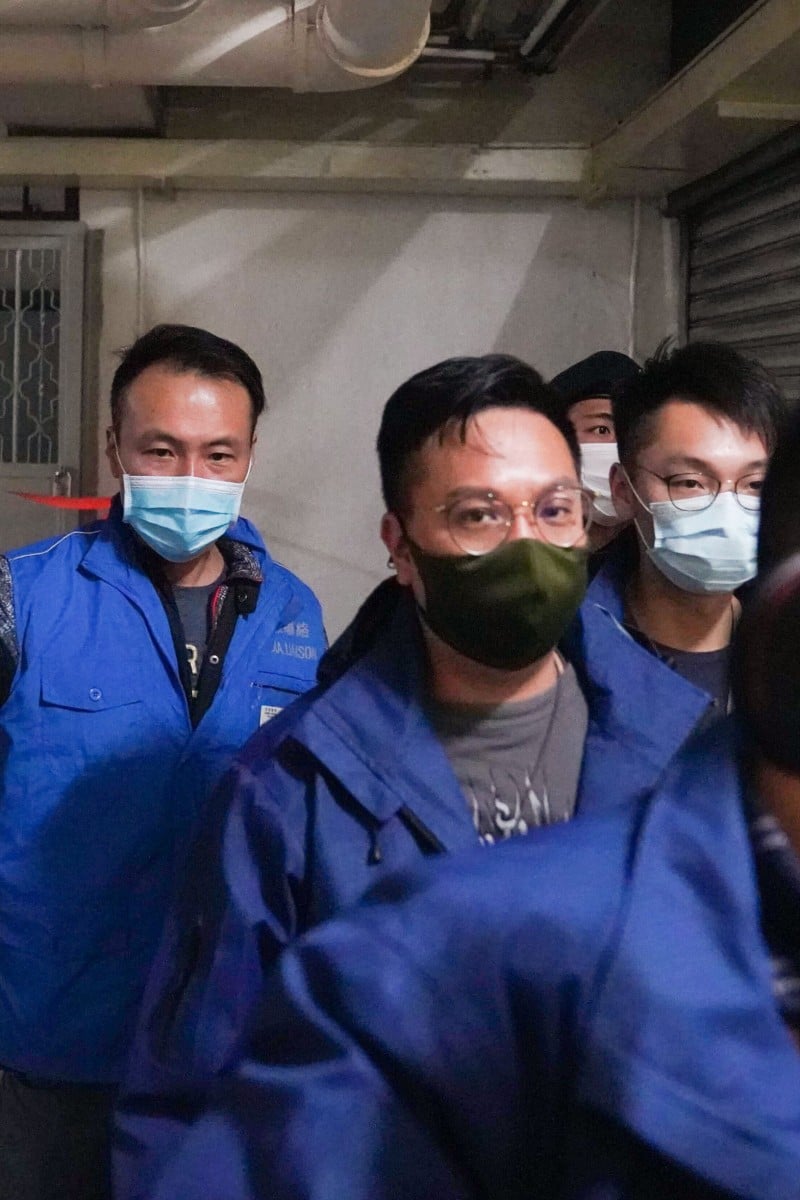 Current and former chief editors, along with former board members Margaret Ng and Denise Ho, were arrested at their homes for conspiracy to print seditious materials

More than 200 police officers raided the offices of the online outlet with a warrant to seize journalistic materials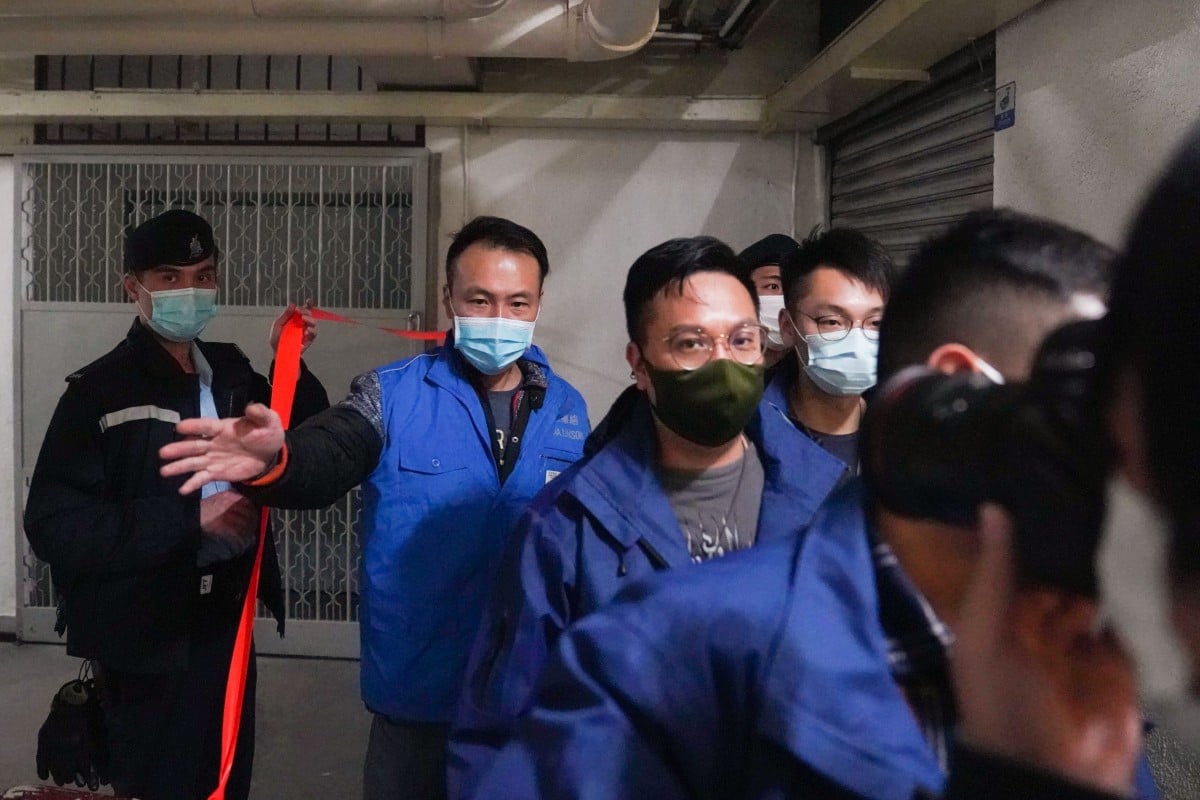 Ronson Chan Ron-sing, chairman of the Hong Kong Journalists Association and Stand News deputy assignment editor, was taken in for questioning this morning but not arrested. Photo: SCMP/ Sam Tsang
The current and former chief editors of Stand News, an online outlet popular among Hong Kong opposition activists, were arrested alongside four former board members and a journalist by national security police on Wednesday morning.
The six were arrested at their homes at about 6am under a colonial-era law covering conspiracy to print or distribute seditious materials, police said in a statement, an offence punishable by up to two years in prison and a fine of HK$5,000 (US$641).
The outlet is the second in Hong Kong to face accusations of promoting seditious materials, after the now-defunct Apple Daily newspaper, whose owner Jimmy Lai Chee-ying and six senior employees were hit with new sedition charges on Tuesday.
Reporters Without Borders says HK press freedom is in free fall
More than 100 officers simultaneously raided the Stand News office in Kwun Tong with a warrant on Wednesday. They left six hours later with 33 boxes of evidence, including computers and journalistic materials.
Police said more than 200 uniformed and plain-clothes officers took part in the operation, which included searches of the homes of those arrested.
It is understood that Stand News' bank account has also been frozen. Further details of the alleged offences are expected to be disclosed at a press conference later in the day.
Patrick Lam, acting editor-in-chief of Stand News, being led away from the online outlet's office in handcuffs. Photo: SCMP/Sam Tsang
Acting editor-in-chief Lam Shiu-tung, 34, and 52-year-old former chief editor Chung Pui-kuen, who stepped down last month, were among the three men and four women arrested. Lam resigned immediately following the arrest.
Ex-lawmaker Margaret Ng Ngoi-yee, singer and activist Denise Ho Wan-see, Chow Tat-chi and Christine Fang Meng-sang – all former board members – were also arrested. Each had stepped down from their posts last month.
Fang, cousin of former chief secretary Anson Chan Fang On-sang, once headed the Hong Kong Council of Social Services and sat on at least a dozen government committees related to social services at one point.
Fewer Hong Kong students are choosing to study journalism
The seventh arrestee was Chan Pui-man, a former Apple Daily associate editor who is married to Chung.
Already in remand after being charged with collusion with foreign forces in July, Chan was arrested at the Tai Lam Centre for Women over blog posts she allegedly wrote for Stand News, a source said.
The news outlet has not updated its website since 7am, and has not published any reports about the arrests.
Ronson Chan Ron-sing, chairman of the Hong Kong Journalists Association, taken away by national security police on Wednesday morning. Photo: SCMP/ Sam Tsang
Ronson Chan Ron-sing, Stand News deputy assignment editor and chairman of the Hong Kong Journalists Association (HKJA), was also taken from his home in Tai Wai for questioning but was not placed under arrest.
After being released at around 11.30am, Chan said officers had seized his electronic devices, press card and bank cards. He added the force did not reveal what offences were being investigated, but said he believed it did not involve his role with the HKJA.
In a morning statement, the HKJA said it was deeply concerned with the arrests of numerous members of the media in the past year as well as police searches of news offices containing large quantities of journalistic materials.
Hong Kong's national security law has strengthened press freedom, says Carrie Lam
"The association urges the government to protect press freedom in accordance with the Basic Law," the statement reads.
"In addition, the association has learned that [Ronson] Chan was also taken away by the police this morning. We are investigating the incident and have no further comment at this time, but will announce any new information in due course."
In a Facebook live-stream broadcast from Chan's home, officers dressed in black could be seen telling him they were from the national security department and that they had a warrant.
They ordered Chan to stop the broadcast as it was interfering with their work.
Hong Kong activist and singer Denise Ho listens to testimony during a congressional hearing about the Hong Kong protests in Washington in 2019. Photo: AP
Lam, the acting editor-in-chief, was escorted to the Stand News office in handcuffs shortly after 8am. As of 10.18am, searches were still being conducted at the residences of those arrested.
New centrist political party Third Side, which took one seat in the new 90-member legislature, meanwhile, urged the National Security Department to reveal the grounds for the arrests to avoid sparking concerns over narrowing press freedom in the city.
In June, Stand News became the first Hong Kong media outlet to roll out protective measures following a national security police crackdown on the now-defunct Apple Daily newspaper, announcing it would temporarily remove most of the commentary hosted on its site and suspend its subscription plan.
Hongkongers queue to buy last-ever issue of Apple Daily, as national security arrests close operations
The platform also stopped accepting new donations last month.
Earlier this month, security minister Chris Tang Ping-keung accused Stand News of "smearing and demonising" the city's smart prison initiative, warning that authorities would take action against whoever broke the law and endangered national security.
In response, Stand News said its report on the project had been truthful and that the media's responsibility was to monitor those in power, reflect different points of view and give voice to the city's disadvantaged.
Margaret Ng Ngoi-yee, a barrister and former lawmaker, was among those arrested on Wednesday morning. Photo: SCMP/Sam Tsang
Founded by Chung, investor Tony Tsoi Tong-hoo and retired veteran journalist Mike Yee, Stand News evolved from the online platform House News in 2014. The trio's shares in the company are held in a trustee arrangement.
At present, only Chung and Tsoi remain as directors, according to the company's website.
Chan, the former Apple Daily associate editor currently in remand, was also hit with an additional sedition charge on Tuesday.
Chan, five former colleagues and Apple Daily founder Jimmy Lai were charged with allegedly conspiring to publish, sell, offer for sale, distribute, display or reproduce seditious publications between April 1, 2019 and June 24 of this year, the date of the newspaper's final edition.
Sign up for the YP Teachers Newsletter
Get updates for teachers sent directly to your inbox
Sign up for YP Weekly
Get updates sent directly to your inbox