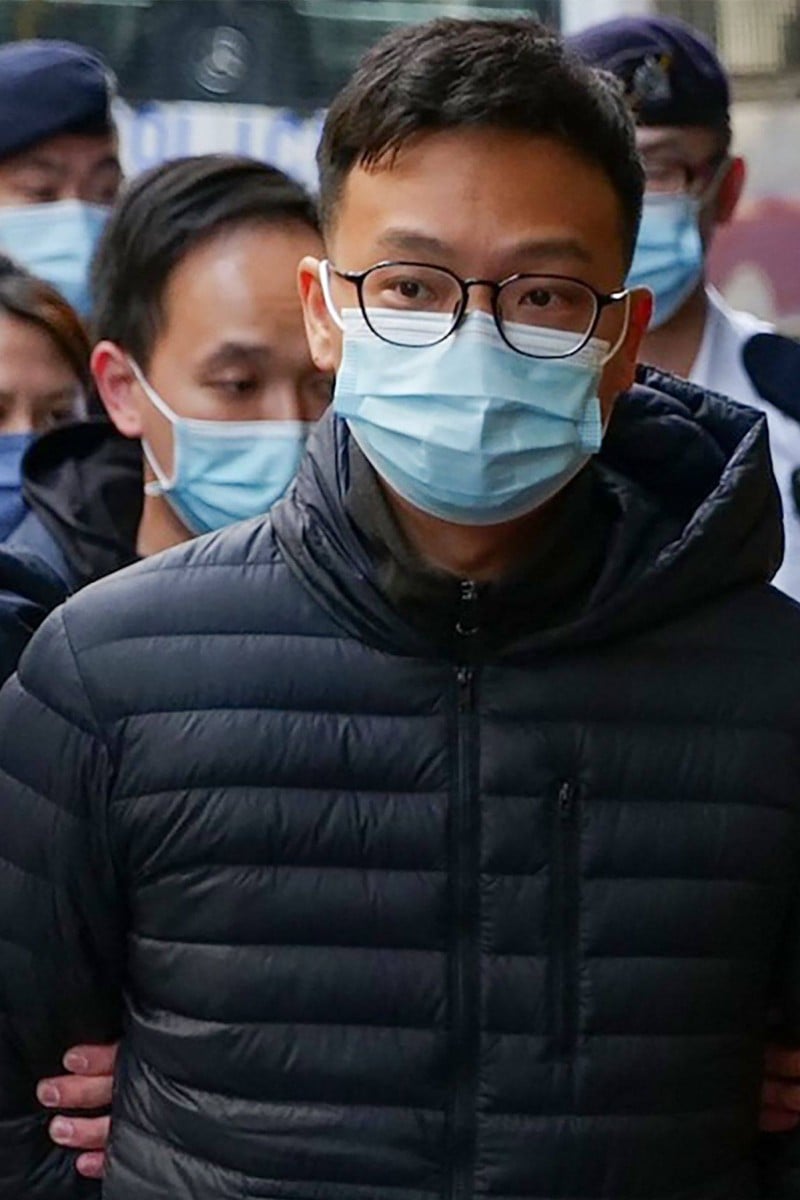 Stand News announced it had ceased operations as of Wednesday, dismissed all staff and that it would soon remove all the content from its website and social media

The announcement came after police raided its offices and arrested seven people connected to it on suspicion of conspiracy to publish seditious publications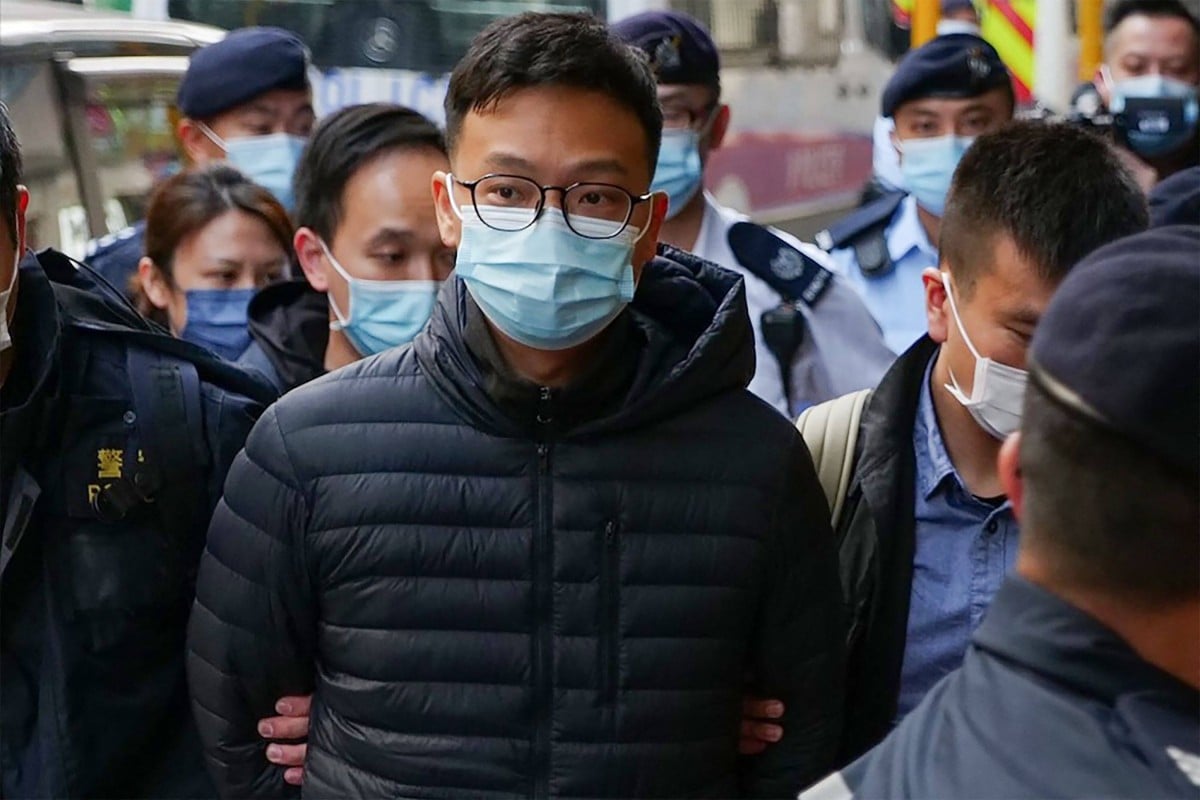 Stand News acting chief editor Patrick Lam is among those arrested. Photo: AFP
Hong Kong's Stand News dismissed all its staff and shut down on Wednesday after national security police arrested seven people.
These included those who worked at, or were linked to, the online news platform for publishing material that authorities alleged was seditious and had stirred up hatred against the government.
Police froze HK$61 million (US$7.8 million) of Stand News' assets, as it became the second news outlet popular among opposition activists and supporters to face accusations of promoting seditious material, after the now-defunct Apple Daily newspaper, whose owner Jimmy Lai Chee-ying and six senior employees were hit with new sedition charges on Tuesday.
The content on Stand News' website and social media platforms had been removed by about 11pm. A notice posted on the site said it had ceased operating.
Hong Kong national security police arrest at least 7 with ties to Stand News during raid
On Thursday, US Secretary of State Antony Blinken called on the Hong Kong and mainland Chinese governments to "cease targeting Hong Kong's free and independent media and to immediately release those journalists and media executives who have been unjustly detained and charged".
The Stand News raid has forced "yet another of the few remaining bastions of free and independent media in Hong Kong to cease operations", he said in a statement.
Shortly after Blinken released his statement, Hong Kong's Chief Executive Carrie Lam Cheng Yuet-ngor stressed there was no suppression of press freedom in the city.
"Some Western governments and media jumped to a conclusion without having an understanding of Hong Kong's laws and the evidence … People who made such a suggestion, including politicians in the West, are trampling the rule of law," Lam said during a rare year-in-review press conference on Thursday.
A Stand News employee leaves the media outlet's office after announcement of its shutdown. Photo: EPA-EFE
Six people, including the current and former chief editors of Stand News, were arrested at their homes at about 6am under the Crimes Ordinance, a colonial-era law covering conspiracy to print or distribute seditious material. The offence is punishable by up to two years in prison and a fine of HK$5,000.
More than 200 police officers were involved in Wednesday's crackdown, raiding the Stand News office in Kwun Tong with a warrant, carting away 33 boxes of evidence including computers and journalistic material, and also searching the homes of some of the accused.
Senior Superintendent Steve Li Kwai-wah of the police force's National Security Department said they had frozen Stand News' bank account and HK$61 million worth of assets under the national security law while investigating the source of funding.
Li questioned where the money had come from, as the outlet did not accept sponsors or receive many advertisement fees. He said it was the largest sum of money the department had frozen so far.
Press freedom in Hong Kong in "free fall", says new report from Reporters Without Borders
Apart from discovering suspicious deposits to its bank account, officers were also looking into how the outlet, which focused on local reporting, could afford to open a branch in Britain and whether a conspiracy had occurred, he said.
Li accused Stand News of publishing a large number of articles between July 2020 and last month that stirred up hatred or contempt for the government and judiciary, provoked dissatisfaction among residents and to use violence as well as not to obey the law.
Citing a few examples from articles in which anti-government protesters were described as "being vanished and sexually assaulted", Li told a press briefing that such accusations were groundless and malicious.
Police officers leave with loaded boxes of documents during a raid of the Stand News office on Wednesday. Photo: EPA-EFE
Other examples included pieces accusing the central government of abusing the local courts and of police officers mass-firing at protesters at Chinese University of Hong Kong during the 2019 social unrest.
Li also pointed to some blog posts, mostly written by arrested protesters and fugitives, accusing them of inciting others to engage in acts of secession and subversion and to get sanctions placed on the country and Hong Kong. He said the writer of an "exclusive interview" also claimed "you can have two systems" only if there were "two countries", indicating Hong Kong independence.
"Strong evidence showed that the news outlet conspired with fugitives and allowed them to use its platform to incite others to hate the central government and the administration. This severely endangers national security," said Li, who did not rule out more arrests.
Fewer Hong Kong students choosing to study journalism in university
Among the articles targeted by police was one by an online group and titled "Viewing the future of Hong Kong's resistance from the experience of resistance in Northern Ireland", which Stand News reposted. Another was an interview with a self-proclaimed Uygur, who had settled in France, about his experience in a Xinjiang re-education camp.
Other articles were either written by or interviews with fugitives including Ted Hui Chi-fung, Sixtus Baggio Leung Chung-hang and Nathan Law Kwun-chung, who called for international sanctions against the city.
Another source said police had demanded Stand News urgently take down five articles from its website. One of them was a news item about Chow Hang-tung, a leader of the now-dissolved civic group behind the city's annual candlelight vigil to commemorate the Tiananmen Square crackdown, being awarded a prize for contributing to China's democracy by the US-based Chinese Democratic Education Foundation.
Ronson Chan, chairman of the Hong Kong Journalists Association and senior editor of Stand News, speaks to the media outside his office after being released from police station on Wednesday. He was taken from his home in Tai Wai for questioning earlier in the day but was not placed under arrest. Photo: AP
Another was an exclusive interview with activist Gwyneth Ho Kwai-lam, who was arrested on a subversion charge over an unofficial legislative primary election last year, in which she elaborated on her reasons for running.
While the police briefing took place, Stand News announced it had immediately ceased operations, dismissed all staff and that it would soon remove all the content from its website and social media.
Earlier this year, Stand News revealed that all staff who worked for more than six months had their contracts terminated, and had been compensated with severance pay at a level higher than the statutory minimum. Most who stayed were hired again with a new contract with terms not worse than their previous one.
Hong Kong's national security law has strengthened press freedom, says Carrie Lam
Stand News photojournalist Harry Ha, 29, who previously worked for Apple Daily, said he was at a loss after finding himself out of work again.
"When I got this job I knew this would happen one day. I just did not expect it to come so soon, right after the Legco election [on December 19] and at the end of a year at a rather peaceful time," Ha said.
Earlier this month, security minister Chris Tang Ping-keung accused Stand News of "smearing and demonising" the city's smart prison initiative, warning that authorities would take action against whoever broke the law and endangered national security.
In response, Stand News said its report on the project had been truthful and that the media's responsibility was to monitor those in power, reflect different points of view and give voice to the city's disadvantaged.
Sign up for the YP Teachers Newsletter
Get updates for teachers sent directly to your inbox
Sign up for YP Weekly
Get updates sent directly to your inbox