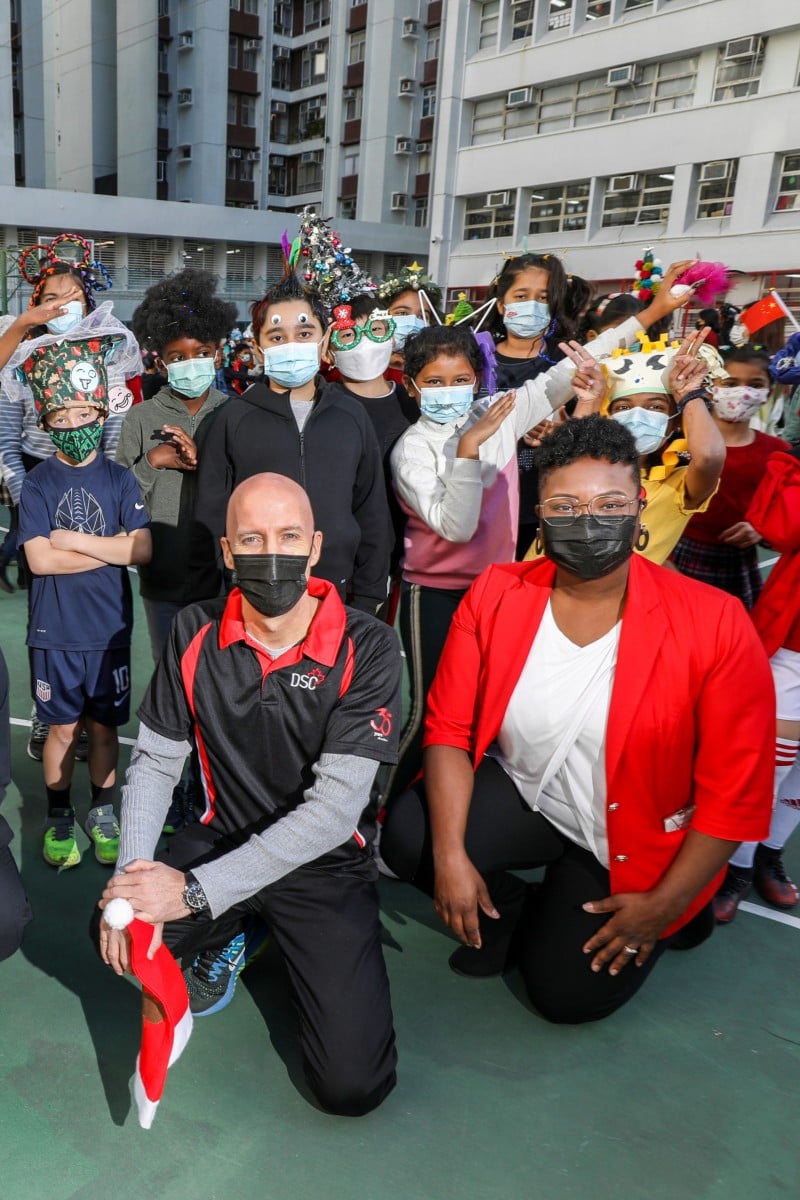 DSC International School raises record-breaking HK$125,621 on December 3 as part of Operation Santa Claus

The school's Crazy Hat & Hair Day brings joy, fun and much-needed laughter as staff shave heads and children put on funny wigs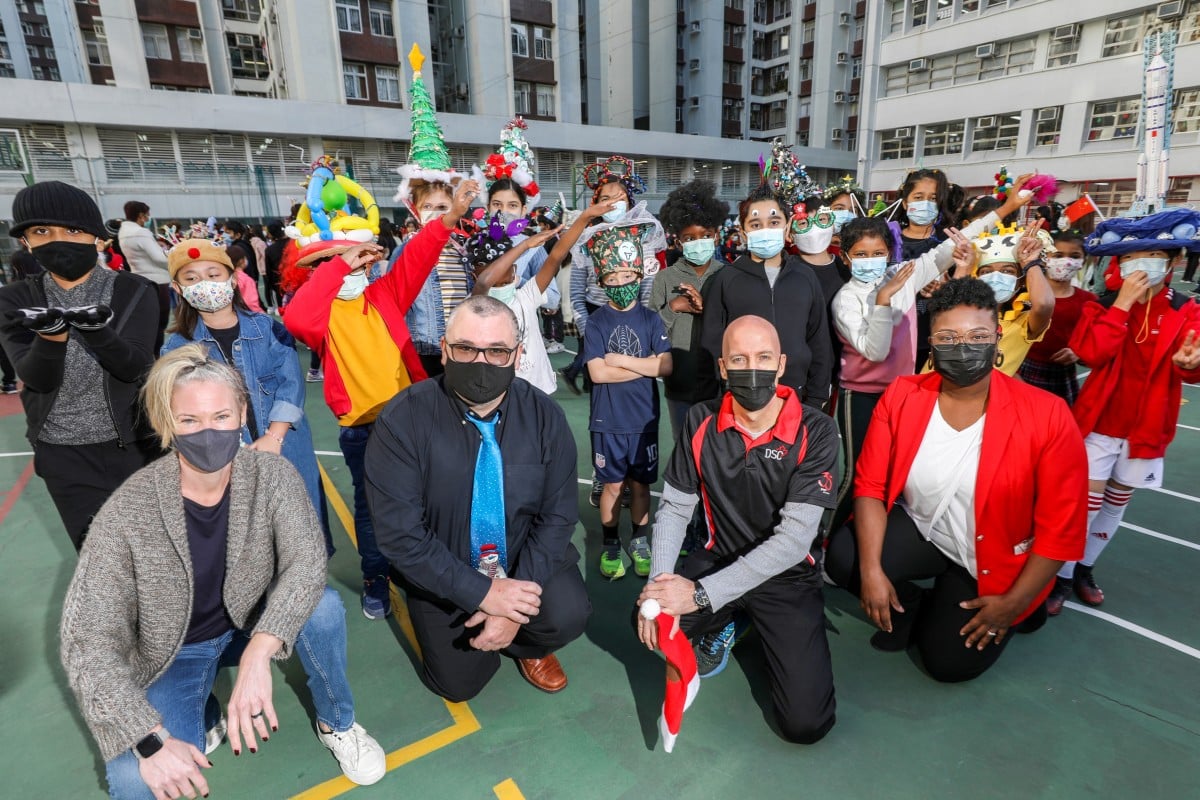 DSC International School management: (from left) Head Teacher of Elementary Rebecca Marans, Head of School Jason Walter, Principal for Secondary school Allan Morrison, and Principal for Elementary School Adrianna Mahoney pose with students at the playground on Crazy Hat and Hair Day. Photo: SCMP/ Xiaomei Chen
DSC International School in Hong Kong topped fundraising records – three times its intended target – for charity last year. Its secret? Funky hats, wigs and shaved heads.
Sundae cups, clown wigs, a half-metre-long rocket and Hershey's Kisses were just a few of the get-ups sitting atop students' heads on December 3 as part of activities to raise funds for Operation Santa Claus (OSC) – an annual charity drive co-organised by the South China Morning Post and public broadcaster RTHK since 1988.
The school in Quarry Bay was established in 1986 and offers classes for students aged four to 18.
Another school raised HK$52,000 this year
Its latest week-long charity event, which started on November 29 and ended with the "Crazy Hat & Hair Day" on December 3, raised a record-breaking HK$125,621, more than tripling the target of HK$35,000. The previous record was HK$70,502.36 in 2016.
DSC International's parent organisation, CTF Education Group, students and their families contributed to the amount raised through initiatives such as the sale of candygrams.
Rebecca Marans, head teacher of pastoral care and well-being of DSC International School's elementary division, said students were especially passionate about doing good this time since "Crazy Hat & Hair Day" – the annual fundraiser for OSC since 2016 – had to be cancelled after classes were suspended in 2020 amid the coronavirus pandemic.
DSC International School students Eleuthera Ben-Melvey (left) and Palkin Kaur Arora on Crazy Hat and Hair Day. Photo: SCMP/ Xiaomei Chen
"The children were especially excited about the event this year [2021] because we lost so many fun initiatives in 2020," she said. "The funds raised this year [2021] alone surpassed that of 2017, 18 and 19 altogether."
Aside from the students' proactive campaigning, senior staff at the school also promised to shave their heads should the fundraising target be reached.
"That really helped motivate the students, especially the younger ones," said Marans, adding that the candygrams sale alone raised HK$14,000.
The greatest Christmas gift is paying it forward
In addition to "Crazy Hat & Hair Day", DSC International has also organised charity events, such as monetary donations and clothing drives to The Community Chest of Hong Kong. Students have also taken part in food drives with local food bank Feeding Hong Kong and fundraisers for wildlife causes.
Before the pandemic, students also joined the annual Terry Fox Run, going on 5km or 10km runs to raise funds in support of cancer research in the name of the late Canadian athlete.
"We're not a huge school, but we have that community feel where we help the kids develop cultural understanding – this builds a good base for social responsibility," Marans said.
"We are very privileged here, especially as an international school. So it's our responsibility to give back, whether it's our time, kindness or finances, however we can."
Sign up for the YP Teachers Newsletter
Get updates for teachers sent directly to your inbox
Sign up for YP Weekly
Get updates sent directly to your inbox