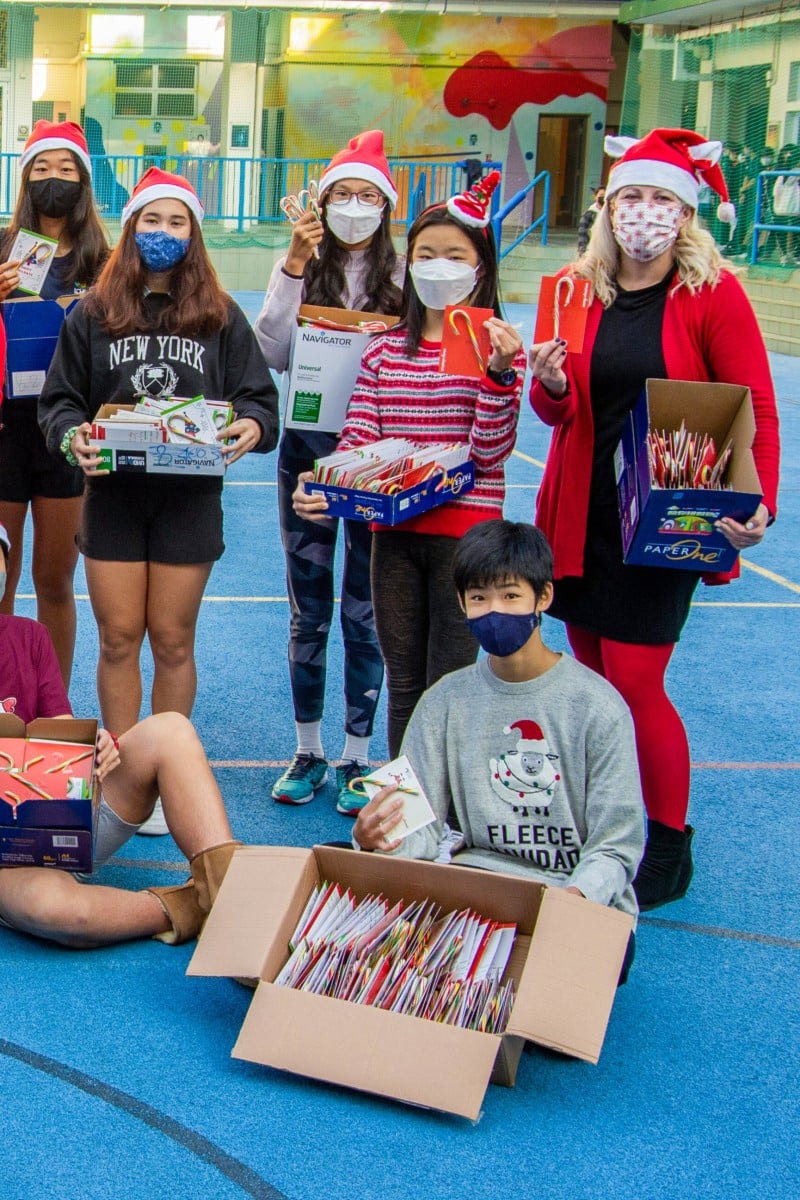 Students from International College Hong Kong in Sha Tau Kok hosted charity event from November 22 to December 1 last year to spread kindness around school

Sale of candy cane-grams with messages of kindness, Christmas ornaments raised HK$12,389.40 for Operation Santa Claus
The Student Representative Council and supervisors at International College Hong Kong were ready to hand out the candy cane grams, which are mini greeting cards students can send to anyone at school. Photo: Handout
The coronavirus pandemic might have restricted large-scale activities, but that did not stop students at one international school in Hong Kong from coming up with ways to send messages of kindness on campus while raising money for charity.
Students from International College Hong Kong (ICHK) in Sha Tau Kok organised a charity event from November 22 to December 1 last year selling candy cane-grams and Christmas ornaments to raise funds for Operation Santa Claus (OSC), an annual initiative organised by the South China Morning Post and public broadcaster RTHK since 1988.
Evoking classic Singaporean cuisine for charity
OSC supported 18 beneficiaries in 2021 and ICHK, which partnered with OSC in 2017 and 2018, came on board again last year, raising HK$12,389.40 (US$1,588) from the event. A total of 2,000 candy cane-grams, which included messages of kindness, were sold at HK$5 each, while the Christmas market offered a range of items from ornaments priced at HK$2 to sizeable centrepieces costing HK$200.
The items in the market were all donated by one student's parent.
Charlotte Cheung Zi-you, a grade 12 student at ICHK and president of the school's student representative council, was pleased at the turnout.
The Christmas Ornament Fair in action. Photo: Handout
"We couldn't do any big activities like food stalls, but we still wanted to send messages of kindness around the school. Candy cane-grams help foster the Christmas spirit and bring the community closer," she said, attributing the event's success to the student council's promotional efforts such as distributing posters, sending out weekly bulletins and informing parents about the event.
"One of the main hurdles of organising the event was communicating with the student body. We haven't done such big events for a while, so some of the students felt discouraged to participate."
ICHK had to cancel its Christmas celebrations in 2020, as classes were suspended amid the pandemic.
OSC LOGO - Operation Santa Claus 2021.
Cheung said she believed the Christmas fundraiser for OSC could be a springboard for more charity events, including pairing major holidays such as Lunar New Year and Easter with an invitation for students to dress up and donate to good causes.
"Since Covid-19 began, this was the first charity [event we've hosted] as some of the families in our community might not be encouraged to donate a large sum. But now that the [situation] is getting better, we felt that Christmas was the time to reintroduce this," she said.
Besides OSC, ICHK also previously supported KIVA, an international non-profit organisation that aims to expand financial access to help underserved communities.
Sign up for the YP Teachers Newsletter
Get updates for teachers sent directly to your inbox
Sign up for YP Weekly
Get updates sent directly to your inbox