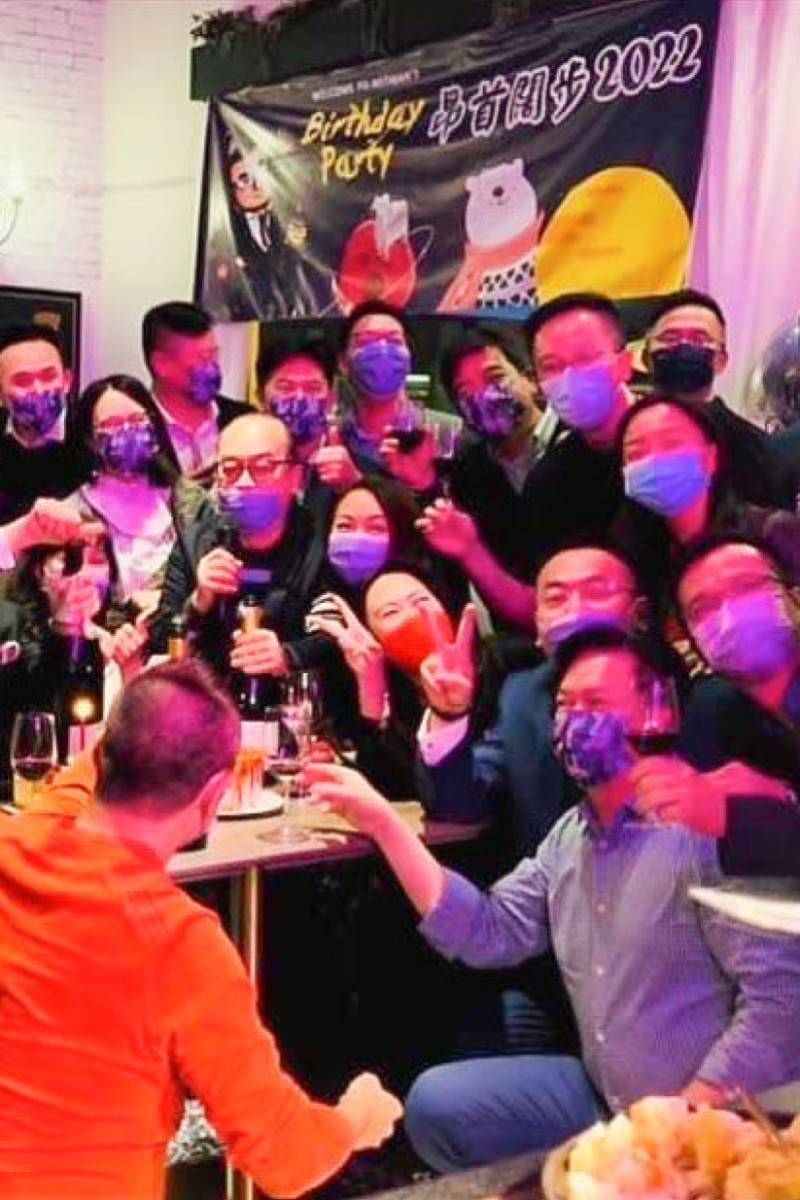 Immigration director Au Ka-wang and 19 lawmakers among those sent into quarantine after scandal-hit party at a Wan Chai restaurant

One of the partygoers met Beijing's top official overseeing Hong Kong affairs two days after the celebrations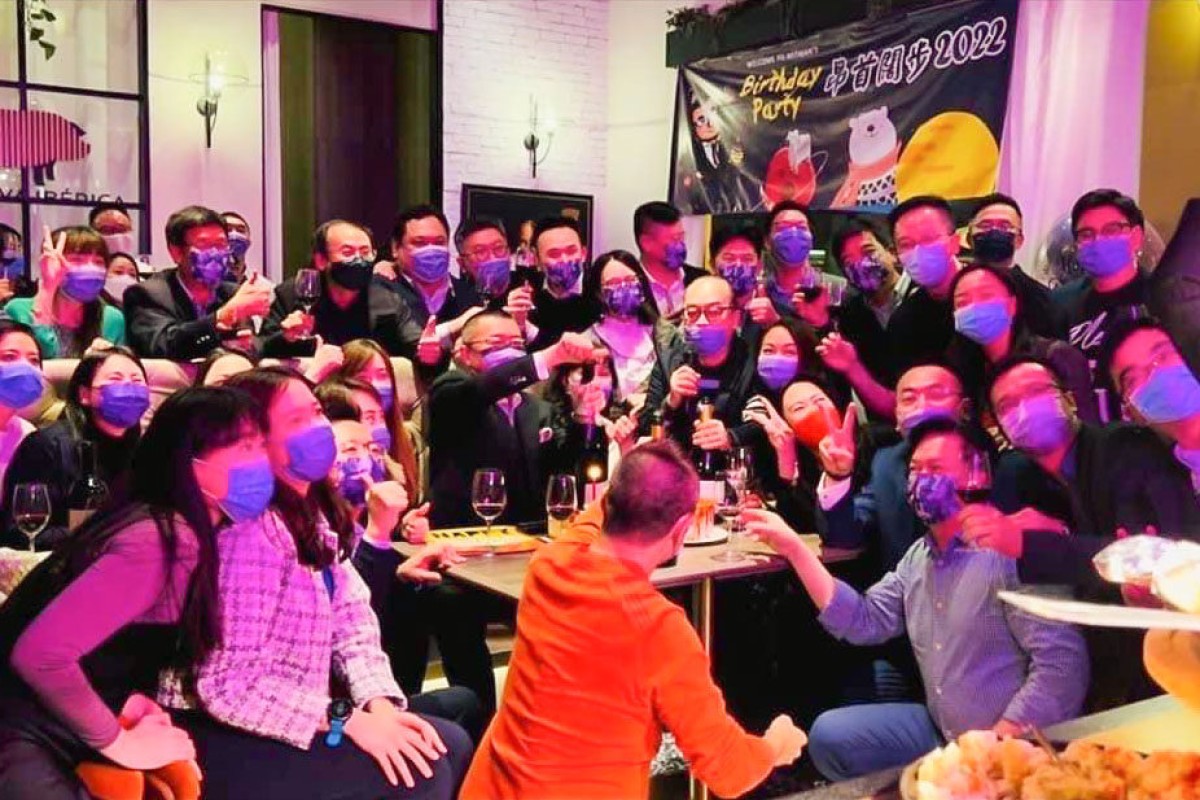 At least 19 government officials attended Witman Hung's 53rd birthday party. Photo: Handout
More than 100 guests of a now-notorious Hong Kong birthday party attended by senior officials and 19 lawmakers have been ordered into quarantine after they were exposed to at least two suspected coronavirus cases.
Sources have told the South China Morning Post that health authorities have identified a second infection linked to Monday's party for the 53rd birthday of Witman Hung Wai-man, a local delegate to the national Chinese legislature.
Witman Hung Wai-man (left) singing next to Ellen Tsang Fung-chu (right) at his birthday party. Photo: Handout
The event has drawn the wrath of Hong Kong's leader for flying in the face of the government's own advice for the public to avoid large gatherings during the Covid-19 crisis.
It also emerged on Friday that one of the party-goers, Junius Ho Kwan-yiu, met top Beijing official Xia Baolong in Shenzhen two days after the party at a Spanish tapas bar and restaurant in Wan Chai.
Rapid home tests are less accurate with the Omicron variant
Everyone who attended the party – including Director of Immigration Au Ka-wang and home affairs chief Caspar Tsui Ying-wai – have been sent to Penny's Bay quarantine centre after being classified as close contacts of the first preliminary-positive case, a woman at the party.
On Friday morning, Au issued an apology in a statement saying he would also go into quarantine.
What students think about Hong Kong's latest social distancing rules
"Regarding the additional burden to the epidemic prevention work and the disturbance to the public as a result of my personal behaviour, I offer my sincere apology to all people of Hong Kong. I have reflected on this incident and shall be more vigilant in future," he said.
Chief Executive Carrie Lam Cheng Yuet-ngor earlier on Thursday lambasted the home affairs minister Tsui for blatantly ignoring the government's own advice on avoiding large gatherings to party at Reserva Iberica – in the middle of a worrying Omicron outbreak.
A photo obtained by the Post shows guests not wearing masks, with Hung singing beside an attendee, accountant Ellen Tsang Fung-chu, a member of the 1,448-member Election Committee, which is tasked with picking the city's leader and sending 40 representatives to Legco.
Lam singled out and expressed "deep disappointment" at home affairs chief Tsui, who stayed at the party beyond the 9.30pm arrival of the woman with the suspected infection. Tsui was sent to Penny's Bay on Thursday.
Chief Executive Carrie Lam Cheng Yuet-ngor. Photo: SCMP/ Edmond So
Immigration chief Au said he would undergo quarantine at Penny's Bay despite only visiting the Wan Chai restaurant for a short period and without sitting down for a meal, leaving "immediately" after congratulating Hung on his birthday.
Why are vaccinated people still getting coronavirus?
The scandal erupted just days after Lam chastised top Cathay Pacific officials over aircrew flouting pandemic rules and causing a community cluster of the Omicron variant.
At a Thursday press conference, Lam recounted how health officials had already warned about the surge in local infections and urged the public to follow social-distancing rules, even telling them not to remove their masks for photos.
It was clear the bureaucrats had failed to listen to these warnings by attending "clearly a private event, and not a function required by public duty", she said.
Hong Kong imposes new Covid restrictions
Lam was asked repeatedly whether she should take responsibility for the embarrassing and potentially dangerous scandal, with the media citing her own comments on how Cathay's senior management had to be held accountable.
Two days earlier, Lam had said: "As senior management, they may not know every act of their employees, but this cannot be a liability-escape clause. As head of an organisation, just like me as the [Hong Kong] chief, I have to take responsibility for everything."
The invitation for Witman Hung's birthday party. Photo: Handout
But on Thursday, she refused to accept the comparison or make a public apology, insisting the ministers themselves had to take responsibility for their actions.
How Covid affects your attention span
"Just like if people have violated the quarantine rule and left home, they would also have to take responsibility … As for individual ministers' bad performance in this incident, I as the chief executive will take appropriate actions, but I cannot disclose what they are today."
The government headquarters at Tamar, the Legislative Council and its extended offices undergo cleaning and disinfection after the party. Photo: SCMP/ May Tse
She said as the city's leader she would take overall responsibility for anti-pandemic work, but that it would be "bad for governance" if rule-breaking bureaucrats could "hide behind her", so she would not take responsibility for their personal wrongdoings.
Sign up for the YP Teachers Newsletter
Get updates for teachers sent directly to your inbox
Sign up for YP Weekly
Get updates sent directly to your inbox