Sponsored
Hong Kong school's lunchtime concert lets students practise English, raise funds for Operation Santa Claus
Staff and students of CNEC Lau Wing Sang Secondary School in Chai Wan raised HK$5,292.30 for beneficiaries of Operation Santa Claus

Everything about the concert was prepared in English, right down to the songs and speeches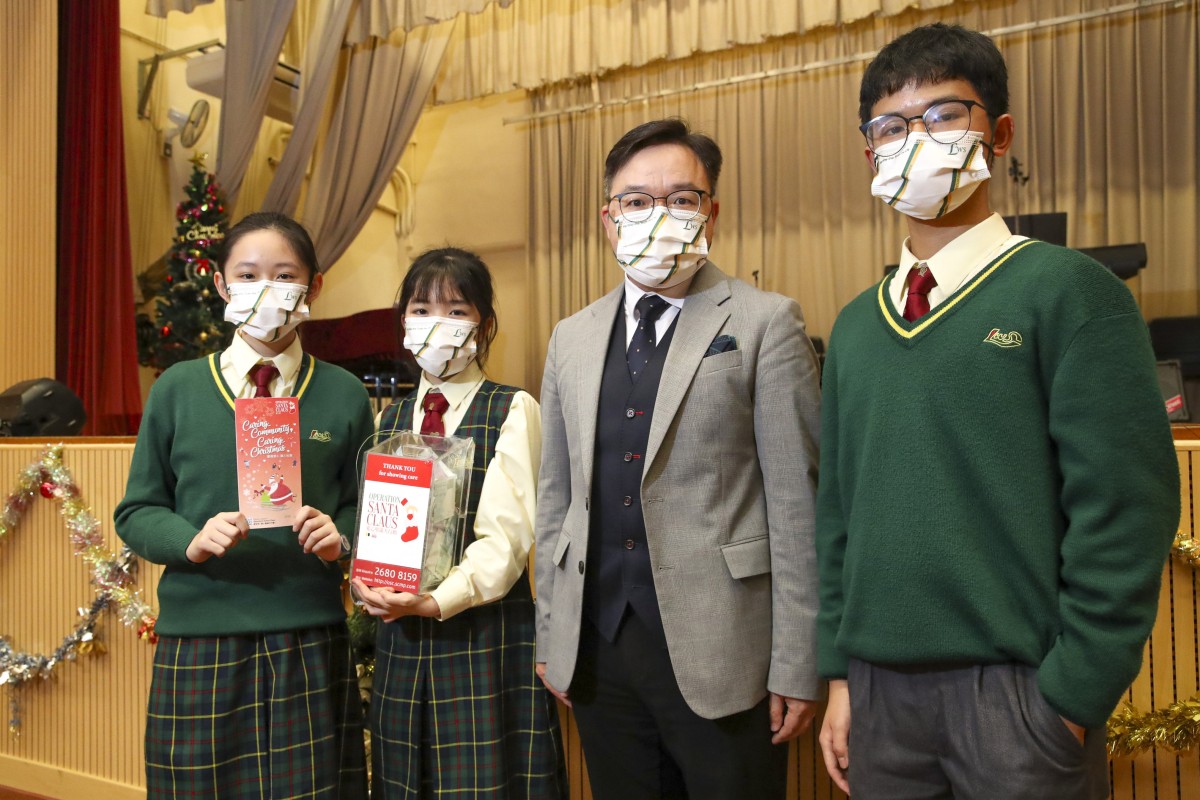 (Left to right) Form Two students Lau Cheuk-ka, Wong Ching-yiu, headmaster Hezekiah Mui Chi-yip, and Cheng Shu-yan from CNEC Lau Wing Sang Secondary School pose after their lunchtime concert to raise money for this year's OSC initiative. Photo: Edmond So
A Hong Kong school has turned a fundraising campaign into a chance to practise English while doing something meaningful for charity.
Staff and students of CNEC Lau Wing Sang Secondary School in Chai Wan put on a lunchtime concert on December 16, 2021 for Operation Santa Claus (OSC), an annual fundraising drive co-organised by the South China Morning Post and RTHK since 1988.
Students cheered and applauded as their teachers took to the stage for a rendition of the popular musical number Seasons of Love, one of the many performances in English during the concert.
School raises HK$5,000 in first-ever OSC fundraiser
"The goal is to raise money for charity, but also do something meaningful and in English," said Form Two student Lau Cheuk-ka, one of the school's "English ambassadors" appointed by staff to promote English learning on campus.
The musical event raised HK$5,292.30 (US$679) for 18 beneficiaries that OSC supported last year.
The coronavirus pandemic had robbed pupils of the opportunity to engage in group and musical activities, but the school came up with the idea for the concert as a way for students to practise their English and do good at the same time.
The lunchtime concert raised more than HK$5,000 for this year's OSC initiative. Photo: Edmond So
Lau and his fellow English ambassadors were part of the student committee charged with organising and promoting the concert, recruiting performing groups and visiting each classroom to spread the word. They were pleasantly surprised when several of their classmates signed up to be part of the event.
As this was their first English concert, students ensured everything was prepared in the language, right down to the songs and speeches.
"We wanted to be able to help others and showcase students' talents," said Form Two pupil Cheng Shu-yam, who was also part of the organising team.
A photo op with Santa to raise money for OSC
Tickets for the concert were priced at HK$30 each and Form Two student Wong Ching-yiu said the organising team was initially worried there would not be many takers.
"The tickets are a little expensive for [some students] so we weren't sure if we'd be able to sell," Wong said. "But luckily, our classmates were very enthusiastic."
That enthusiasm remained unabated even after the concert ended, as students could be seen putting contributions in the donations box.
OSC LOGO - Operation Santa Claus 2021.
Principal Hezekiah Mui Chi-yip said while the school had a long tradition of giving back to the local community through activities such as volunteering, fundraising was a first for the students.
"To them, HK$30 would mean skipping a meal – and a luxury to part with," Mui said, noting that a majority of the pupils were from working-class backgrounds.
Mui said taking part in OSC showed the students there were different ways of helping the local community.
"Giving back is not always easy and sometimes comes with a price, so this is a lesson to learn as well," he said. "Sometimes we have to lose something in order to help others who need support even more than we do."
Sign up for the YP Teachers Newsletter
Get updates for teachers sent directly to your inbox
Sign up for YP Weekly
Get updates sent directly to your inbox