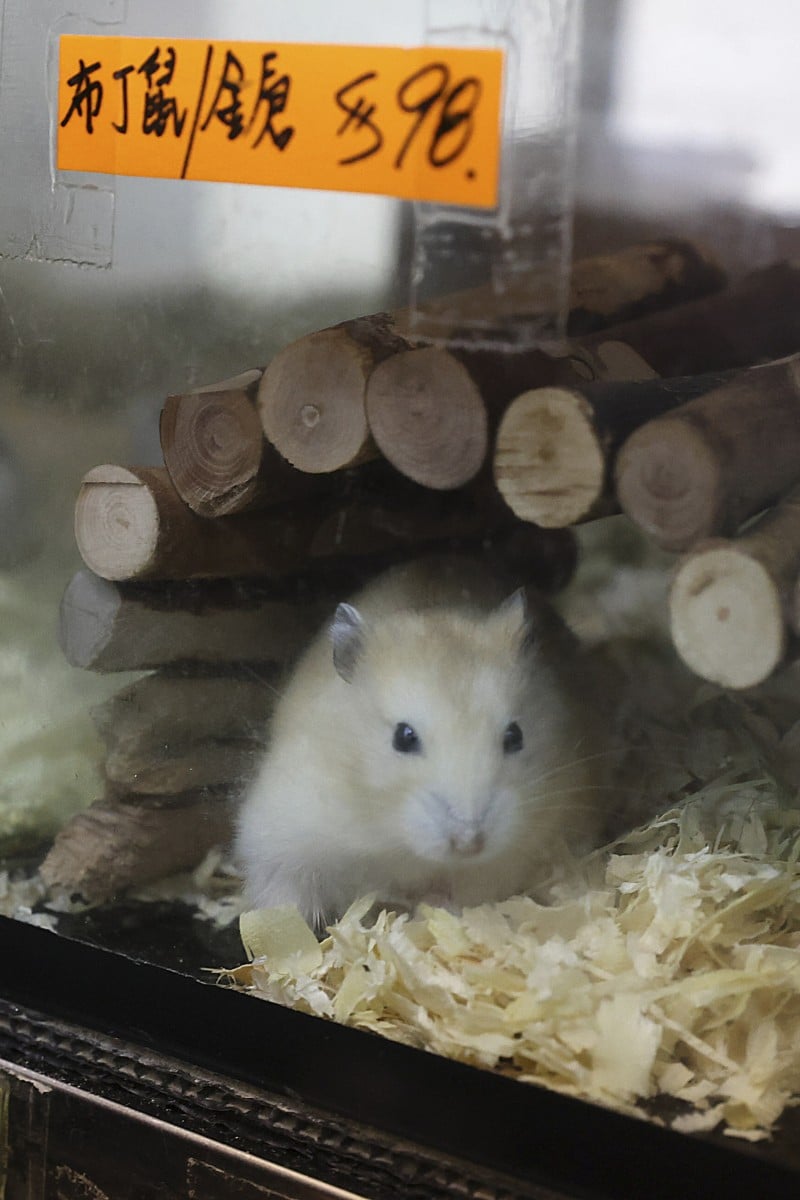 The backlash came swiftly after health minister issued an order on Tuesday to euthanise the tiny mammals over fears of animal-to-human Covid-19 transmission

Authorities also demanded that all licensed pet shops selling hamsters must temporarily suspend operations
Hamsters kept at Chinchilla & Pets Shop in North Point. Photo: Nora Tam
Hong Kong's pet shop owners have hit out at a government decision to cull hamsters and temporarily ban imports of small animals over possible Covid-19 transmission to humans, saying the move will hurt their businesses.
Angela Chan, vice-president of the non-profit Hong Kong Pet Trade Association Limited, said on Wednesday that the policy would immediately hurt the pet trade and discourage people from buying and keeping hamsters in the long run.
She said the association was in contact with authorities on compensation matters.
Coronavirus: Hong Kong animal welfare group reports rise in calls about abandoning hamsters since cull announcement
"With the rising number of [pet] abandonment and the suspension of animal imports, the loss will be huge," Chan said.
The backlash from pet shop owners came swiftly after health minister Sophia Chan Siu-chee issued the order on Tuesday, citing evidence of the first potential animal-to-human transmission of Covid-19 in the city at a local pet shop.
Two people, including an employee and a customer of the shop, have been confirmed with the coronavirus. Health authorities said the cull order applied to all hamsters bought after December 22, which were primarily imported from the Netherlands. This involves 2,000 of the tiny rodents.
Chinchillas and hamsters kept at the Chinchilla & Pets Shop in North Point. Photo: Nora Tam
University of Hong Kong microbiologist Professor Yuen Kwok-yung said on Wednesday that there was a chance the coronavirus was transmitted from humans to hamsters, or among the animals themselves, then from hamsters back to people. Since there was not enough time to ascertain the genomic information, a prompt decision was needed to stop the possible transmission, he added.
"This is a complicated issue which is not easy to understand when emotions are high. Science and medicine cannot solve the issue of love. I deeply sympathise with hamster lovers who need time for bereavement and counselling," he said.
Authorities also demanded that all of the 35 licensed pet shops selling hamsters must temporarily suspend operations.

Pet shop owner Louis Yeung, who has been running Chinchilla & Pets Shop in North Point for 20 years, said he would lose at least HK$10,000 (US$1,285) as a result of the policy. He handed in all 22 hamsters he had on sale in his shop, while the store closure forced him to put on hold the sale of eight chinchillas.
"I didn't expect any financial compensation from the government, but the time and love involved in taking care of those hamsters are priceless to me," he said.
Data from the Agriculture, Fisheries and Conservation Department showed that more than 16,000 hamsters were imported in the city in 2019, with most of them from the Netherlands.
Workers in protective gear from the Agriculture, Fisheries and Conservation Department arrive at Chinchilla & Pets Shop in North Point to collect hamsters kept at the shop. Photo: Nora Tam
Hamsters have become a popular pet in Hong Kong in recent years. Yeung said he sold hamsters from HK$80 to HK$100 each, while the chinchillas cost between HK$5,000 and HK$10,000 due to their rarity. Hamsters usually had a lifespan of one to two years, while chinchillas could live for 10 to 12 years, he added.
"Chinchilla prices kept increasing as the global supply chain was seriously affected by the coronavirus, and those from the United States were already out of stock," Yeung said.
He explained that keeping a hamster was not costly and did not take up much space. The monthly expense for feeding a hamster or a chinchilla was less than HK$500, making it more affordable than owning a dog or a cat, he said. He added that the shop's income mainly came from accessories and food for hamsters.
Repeated booster shots not a viable option, says WHO
"Unlike cats or dogs, hamsters do not require extensive training and they are easy to breed, they just need a small cave with little water and forage," Yeung said.
Linda Yiu, 58, who has four cats and two hamsters at home, rushed to buy food and supplies ahead of the temporary closure of the pet shops.
"Tiny pets like hamsters are very suitable for Hong Kong people as they can save more on living space," she said. "I'm lucky my hamsters can live well with my cats, I treat them as my babies."
Housewife Lily Yip, 36, and her daughter had planned to buy a hamster in the morning before the mass cull, but she said pet shop owners had refused to sell to her due to the temporary ban.
A change.org petition titled "Stop the Government from Wrongfully Euthanising Little Boss' Small Pets," which has received more than 32,000 signatures as of Thursday, expressed outrage over the goverment''s decision to cull hamsters. Photo: SCMP
"My daughter loves watching the hamsters running on their wheel in the cage every time we pass by the shop," she said, "I believe feeding hamsters will be good for children's mental health."
Stephanie Hsu, 26, bred six hamsters in the past two years and even created an online pet supply store three years ago. She earned about HK$4,000 a month selling hamster snacks, supplements and accessories.
Sign up for the YP Teachers Newsletter
Get updates for teachers sent directly to your inbox
Sign up for YP Weekly
Get updates sent directly to your inbox