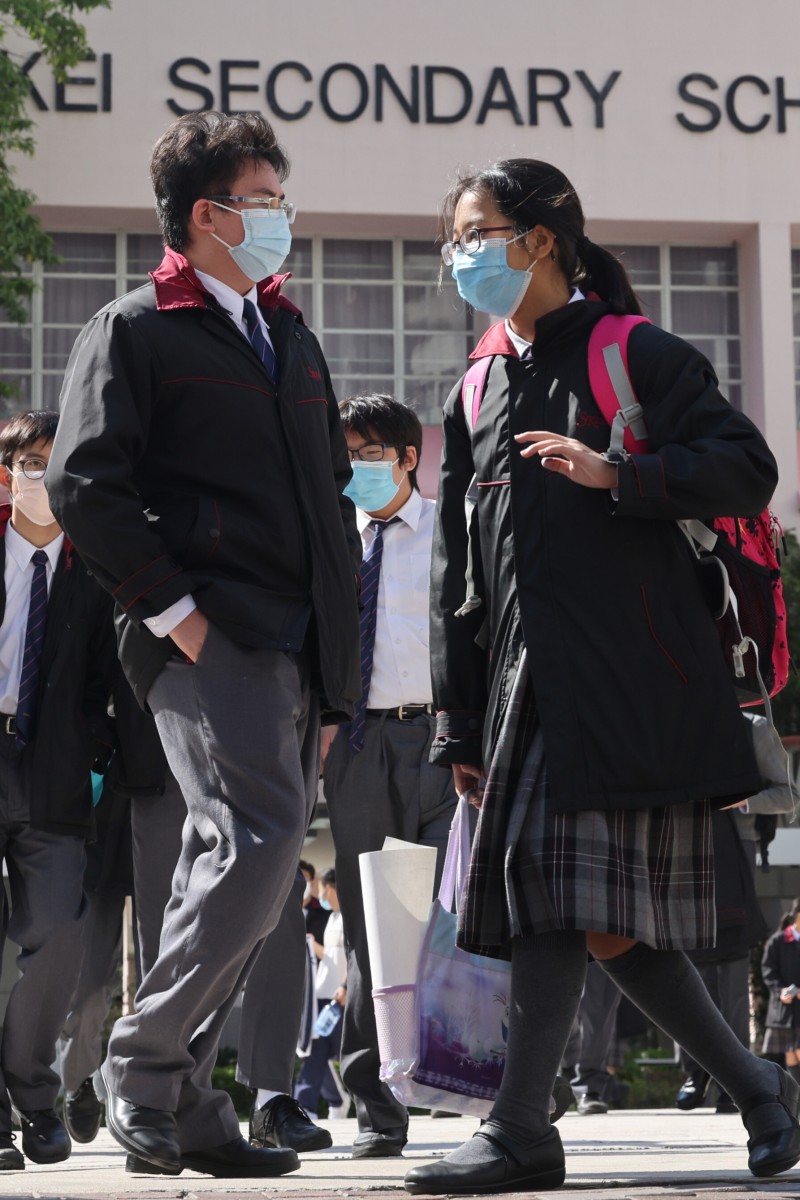 'Complete nonsense': Hong Kong secondary students react to new class suspensions amid fears of Delta and Omicron coronavirus outbreaks
Secondary Six students studying for the upcoming Diploma of Secondary Education exams will still be allowed to attend half-day lessons on campus

Kindergartens and primary schools have already been suspended; students will not return to campus until at least February 7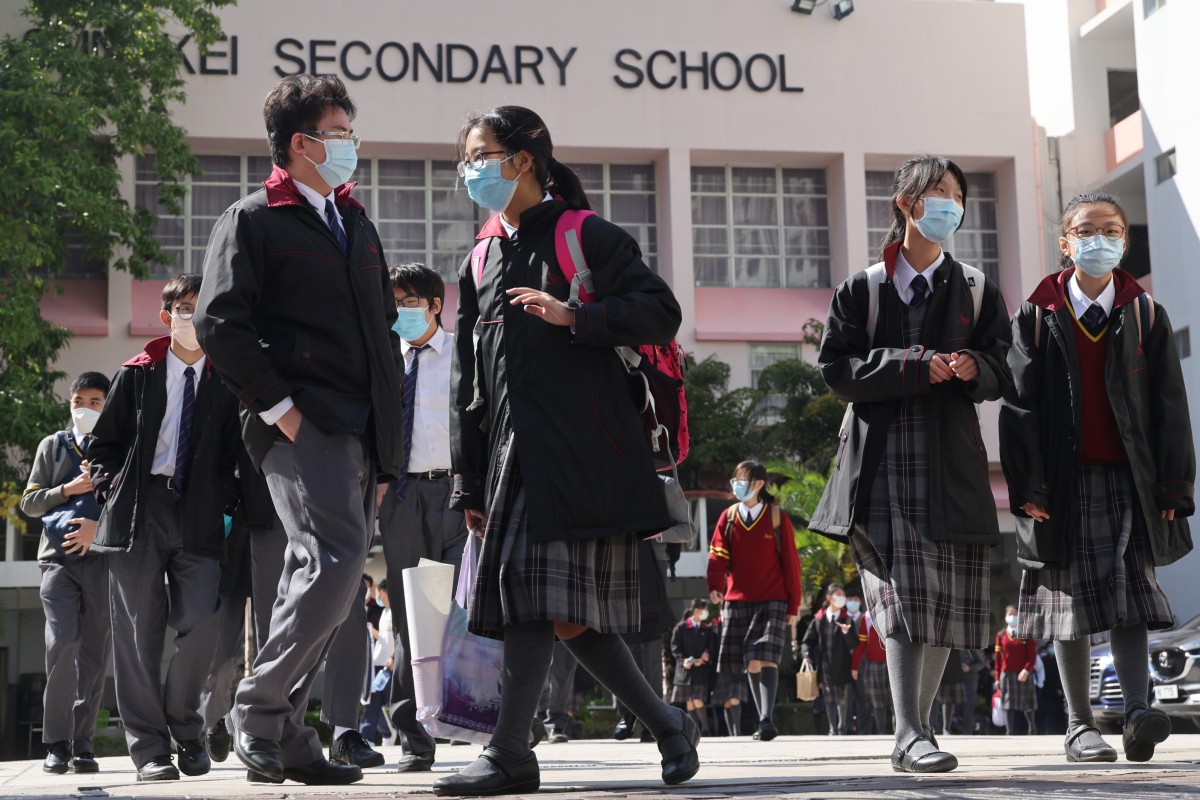 The Education Bureau announced on Thursday that secondary schools in Hong Kong will suspend in-person classes no later than Monday. Photo: May Tse
All Hong Kong secondary schools will suspend in-person lessons starting on Monday amid growing concerns about local coronavirus outbreaks involving the Delta and Omicron variants, though older students preparing for their university entrance exams can still attend half-day learning and assessment sessions.
The Education Bureau announced the suspension on Thursday. Secondary Six students studying for April's Diploma of Secondary Education (DSE) exams will still be allowed to go to school, but not for more than half a day.
Students in other grades will not be returning to campus until at least February 7. The arrangements, which went into effect at kindergartens and primary schools earlier this month, also apply to tutoring centres.
Pet shop owners denounce hamster cull amid Covid fears
"The pandemic situation has been getting serious in recent days," the bureau said in a statement. "Some schools have already identified confirmed or preliminary cases, where teachers and students were required to undergo compulsory testing or even quarantine. The decision to suspend classes was made by the Education Bureau after considering these numerous factors."
Overall, students were frustrated and unhappy with the announcement.
Ivy Chu Wing-man, 17, a Form Six student at Lui Cheung Lutheran College, felt the arrangement would have an adverse effect on students, especially those studying for the DSE.
The city recently reintroduced a series of strict coronavirus restrictions, banning dining-in at restaurants after 6pm, closing parks, and more. Photo: Jelly Tse
"Not only does it have a negative impact on our DSE preparations, but it also means we can't make as many memories during our last days as secondary school students," she said. "I think we should stop insisting on a zero-Covid policy. Maybe we should learn how to coexist with the virus."
"I think going to school for half a day is not enough. We have missed so many in-person classes already," Ivy said.
Isaac Leung Chi-nok agreed with Ivy, describing the decision as "complete nonsense." The 17-year-old also cited concerns about not being able to prepare for the DSE, saying online learning wasn't as effective.
Repeated booster shots not a viable option, says WHO
"Sure, we are allowed to go to school for half a day, but we all know we can't learn everything in such a limited amount of time. The government should think wisely and not neglect [the benefits of in-person lessons]," said the Form Six student at HKFYG Lee Shau Kee College.
Janice Mook Ching-lam, who is also taking the DSE this year, said she was devastated by the news.
"Multiple lockdowns and online lessons have definitely taken a toll on me. I really hope this situation won't last long," said the 17- year-old student from Diocesan Girls' School.
She added that her school told her that mock DSE exams might need to be done online.
Melody Ma Jing-mao, 15, is thankfully not taking the DSE exams this year, but said she still felt the suspension of in-person classes was "all messed up".
"It's too late … because a few secondary students have already tested positive with Covid-19 and some are even untraceable cases," said the Form Four student. "The government should be more decisive and act promptly instead of waiting until the situation gets worse."
Serene Chan Hei-tung, a Form Four student at Fukien Secondary School, understood the need to prevent the spread of the virus but is afraid about falling behind in school.
Omicron spreads faster and weakens immunity
"My main concern is that, despite the sudden class suspension, the school will decide not to postpone examinations, leaving some of us unable to cope," the 15-year-old student said, adding that she missed the days when she could play basketball with her friends.
The suspension came after an Omicron cluster believed to have been sparked by a cross infection at the Silka Seaview quarantine hotel in Yau Ma Tei spread to several schools. A woman returning from Pakistan who lives in Sham Shui Po tested positive days after her three-week hotel quarantine had ended, bringing the virus into the community and spreading the disease to at least 12 others.
The cluster has since expanded to include three students in two separate classes at the Delia Memorial School (Broadway) in Mei Foo, where a 58-year-old teacher also tested preliminary-positive on Wednesday. The cluster includes 16 cases so far.
Authorities on Wednesday also said three students from other schools had tested preliminary-positive after they visited an infected classmate's home. All the schools involved – Delia Memorial, HKMA David Li Kwok Po College in Tai Kok Tsui, Buddhist Fat Ho Memorial College in Tai O, and Lantau International School on Lantau Island – had already suspended face-to-face classes.
Sign up for the YP Teachers Newsletter
Get updates for teachers sent directly to your inbox
Sign up for YP Weekly
Get updates sent directly to your inbox