Outbreak at Kwai Chung Estate has now hit 173 cases, including preliminary-positive infections

Top pandemic advisors say it will be impossible to ease social-distancing measures before Chinese New Year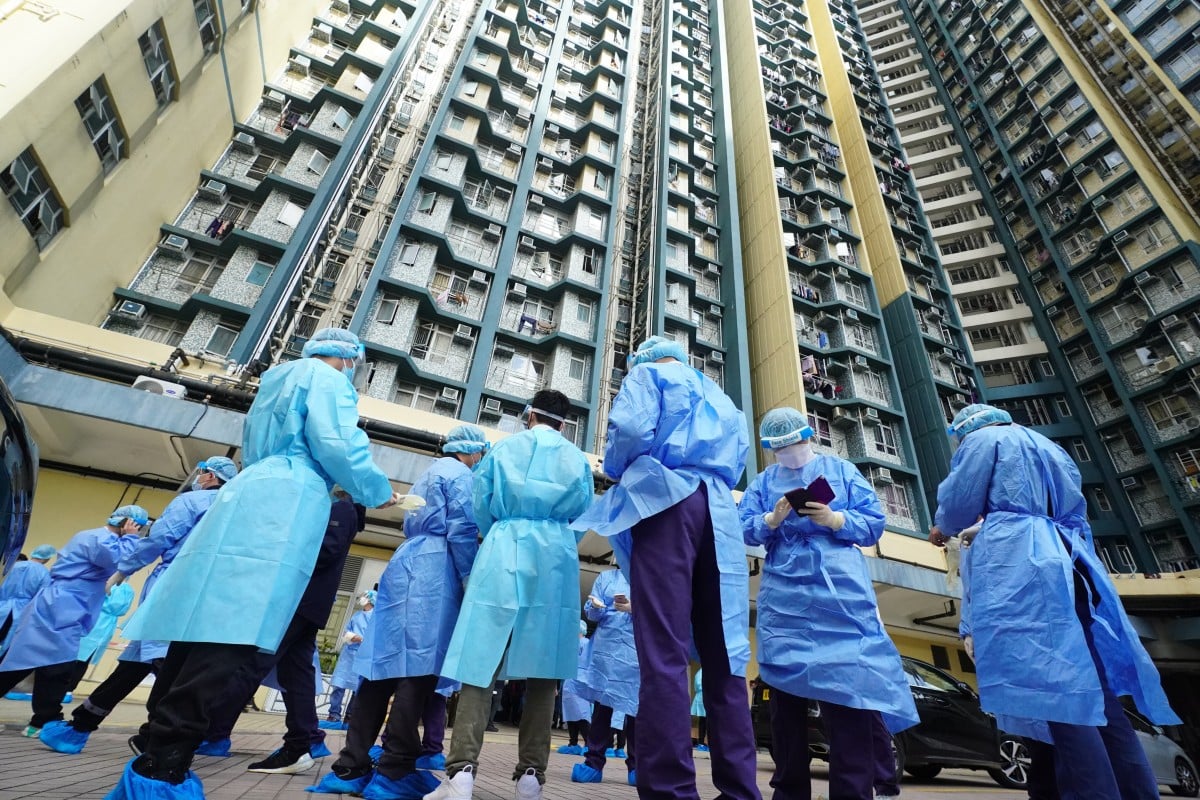 A view of Kwai Chung Estate, where residents are under lockdown. Photo: Felix Wong
Hong Kong authorities confirmed 140 new Covid-19 infections on Sunday, the most in a single day in 18 months, as they battled to contain a spiralling outbreak at the Omicron-hit Kwai Chung Estate.
The alarming development came as a top government pandemic adviser warned the "escalating" fifth wave of cases could take two to three months to contain, adding it was impossible to ease social-distancing measures before Chinese New Year.
Sunday's daily figure was the highest since July 30, 2020, when 149 cases were recorded, the most the city had logged in a single day, at the height of the third Covid-19 wave.
What's going on with Covid vaccines for Hong Kong kids
Of the infections confirmed on Sunday, 125 were locally transmitted, including 17 outside the estate and four with unknown sources. The other 15 were imported.
The estate outbreak, including preliminary-positive infections, has now hit 173 cases.
More than 100 people tested preliminary-positive on Sunday. The city's overall confirmed tally stood at 13,286, with 213 related deaths.
Rubbish piled up in Kwai Chung Estate, where many residents are locked down. Photo: Yik Yeung-man
On Saturday, Hong Kong leader Carrie Lam Cheng Yuet-ngor warned the outbreak at the estate was "exponential". But on Sunday, the health secretary appeared to contradict her.
"Although the numbers are still increasing, we still have not seen a so-called exponential [rise]," Chan said. "Right now we think our different levels of compulsory testing are effective."
However, respiratory medicine specialist Dr Leung Chi-chiu said that with the super-transmissive Omicron – which could see one patient infect eight others or more – an "explosive increase" in cases could still happen with "uncontrolled mixing" of people in the outbreak zone.
Are Hong Kong's current Covid restrictions too harsh?
At the estate, tens of thousands formed long queues to get tested at mobile screening stations, sparking complaints about lengthy waiting times. Residents also grumbled about poor arrangements such as late meal deliveries at locked-down blocks and uncollected rubbish.
Angry residents heckled Lam, who visited the estate with her deputy John Lee Ka-chiu and housing secretary Frank Chan Fan, with some yelling profanities, telling her to "stop putting on a show", while others sarcastically told her not to come as "you will be locked down for five days".
Assistant Director of Housing Ian Luk admitted that litter strewn around the estate affected sanitation, but said the five-day operation was "unprecedented and challenging", and a new cleaning contractor had been engaged.
Chief Executive Carrie Lam Cheng Yuet-ngor (centre) inspects Kwai Chung Estate. Photo: Yik Yeung-man
But in another sign the fifth wave was sweeping across the city, a nurse who dispensed medicine at two homes for the elderly on the estate was confirmed as infected, resulting in 52 of their residents being sent to quarantine at the Asia-World Expo facility. At another home for the elderly, the Salvation Army Nam Shan Residence for Senior Citizens, a cleaner tested preliminary-positive.
Infections also reached hospitals. A patient-care assistant, who works in operating theatres at Prince of Wales Hospital, tested preliminary-positive on Sunday and was likely to have infected a colleague at Princess Margaret's paediatric intensive ward after both gathered at his home on Kwai Chung Estate recently.
Four of Sunday's confirmed cases were untraceable, including a lift repair worker who serviced malls in Wong Tai Sin and San Po Kong. A customs officer who recently took part in a departmental press conference also tested preliminary-positive.
Teen creates Facebook group to save abandoned hamsters
Microbiologist Professor Yuen Kwok-yung earlier on Sunday said that cases would continue to be uncovered in the next seven to 14 days after more than 100 residents of buildings at the estate were found to be infected with Omicron. Another 13 people citywide were caught up in a Delta cluster linked to local pet shops.
"It's obvious that the fifth wave is escalating … It may take around two to three months to calm down," Yuen told a television programme. "We have to see if our existing measures are effective enough, and hope there can be relatively fewer infections during the outbreak."
Yuen suggested residents wear two masks when heading out for tests to prevent air leakage, and encouraged them to open the windows in their flats to improve ventilation.
The outbreak at the estate has been traced to an unvaccinated man who is believed to have contracted the coronavirus from his wife before visiting Yat Kwai House on January 13 to collect items from refuse stations to resell in Sham Shui Po.
The wife, who had recently returned to the city from Pakistan, tested positive for the highly transmissible Omicron variant days after her three-week quarantine at the Silka Seaview Hotel ended, leading experts to believe she had caught Covid-19 from a fellow guest through cross-infection.
Yuen added that it would be two weeks before it was known how much the cluster involving the Delta variant would spread. The outbreak was first tied to a 23-year-old woman who worked at the Little Boss pet shop in Causeway Bay, with officials pinning the case on suspected animal-to-human transmission.
Secondary school students react to new round of class suspensions
The hamster cull sparked by the discovery continued over the weekend, with another pet – one of 77 surrendered by residents so far – testing positive for the virus, according to the Agriculture, Fisheries and Conservation Department.
As of Saturday, a total of 2,512 animals, including 2,229 hamsters, had been humanely dispatched, it added.
Meanwhile, the public could forget about social-distancing restrictions easing up by the fourth day of Lunar New Year, Yuen said, echoing Lam's remarks on Saturday that the chance of relaxing the measures was "rather slim".
"You don't need an expert to confirm this; everyone can see it's obvious that it is impossible to open up by day four. There are already more than 100 cases discovered," he told reporters.
Sign up for the YP Teachers Newsletter
Get updates for teachers sent directly to your inbox
Sign up for YP Weekly
Get updates sent directly to your inbox