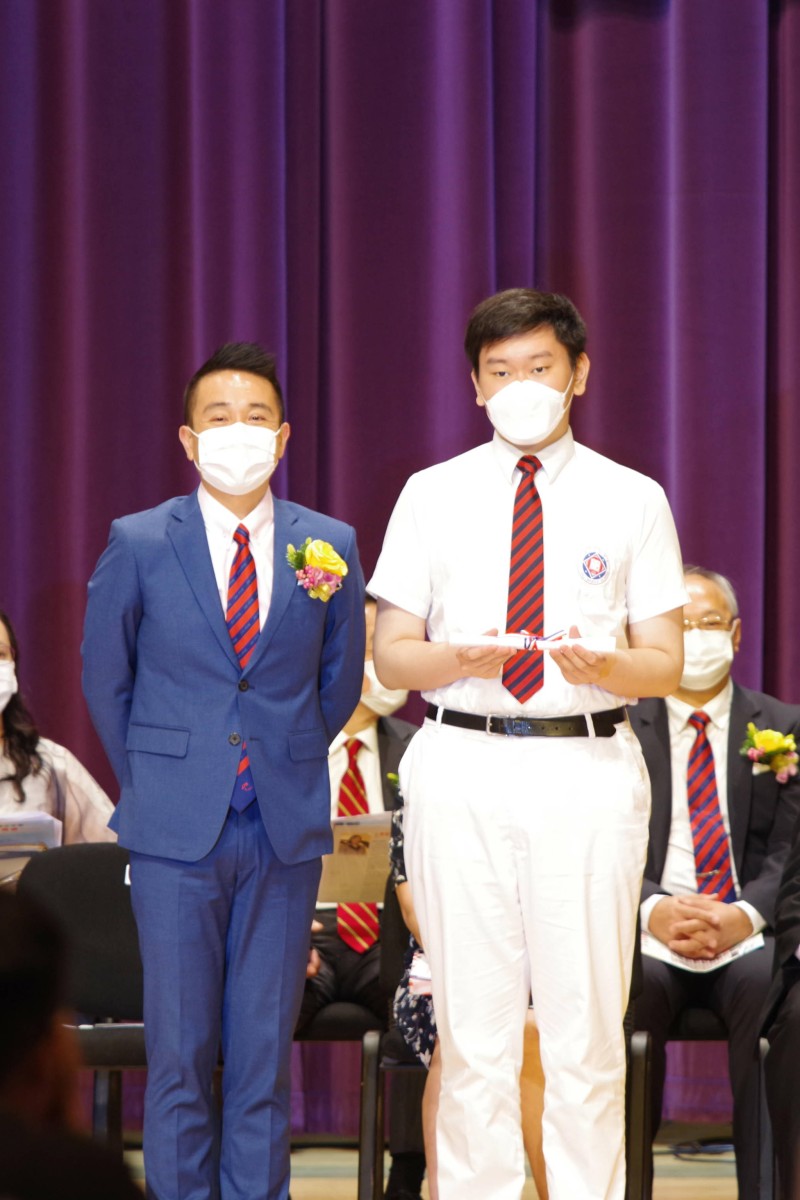 Hang Lung Mathematics Awards encourages students to tackle problems through scientific research
Gold Award winner Chan Tsz-hin, from Pui Ching Middle School, said he appreciated the freedom the competition offered to explore a problem he was interested in

The Awards inspire students to hone their comprehensive competencies and skills, including logical thinking and analytical capability, the winners say
Gold Award winner Chan Tsz-hin (right), who graduated from Pui Ching Middle School in 2021, conducted his award-winning research "On Non-Torsion Solutions of Homogeneous Linear Systems over Rings". Photo: Handout
Encouraging students to conduct scientific research to solve mathematics questions, the Hang Lung Mathematics Awards (HLMA) has offered many secondary school students in Hong Kong the freedom to challenge themselves intellectually by exploring highly complex problems in maths, the award winners said.
HLMA unleashes students' potential by inspiring them to develop solutions to complex problems far beyond the academic level of their contemporaries, and hone their comprehensive competencies and skills, including logical thinking and analytical capability, the winners added.
HLMA winners talk about their love of maths
Gold Award winner Chan Tsz-hin, who graduated from Pui Ching Middle School in 2021, conducted his award-winning research and presented it in a paper titled "On Non-Torsion Solutions of Homogeneous Linear Systems over Rings".
"My paper focuses on exploring how many variables are required in a system of linear equations to prove the existence of a non-torsion solution," Chan noted. "It proposes a new approach to linear equations, which are the keys to the solutions to mathematics problems. I believe my research should indirectly inspire people to develop applications in other fields."
Chan is now a freshman studying mathematics at Imperial College London in Britain.
Pui Ching Middle School wins big at the 2021 Hang Lung Mathematics Awards
Chan says that he became fascinated with mathematics when he started studying advanced mathematics in high school. "It encompasses the applications of logic. I found beauty in the process of exploring for solutions and verifying them," he said, adding that he joined many mathematics competitions over the years. "I took part in HLMA because I appreciated the freedom it offered me to explore a problem in which I have been deeply interested."
Silver Award winner Luo On-ki, also from Pui Ching Middle School, believed that she enhanced her tenacity through the competition.
"To develop a solution to a problem that many other people have attempted to solve but failed, I repeatedly tried out many cases and eventually discovered some parts of the solution. Throughout the process, I consulted many teachers and senior schoolmates. The discussions helped me elevate my understanding of the problem in combinatorics. The experience also made me see the benefits of mutual learning."
Silver Award winner Luo On-ki (second from right) from Pui Ching Middle School. Photo: Handout
Luo's research topic was "The Johnson-Leader-Russell Question on Square Posets."
"I am grateful for the many questions raised by the professors in the judging panel during the Oral Defense. Their suggestions have inspired me to continue my research on this problem," she added.
Lai Wai-lok, from St Paul's Co-educational College, took home the Bronze Award with his paper "Solvability of the General Pell's Equation, Quadratic Residuosity, and Real Quadratic Fields of Class Number Two". Lai credits his passion for mathematics to his family's cultivation and support since early childhood.
Language barriers couldn't stop this SOTY mathematics winner
"My parents noticed my strength in mathematics and encouraged me to learn mathematics and participate in mathematics competitions." Lai said.
Lai appreciated HLMA's emphasis on in-depth research.
"It challenges students to develop solutions to complex uncertainties. I enjoyed the process of identifying interesting topics from books and the step-by-step exploration to find patterns and prove the hypothesis."
Bronze Award winner Lai Wai-lok (second from right) from St. Paul's Co-educational College. Photo: Handout
The consensus shared among participating schools was that HLMA delivers benefits beyond academic studies. The Principal of Pui Ching Middle School, Ho Lik-ko, noted that the Awards boosts personal growth in students.
"It encourages them to take on challenges and explore more knowledge. The entire process is challenging and time-consuming. It inspires students to persevere and overcome difficulties. This attitude is important to them in future."
Help! I'm freaking out about my maths exam
One of the supervising teachers of the participating teams, Ho Fung-lee of Pui Ching Middle School, says that HLMA helps the participating students develop and enhance multiple skills.
"Scientific research builds tenacity. Apart from the knowledge in mathematics, students learn to communicate effectively with each other and master the skills to succinctly express their ideas in a research report and to present them in the Oral Defense before the judges. The competition presents an opportunity for them to hone these essential skills."
To learn more about the Hang Lung Mathematics Awards, check out their website, Facebook and Instagram.
Sign up for the YP Teachers Newsletter
Get updates for teachers sent directly to your inbox
Sign up for YP Weekly
Get updates sent directly to your inbox