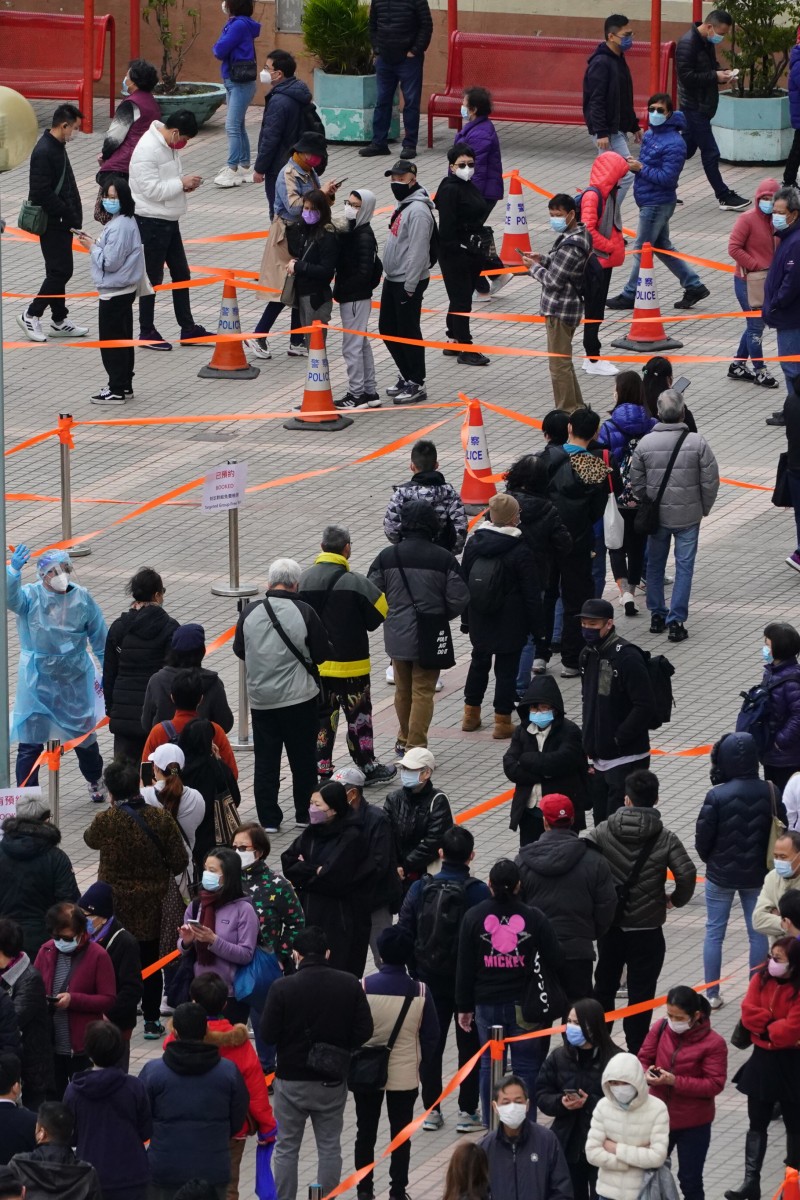 Public gatherings will be capped at two people, and sources say a new 'vaccine pass' will be extended to shopping malls and other public places

Chief Executive Carrie Lam says 'dynamic zero infection' approach is necessary to avoid overloading the health care system and prevent deaths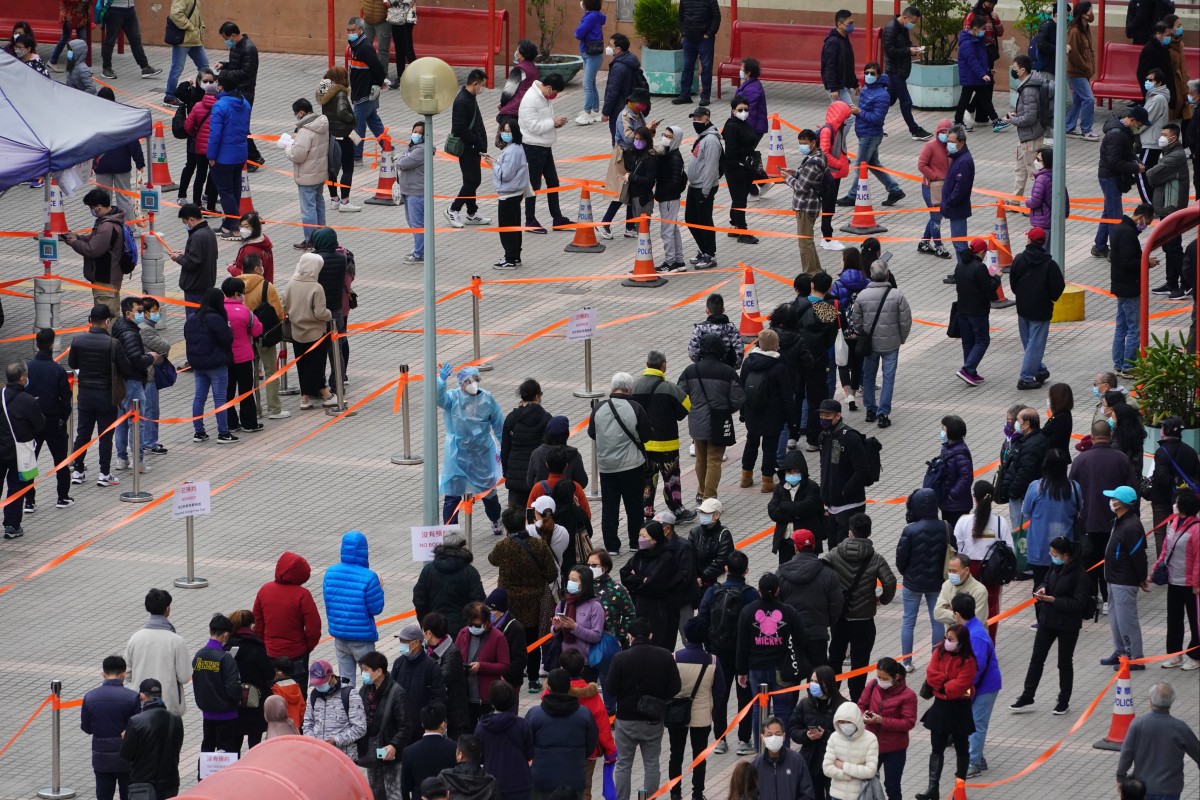 People wait for Covid-19 tests at a mobile testing station at Lek Yuen Community Hall in Sha Tin. The Hong Kong government recently announced its toughest social distancing measures since June 2020, as cases of the Omicron variant skyrocket to record new numbers. Photo: Felix Wong
Hong Kong has imposed its toughest social-distancing rules yet, announcing an unprecedented ban on private gatherings of more than two families, as well as the closure of more public venues, including houses of worship.
Chief Executive Carrie Lam Cheng Yuet-ngor revealed the latest changes on Tuesday afternoon, announcing that the cap on public gatherings would also be lowered to two people, and that a new "vaccine pass" scheme would be expanded to cover shopping malls and other premises.
Hair salons and religious venues will be temporarily closed, at least until the vaccine pass is launched on February 24, when the situation will be reviewed.
Hong Kong's Omicron outbreak proves the need for vaccines
To support residents affected by the curbs, Lam announced a sixth round of anti-epidemic relief funding totalling HK$26 billion, which she said she hoped would be approved by lawmakers at the coming Finance Committee meeting next Tuesday.
Fixed penalties for failing to comply with mandatory testing orders will also be doubled, from the current HK$5,000 to HK$10,000, Lam said.
The new measures were approved on Tuesday by the Executive Council, the city leader's de facto cabinet.
Chief Executive Carrie Lam Cheng Yuet-ngor speaks to the press on Tuesday. Photo: K.Y. Cheng
According to a source, under the social-distancing changes, set to take effect on Thursday, all restaurants except for so-called Type D ones will be limited to two diners per table. Type D restaurants – where all staff are fully vaccinated and patrons must have received at least one jab – will be capped at four people per table, instead of the current six.
"All these tightened measures are aimed at reducing gatherings and the flow of people," one source said.
Covid's irreversible impact on education
The vaccine pass, which will require visitors at various venues to show proof of inoculation, would cover shopping malls, department stores, supermarkets, wet markets and eateries. It is hoped that other closed premises, such as hair salons, could reopen under the scheme.
However, the pass would not initially be extended to public transport because of the difficulty of implementation and possible disruptions to the flow of people around the city.
The last time Hong Kong imposed such strict limits on gatherings was back in July 2020.
How students feel about the city's new class suspensions
The news of the impending restrictions came as Hong Kong expected to confirm 625 new coronavirus infections on Tuesday, breaking the record for the highest daily case count for the third consecutive day, according to a medical source.
Authorities confirmed 614 new infections on Monday, almost twice the 342 recorded on Sunday.
Speaking earlier in the day at her weekly press briefing, Lam said the city would "stand by its dynamic zero infection strategy", and defended the approach as essential to maintaining the city's public health system and preventing deaths amid a worsening fifth wave of coronavirus infections.
She insisted that the strategy was needed to "buy time" for people to get vaccinated, while also calling on members of the public to stay home and limit their activities.
"We need your support; we need your cooperation … Your help comes in a very easy form: just stay at home," Lam said before her weekly Executive Council meeting.
As she has at other recent press conferences, Lam addressed reporters without a face mask, a decision she has previously defended as necessary so the public can "feel her emotions".
Chinese scientists say Omicron variant may have jumped from mice to humans
"Some have said the measures may cause Hong Kong to pay a heavy price socially and economically. But people's lives and the need to prevent hospitals from being overloaded is worth a lot more," she added.
She also said Beijing had reached out to her to express its willingness to help Hong Kong maintain its dynamic zero infection policy – the preferred method of pandemic containment in mainland China. A mainland official and a Communist Party mouthpiece have warned the city in recent days against pivoting towards a strategy of "living with the virus", as much of the world has.
Health experts have warned that the exponential growth in cases could soon send the daily count into quadruple-digits.
Repeated boosters are not a viable strategy, says WHO
Authorities have been struggling to cope with the surge of new infections over the past few days, which they blamed in part on family gatherings during Lunar New Year. People ordered to undergo mandatory testing have complained about excessive waiting times, while hospitalised patients have raised concerns about questionable hygiene standards at one medical facility.
The government announced on Tuesday that, in light of the Omicron variant's shorter incubation period, people living in high-risk neighbourhoods would only have to take two compulsory coronavirus tests, not three.
In bid to ease the strain on public hospitals, health authorities announced on Monday that they would have to start sending patients with mild or no symptoms to the government's quarantine camp at Penny's Bay, while allowing close contacts of carriers to self-isolate at home.
Respiratory medicine expert Dr Leung Chi-chiu said tightening social-distancing rules would not bring case numbers down on its own, but it would "create a sense of urgency" among the public.
"The tight social-distancing rules give the perception that people should stay home and reduce their activities," Leung told a radio programme.
Leung also said that since many new patients had minor or no symptoms, most could skip the hospital and go straight into isolation to reduce their contact with others.
He added that the government should consider using hotels to isolate coronavirus patients if quarantine facilities filled up.
Sign up for the YP Teachers Newsletter
Get updates for teachers sent directly to your inbox
Sign up for YP Weekly
Get updates sent directly to your inbox