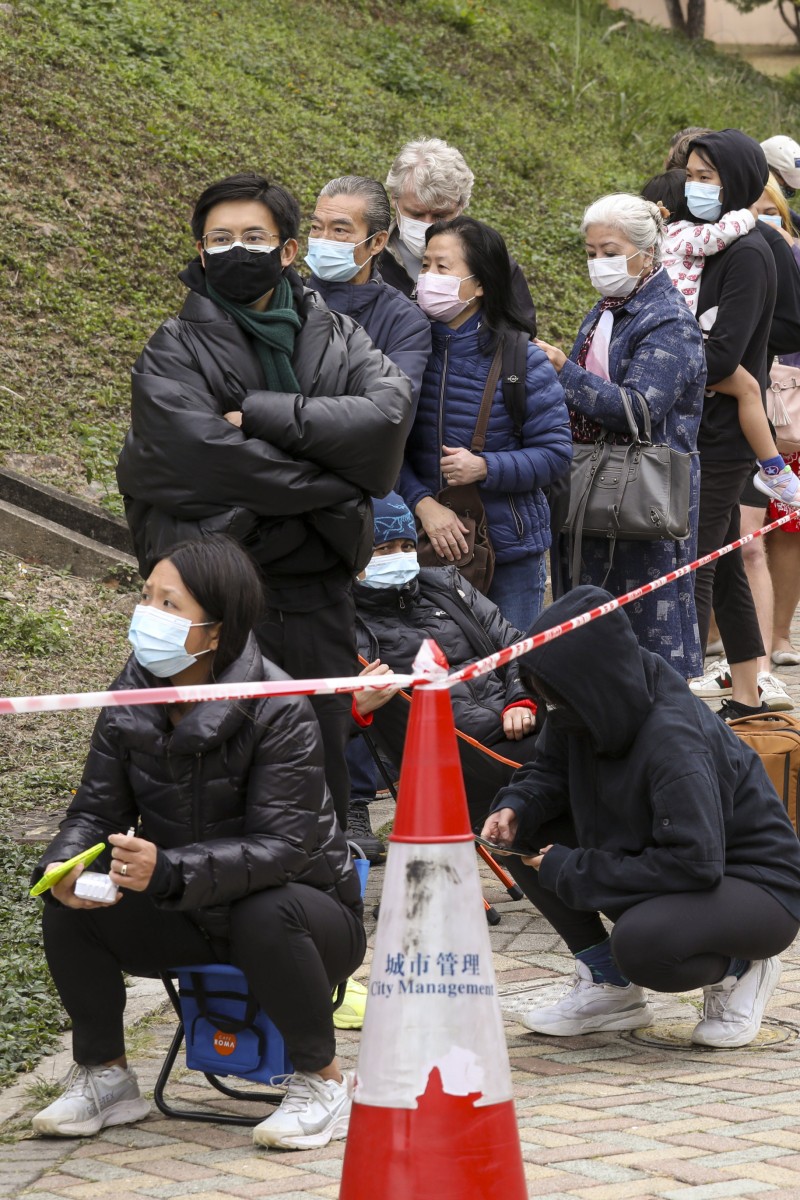 Health authorities asked people who test preliminary-positive to wait home, as it may take a few days to be admitted to the hospital

More than 20,000 residents of Discovery Bay were issued a compulsory testing order after sewage samples tested positive for Covid-19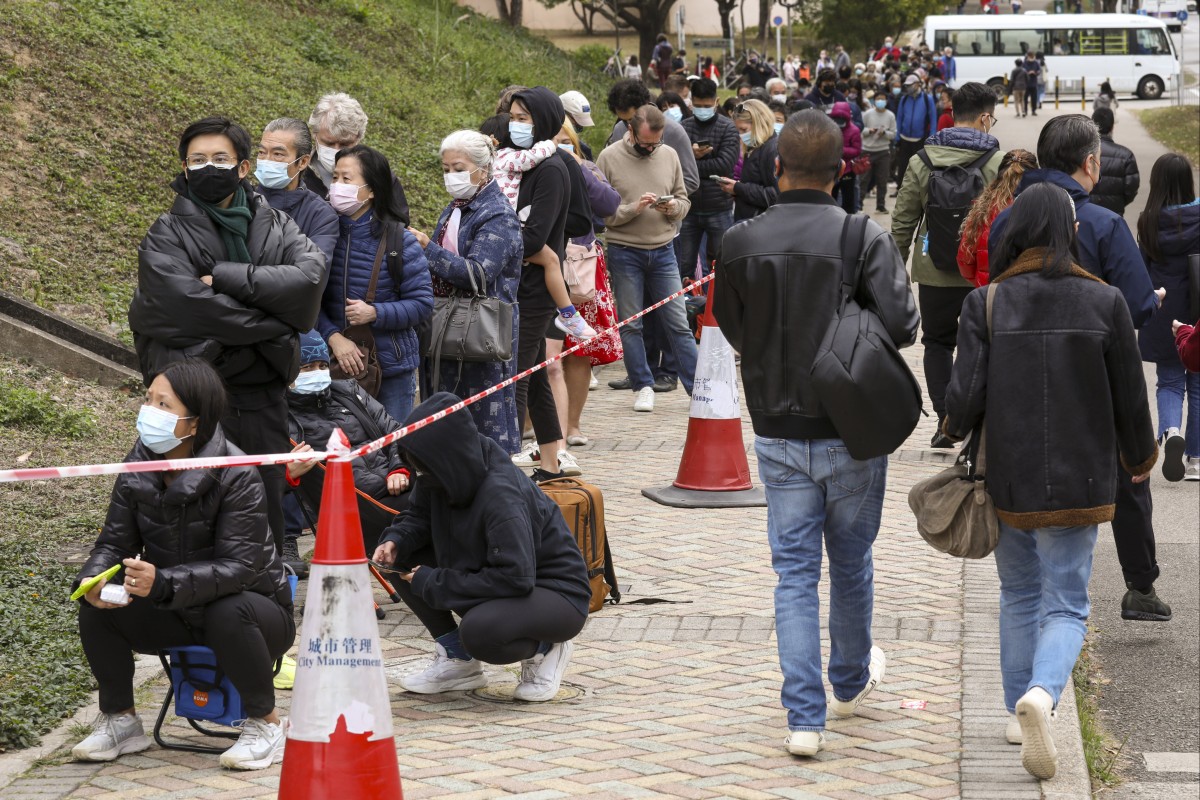 Residents queue up to receive a Covid-19 test at a mobile testing station in Discovery Bay. Photo: Yik Yeung-man
Hong Kong confirmed 1,161 new Covid-19 infections on Wednesday, the first time the daily case count has surpassed 1,000 since the pandemic began, while two chronically ill patients became the disease's first fatalities in roughly six months.
Health authorities also announced that in a bid to cope with the exponential growth of infections, recovered Covid-19 patients no longer needed to wait 10 days to be discharged from hospital and could subsequently undergo 14 days of medical surveillance at home. Officials were also identifying additional isolation facilities for patients to shorten their waiting time and ease pressure on public hospitals.
Hong Kong imposes toughest social-distancing restrictions yet
"We appeal to those who test preliminary-positive to stay at home patiently, as they might have to wait for a few days before being admitted to a hospital," said Dr Larry Lee Lap-yip, a chief manager at the Hospital Authority. "Those on the top of the waiting list will be taken care of with a hotline for medical assistance."
Eight of the newest cases were imported while the rest were locally transmitted, pushing the city's official tally to 17,808 cases, with 215 related deaths. An additional 800 preliminary-positive cases were reported.
The two fatalities involved a 73-year-old man who had received two doses of the Sinovac vaccine, and a 76-year-old man who was unvaccinated.
"Many of the cases went to family gatherings," said Dr Chuang Shuk-kwan, head of the communicable disease branch at the Centre for Health Protection. "Some of them are housewives, retirees or elderly. They mostly went to shopping malls and wet markets. The public should avoid going out as much as possible and try to buy necessities in one go."
More than 20,000 residents of Discovery Bay were issued a compulsory testing order overnight after sewage samples from the area tested positive for the coronavirus. Similar orders were also issued for residential buildings at Mei Lam Estate in Sha Tin and Tin Shing Court in Tin Shui Wai.
Anyone who was in Discovery Bay for more than two hours in the past two weeks must undergo testing by Sunday, while the residents in the other areas must complete theirs by Thursday.
How students feel about the class suspensions
Meanwhile, former Hospital Authority chief executive Dr Leung Pak-yin called on the government to work out more "realistic" anti-pandemic policies, warning that the current approach would quickly buckle as case counts grew to as many as 10,000 a day.
"Let's imagine if there are thousands of infected people waiting to be admitted to the hospital, while more than 10,000 people are waiting for quarantine," he said. "The operations will be complete chaos."
"The anti-pandemic measures must be realistic, professional, decisive and human-centred. Otherwise, residents will lose their trust in the government's ability to contain the outbreak," he added.
Covid's irreversible impact on education
Respiratory medicine expert Dr Leung Chi-chiu also warned that daily case counts could reach 10,000 within a week or so if they continued to double every two or three days. He urged residents to stay home, adding that he hoped recently ramped-up social-distancing measures would help contain the outbreak.
He also warned against allowing Covid-19 patients to quarantine at home, but suggested designated hotels could be an option.
"Risks of transmission still exist when Covid-19 patients isolate at home, as their family members or neighbours could be infected, given that suspected vertical transmissions were reported in some buildings," he said. "Cross-infections between patients isolated at hotels was not a big problem; the most important thing is that the staff there not get infected."
On Tuesday, the government announced the toughest social-distancing rules to date for the city, and released further details on a new "vaccine pass" scheme set to be launched on February 24.
Starting from Thursday, the city will impose an unprecedented ban on private gatherings of more than two households, temporarily close houses of worship and hair salons, and reduce the cap on public gatherings to just two people.
Sign up for the YP Teachers Newsletter
Get updates for teachers sent directly to your inbox
Sign up for YP Weekly
Get updates sent directly to your inbox