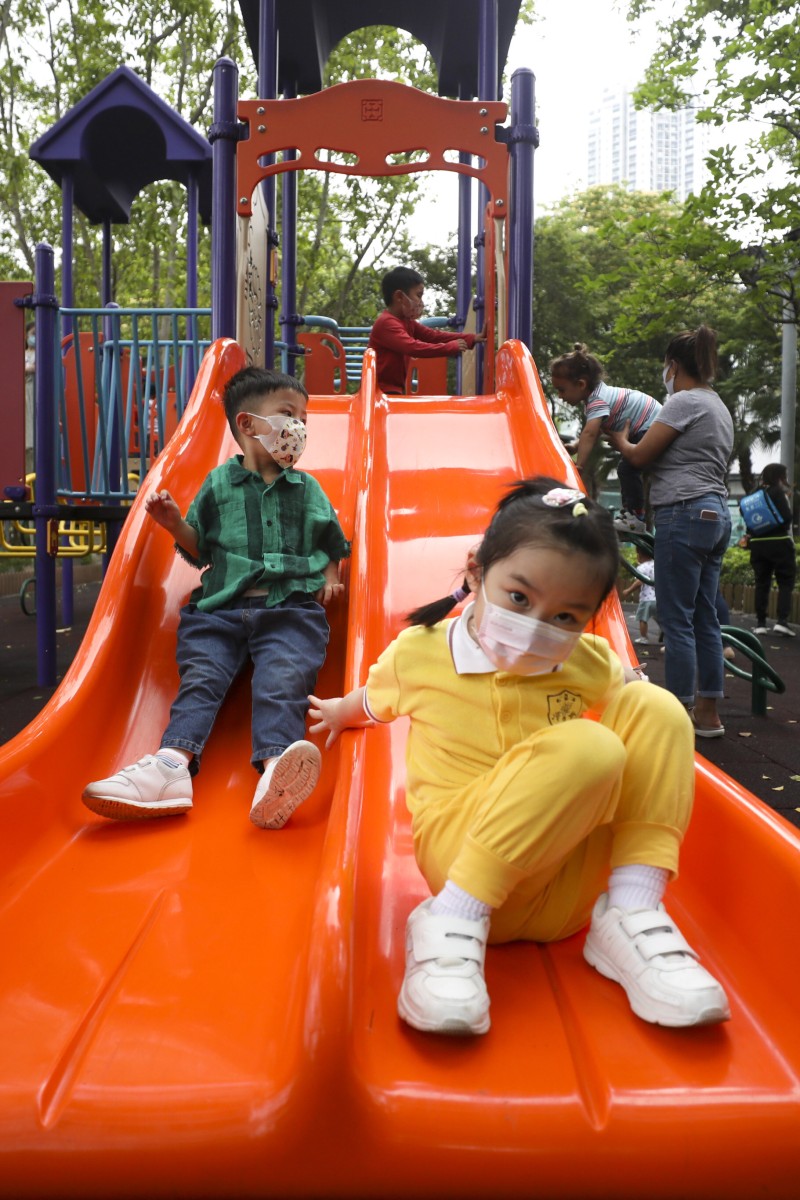 Medical experts say jabs still key to protecting kids from the virus, reducing the severity of complications and cutting down on transmissions

It is safe for children to receive the jabs unless they develop immediate allergic reactions after a shot or have a fever, they say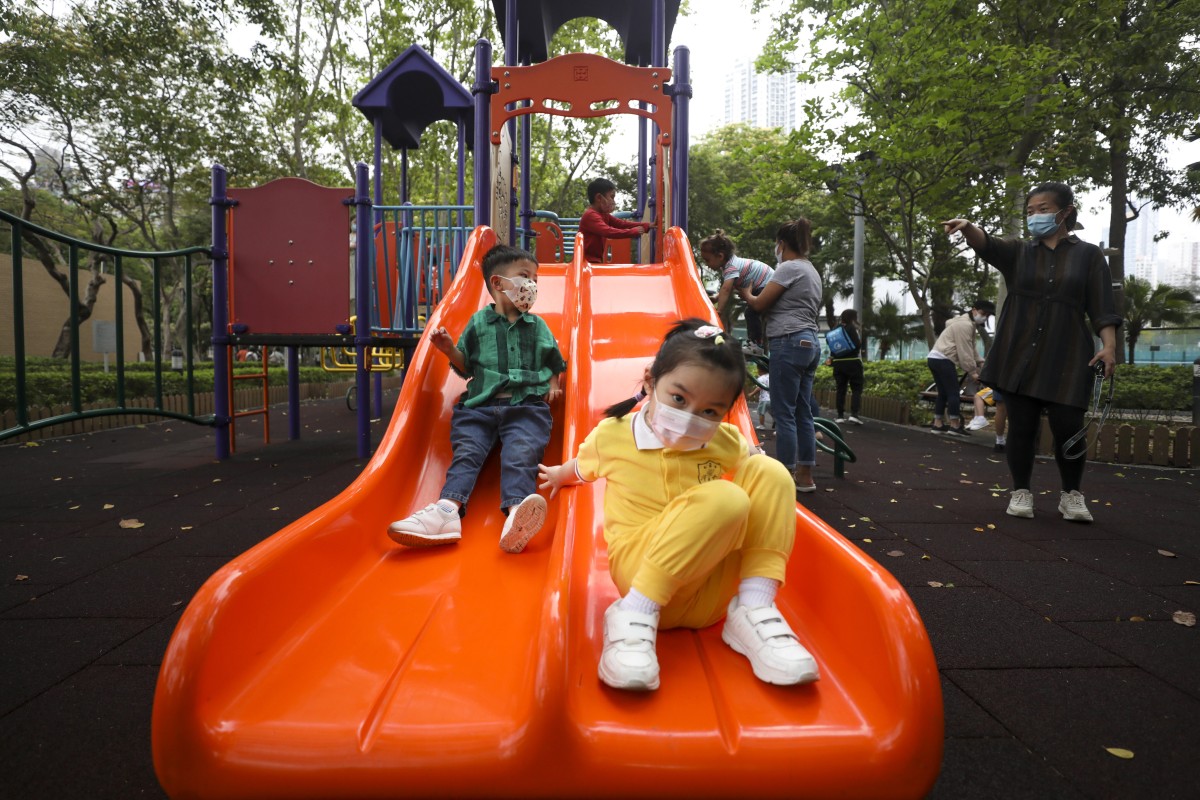 Children aged five to 11 will be able to receive the BioNTech vaccine from February 16. Photo: Xiaomei Chen
Hong Kong children aged five to 11 are now eligible to receive the BioNTech vaccine, as the city increases its efforts to boost inoculation rates amid its battle against a surging fifth wave of coronavirus infections.
Children in this age group will be able to receive the German-manufactured vaccine from February 16, while the Chinese-made Sinovac version is already available to them. However, only 19,245 children, or 5 per cent of those in the age group, had received the first dose of a Sinovac vaccine, and 105 children two doses as of Tuesday.
A survey released on Tuesday showed only one in 10 parents was willing to let their young children receive a Covid-19 vaccine, while an overwhelming 85 per cent were worried about the possible side effects of the shots.
Let's explore some common concerns about vaccinations for children.
Coronavirus: Hong Kong confirms more than 1,000 cases, first deaths in roughly six months
Why should children get the shots when the available vaccines are found to be less effective against the highly infectious Omicron variant?
Findings released by researchers from the University of Hong Kong and Chinese University in December last year showed that the BioNTech vaccine was far less effective at neutralising the Omicron variant of the coronavirus, which reduced the antibodies made by that vaccine by at least 32 times.
Previous studies also found the Sinovac vaccine to be less effective in generating virus-killing antibody levels against other variants.
But William Chui Chun-ming, president of the Society of Hospital Pharmacists of Hong Kong, said being vaccinated remained key to protecting children from the virus.
"Although the vaccines may not prevent children from being infected, they can help reduce the severity of the complications, and prevent hospitalisation or even death," he said.
William Chui, president of the Society of Hospital Pharmacists of Hong Kong. Photo: Edward Wong
According to Chui, while some children may only show mild or no symptoms after infection, that could develop into "long Covid" – a condition in which the effects of Covid-19, such as fatigue, loss of concentration, headaches and breathing difficulties continue for months beyond the initial illness.
Government pandemic adviser Professor David Hui Shu-cheong said infection did not only lead to mild symptoms in children, noting more than 20 per cent of infected children under the age of 12 in South Africa had developed complications.
"When the number of infections becomes so large, unvaccinated children can develop severe complications after infection," he said, adding most of those who only had mild symptoms had received jabs.
Both Chui and Hui urged children to get vaccinated as soon as possible to protect themselves and reduce the transmission of the virus. "Without vaccination, children can become a transmitter of the virus," Hui said.
Who is safe to get vaccinated?
Hui said it was safe for children to get vaccinated. Only those who developed immediate allergic reactions after a shot, including breathing difficulties and swollen lips, which he said were rare among children, should not be given a second dose.
Chui also said all children could receive the vaccines, including those with asthma and eczema, as long as their conditions were stable. However, those who have fever should wait until they recover from it to get a jab.
Omicron might have jumped from mice to men, say Chinese scientists
Is the 'off-label' use of the BioNTech vaccine safe for children?
The "off-label" practice refers to an approved product being used in an unapproved manner, such as for a different condition or prescribed in a different dosage. It is commonly adopted for some drugs.
The government's advisory panel on Covid-19 vaccines last month recommended adopting the "off-label" practice of administering 10-microgram doses of BioNTech – a third of an adult dose – to children aged five to 11, even though the distributor for the vaccine has not applied to lower the age restriction for its jabs.
Hui said off-label use was common with drugs for children, including antibiotics, as many pharmaceutical companies did not make paediatric versions of the drugs.
Government pandemic adviser Professor David Hui says it is safe for children to get vaccinated. Photo: Winson Wong
He said the limited supply of the paediatric formulations of the BioNTech vaccine meant many places such as Hong Kong and Britain would have to resort to off-label use of the vaccine.
A third of an adult dose and an extended interval of 12 weeks between the two doses of BioNTech was safe for children, with rare possibilities of complications such as myocarditis, Hui said. The manufacturer recommended an interval of at least 21 days between the two doses for its paediatric formulation for children aged five to 11.
Currently, children in that age group are allowed to receive the Sinovac vaccine with an interval of 28 days between the two doses, which is the same as adults.
Children ages 5 to 11 are getting vaccinated in the US
Chui said the city's off-label use of the vaccine was safe for children. He said both the adult and paediatric formulations of the BioNTech vaccine had the same active ingredients, and the only difference was in their inactive ingredients – the buffer solutions – which only affected their storage time.
"They do not affect the clinical outcomes of the vaccines, including side effects and effectiveness," he said.
Chui said the paediatric formulation of the vaccine and Hong Kong's off-label use – both 10-microgram doses – had the same efficacy in children.
He expected the paediatric formulation of the shots to arrive in Hong Kong only after the middle of the year, but urged parents not to wait. "Now is the most critical and high-risk time. Don't wait to get vaccinated until it is too late," he said.
Which countries are adopting the off-label use of the BioNTech vaccine in children?
Britain recommended a paediatric formulated dose, which is 10 micrograms, or the off-label use of the adult vaccine – one third of the adult 30-microgram dose – for children aged five to 11. Both require an interval of eight weeks between shots.
But the US Food and Drug Administration earlier warned against the off-label use of the BioNTech vaccine in children younger than 12, citing a lack of data on the proper dosage and safety in younger children. The American Academy of Pediatrics has also strongly discouraged adopting the practice for children younger than 12 until clinical trials are complete.
World can end Covid-19 emergency this year, says WHO
Are children able to go to school or dine out without being vaccinated?
Yes, they are able to do so without being vaccinated.
The Education Bureau last month announced that from February 24, all teaching and non-teaching staff, people providing on-campus services and visitors to kindergartens, primary and secondary schools, and private schools offering non-formal curriculum, would be required to present vaccination records of at least the first dose of a Covid-19 vaccine prior to entering school premises.
Exemptions are only made for those who are unfit for vaccination due to health reasons. The arrangement does not apply to students.
Pupils head home after school in Quarry Bay. From February 24, proof of having received at least the first dose of a vaccine will be required for staff and visitors entering school premises. Photo: Nora Tam
The government also announced on Tuesday a vaccine pass scheme involving a vaccination paper certificate or an electronic one available through your phone's "Leave Home Safe" Covid-19 risk-exposure app and which will allow you to enter government venues and 23 other types of premises starting on February 24. Children below 12 are exempted.
Can parents take their children born outside the city to be vaccinated?
Some parents complained on Wednesday about their children being denied vaccination because they did not hold Hong Kong identity cards or birth certificates.
According to the Immigration Department, children aged under 11 generally do not need to apply for an identity card, including those of consuls, consular staff and the head and members of the Office of the Commission of the European Communities in Hong Kong.
The government's vaccination programme website does not support certain scenarios, such as applicants not having the city's ID cards or birth certificates.
In response, a government spokesman said these children could still head to vaccination centres – except for those run by private hospitals – where staff would reserve a daily quota for them.
These children must bring along their identification documents together with the completed consent forms and be accompanied by an adult.
They may also get vaccinated through their schools of which group bookings are provided.
Sign up for the YP Teachers Newsletter
Get updates for teachers sent directly to your inbox
Sign up for YP Weekly
Get updates sent directly to your inbox