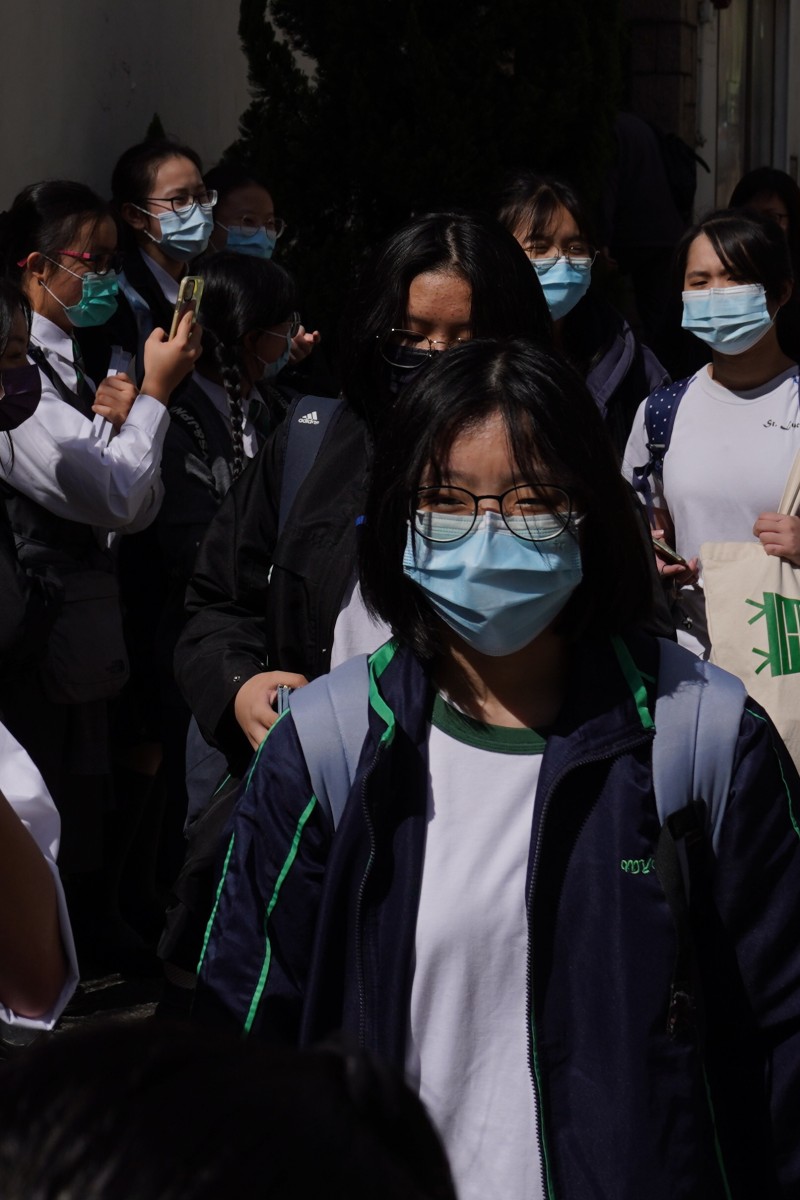 Chief Executive Carrie Lam announced the break will move to early March so schools can be used as testing, isolation and vaccination centres

Move is among measures by the city to conduct compulsory Covid-19 testing on entire population to tame fifth wave of infections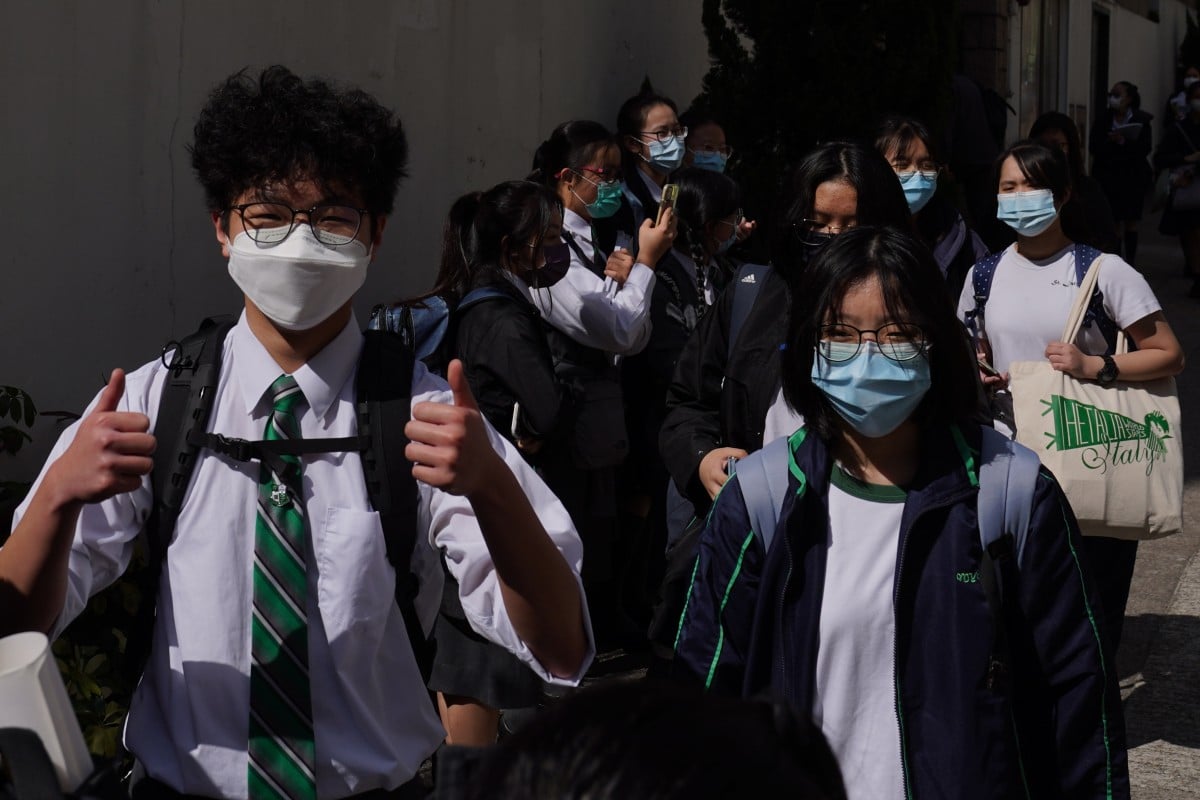 Hong Kong students will take their summer break from March to April this year, the Hong Kong government announced on Tuesday. Photo: Sam Tsang
All Hong Kong residents will undergo Covid-19 screening next month and students will have an early summer break as part of the city's road map to tackling the worsening fifth wave of infections.
Chief Executive Carrie Lam Cheng Yuet-ngor on Tuesday announced that all schools – which will be used as testing, isolation and vaccination venues – will have their summer holiday from early March until mid-April. The city would continue to uphold its stringent social-distancing measures until April 20.
Some rules would be further tightened, with only two people allowed per table in restaurants at lunchtime.
All about Hong Kong's vaccine pass scheme
Bringing forward the summer holidays will add to the workload for schools, disrupt teaching and learning, and affect the vaccination drive for young residents, according to members of the education sector.
In the announcement, Lam said that schools would hold their summer holidays from early March until April 17. The last day of the school year would then be pushed to August 12.
Aside from school, many aspects of life will come to a standstill until late April.
Chief Executive Carrie Lam Cheng Yuet-ngor meets the media at Central Government Offices. Photo: Edmond So
Belinda Greer, chief executive officer of the English Schools Foundation (ESF), sent parents a notice about the government announcement, saying she would attend a meeting with the Education Bureau on Wednesday morning to find out more details.
"This is clearly an extremely challenging development and a massive disruption to our work," she said.
The meeting is expected to be attended by all international school operators.
Omicron has overwhelmed Hong Kong's health care system
Major international schools, including the ESF, have shortened other breaks to give expatriate staff a longer summer holiday to return to their home countries and meet the city's strict quarantine requirements.
Ricky Ng Wing-hung, principal of Buddhist Lim Kim Tian Memorial Primary School, said most campuses have arranged for outreach vaccination teams to get students inoculated, but these plans have now been disrupted.
Ng added that most primary schools would hold academic tests in March and term exams in May, and that these would need to be delayed and rescheduled.
He said the change also meant a heavier workload for school administrations, since processes such as hiring and orientation for newcomers would be greatly compressed.
Choi Lai-Fong, council member of the Hong Kong Federation of Education Workers and principal of Swindon Kindergarten, said private independent kindergartens would be hit the hardest, as nearly all parents with children in private pre-nursery classes would choose to withdraw their young ones from school.
Choi said two-thirds of students in pre-nursery classes had quit after the suspension of in-person classes was announced in January, as parents did not want their two-year-old children to attend online classes while they paid thousands per month in fees.
How coronavirus measures are hurting HK's restaurants
She expected the rest would follow suit with the latest announcement.
"What is even worse is that no one knows whether face-to-face classes will resume in April," she said, adding that some private kindergartens would close down, as they would not be able to pay rent or teachers' salaries, given that school fees were their main source of income.
Primary school teacher Iris Shum said she was shocked by the decision, adding that the government should have given schools more time to prepare.
The government also announced that all residents would be tested for Covid three times in a short period of time. Photo: Yik Yeung-man
"The announcement really affects our teaching process, as there are plans about what students should learn in each semester. Now it's all been disrupted."
Saloni Sethi, 16, from South Island School. said she was also shocked by the announcement. "As a senior student, I am worried about how this change will impact upcoming examinations and university applications."
Annabel Cheung, 12, from St Paul's Co-educational College, said that while she could understand the government's intention, an early holiday was not what she wanted.
Why some fully vaccinated people are still being hospitalised
"I don't want the early summer holiday, since I don't want my study plans and learning to be disturbed."
Henry, a father of two, expressed dismay. "As a parent, this never-ending mess is becoming the norm," he said. "The only positive thing I can take from this is that we can spend more time with the children and it will be such a unique memory when I look back on it."
Sign up for the YP Teachers Newsletter
Get updates for teachers sent directly to your inbox
Sign up for YP Weekly
Get updates sent directly to your inbox