Changes such as registering positive results using rapid antigen tests on a government site can speed up confirmation of Covid-19 infections

Close contacts who are at least double vaccinated can leave quarantine earlier if they test negative using RAT kits on sixth and seventh days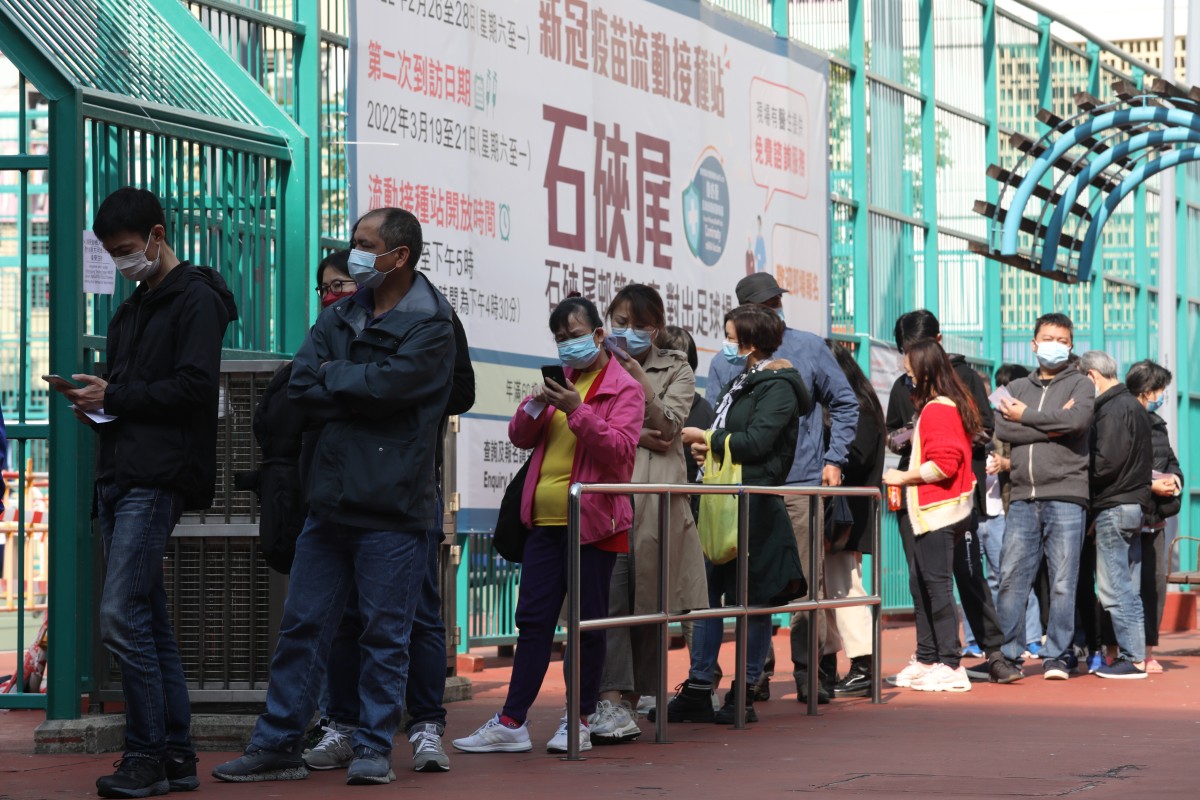 People queue up to receive the BioNTech coronavirus vaccine at a mobile vaccination station in Shek Kip Mei. Photo: Yik Yeung Man
The fifth wave of Covid-19 infections has upended Hong Kong's long-standing guidelines on testing, quarantine, and treatment for coronavirus. With the city logging a record 26,026 infections on Sunday, here is a break down of the ever-changing rules amid the surge in cases.
Foreign domestic workers who test positive for Covid forced to sleep outside
What are the latest testing criteria?
Authorities on Friday said they would soon recognise residents who returned positive results using rapid antigen tests (RAT) as confirmed cases once they register the information with the government online.
The new website will be operational "in a few days", according to Albert Au Ka-wing, principal medical and health officer for the Centre for Health Protection (CHP). Those who test positive can send in their personal particulars, including their names, birth dates, ID numbers and close contact details.
While most people subject to compulsory testing can use RAT kits at home instead of lining up at community testing centres or using a specimen bottle for saliva samples, those deemed to have high exposure risk, such as workers at quarantine centres or the airport, will still be required to take a nucleic acid test.
The city's latest wave of coronavirus has overwhelmed the public healthcare system. Photo: Yik Yeung-man
Results from private labs will no longer require further testing for confirmation by the CHP, given the severe backlog.
The changes can significantly speed up confirmation of Covid-19 infections. Currently it takes from a few days to more than a week to process nucleic acid tests, given the exponential growth of cases.
Previously, the CHP conceded that "a significant portion" of specimens could not be confirmed within 48 hours, with about 10,000 to 20,000 test results pending verification.
If Hong Kong were to go into lockdown for a week, what would you miss about the outside?
The new system, however, relies on self-reporting and honesty. Respiratory medicine specialist Dr Leung Chi-chiu has doubts it will work.
"We need to … encourage reporting, such as letting residents go to designated clinics and giving sick leave certificates, so people would cooperate," he said.
Government pandemic adviser Professor David Hui Shu-cheong suggested residents ensure they have medical supplies, such as Panadol, on hand if they have to self-isolate at home and stock up on enough RAT kits for daily testing after testing positive.
Who is deemed a close contact?
Officials have also changed their rules for those who test positive using RAT kits at home.
Their close contacts who have received at least two doses of the Covid-19 vaccine may test using RAT kits on the sixth and seventh days of the home quarantine period. If their results are negative, they may leave quarantine earlier on the seventh day.
Students and teachers say moving summer holidays will add to workload
Conversely, if they obtain at least one positive test result on these two days, they will need to continue undergoing isolation or home quarantine.
Those who are not double vaccinated will still need to complete a 14-day quarantine regime. Dr Leung said the measures were a "last resort" as official testing capacities using PCR tests were overwhelmed, but that residents exhibiting symptoms should still take a PCR test.
A promoter holds a box of rapid antigen test kits as residents queue up to buy them at a shop in Sham Shui Po. Photo: Yik Yeung-man
Under what circumstances can patients be discharged from hospital?
The Hospital Authority will exercise clinical judgment and assess patients' risk level. If patients are in stable condition and their residential or care home environment is suitable, they will remain there after discharge from hospital until they obtain a negative result.
Those who are vaccinated can resume their daily lives upon testing negative on day six or seven, while unvaccinated patients can only do so after testing negative on day 14.
A government spokesperson said medical resources could be more effectively deployed this way.
All about Hong Kong's vaccine pass scheme
What are the latest changes on vaccination for adults and children?
Experts "strongly recommend" the German-made BioNTech vaccine as a third dose for adults, regardless of whether recipients have taken it or the Chinese-produced Sinovac for their first two shots.
Hui said those who took three doses of BioNTech had higher antibody levels than those with three of Sinovac. But protection levels could still be increased for Sinovac recipients if they took a third BioNTech jab, he said. The third dose should be taken three months after the second, a reduction from the currently recommended six months.
Hui said the intervals needed to be shortened in light of the surging outbreak, so residents could build up their immunity and antibody levels.
Meanwhile, the Department of Health on Sunday also recommended pregnant women get the Covid-19 jabs.
It said pregnant women had a higher chance of developing serious complications after contracting the virus, but vaccines could reduce the risk of hospitalisation and death among them, with the antibodies passing to the fetus through the umbilical cord.
Experts also recommended that children aged five to 17 who had received the first dose of the BioNTech vaccine should take the second eight weeks later, down from 12 weeks.
The charity helping migrant workers during Covid
Adolescents aged 12 to 17 who have received two Sinovac doses should take their third dose – either brand is acceptable – as soon as three months after the second shot.
If they received two BioNTech doses, the third shot should be injected five months from the last, while the Sinovac vaccine should be made available as an alternative.
Children aged below 12 should not take a third dose, the experts advised, based on overseas practice and the lack of supporting scientific evidence.
A fourth dose is recommended for immunocompromised patients aged 12 and above.
Sign up for the YP Teachers Newsletter
Get updates for teachers sent directly to your inbox
Sign up for YP Weekly
Get updates sent directly to your inbox