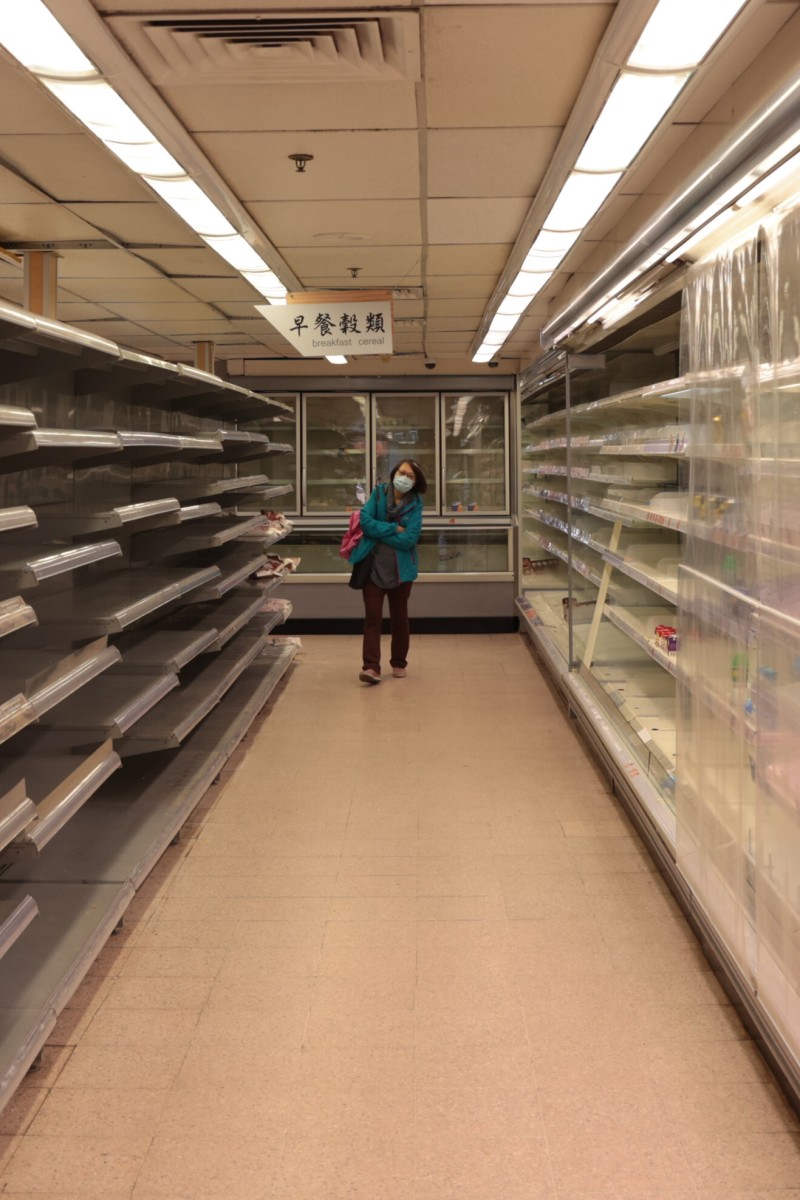 Officials have given out different messages about measure, sowing seeds of distrust

Chief Executive Carrie Lam called for calm, saying the government has yet to make any decisions, but her remarks came too late for some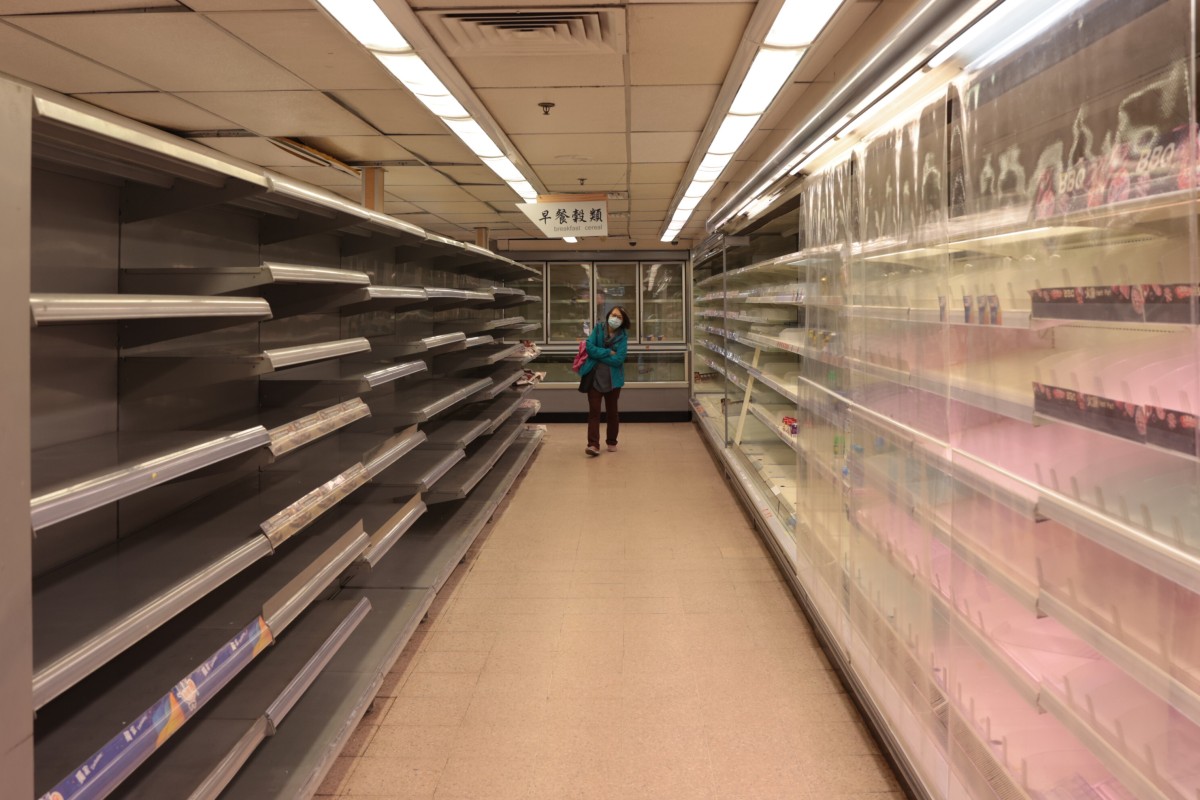 Empty shelves are seen at a supermarket in Sai Wan Ho following rumours of a city-wide lockdown to be imposed amidst the fifth wave of the coronavirus outbreak. Photo: Sam Tsang
The Hong Kong government's failure to provide a consistent account about a potential citywide lockdown for compulsory Covid-19 testing has contributed to a wave of panic buying among residents, political and communications experts said on Tuesday.
They said various officials had given different messages about the much-feared measure, sowing seeds of distrust even before panicked residents stripped supermarket shelves of food and basic goods on Monday and Tuesday.
With the city tackling an escalating Omicron-fuelled fifth wave of cases, the government earlier announced large-scale testing would be undertaken. Speculation has mounted as to whether the operation will involve a citywide lockdown, despite Chief Executive Carrie Lam Cheng Yuet-ngor saying the government is still working on the details.
How you can help cleaners during the coronavirus
Lam had issued a call for calm – and told the public that even if some restrictions were imposed, the government had yet to decide the extent – as early as Monday afternoon. But most people did not hear the message until late evening, largely because of restrictions on the number of press outlets invited to the event at which she spoke.
Experts suggested that the government's sluggishness to clarify widespread rumours – that the Legislative Council was about to vote on a motion for a curfew-like ban – eventually set off a wave of panic.
"In response to speculation, the government has to deliver a message that is clear, unified and timely," Baptist University associate professor Raymond Li, who specialises in fake news, said on Tuesday. "This is a lesson for the government."
People queue up to hoard food from a supermarket in Mong Kok. Photo: Felix Wong
The rumour mill went into overdrive on Monday morning when Secretary for Food and Health Sophia Chan Siu-chee told a radio show that the government would not rule out the possibility of a lockdown, apparently contradicting previous remarks by Lam.
A bogus message then sprang up on social media, saying Legco would soon vote on a motion to allow the government to impose the lockdown.
Customers made a beeline for supermarkets and grocery stores, emptying shelves of daily necessities from instant noodles to meat and vegetables, despite a statement by Legco to clarify that it did not have any legislative work regarding a lockdown.
The charity helping migrant workers who test positive for Covid
When Lam received a five-member mainland Chinese medical group, led by Dr Liang Wannian, who heads the National Health Commission's Covid Response Expert Team, at Shenzhen Bay Port early on Monday afternoon, she touched on the speculation.
"Stay calm everyone," she said. "I am aware of a lot of online rumours, and the government will respond to them immediately.
"These include that Legco will vote and count votes, or take certain actions, regarding the lockdown. Sometimes, it is suggested that there won't be fresh food and vegetables delivered to Hong Kong. These are all rumours."
But the only major Hong Kong press outlet invited to the event was public broadcaster RTHK, alongside several Mandarin-language stations such as Phoenix TV and CCTV.
It is understood that a so-called pool arrangement was deployed, meaning RTHK was responsible for covering the event and later sharing the information with other television stations.
The government's Information Services Department (ISD) did not upload the video of Lam's response until 8.34pm and a full Chinese-language transcript until 10.58pm.
Hong Kong's healthcare system overwhelmed by Omicron
RTHK ran its first online report on Lam's comments at 6.47pm. TVB News, a newscast by the city's biggest station Television Broadcasts, did not carry the remarks in its 6.30pm show, and most major media outlets published their reports at around 9pm.
A government spokesman said the pool arrangement was meant to strike a balance between anti-epidemic needs and the media's reporting work.
"The relevant materials were disseminated to Hong Kong media by RTHK and the ISD as soon as possible after the event," he said, without explaining the presence of the mainland Chinese press outlets.
Many foods are sold out under the rumour of a city-wide lockdown to be imposed amidst the fifth wave of coronavirus. Photo: Jelly Tse
Li of Baptist University said the pooling arrangement was far from ideal, as time was of the essence when it came to combating the "anchoring effect" of speculation.
Normally, journalists race against one another to get news out first. But under the pooling arrangement, the designated station was likely to take time to package the coverage before disseminating it. "This is too slow for quashing speculation," he said.
Li added that the health minister's comments on a lockdown gave the subsequent rumours about the Legco motion extra fuel, and she could have just said "it was too soon for speculation".
What our readers would miss during a lockdown
Francis Lee Lap-fung, dean of the Chinese University of Hong Kong's School of Journalism and Communication, said it would be best for the government to identify the source of anxiety and pre-empt it before the lockdown.
But he doubted the government's ability to spot concerns, given that Lam's remarks focused on the stable supply of food from the mainland, while people were worried they could not get food delivered to their homes if a lockdown took place.
Lau Siu-kai, vice-president of semi-official think tank the Chinese Association of Hong Kong and Macau Studies, said that for a long time the problem had been a failure to present a united front.
He said that Hong Kong officials and health experts, from both the city and the mainland, had given different comments on matters concerning the pandemic.
"When there are such incongruities, people would rather rely on themselves to look after their own interests," he said.
He suggested the government designate a single authoritative spokesman or spokeswoman and for others to refrain from commenting until a detailed plan was available.
Sign up for the YP Teachers Newsletter
Get updates for teachers sent directly to your inbox
Sign up for YP Weekly
Get updates sent directly to your inbox