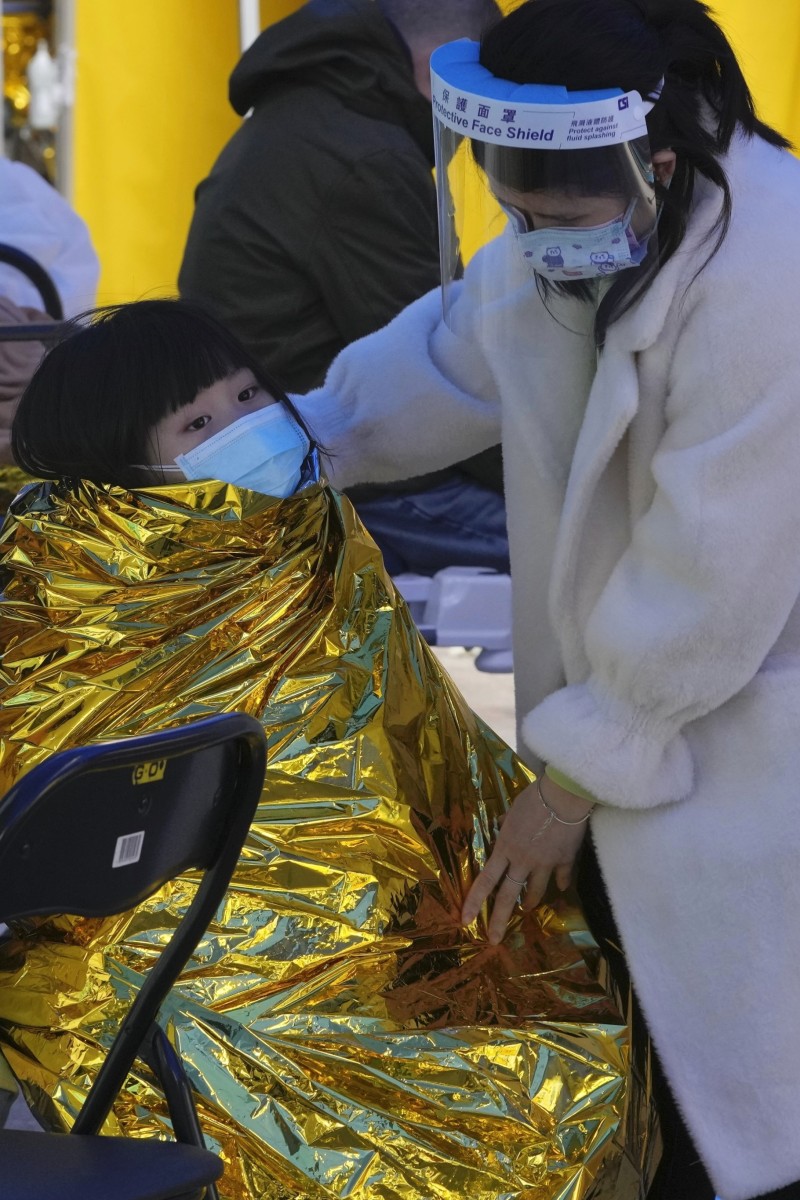 Of the 1,939 children who received hospital treatment in current wave, 49 were in intensive care units, including 30 aged two or under

Those aged two years and younger accounted for the highest proportion in intensive care as they were not yet eligible for vaccination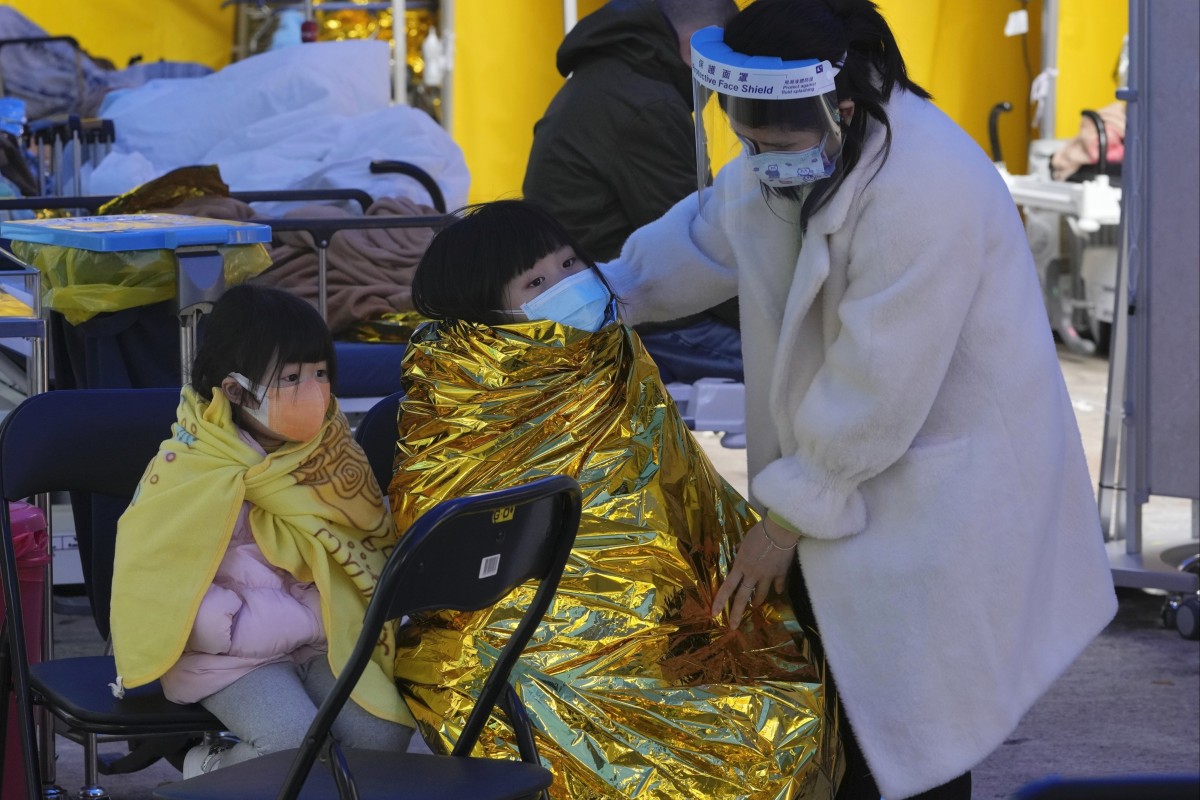 Children waiting at a temporary makeshift treatment area outside Caritas Medical Centre. Photo: AP
More than 1,900 children with Covid-19 have been admitted to hospital in Hong Kong since the fifth wave of infections emerged. This has exceeded the total admissions in the previous four outbreaks combined, with those aged two years and younger accounting for the highest proportion in intensive care.
Of the 1,939 children who received hospital treatment as of the end of February, 49 were in intensive care units, 30 of whom were aged two or under.
Dr Mike Kwan Yat-wah, a consultant at Princess Margaret Hospital's paediatric infectious diseases unit, noted that because children aged two or younger were not eligible for vaccination, they had no immunity to the virus.
Hong Kong's public health care system overwhelmed, paramedics overloaded
"When they encounter this highly transmissible Omicron virus, the number of infections is very high, resulting in a very high incidence of hospitalisation, severe cases and admissions to intensive care units," he told a press briefing on Wednesday.
"There are research papers showing that for Omicron, there are more symptoms related to the central nervous system such as fever, convulsions, encephalitis. Many experts are still finding out the reasons."
He added that more children were being admitted to hospital this time as they had been well-protected from the virus over the past two years and therefore could not develop cross-immunity to it.
The latest data from the Hospital Authority was divided into four age groups based on vaccine eligibility: those two years or under; aged three to four; five to 11; and 12 to 17.
In all, 3.8 per cent of infected children from the youngest group were admitted to an intensive care unit, followed by 2 per cent of those aged five to 11 and 1.4 per cent from the oldest.
Kwan said the findings showed that older children, who had a higher vaccination rate, were more protected from the virus, urging parents to get them inoculated.
Is Omicron leading us closer to herd immunity against Covid-19?
He suggested parents carefully observe their children if they were infected.
"Serious symptoms of Covid-19 in children are convulsions for more than 30 minutes, losing consciousness and difficulties in breathing," he said.
"They should immediately send them to hospital if they notice rapid breathing, a creaking sound when breathing, blue lips, chest pain, rapid heartbeat, sudden deterioration of consciousness, convulsions, persistent fever, vomiting or difficulty in eating."
Parents should call an ambulance if the child is having convulsions.
"While waiting for an ambulance, the parents can put the child into a semi-prone position, for example, turning the child into a lateral position. This is for draining the saliva and secretion from the mouth so it will not suffocate the child," he said.
"Please observe closely the nature of the convulsions, for example, if the child is convulsing on one side, one hand or the whole body. This is important for the doctor's diagnosis."
Lack of clarity from Hong Kong authorities on citywide lockdown has helped fuel panic buying, experts warn
More than 55,300 new Covid-19 cases were confirmed on Wednesday, bringing the total number of infections to 293,730.
The city's Covid-19-related death toll since the start of the pandemic has reached 1,182. Four children with the virus succumbed last month – two girls, aged 11 months and three years, and two boys, aged four and nine.
The nine-year-old boy, who had a muscular genetic disease, was unvaccinated. With no symptoms, he died on February 24 after losing consciousness at home the previous night. He tested positive after his death.
The four cases had sparked widespread distress with a number of parents taking to social media to share their own nerve-racking stories about attending to their sick children at home and seeking help at overloaded hospitals.
Kwan said the authority was investigating the four cases, adding it would focus on virology, pathology and whether the patients had underlying illnesses and immune dysfunction, which might have contributed to their deaths.
Sign up for the YP Teachers Newsletter
Get updates for teachers sent directly to your inbox
Sign up for YP Weekly
Get updates sent directly to your inbox