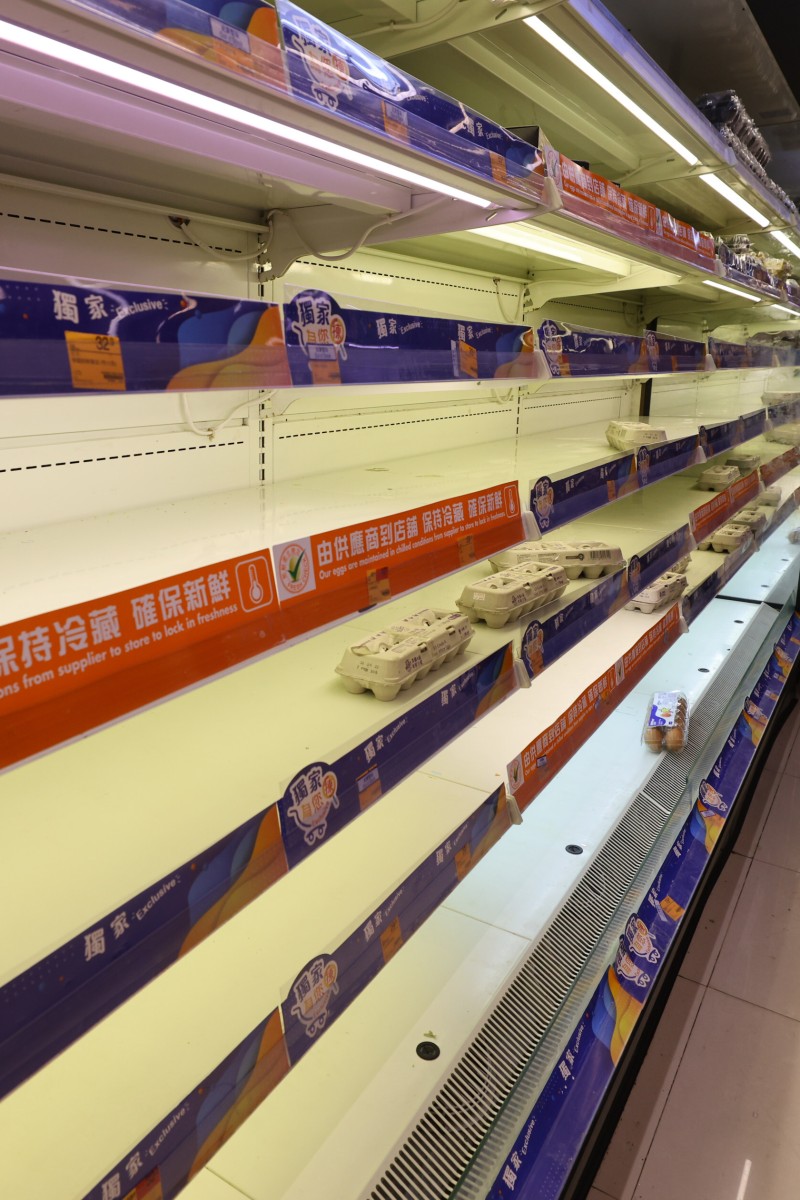 Ever since speculation of a possible large-scale lockdown emerged, worried residents have been sweeping food and other necessities off supermarket shelves

As some experts call for authorities to clarify rumours more quickly, empty ParknShop shelves pose problems for refugees who cannot use government subsidies to buy food elsewhere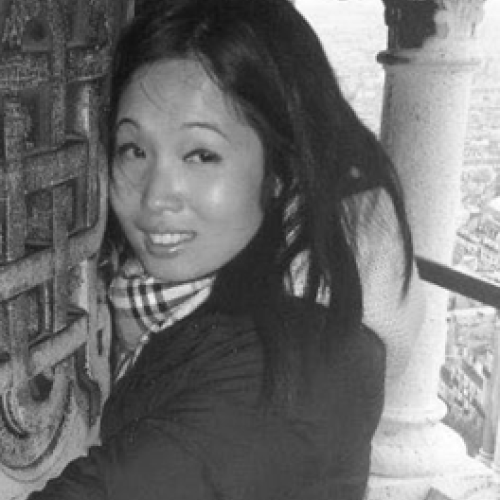 Doris worked in educational publishing, including the BBC and Cengage prior to joining the Post in 2018. She specialises in creating graphics and digital learning content, and has a particular interest in issues related to mental health and wellness.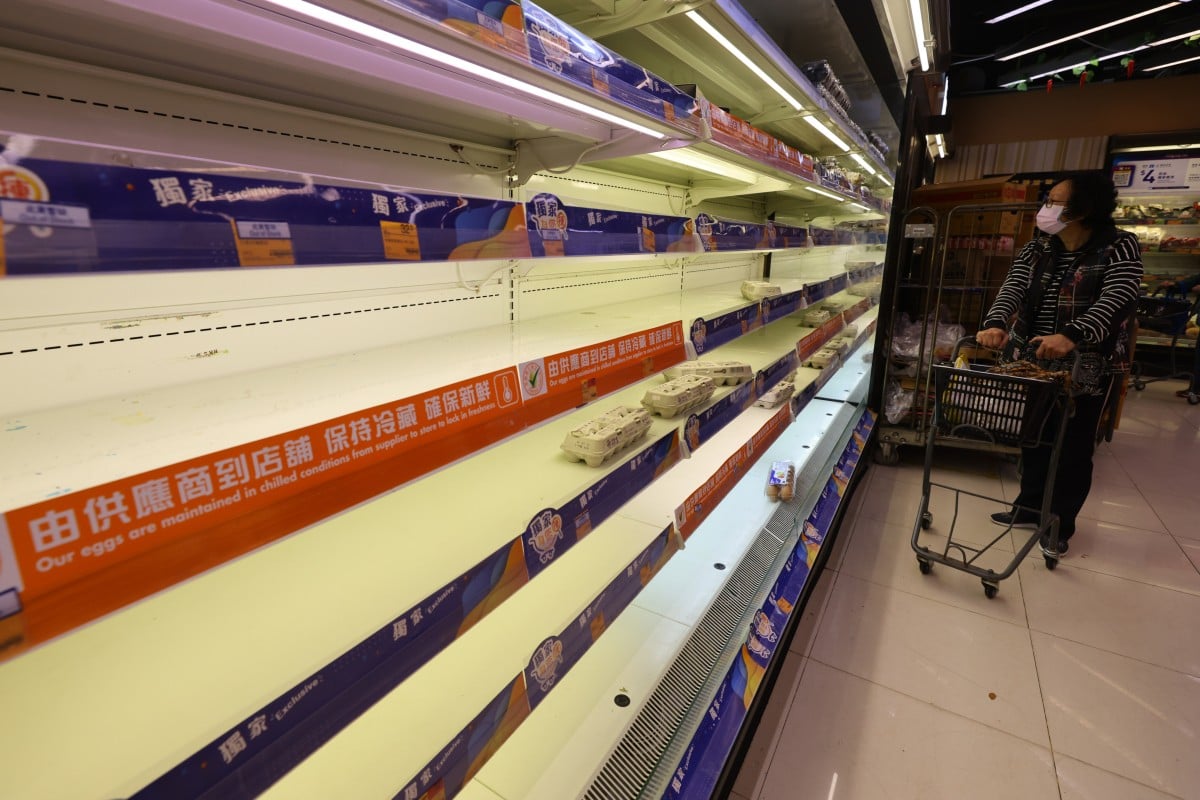 Some Hongkongers have been stockpiling basic goods and cleaning out supermarket shelves in fear of a potential lockdown. Photo: Dickson Lee
Hot Topics takes an issue that's being discussed in the news and allows you to compare and analyse different articles and viewpoints on the subject. Our questions encourage you to examine the topic in-depth and can be used on your own or with a friend.
Context: Hong Kong leader, food suppliers call on public to stop panic buying
Hong Kong leader Carrie Lam Cheng Yuet-ngor urged residents in early March not to panic over the supply of food and daily necessities. She assured them that the flow of goods into the city had mostly returned to normal with help from Beijing.
Ever since word emerged of a possible lockdown as authorities rolled out a mass testing drive, Hongkongers have rushed to supermarkets, stores and pharmacies to snap up frozen meat, bread, medicine, baby food and other essentials, with many shelves swept bare as soon as they are restocked.
Food suppliers said the city was well-stocked despite manpower shortages and shipping hiccups. Ng Wing-yan, chairman of the Hong Kong Food Council, said the city's overall food supply was sufficient, and it was therefore unnecessary for residents to stockpile goods.
Lack of clarity from Hong Kong authorities on lockdown has fuelled panic buying
"There is only a bottleneck in transporting the food and daily necessities to different stores, as workers have either contracted the coronavirus or have to be isolated after being identified as close contacts," Ng said. "Residents do not need to be over-worried."
Ng added that shipments of goods from the mainland to Hong Kong by rail and boat had helped matters. But he noted that the transport of food and daily necessities still relied on cross-border trucks.
Meanwhile, political and communications experts said the government's failure to provide a coherent account and timely assurances about a potential citywide lockdown for compulsory Covid-19 testing contributed to the wave of panic buying. They added the government had been too slow in clarifying widespread rumours.
"In response to speculation, the government has to deliver a message that is clear, unified and timely," said Baptist University associate professor Raymond Li.
Staff writers
Question prompts:
What are the necessities you and your family cannot live without, and to what extent were you affected during the wave of panic buying?

Explain what Ng Wing-yan means when he says there is a "bottleneck in transporting the food and daily necessities".

Identify and elaborate on the main reason mentioned in Context for the panic buying in Hong Kong supermarkets.
Hot Topics: Domestic workers left out in the cold, nowhere to go
News: ParknShop, Watsons impose restrictions on certain purchases amid panic buying frenzy

ParknShop supermarkets and Watsons pharmacies started imposing restrictions early this month on the purchase of certain products in the wake of a rash of panic buying sparked by fears of a lockdown.
At ParknShop supermarkets, a number of products are now subject to restrictions – rice, canned food, noodles, boxed eggs, toilet tissue and medicine – with customers only allowed to purchase five units of each in a transaction.
"We hope customers can make purchases rationally. In order to serve more customers, from now on, we will impose purchase restrictions on some products," the group said in a statement.
ParknShop is imposing restrictions on the purchase of certain items in an effort to curb panic buying. Photo: Dickson Lee
The supermarket chain, one of the city's largest, added that the supply of food and daily necessities was stable.
At health and beauty retailer Watsons, purchases of all medications for pain relief and cold and flu are restricted to five units per transaction by a customer.
Both chains pledged to work with distributors to keep their stocks up and prices steady.
"Yet, due to the severe pandemic, we have staff from the front line, back office and logistics infected with Covid-19, resulting in tight manpower," the group said.
Carrie Lam says government 'won't lie flat' in fight against Covid
"We will spare no effort to mobilise all manpower to maintain our service, and speed up the replenishment of products on the shelves as well as delivery.
"Despite the current challenges in operations, we will try our best to maintain the product price level."
Eugenie Chau, a 63-year-old retiree who shopped at the Fusion outlet in Causeway Bay, said she would still be buying fresh meat for as long as it was available, but had her freezer stocked full of frozen meat and dumplings just in case.
Hot Topics: What's the deal with Hong Kong's e-vouchers?
"The potential lockdown has caused a lot of anxiety and psychological stress. I feel disappointed and helpless because of the mixed messaging from authorities," the Braemar Hill resident said.
A clerk, who only gave her name as CT Tsang, said she had not gone panic shopping since rumours of a lockdown spread, nor did she have groceries stocked up at home.
"There's nothing to fear. There's also a limit to how much bread one can hoard. This is Hong Kong – we won't starve to death," the 50-year-old said.
Staff writers
Question prompts:
Compare Eugenie Chau and CT Tsang's responses to a potential lockdown. What is the main difference in their views that likely explains why their reactions are so different?

Are ParknShop and Watsons' limits enough to fix the city's issue of panic buying? Explain.

Based on News and Context, suggest TWO measures the Hong Kong government should take to stop the wave of panic buying.
Hong Kong MTR, buses, supermarkets cut services amid Omicron surge
Question prompts:
In this cartoon, what is the cashier's opinion towards panic buying? Do you think this might reflect the real feelings of many supermarket workers in Hong Kong? Explain.

Of the two people mentioned in News, who is likely to agree with the customer in the cartoon?
Hong Kong's latest coronavirus testing and quarantine rules
Issue: Refugees in Hong Kong struggle to buy supplies as panic buying over lockdown rumours sweeps food off shelves
Refugees in Hong Kong have been unable to buy daily necessities with their food subsidy cards after rumours of a citywide lockdown spurred a wave of panic buying that swept goods off shelves and pushed up prices.
Refugee Union chairwoman Adella Namagembe said food prices had already climbed significantly over the past two years during the pandemic, while the recent panic buying had left refugees with nothing.
"It was not a good feeling at all. We feel stuck," she said.
Asylum seekers and refugees receive a government monthly subsidy of HK$1,500 for rent, HK$1,200 in food cards that can only be used at ParknShop, HK$300 for utilities and HK$200 for travel expenses for regular legal appointments.
The government gives refugees in Hong Kong HK$1,200 per month on cards that can only be spent on food at ParknShop supermarkets. Photo: Kathleen Magramo
The amount of money provided through subsidies has remained unchanged since 2014, with recent food price rises stretching refugees' budgets.
"HK$85 for 12 eggs, can you believe it? There's nothing else," a man was overheard telling his wife and friends as he walked into the Refugee Union's office in Sheung Wan.
Preston Cheung Ho-ming, a senior advocacy and communications officer with Justice Centre Hong Kong, said panic buying had affected refugees as food cards restricted them to shopping at ParknShop.
"By policy design, the refugee community would have no capacity to get food from restaurants or wet markets. And when panic stockpiling leaves food shelves empty in supermarkets, the community of 14,000 refugees and asylum seekers can only turn to charities or churches to simply put food on the table," said Cheung, who is also a member of the Refugee Concern Network.
Hong Kong's refugees get HK$50 a day for food and transport – what is that like?
With the fifth wave of infections affecting public services, Cheung said clients had told him International Social Service had suspended its office operations. The monthly top-up of supermarket food cards was moved online in the process, creating more problems for refugees.
"Online services cannot replace cash handouts or reimbursement, as most in the community also do not have access to bank accounts," he said.
Cheung called on the government to consider providing allowances through Octopus cards and to address the direct needs of those seeking refuge in the city.
Staff writer
Question prompts:
Identify TWO problems mentioned in Issue that refugees are facing during this current wave of Covid-19 in Hong Kong.

Based on your answer above, explain how the city's government can directly address the needs of refugees during the fifth wave. Elaborate on the benefits and downsides of each measure using Context, News and Issue.
Children of asylum seekers struggle with Chinese lessons during Covid-19
Food subsidy card: an initiative introduced by the Hong Kong government in 2014 that provides refugees and asylum seekers with HK$1,200 a month to purchase food at ParknShop supermarkets

International Social Service (ISS): a non-governmental organisation commissioned by the Social Welfare Department to provide humanitarian assistance to those applying for asylum. This process generally takes years, with refugees legally not allowed to work during this time.

Possible lockdown: refers to rumours of restrictions in Hong Kong on residents' movements which might require people to stay in their homes. The speculations started in early March when the city's government announced it would hold a compulsory universal testing drive to tackle the spiralling Covid-19 outbreak. Chief Executive Carrie Lam Cheng Yuet-ngor has since clarified that the government is still working on the details of the mass testing exercise and that even if some restrictions are imposed during this period, the government has yet to decide what limits are needed and what exemptions will be made.

Stockpile: refers to the act of accumulating a large stock of goods, especially one held in reserve for use at a time of shortage or other emergencies
Sign up for the YP Teachers Newsletter
Get updates for teachers sent directly to your inbox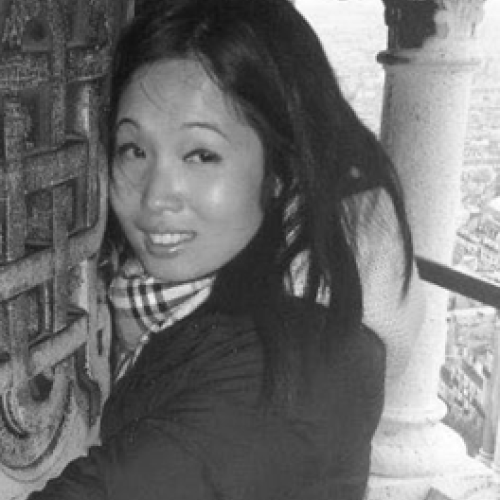 Doris worked in educational publishing, including the BBC and Cengage prior to joining the Post in 2018. She specialises in creating graphics and digital learning content, and has a particular interest in issues related to mental health and wellness.
Sign up for YP Weekly
Get updates sent directly to your inbox