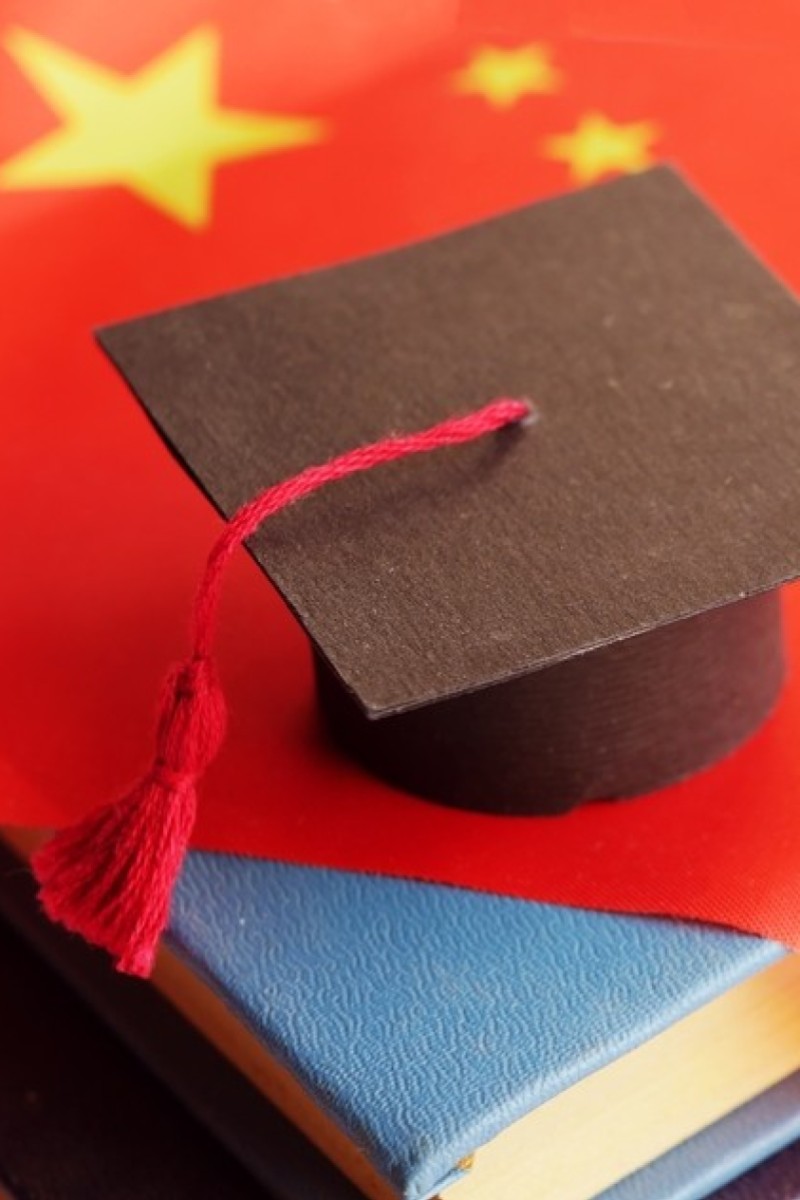 According to survey by student counselling group, 70 per cent of students interested in studying on mainland also considering universities in Greater Bay Area

The online poll by Hok Yau Club surveyed 2,128 Form Six students from 37 schools in January
68.9 per cent of respondents who indicated an interest in studying on the mainland said they would consider attending universities in the Greater Bay Area, followed by higher learning institutions in Beijing, Tianjin and Shanghai. Photo: Shutterstock
More than 40 per cent of Hong Kong secondary school graduates have expressed a "willingness" or "keen interest" in pursuing higher education in mainland China. Within this group of pupils, 70 per cent are also eyeing universities in the Greater Bay Area, according to a survey released on Sunday by a leading student counselling group.
For respondents who were not interested, the three top reasons were "differences in political and social environment", "cultural differences" and "the study environment".
Hok Yau Club urged the government to step up its messaging about opportunities for young people in the Greater Bay Area and to also cooperate more closely with mainland authorities to launch additional exchange programmes for Hong Kong students to enhance their understanding of the region.
Hong Kong or abroad? Perfect DSE scorers on their university plans
The group queried 2,128 Form Six pupils from 37 schools in January on whether they were interested in advancing their studies on the mainland. Respondents were asked to provide a score on a scale of zero to 10, with 10 being the keenest, to indicate their interest in studying on the mainland.
Some 56 per cent, or 1,192, of students gave a score of zero, meaning they had no interest in the idea. According to the group, further analysis found these students had a relatively weak connection and understanding of the region. Some 38 per cent had never visited the mainland and only 11 per cent said their schools had held sessions on academic opportunities across the border.
Some 28 per cent of students gave a score between one and five, indicating they were "somewhat willing to consider" going to a mainland university, and 16 per cent gave a score between six and 10, defined as being "keen to consider" academic opportunities in the region.
According to a survey, more than 40 per cent of Hong Kong secondary school graduates have expressed a 'keen interest' or 'willingness' to study at universities in mainland China. Photo: Nora Tam
Out of the respondents who had indicated an interest in studying on the mainland, 68.9 per cent said they would consider attending universities in the Greater Bay Area, followed by higher learning institutions in Beijing, Tianjin and Shanghai.
The Greater Bay Area scheme is Beijing's ambitious plan to create a global finance and technology hub by linking Hong Kong, Macau and nine Guangdong cities.
The top three reasons cited by pupils who showed an interest in university education on the mainland were "academic performance", "future development opportunities", and the "variety of courses on offer".
Hong Kong children 'rejected by some popular British schools' as enrolments hit record high
"Perhaps because of the social sentiment in Hong Kong in the past few years, some young people are concerned about the political environment on the mainland if they were to go to study there," said Ng Po-shing, the club's student guidance consultant, while presenting the survey results on Sunday.
"But those who are more willing to consider furthering their studies on the mainland seem to pay more attention to growth opportunities after graduation."
Ng called on students to have a more open mind, saying: "There is no need to limit our choices because of some preconceived ideas. The most important thing is to always find a path that is right for you, suits your interest and abilities."
The study also revealed students who are willing to consider higher education on the mainland seem to pay more attention to future career opportunities. Photo: Shutterstock
He also urged the government to provide "easier to understand" information about the Greater Bay Area to students.
"Official documents are often difficult to understand. From time to time there are new or improved policies about the Greater Bay Area coming out. Students may not be able to catch up and understand the updated policies," Ng said.
He added that the government should offer more support to schools so that they could organise exchange activities between local students and their mainland counterparts.
Interest in studying in Australia spikes among Hongkongers after country opens pathway to permanent residency
Melly Lo, one of the students taking the Diploma of Secondary Education Examination, said she had planned to take a course on medicine at a mainland university.
"I think I can also learn more about Chinese medicine as well if I study on the mainland," Lo said, adding that she had travelled across the border "quite often" with friends before the pandemic and found she enjoyed the living standard there.
According to official figures, among the 41,487 Form Six graduates in 2020 who pursued higher education, 85.5 per cent continued studying in Hong Kong, while 14.5 per cent attended university outside the city, compared with 90 per cent and 10 per cent of students, respectively, for the 2019 class.
Applications open for Hong Kong graduates in Canada to apply for new work visa
Figures also revealed that 31.2 per cent of Form Six graduates who had pursued higher education in 2020 chose to study on the mainland, followed by Taiwan (26.2 per cent) and Britain (17.8 per cent).
Under a special plan by the mainland's education ministry, Hong Kong students have been allowed to apply directly to eligible mainland universities based on their DSE exam results since 2012.
Compared with the millions of mainland students who need to compete through the National College Entrance Examination, being able to apply directly based on DSE exam results is an easier path to university, signifying the preferential treatment towards Hong Kong students.
According to the China Education Exchange (Hong Kong) Centre – a semi-official mainland education unit in Hong Kong, the number of DSE takers applying for mainland universities had risen to a record high of 4,783 last year, up from 3,993 in 2020. The numbers for 2019 and 2018 were 3,511 and 3,216, respectively.
Sign up for the YP Teachers Newsletter
Get updates for teachers sent directly to your inbox
Sign up for YP Weekly
Get updates sent directly to your inbox