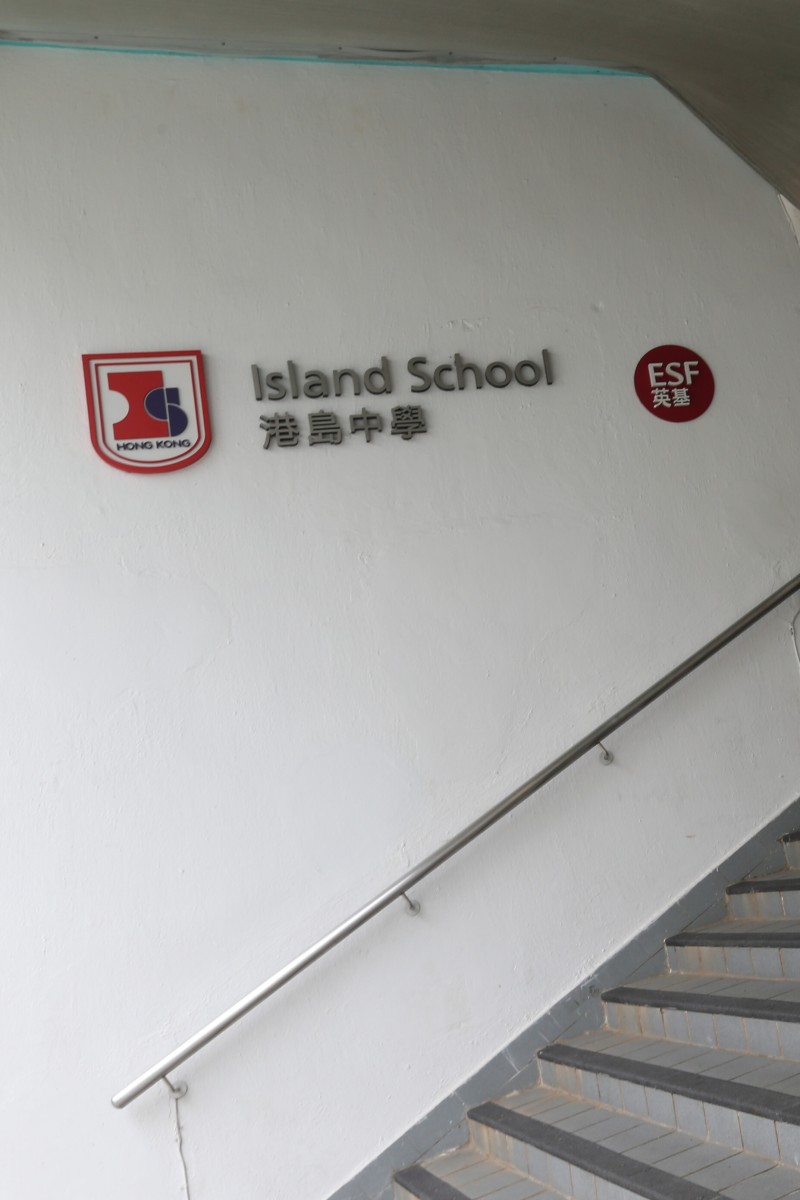 A group of Island School students have asked for non-exam route for International Baccalaureate Diploma Programme

ESF remains adamant in-person examination best way to assess how students perform, will not consider alternative unless necessary
Island School students have raised concerns about sitting in-person exams during the ongoing coronavirus outbreak. Photo: K. Y. Cheng
Students at an international school group in Hong Kong will not be allowed to skip exams in late April despite the ongoing coronavirus outbreak, as candidates have expressed fears of catching Covid-19 during their assessments.
With the city continuing to report more than 20,000 infections every day, a group of Island School students, part of the English Schools Foundation (ESF), have argued they should be allowed to take a non-exam route for their International Baccalaureate Diploma Programme.
Programme organiser, the International Baccalaureate (IB), has offered a "dual route" for assessing candidates since 2021, allowing students to be graded by internal coursework and teachers' predicted grades in the event exams cannot take place because of a coronavirus outbreak.
Hong Kong education authorities announce DSE exams to start in April
Students unable to sit exams are guaranteed their final results will not be worse than their internal assessment scores and predicted grades based on schoolwork.
IB previously relied on internal grades to assess students in 2020 when examinations were cancelled around the world during the early stages of the Covid-19 pandemic.
ESF, which includes seven secondary schools that offer the IB diploma programme, told the Post this week that in-person examinations were the best method for grading students. The foundation also adopted the same stance last year.
Should all schools in Hong Kong abolish exams?
"If the pandemic situation at the time of the IB exams is such that students cannot safely undertake them, we have contingency plans we can put in place, " an ESF spokeswoman said, but did elaborate on what backup measures the schools had considered.
However, a Year 13 representative at the Island School, who asked to remain anonymous, said that most of their 121 classmates had concerns, with the student questioning the decision to hold in-person exams.
"We believe that it is completely unsafe and, frankly, unacceptable for IB students in Hong Kong to be expected to undertake these examinations that begin in late April," the student said.
ESF opts for online learning despite government plan for early summer holiday
According to a survey of 114 Year 13 students conducted by their classmates earlier this month, the representative said that 81.6 per cent wanted to take the non-exam route.
The student leader said it was inappropriate for the school to hold assessments at exam halls which had been deemed to carry a high infection risk.
The IB website reiterated that in-person exams were the best method of assessment, but also acknowledged that Covid-19 outbreaks could make it impossible to hold assessments.
"The school will be able to request that students are awarded grades using the established non-exam procedure," it said.
Covid-19 pandemic shows how a 'blended' learning approach may be best
But the Year 13 representative said the Island School had remained adamant it would hold in-person exams.
In a recorded meeting seen by the Post, Stephen Loggie, the school's principal, told the Parent Teacher Association in February that the non-exam route remained an option but would not be considered unless absolutely necessary.
The principal said in the meeting that the exam route had led to students getting better results than if the school opted to assess them using internal scores and predicted grades.
"As soon as you pull that trigger, Year 13 [students] can become disengaged, and they will end up with months before they go to university with not enough to do," Loggie said.
Does learning from home do more good than harm?
The Post has contacted the Island School for comment.
But according to student replies to a survey seen by the Post, many felt the situation was too risky for them to take in-person examinations.
"It has been estimated that half of the Hong Kong population will get Covid, meaning that many students will get sick. This will affect their learning, studying and they will be unable to perform to the best of their abilities. Carrying out the normal exam route would therefore be unfair to such students," one student said in the poll's comments.
Another student said: "Some of us live with elders or younger siblings who are unvaccinated, [having contact with] so many people can be potentially dangerous."
School exams no longer needed thanks to technology
The student representative said the survey would be presented to the school, while a poll for parents was also planned. The teenager added that exam organisers IB could also be contacted if necessary.
However, not all ESF candidates favoured taking the non-exam option, with South Island School student Teresa Kwok saying most of her classmates wanted to take in-person assessments.
"I'm not sure what will be the difficulties for my cohort but I'm afraid that the government needs us to test negative in order to sit the exam," the Year 13 student said.
Do you need a university degree to be successful in life?
The IB diploma curriculum is a two-year programme for students aged between 16 and 19. Taken by more than 170,000 candidates last year globally, it offers an internationally accredited qualification upon successful completion.
Out of 170,660 candidates in 2021, 65,576 chose to sit in-person assessments, while 104,275 took the non-exam route and 809 accepted a compromise option, the IB said.
On Wednesday, Chief Executive Carrie Lam Cheng Yuet-ngor said Diploma of Secondary School Education and local university entrance exams, set to be taken by 50,060 students, were still scheduled to start from April 22.
Sign up for the YP Teachers Newsletter
Get updates for teachers sent directly to your inbox
Sign up for YP Weekly
Get updates sent directly to your inbox