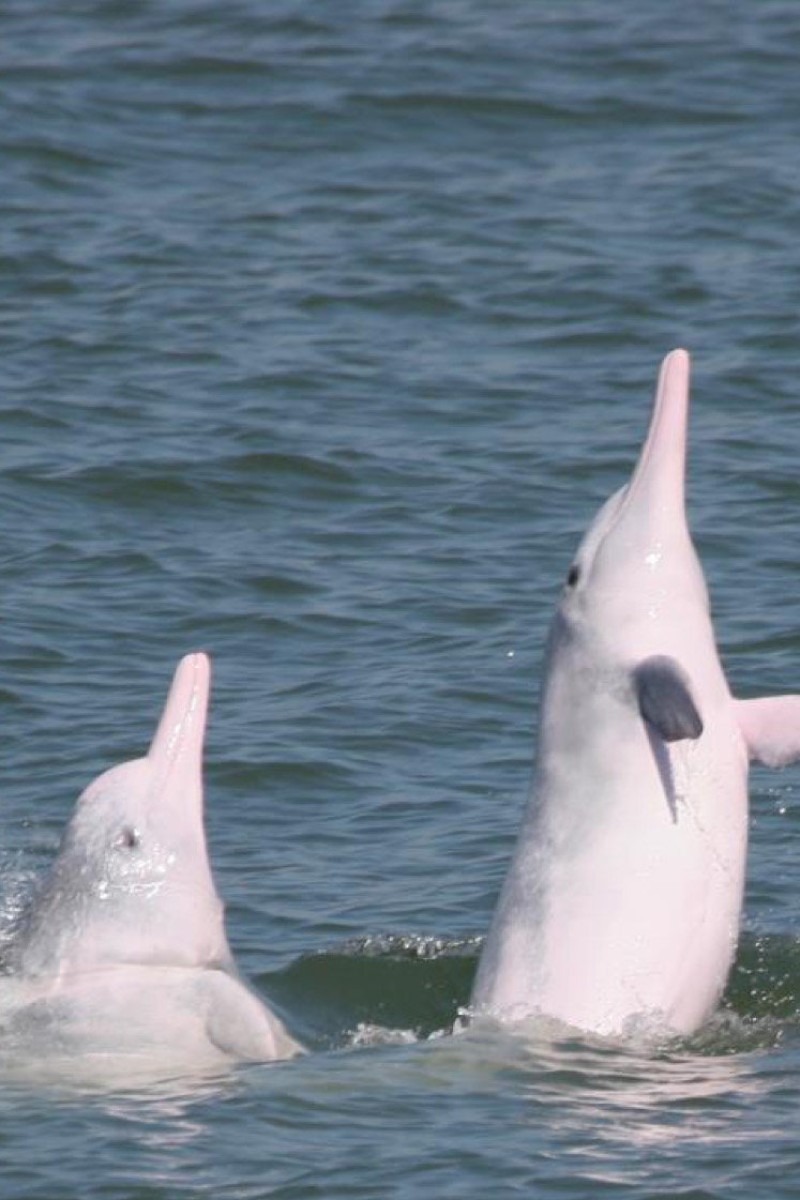 After 15 years of falling Chinese white dolphin numbers in Hong Kong waters, the population rose slightly in 2021 and fewer were found washed up dead

Halting high-speed ferry services between Hong Kong and Macau to curb the spread of coronavirus was a key factor, but the marine creatures face other risks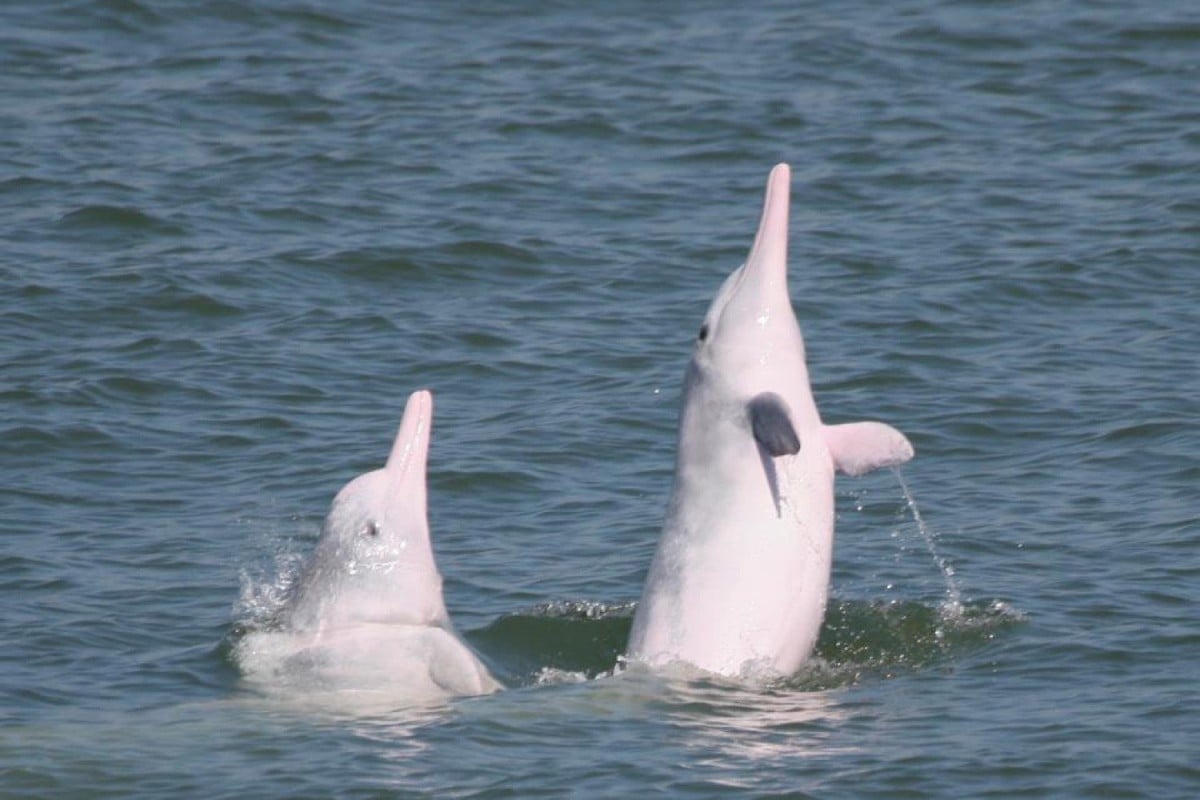 Chinese white dolphin numbers in Hong Kong waters have been falling for years, but in 2021 only two were found washed up dead on beaches. Photo: Handout
Hong Kong researchers have some rare good news about Chinese white dolphins and their close relative the Indo-Pacific finless porpoise, both listed as vulnerable species.
In 2021 the number of dolphins, porpoises and whales, collectively called cetaceans, found washed up dead on shorelines in Hong Kong in incidents called strandings fell to 32 from 52 the previous year and 55 in 2019, according to the annual Aquatic Animal Virtopsy Lab report released by researchers at City University of Hong Kong (CityU).
Of the 2021 incidents, two involved Chinese white dolphins, down from 11 in 2020; most involved Indo-Pacific finless porpoises – 24, compared to 35 in 2020.
Pink dolphins enjoy comeback as Covid-19 pandemic slows Hong Kong's marine traffic
At the same time the population of the dolphins in Hong Kong waters rose slightly.
A pause in ferry sailings between Hong Kong and Macau because of travel restrictions imposed to curb the spread of coronavirus probably led to the drop in dolphin and porpoise deaths, says Dr Brian Kot Chin-wing, principal investigator at the CityU lab and an assistant professor in its department of infectious diseases and public health.
Chinese white dolphins lead a precarious existence in the Pearl River Delta. The population in Hong Kong waters had fallen by over 80 per cent in the previous 15 years, a 2020 emergency action report by 15 environmental groups and regional universities said.
A dead Chinese White dolphin found off Hong Kong's Lantau Island being examined. Photo: SCMP
Marine conservation NGO Hong Kong Dolphin Conservation Society (HKDCS) says the number of Chinese white dolphins in Hong Kong waters dropped from 188 in 2003 to a low of 32 in 2019.
"Although the number has come back a bit to 37 in 2021, it's still at a very low level," the society's chairman, Taison Chang Ka-tai, says.
While the figures provide some good news, Kot says the future of both the Chinese white dolphin and finless porpoise hangs in the balance. They face noise pollution from ship traffic, the risk of being caught in fishermen's nets and the threat of losing habitat to land reclamation.
7 of Hong Kong's endangered species
Chang, of the HKDCS, says habitat loss is a major threat to dolphins and porpoises in Hong Kong. Recently, environmentalists voiced concerns over the location of a 16-hectare artificial island, to be created by reclamation around Shek Kwu Chau off the south coast of Lantau Island, that will house a waste incinerator to relieve the city's overflowing landfills.
Shek Kwu Chau is in a dolphin and finless porpoise habitat. The incinerator is expected to start operations in 2025
It is one of several projects threatening dolphin and porpoise numbers in the Pearl River Delta since the construction of the Hong Kong-Zhuhai-Macau Bridge, says Chang.
A hotspot for dolphins and porpoises off south Lantau. Photo: courtesy of Aquatic Animal Virtopsy Lab
"Since [the bridge] there has been no pause between construction projects around the mammals' habitat of Lantau Island, including the third runway reclamation for [Hong Kong] International Airport and an offshore LNG terminal near the Soko Islands which requires the building of underwater pipelines.
"Most of this construction has caused permanent habitat loss, which greatly reduces the carrying capacity of marine habitats," says Chang, referring to the maximum number of dolphins and porpoises these waters are able to support.
"To reverse this trend, we need a determined policy to set up a large and ecologically connected marine reserve immediately to protect the remaining dolphin and porpoise habitats in Hong Kong.
"We also need to put a halt to upcoming reclamation projects happening in their habitats or otherwise we might eventually lose these animals in our waters."
Are you eating threatened species of fish? Here are the 17 to avoid in Hong Kong
Noise pollution from marine traffic and construction that interrupts the echolocation system of sound waves vital for survival, is also a concern.
"Dolphins living off south Lantau are facing pervasive noise threats from vessels and coastal operations, which hinders their foraging, navigation, and mating behaviour," says environmental group WWF-HK.
The halt to ferry services has given CityU researchers breathing space to develop technology that will pinpoint dolphin and porpoise hotspots – the areas in Hong Kong waters that have the highest concentration of the animals.
"Our analysis provides data such as what time of year and day cetaceans inhabit these areas most to help us implement effective marine conservation plans, such as setting up dolphin exclusion and speed-control zones and re-routing high-speed ferries and large vessels away from core habitat areas,"
Dr Brian Kot, assistant professor and principal Investigator at the Aquatic Animal Virtopsy Lab at City University of Hong Kong. Photo: Edmond So
Diseases are another serious threat to dolphins and porpoises, he says.
"The presence of parasites is extremely common in cetaceans in our waters," says Kot. "We found that about 70-80 per cent of the stranded adult finless porpoises had lung parasites [lungworm] or parasitic pneumonia caused by lungworm infection, so natural disease must not be ignored as a major problem," he says.
"By studying parasites and related diseases, we can better understand their impact on the health status and ecology of cetaceans."
Meet Hong Kong's nocturnal residents, from red muntjac deer to fruit bats
This month, in a Hong Kong first, researchers at CityU tested a baby finless porpoise for Covid-19. The baby, just a few days old, had washed up at Luk Chau Tsuen on Lamma Island, on March 2. The result came back negative.
Kot says the decision to test was made because many pandemic diseases have been transmitted from animals to humans.
Earlier this year Hong Kong conducted a cull of pet hamsters after the detection of hamster-to-human coronavirus transmissions.
A finless porpoise undergoes a virtual autopsy, or virtopsy, at the City University of Hong Kong. Photo: courtesy of Aquatic Animal Virtopsy Lab
Kot says Covid-positive sewage samples detected around the city also motivated them to test the calf. "With a high concentration of Covid most likely in our sewage, we need to care more about the marine organisms inhabiting our waters."
Henry Tsui Chun-lok, manager of the Aquatic Animal Virtopsy Lab, wants better monitoring of the biological health of dolphins and porpoises in Hong Kong waters.
"There's a lack of holistic analysis on the cumulative impacts of all the threats – natural and anthropogenic – faced by both the Chinese white dolphins and finless porpoises," says Tsui.
"We also need more sustainable funding to facilitate long-term monitoring of biological health data collection."
Sign up for the YP Teachers Newsletter
Get updates for teachers sent directly to your inbox
Sign up for YP Weekly
Get updates sent directly to your inbox