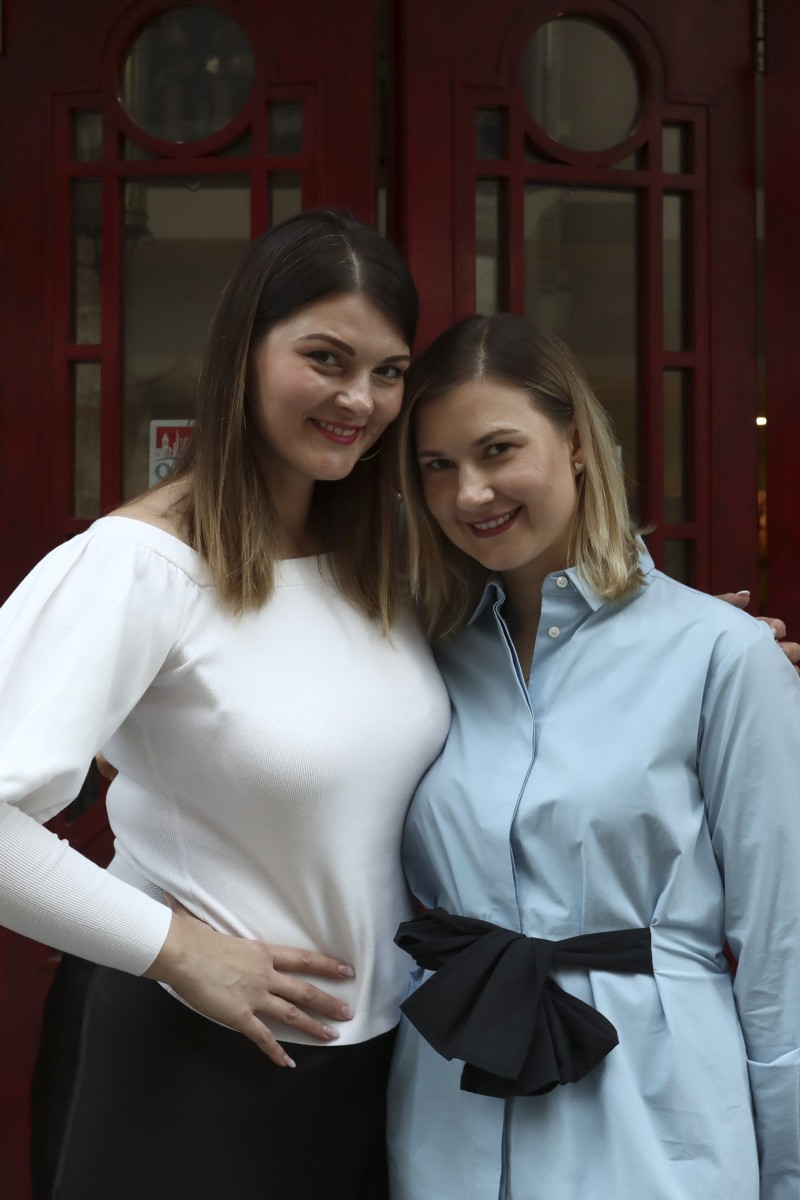 Oksana Shevchuk and Olena Smith, who have lived in the city for more than a decade, say they were devastated when they heard about Russia's invasion last month

Their fundraising effort for charities supporting people in Ukraine involves making layer cakes called medovik, and the pair say they are touched by Hongkongers' support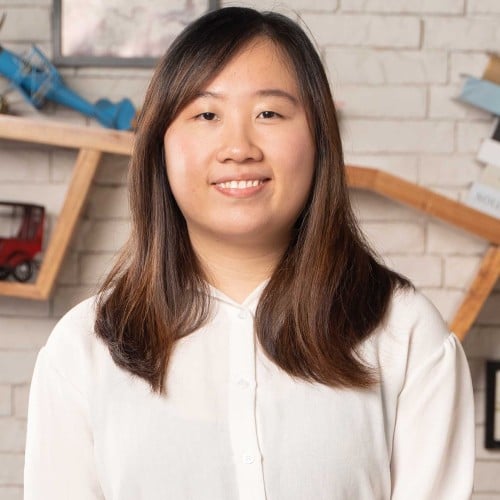 Sue joined the Post in 2021. She graduated from the University of Hong Kong with a double major in journalism and counselling.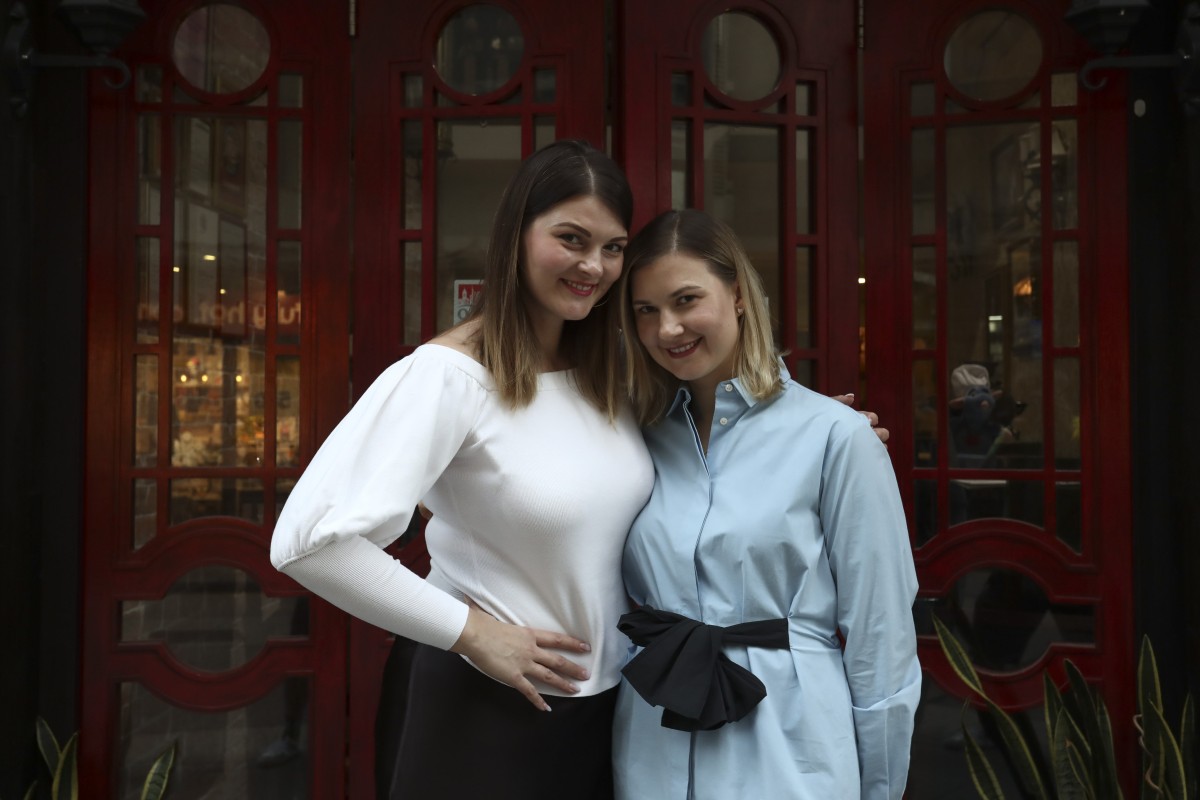 Oksana Shevchuk (left) and Olena Smith have lived in Hong Kong for more than 10 years and operate an Eastern European eatery, Dacha, serving their favourite childhood dishes. Photo: Jonathan Wong
Even after more than a decade in Hong Kong, Ukrainian sisters Oksana Shevchuk and Olena Smith still remember their idyllic childhood summers spent with loved ones in their homeland.
The two grew up in Sumy, a northeastern city in Ukraine near the Russian border. Every summer, they would swim in the river, fish with their grandfather and eat delicious meals with their family.
In 2005, 22-year-old Smith moved to Hong Kong to join her husband who was based in the city. Three years later, her elder sister Shevchuk, 28 at the time, also came.
Living more than 7,000km away from home in a city with several hundred Ukrainians, the two missed eating meals with family and friends at one table.
Refugee Connect, founded by Hong Kong teen, hosts workshops for asylum seekers
In 2015, the homesickness prompted the sisters – with the help of their parents – to open a restaurant, Dacha, meaning "a country house". Hoping to share their culture and unite the city's Eastern European community, the eatery's motto is "a taste of home away from home".
"Food is the foundation of many cultures. When you eat the traditional dishes of someone's culture, you get a unique insight into their heritage," said Shevchuk, 42.
Their signature dishes are all comfort foods from their childhoods, such as a herring salad called shuba, chicken Kyiv named after the country's capital, and a honey cake called medovik.
The two decorated the restaurant with items they had brought from home – some had even been passed down from their great-grandparents.
"We miss this feeling [of home] the most," 39-year-old Smith explained. "Our goal is to create an easy and relaxing vibe, much like our childhood.
Yet, their peaceful environment was shattered when Russian troops invaded Ukraine on February 24. The intensified fighting has resulted in more than 3 million refugees and has trapped thousands of Ukrainians in besieged cities, including the sisters' hometown Sumy.
When news of the war broke out, they phoned their aunt in Ukraine, crying as they spoke for about two hours.
Explainer: What's going on with Russia and Ukraine?
"We are devastated by the senseless war against Ukraine. It was a surprise to everyone – left us paralysed with no words ... We felt as if we were suspended in horror – it was a surreal feeling," said the sisters, who stay in touch with their family and friends there.
Smith shared: "They all were frightened but safe. The messages were of heartbreak, denial and devastation."
Some of their friends have decided to leave the country, though the majority have chosen to stay behind. Their cousin's husband is fighting on the front lines for Ukraine.
"Our hearts break for our country, our relatives, friends, our loving and caring people that do not deserve this terror ... Nobody today can feel safe there. We feel uncertain about the future," Shevchuk noted. "However, we keep the faith."
Young Ukrainians on how Russian invasion changed their lives
The day after hearing the news, the pair decided to act. Like many others from their community, the sisters started looking for ways to contribute to their homeland, and the best way they knew how was through food.
On Instagram, they learned about the hashtag #cookforukraine, which is a trending campaign, started by London-based chefs and food writers Olia Hercules and Alissa Timoshkina. The movement aims to raise awareness of Ukrainian cuisine as well as funds for the country.
After deciding to heed this global call, Shevchuk and Smith chose to raise money with their favourite dessert, medovik, which is a 12-layer cake made from imported Ukrainian honey and smetana, a type of sour cream.
Oksana Shevchuk and Olena Smith have been baking a honey cake, medovik, to raise funds for those affected by the war in Ukraine. Photo: Jonathan Wong
"Now, we are baking it for peace, for freedom ... for rational thought and for love. It is more important than ever!" said the restaurant owners.
Launched two weeks ago, the sisters' initial goal was to raise HK$10,000 by March 17. Little did they know they would be overwhelmed with support from Hongkongers.
Within just the first few days, they said they had already raised multiple times their original target.
Every cent from the cake, priced at HK$650, will go directly to charities such as the Ukrainian Red Cross Society, as well as other volunteers supporting Ukrainian children and families who have been displaced.
More than 3 million Ukraine refugees flee Russian invasion, UN says
"We were surprised and didn't expect that people would be this enthusiastic about our campaign, and it gives us even more motivation to bake," the sisters said.
They recalled how one customer even gave HK$10,000 for one cake, and many entered the shop with teary eyes asking how else they could help.
Even before the war began, the politics of the Eastern European country were familiar to some in the city. During the 2019 extradition bill protests, Hongkongers held screenings of a documentary called Winter on Fire: Ukraine's Fight for Freedom which was about the 2014 protests in Ukraine. Quotes from those interviewed in the documentary were widely shared on social media.
When news of Russia's invasion spread, people across different communities in Hong Kong reached out to the restaurant via social media, leaving scores of supportive messages, the sisters shared.
"Hong Kong was just amazing these past two weeks," the pair said. "It's probably been the toughest two weeks in our lives ... We are so speechless and elated from the wave of love, solidarity and support!"
After the outpour of donations for their first fundraising campaign, the two hope to invite more local restaurants to join their efforts.
"When there is so much hatred, violence, and ignorance in the world, these acts of kindness and love remind us the world is still a good place," the sisters noted.
As the war continues, they said, "People in Ukraine and neighbouring countries need our continued help and support. We will do our best to assist in any way we can."
"And glory to Ukraine! We will win this together."
Get the word out
Idyllic 田園風光的/恬靜的
Extremely happy, peaceful
Homesickness 想家的
A feeling of longing for one's home during a period of absence from it
Shatte (使)破碎
Break or cause to break suddenly and violently into pieces
Intensified 增強
Become or make more intense
Besieged 圍攻/圍困
(of a place) surrounded by armed forces aiming to capture it or force surrender
Devastated 極度震驚的
Cause (someone) severe and overwhelming shock or grief
Paralyzed 癱瘓的
(of a person or part of the body) partly or wholly incapable of movement; disabled
Surreal 超現實的
Having the qualities of surrealism; bizarre
Solidarity 團結一致
Unity or agreement of feeling or action, especially among individuals with a common interest; mutual support within a group
Sign up for the YP Teachers Newsletter
Get updates for teachers sent directly to your inbox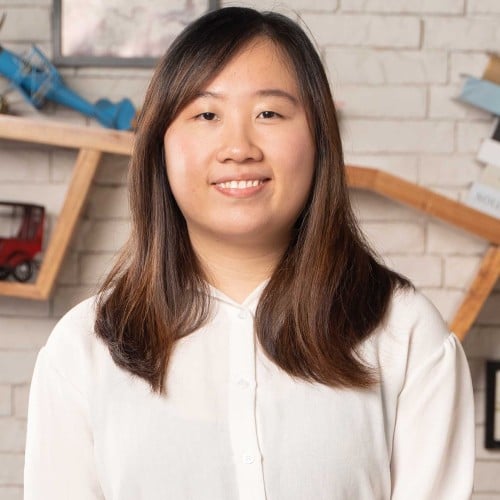 Sue joined the Post in 2021. She graduated from the University of Hong Kong with a double major in journalism and counselling.
Sign up for YP Weekly
Get updates sent directly to your inbox