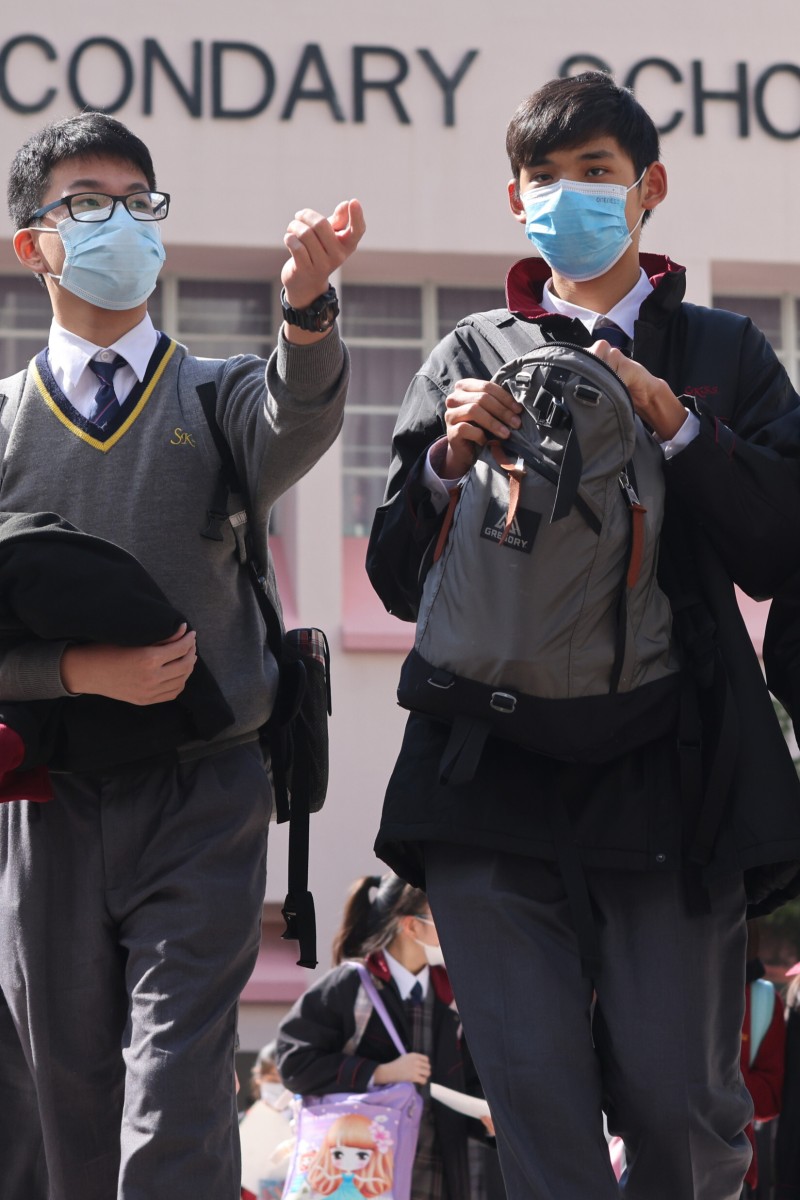 If Covid cases continue to fall, the government will begin relaxing restrictions on social gatherings in three stages from April 21

Primary schools, international schools and kindergartens to return to face-to-face classes from April 19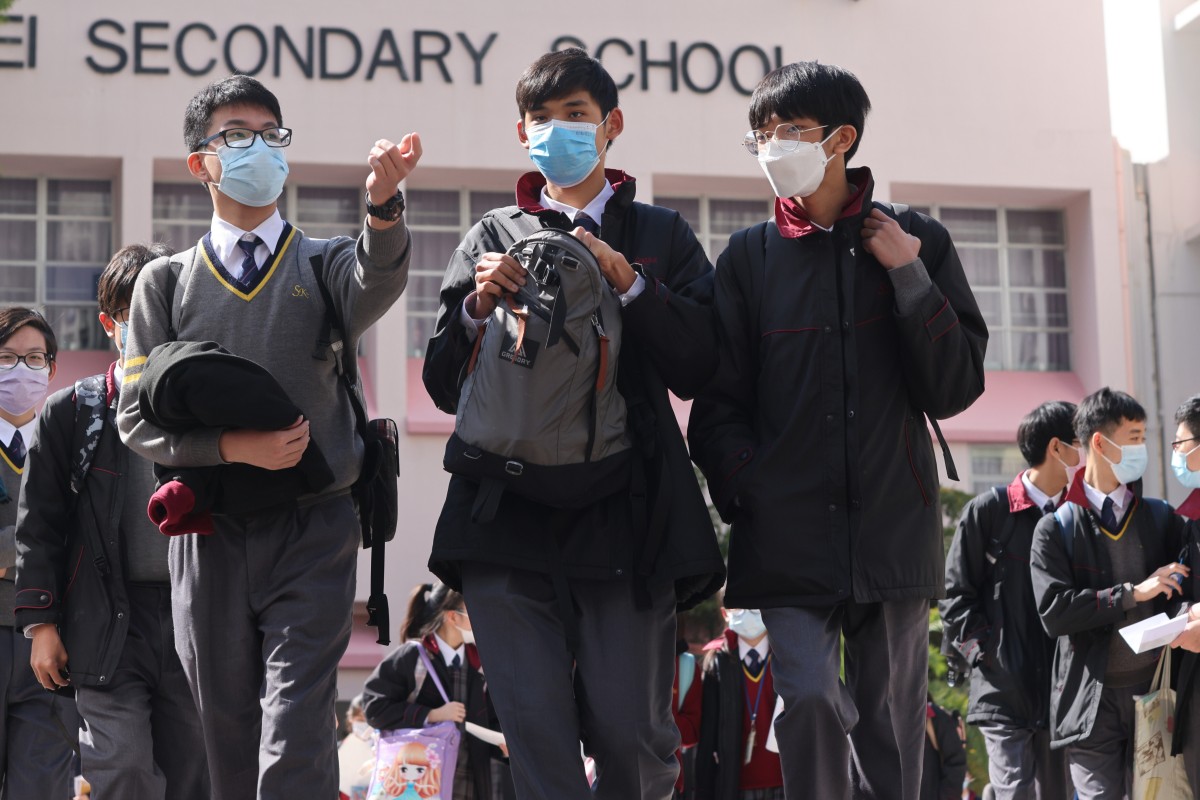 Secondary schools will resume face-to-face teaching after the DSE exams while primary schools, international schools and kindergarten students will return to school from April 19; students are not required to be vaccinated. Photo: May Tse
Key points
Social-distancing measures will be eased in three phases over three months from April 21, provided there is no rebound in cases

Primary schools, international schools and kindergartens will resume face-to-face classes from April 19

Secondary schools will resume in-person classes after the Diploma of Secondary Education exams, which will kick off on April 22

Compulsory universal testing to be suspended

Flight bans on nine countries to be lifted on April 1

Hotel quarantine will be cut from 14 to seven days from April 1, on the condition travellers test negative on the fifth day via a PCR test, and via rapid antigen tests on the sixth and seventh day of their stay

In the longer term, authorities will work on another road map for Hong Kong and seek to reopen the city's border with the mainland.
How to get help if you test positive for Covid-19 in Hong Kong
Hong Kong leader Carrie Lam Cheng Yuet-ngor revealed on Monday morning a raft of changes to pandemic control measures to kick in next month.
Social-distancing rules will be relaxed in three phases starting from April 21 if there is no rebound in cases. The rule changes will cover restaurants, gyms and other businesses, as well as public gatherings, while an existing ban on private gatherings of more than two households will also be lifted.
Schools, meanwhile, will be able to resume face-to-face classes from April 19.
Other measures include a reduction in quarantine for arrivals into the city, as well as the lifting of flight bans on nine countries.
The border control amendments will kick in on April 1, while a controversial plan to launch compulsory universal testing has been put on hold.
The current 14-day quarantine requirement for most travellers would be lowered to as little as seven days, on the condition that guests return a series of negative test results.
How to negotiate with your parents for more freedom once Hong Kong's Covid cases drop
Social-distancing rules to be relaxed
Social-distancing measures will be relaxed in three phases over a three-month period starting on April 21, provided there is no rebound in cases.
In the first phase, gyms, game centres, beauty salons, massage parlours, religious places, and sport venues will be allowed to reopen, though groups will be capped at four people. Restaurants will be allowed to offer dine-in service until 10pm – up from 6pm currently – with four diners allowed per table, up from two. Bars, however, will have to remain closed.
Groups of up to four people, as opposed to the current two, will also be allowed to gather in public, while a ban on private gatherings of three or more households will also be cancelled.
Hong Kong reimposed some of its toughest Covid-19 social-distancing measures, including a 6pm curfew on dine-in services in January. Photo: Nora Tam
In the second phase, all other types of business that were forced to close under the fifth wave – including bars and pubs, party rooms, karaoke parlours, and swimming pools – will be allowed to reopen.
The cap on groups in restaurants and most other establishments will be raised to eight people, dine-in services will be extended to midnight and mask exemptions will be implemented for outdoor activities. Bars and pubs will be allowed to remain open until midnight or 2am, with a four-people cap at tables.
In the third phase, all caps in restaurants and bars will be lifted and operating hours will be further extended.
Experts discuss whether Omicron is leading us closer to herd immunity against Covid-19
Face-to-face classes to resume in April
Lam said local schools would resume in-person classes on April 19 at the earliest. The move will start with primary and international schools, as well as kindergartens.
Secondary schools will be next, after the Diploma of Secondary Education exams, which authorities are aiming to hold on April 22. The chief executive, however, added the Education Bureau had come up with contingency plans for postponing the exam if need be.
The government's vaccine pass scheme, meanwhile, will also be adopted in schools, but will not apply to students.
Hong Kong education authorities announce DSE exams to start in April
Carrie Lam said the government's planned mass testing drive would be suspended.
She said experts had advised that public resources should not be used in such a scheme.
"Hong Kong's epidemic situation has now been alleviated, but it remains at a high level. Experts have said it is not suitable to do universal testing at this stage," she said. "Timing is key."
Mainland experts who visited Hong Kong had also noticed that the city's community organisation network and capacity was lower than that across the border, she added.
She said the government would continue to analyse the necessity of the universal testing exercise. "When the time is suitable and conditions are appropriate, we will consider whether to use compulsory universal testing."
"If we went ahead with the compulsory universal testing today, it would be very troublesome and chaotic," Lam added.
She said that according to the latest recommendations from the government, people who have been infected with Covid-19 in the past three months would be exempted from any form of mandatory testing.
What you need to know about different types of Covid-19 tests and when to use them
Vaccination targets for youths, seniors
Lam said authorities would seek to boost the vaccination rate among teenagers, children and the elderly to 90 per cent in the coming month.
Currently, the first-dose vaccination rate for those aged three to 11 is 57 per cent. About 70 per cent of those aged 70 and up have received their first jab.
A three-year-old girl waits for her first Sinovac jab at Yuen Wo Road Sports Centre in Sha Tin. Photo: Xiaomei Chen
Anti-pandemic kits for all
Lam said that with the central government's assistance, each household in the city would soon be receiving an anti-pandemic kit, though she did not elaborate on their contents.
Improvements would also be made to the system for providing support for households with infections, with Lam saying residents would be able to get necessary supplies the same day they reported cases, instead of days later. Support hotlines and designated clinic services would also be improved.
Why some fully vaccinated people are still getting hospitalised
Still working on reopening mainland border
Financial Secretary Paul Chan Mo-po said the government would continue to work to reopen the city to the mainland. Reviving access to the Greater Bay Area, which covers Hong Kong, Macau and nine Guangdong cities, would create a lot of opportunities for the local economy, he added.
Echoing Chan, Lam said many international businesses had chosen Hong Kong because of its access to the mainland market.
"So for any longer-term public health strategy, we will have to take into account both factors, which are maintaining Hong Kong's access to the mainland, and ensuring the continued connectivity with the outside world," she said.
A traveller wearing personal protective equipment walks through the departures hall at Hong Kong International Airport this week. Photo: Yik Yeung-man
Flight bans to be axed, quarantine to be shortened
A ban on flights from nine countries – Australia, Canada, France, India, Nepal, Pakistan, the Philippines, Britain and the United States – will be scrapped from April 1.
Passengers will have to fulfil a few conditions, including being fully vaccinated, testing negative for the coronavirus no more than 48 hours before boarding and having a valid booking at a quarantine hotel.
The quarantine period for overseas arrivals will also be shortened from 14 days to just seven if they return a negative PCR test result on the fifth day of their stay, and negative rapid test results on the sixth and seventh. Arrivals can also choose to remain in quarantine longer than seven days, with a PCR test to be carried out on the 12th day of their stay.
What Hong Kong students are saying about the city's latest social-distancing rules
The flight ban was first imposed on eight of the countries from January 8 due to the global spread of the Omicron variant, with Nepal added to the list on February 12. Under the ban, anyone who has been to those countries in the past 14 days is also forbidden from boarding a flight to the city.
Lam said that given Hong Kong's socio-economic needs, the flight ban was no longer up-to-date. She noted that others had also suggested the city's business environment could be undermined if quarantine requirements for inbound travellers were stricter than those for local residents
Currently, the government allows vaccinated local Covid patients to leave isolation after as little as a week if they test negative on the seventh day after their infection is first identified.
Hong Kong has maintained tight restrictions as it works toward establishing quarantine-free travel with China, but air passenger traffic has taken a hit. Photo: Yik Yeung-man
Officials 'strived for earliest' reopening
Lam said April 1 was the earliest date the flight ban could be lifted, as there were many logistical considerations involved, and because travellers would need time to book hotels and flights, and arrange Covid testing.
Lam said she had also asked officials to designate more hotels as quarantine facilities for travellers. As of Monday, she noted, around 70 to 80 per cent of rooms in the existing 25 quarantine hotels were booked.
"We have strived our best for the earliest date, and eight to 10 days is already the shortest time [we can manage]," she said.
Hong Kong's public health care system on the brink amid Covid fifth wave
Lam declined to comment on a news report suggesting she had to relax the city's anti-epidemic measures due to discontent among members of her de facto cabinet, the Executive Council.
Lam said the government would need to consider the opinions of local and mainland experts and take note of the city's epidemic and socioeconomic development in devising a longer-term road map suitable not only for the Covid-19 pandemic, but any others that might come in the future.
"We will consult various stakeholders in Hong Kong. There will be a more permanent pathway for Hong Kong to tackle any public health crisis, with the overriding mission of protecting the safety and health of people," she said.
Explainer: What went wrong with the Omicron variant in Hong Kong, and can the city go back to its zero-Covid days?
Lam said that there were a few reasons behind the government's review of its existing anti-pandemic measures, with one being an apparent abatement in the current fifth wave of infections.
Noting that the explosive growth of the epidemic had slowed, Lam said: "Many experts regard the peak of the current wave as over. Hong Kong's epidemic development has gone on a downward trend."
WHO warns pandemic 'far from over' two years after global health emergency declared
The reproductive rate of the virus recently dropped to around 0.5, meaning each patient was passing the pathogen to fewer than one other person on average, she said.
Meanwhile, tests of the city's sewage for traces of the virus showed the viral load being shed per person had dropped significantly in the past month, Lam said.
While there had been a rebound in the past two days, she added that she hoped it was just an isolated fluctuation.
Sign up for the YP Teachers Newsletter
Get updates for teachers sent directly to your inbox
Sign up for YP Weekly
Get updates sent directly to your inbox