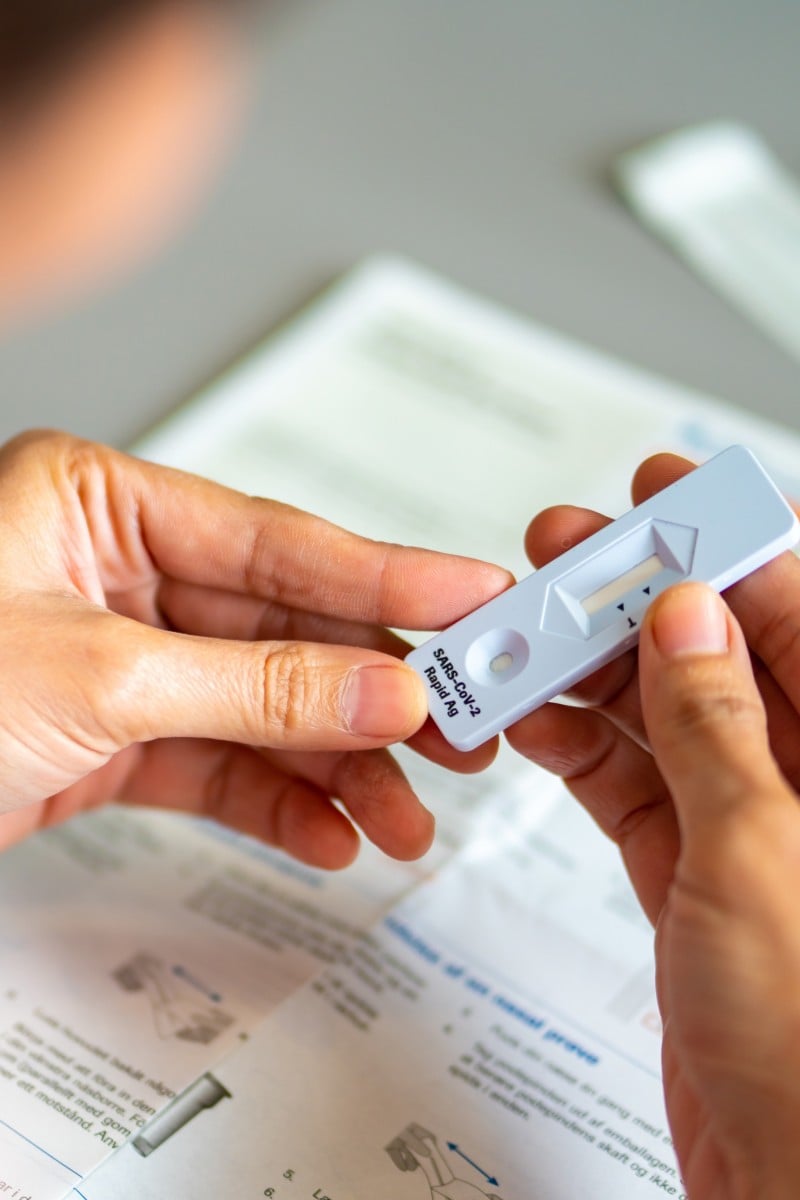 Authorities have urged residents to test themselves daily from April 8 to 10, using kits sent to their homes

Chief Executive Carrie Lam says screening exercise will help authorities get a better picture of coronavirus spread across city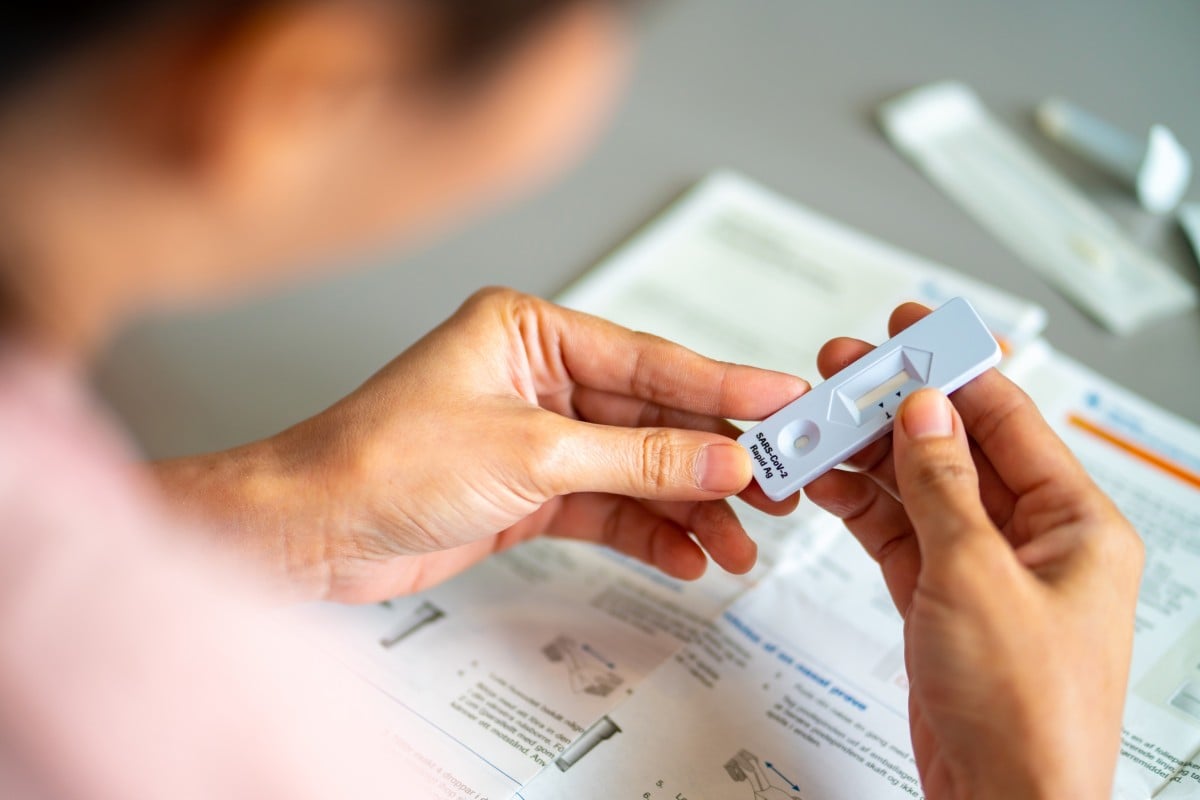 Residents who test positive can register their result on the government's online self-reporting platform. Photo: Shutterstock
Hong Kong is launching a three-day voluntary mass Covid-19 testing exercise from Friday to better assess the pandemic situation in the city.
Chief Executive Carrie Lam Cheng Yuet-ngor said the voluntary at-home rapid antigen test (RAT) scheme would provide a snapshot of how many Hongkongers were infected, while also identifying asymptomatic cases and cutting off transmission chains.
The Post unpacks what you need to know about the mass testing scheme.
What you need to know about different types of Covid-19 tests and when to use them
When should I test myself and how do I report a positive result?
The government has sent anti-epidemic packs – containing 20 rapid tests, 20 KN95 masks and two boxes of proprietary traditional Chinese medicine – to nearly 3 million households.
Authorities have urged residents to test themselves daily from April 8 to 10 using the kits delivered to their homes and to report any infections within 24 hours.
Dr Edwin Tsui Lok-kin, controller of the Centre for Health Protection, said the accuracy of the test was higher if it was done in the morning, adding it would be helpful to blow your nose before starting.
Nearly 3 million households in the city have received anti-epidemic packs containing 20 rapid tests, 20 KN95 masks and two boxes of proprietary traditional Chinese medicine. Photo: Jelly Tse
Health officials said parents who feel comfortable doing so can help their children above the age of three years old do a rapid test.
The scheme is voluntary, and residents who test positive can register their result on the government's online self-reporting platform. People without internet access or do not know how to use the online platform should call the following 24/7 hotline for support: 1836 119.
Users of the online platform will be asked to provide their personal details as well as those of their household members, their symptoms, living environment and the conditions of others living in their home.
Will citywide mass testing be useful amid Hong Kong's fifth wave of Covid-19 infections?
Patients will then receive an SMS with a link to upload a photo of their positive rapid test result and identity card.
Once they have uploaded proof of their test results, users will be able to download an isolation order, while health authorities will make arrangements to determine whether they need to be sent to hospital or a quarantine facility.
A guide on how to use a RAT and a demonstration video can be found here.
If you have the following symptoms, please call an ambulance and get to hospital:
Persistent fever of 38.5 degrees Celsius [101.3 degrees Fahrenheit] or higher for more than two days, despite taking fever-reducing medicine

Body temperature of 35 degrees or below

Convulsions

Difficulty in breathing or shortness of breath

Loss of speech or mobility

Inability to wake up or stay conscious

Pain in chest or abdomen

Dizziness or confusion

Weakness or unsteadiness

Persistent inability to eat or drink

Diarrhoea or vomiting for more than two days

Decreased or no movement of fetus for pregnant women at 24 weeks or more
Who qualifies for home isolation?
Home isolation for mild or asymptomatic cases living in suitable residences would continue, Tsui said. Those who chose to isolate at home would be supported with service packs and could visit designated clinics for medical consultations.
Under what circumstances will I be sent to a community isolation centre?
Patients who live in an unsuitable environment, such as subdivided flats, cage homes, or units with shared kitchens and bathrooms are not eligible for home isolation. Even if they are in a stable condition, they will still be sent to a community isolation centre.
Tsui also said it would be inappropriate for patients to isolate at home if their household members are at greater risk from Covid-19.
A community isolation facility in Fanling for residents with mild symptoms. Photo: Felix Wong
"If there are other people in your household, there should be one room for the infected person," he said, adding that home isolation would also be inappropriate if there were people at higher risk – specifically pregnant women, those aged 70 and up or five and below – living in the household.
Residents who need to isolate at a community quarantine facility can contact the Fire Services Department for transport arrangements at [email protected], through its WhatsApp hotline at 5233 1833 or its WeChat handle at fsd_cif.
Recent study explains why some fully vaccinated people are still getting hospitalised for Covid-19
What happens if I refuse to go to a community isolation centre?
Secretary for Security Chris Tang Ping-keung warned that people could face legal consequences if they chose not to follow isolation orders.
The penalty for non-compliance with quarantine or isolation orders is a maximum fine of HK$10,000 (US$1,276) and up to six months' imprisonment.
What is the benefit of reporting your positive result?
Individuals who are fully vaccinated are exempt from compulsory testing orders and restriction testing declarations, or overnight lockdown for testing, if they have recently recovered from Covid-19.
Those aged 12 or above who were not fully vaccinated prior to infection will be able to use the vaccine pass scheme to enter premises such as restaurants, bars and gyms, if they had recovered no less than six months ago.
Those who were previously infected and had already received one dose of a Covid-19 vaccine will be required to get their second dose from April 30, if it has been more than six months since their recovery.
For those who are unvaccinated, they will be required to take their first dose of a vaccine, followed by a second shot six months later to use the vaccine pass scheme. A second dose is not required for recovered people aged 12 to 17 who took the BioNTech vaccine as their first shot.
Vaccines have been shown to be effective in preventing people from becoming seriously ill or dying from the coronavirus.
As of Tuesday, the case fatality rate for people who had received at least two doses of a Covid-19 vaccine was 0.12 per cent, compared to 2.06 per cent for those who had only received one dose or were unvaccinated.
For patients aged 80 or above, the figure was 3.04 per cent versus 12.39 per cent respectively.
What to know about coronavirus vaccines for children aged 5 to 11
According to the World Health Organization, the case fatality rate is the proportion of deaths among identified confirmed cases.
Based on the vaccination data of hospitalised Covid-19 patients in the city as of March 8, researchers from the University of Hong Kong found that vaccine effectiveness in preventing deaths among elderly people aged 60 or older was more than 98 per cent for those with three doses of either the BioNTech or Sinovac jabs.
Similar data on prevention of severe conditions were also noted among people who had received three doses, no matter their choice of vaccine.
Sign up for the YP Teachers Newsletter
Get updates for teachers sent directly to your inbox
Sign up for YP Weekly
Get updates sent directly to your inbox